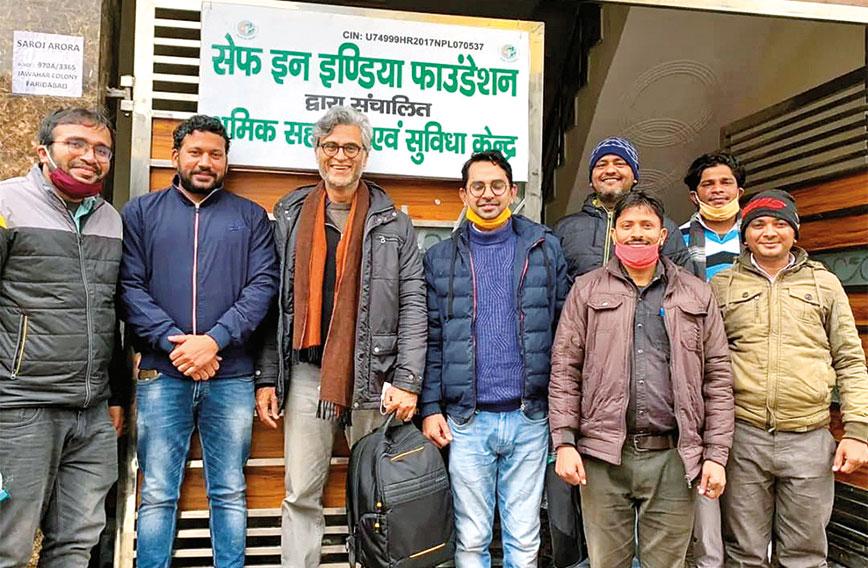 The Faridabad Worker Assistance Centre with Sandeep Sachdeva (third from left).
Ugly truth: cars at the cost of missing fingers
Kavita Charanji, New Delhi
Published: Mar. 04, 2022
Updated: Apr. 13, 2022
Behind the swanky cars that whiz down Gurugram's roads hides an ugly truth: the exploitation of workers in its booming auto components manufacturing units. Working conditions are so unsafe that workers lose their fingers and hands while operating unsafe machines. Mostly migrant workers take up these jobs. Getting timely medical treatment is tough. Even tougher is getting compensation from the government-run Employees' State Insurance Corporation (ESIC). Workers face unemployment and an uncertain future.
"The whole debate is nothing new. There are manufacturing units in the supply chain that supply components that are cheaper, more flexibly. When cost is the primary criteria, occupational health, human rights and labour rights get compromised," says Sandeep Sachdeva, co-founder and CEO of Safe in India Foundation ( SII), based in Manesar in Gurugram, Haryana.
SII focuses on the occupational safety and health of workers in auto sector supply chains. It helps workers with crush injuries access healthcare and get compensation from ESIC. It also advocates for worker safety among auto sector companies, government and other key stakeholders and supports ESIC in streamlining its healthcare and compensation services nationally. Also, SII creates awareness amongst workers on safety in the workplace and ESIC services.
SII has set up Workers Assistance Centres in Manesar and Faridabad. The centres help workers with crush injuries access ESIC health care and compensation. They also assist them through complex bureaucratic procedures that workers find daunting to negotiate. Through close interaction with workers at ESIC offices and community outreach, the centres gather evidence-based data that can drive improvements in auto sector supply chains and ESIC services. On second Sundays the worker support groups meet to discuss ESIC and safety concerns.
It is Sunday and the Faridabad Worker Assistance Centre is abuzz as workers give their feedback to the SII team after a safety training session organized by the Labour Ministry's Directorate General Factory Advice Service and Labour Institutes (DGFASLI).
"Sixty percent of all accidents reported to SII occur on power press machines. Today, workers were briefed on the importance of safety gear like helmets, gloves, goggles and earplugs to prevent workplace injury. They were also informed about safety sensors and how bypassing those sensors can prove hazardous," says Amitesh Kumar Singh, coordinator at the Worker Assistance Centre.
Safety training and rules on safety gear exist only on paper, say workers. Safety gear is provided only during audits, says Arvind, a former power press operator in Faridabad. He lost three fingers in two separate workplace accidents. "No company in Faridabad trains workers," he says, justifiably angry. "They don't tell us about the importance of a safety sensor or run us through the safety checks required before machine operation. Regular safety checks or maintenance are hardly ever undertaken by a company. No action is taken even when a worker brings this to the attention of his employer."
This is exactly what happened on October 23, 202O, when Arvind met with his second accident. He recalls that he informed the maintenance staff of the factory about the defective power press machine he was supposed to operate but no one paid attention. Just as painful is his memory of not being given any first aid. Instead, he found himself in the contractor's home from where he was taken to the nearest ESI hospital. There, he was referred to a private hospital.
Almost one and a half years later he has been told that ESIC will grant him Permanent Disability Benefit, termed "pension" by the workers. Helped by people working at the SII centre, he has negotiated his way through a maze of ESIC documentation procedures. "A worker only gets ESIC benefits if correct documents have been submitted like an accident report, attendance sheet, salary sheet, witness statements, workers statements and medical board clearance from an ESI dispensary," says Singh.
Arvind has finally got his right to this pension but he is bitter. He now hopes to support his four-member family by setting up a small toothpowder business.
Young Rohit, from Kharakpur village in Hardoi district of Uttar Pradesh, lost three fingers in a shopfloor accident. The Faridabad centre is helping him get his Medical Board clearance after which he will get his pension. Meanwhile, the factory where he met with an accident has given him work as a packer. His advice to other workers is that they should avoid the power press or, at best, remain helpers rather than become operators. Many times, he says, companies make helpers into operators and expect them to pick up the ropes on the job.
Narottam Jatav has been luckier. He lost one finger in an accident in a motorcycle parts company in Bawal near Rewari that lies beyond Gurgaon. When he established contact with SII, the staff guided him through the complex documentation procedure to claim pension. Today, not only has he got his pension, he has landed a job as a field executive at the Faridabad Worker Assistance Centre.
Workers would be safer if they were aware of their rights, says Singh. Under ESIC rules, from day one of joining employment , a worker is supposed to get an ESIC identification card that entitles him and his eligible dependents to their rights to health services as well as compensation in case of sickness, injury, unemployment, childbirth and death. Often this identity card is given to injured workers after an accident occurs. Clearly, despite paying their ESIC contribution workers were not benefitting from ESIC services they were eligible to for several months, even years. Obviously, when an accident occurs they face a harrowing time.
"It is the responsibility of a company's HR division to give workers ESI identity cards. During our training sessions, we tell workers that they should demand their ESI identity card as soon as they are employed. Likewise, they are told that they can continue with the same ESIC identification number when they change jobs so that they do not lose their contribution. They also need to know that, much like their bank statements, they need to check if their ESIC contribution has been correctly submitted by the company," says Singh. SII gives a Shramik Hitlaabh diary to workers so that they can keep track of their benefits and health and compensation process with ESIC.
The Worker Assistance Centres reflect SII's worker-centric approach to industrial safety. Set up and supported mainly by the alumni of the Indian Institute of Management Ahmedabad (IIM-A) batch of 1991, IIT-Roorkee 1988 and other well- known donors like the Azim Premji Foundation and Lal Family Foundation, the organization could have just pontificated on workplace safety. It chose otherwise.
"When we started, we had the choice of going down the path of being a think-tank or working on the ground. We chose to start with working on the ground, help injured workers humanely and then based on that learning and evidence, build advocacy," says Sachdeva.
SII has covered much ground since it opened its first Worker Assistance Centre in Manesar in December 2016. It has provided free assistance to over 3,000 workers by helping them get better ESIC healthcare and ESIC compensation to the tune of Rs 25 crore.
"The best intelligence for our work comes from the workers themselves," says Sachdeva. One of SII's key achievements in improving worker safety, he says, is its CRUSHED annual report. "The government's safety arm has sample-checked our data. The auto industry challenged our report. But they all accept it now and we have a number of initiatives with them. This is something we are proud of but there is a long way to go," says Sachdeva.
SII's CRUSHED 2021 report on the state of worker safety in the auto sector was released early this year. The report draws on data collected by SII from over 2,500 injured workers in the Gurugram-Faridabad-Neemrana auto belt. It also has an assessment of Rudrapur in Uttarakhand.
The report shows that auto components suppliers to big names like Maruti-Suzuki, Hero and Honda remain the largest contributors to accidents in Gurugram and Faridabad. The report also advocates that auto sector brands take responsibility for improved worker safety and productivity in their supply chains. The government needs to be taken to task for hugely underreporting factory injuries and for its reduced factory inspections, says the report.