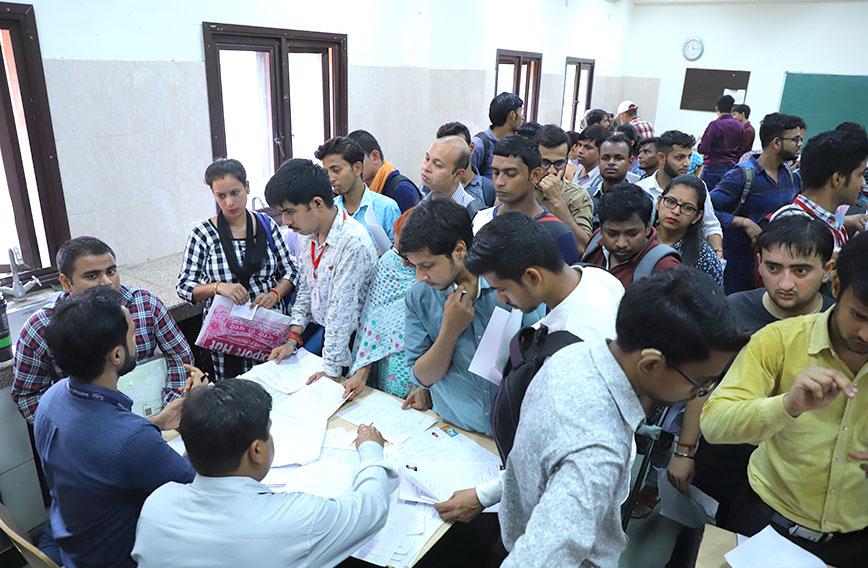 The job fair for people with disabilities is empowering an inclusive society | Photograph by Shrey Gupta
Jobs get a boost at Abilympics
Aranya Sawhney Malik, New Delhi
Published: Jul. 15, 2019
Updated: Jun. 29, 2020
The job market for people with disability is slowly opening up with more companies keen to offer employment. At the Job Fair, organised by the Abilympics (Olympics of Abilities), this year, many more companies offered placements and assurances.
The Abilympics are vocational skills competitions for persons with disabilities to enable them to showcase their talents and find employment. In India, the National Abilympic Association of India (NAAI) and the Sarthak Educational Trust organise the event.
This year the Abilympics was held in Mumbai, Delhi, Chennai and Kolkata. The Regional North Zone Abilympics took place in Delhi at the Civil Services Officers' Institute and Lady Irwin College from 4-5 July with the theme, 'We are differently abled, not disabled.' The competitions were in 10 trades under five categories – ICT, Crafts, Services, Industry and Food.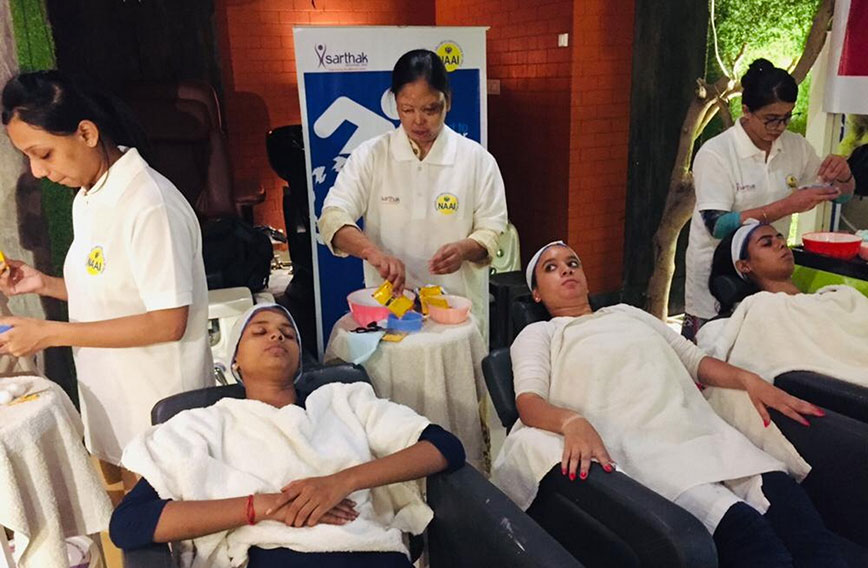 A beauty therapy competition for people with disabilities
PwDs IN THE WORKFORCE
Jitender Aggarwal, founder and CEO of Sarthak Educational Trust, delivered the inaugural address. Citing his own example he said he was a practising dentist till 2004, after which he started losing his vision due to macular degeneration of the retina, an incurable illness. His disability made him acutely aware of the problems that a person with disability (PwD) faces in a non-inclusive society. Aggarwal started Sarthak Trust in 2008 to provide skills and employment to PwDs. Currently, Sarthak has a presence in 15 states.
There is very little awareness about the Abilympics among ordinary citizens. "Even professors from IIT did not know about the Abilympics. They too simply associate a disabled person with the idea of charity," rued Aggarwal. Sarthak Trust has trained thousands of PwDs and through job fairs and skill centres, 16,000 have been provided employment. The trust is now setting up a Global Resource Centre in Gurgaon and moving into rural India where "65 percent of all PwDs live and where the challenge is much greater," said Dr MB Athreya, Sarthak's mentor.
An enabling factor is that the Rights of Persons with Disabilities Act, passed in 2017, has been notified by 19 states, said Shakuntala Gamblin, Secretary, Department of Empowerment of Person With Disabilities, Government of India, who was the chief guest.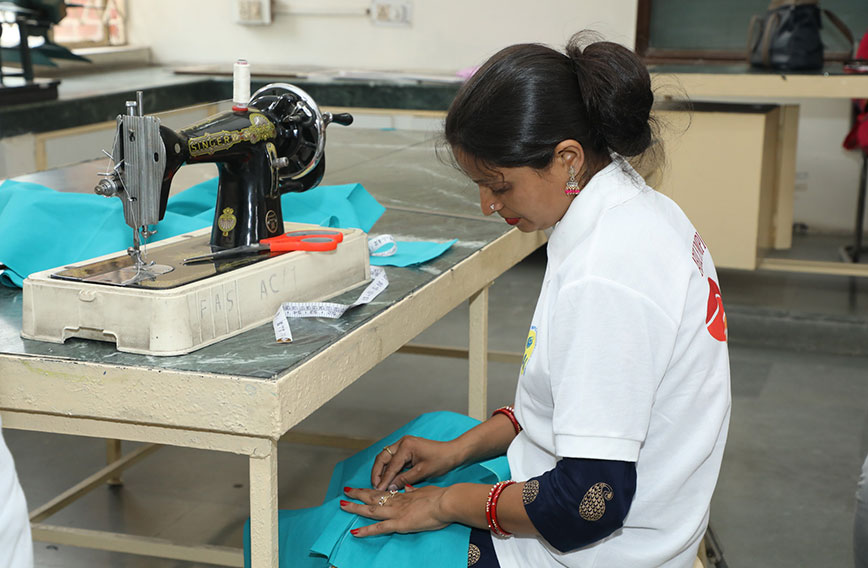 People with disabilities competed in a dress making competition at CSOI in New Delhi
Three panel discussions took place. The CSR panel discussed the importance of building an ecosystem within companies which was inclusive in mind set and technology. People with disabilities said they were concerned about salary structures, that able bodied people would invariably get more money than them for the same work. Rajesh Chauhan, Regional Director, Human Resources, InterContinental Hotels Group, Shantanu Kodesia of Sun Life Financials and Diksha Singh, HR head of PTL Enterprises assured them no such discrimination existed in their companies.
BECOMING DISABILITY-FRIENDLY
PwDs were also concerned about safety at the workplace. Kodesia said at his office premises, fire exits had sirens but they also had a red light which would blink, warning the hearing impaired to leave the premises. Similarly, phone vibrators would be activated in case of an emergency.
Company representatives on the CSR panel also spoke about the importance of having inclusive employers. Amit Srivastav from Flipkart said that the "challenges don't lie with the work ethic of the differently-abled because that is really good, but with the infrastructure and having viable employers". He explained the mechanisms adopted by Flipkart – various apps, interpreters at every store and people to impart sensitivity on the ground. He also said career progression for PwDs happens in his company.
Nirbhaya Pattak from MacMillan requested the audience for ideas that can be used by MacMillan since they were new to the Abilympics. One of the main requests of the audience was for more content for visually impaired students.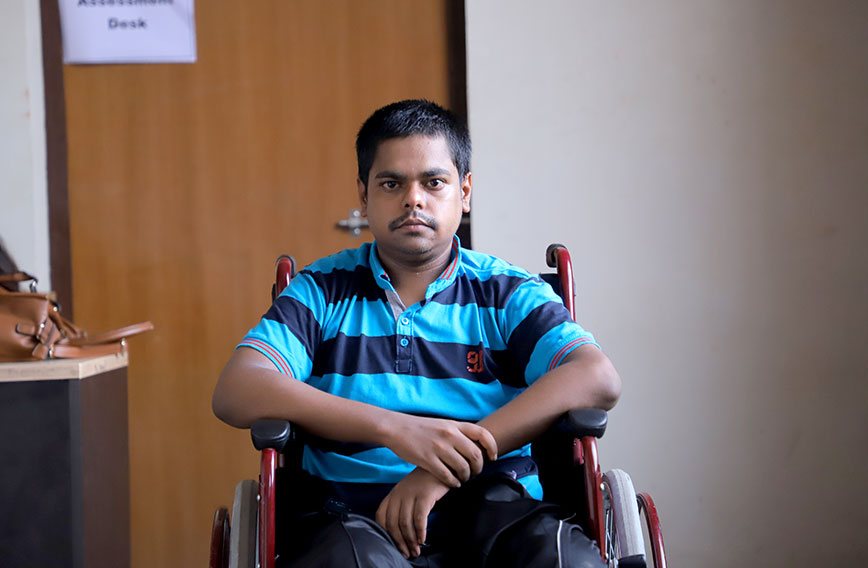 Aamir Khan is looking for a job as a data entry operator | Photograph by Shrey Gupta
PVR Cinemas is trying to make movies a more enjoyable experience for PwDs. Sangeeta Robinson, Head of Sustainability and Inclusion at PVR, explained the mechanisms being adopted for the hearing and visually impaired. For the hearing impaired, subtitles are a convenient mechanism. At the Vasant Kunj mall a few seats, purple in colour, have been reserved for people on wheelchairs.
For the visually impaired a new app, XL Cinema, has been designed by Kunal Prasad, an MIT alumnus and his wife Dipti. It was initially introduced as a language synchronization device to make it easier for people to see a movie in any language. It is now proving useful for those with disability. The app provides real time audio descriptions of the silent or action part of the film. It can be downloaded free from Google Play Store.
BUILDING A CAREER
At the Job Fair held the next day at Lady Irwin College, several companies took part. Among them were Insight Customer Call Solutions, AEGIS, a BPO, Bigtel IT Solutions, Om Innovation Call Services, RuFin, Spectraverse Services and more. Companies high on the list of PwDs were Lemon Tree, Big Basket and Spark Minda, an auto-component manufacturer.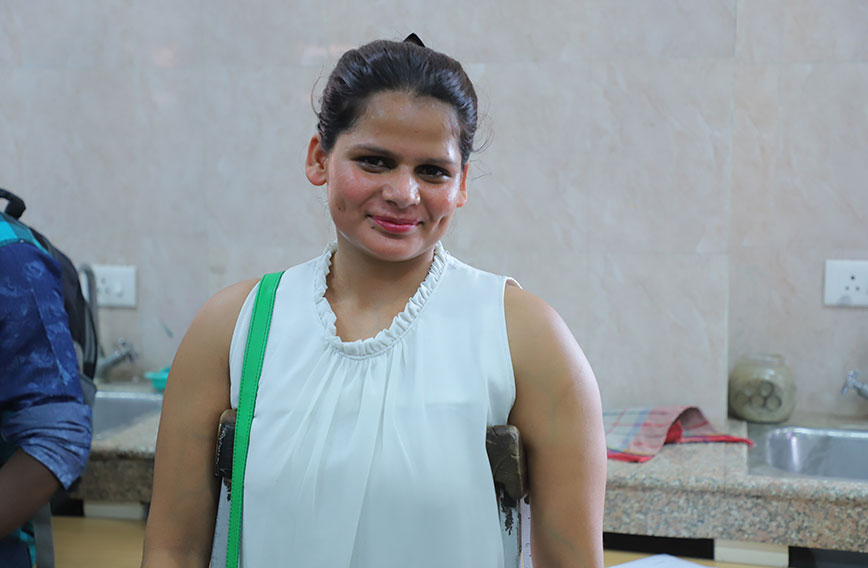 Having spent a year in her last job, Shanky is looking to change her job | Photograph by Shrey Gupta
Many differently-abled people had come with their resumés hoping to leave with a job in hand. Aamir Khan, on a wheelchair, was looking for a job as a data entry operator. Jyoti from Trilokpuri, a postgraduate, wanted a job as a teacher. Shanky on crutches had worked with Global Logic for a year or so and wanted a change of job.