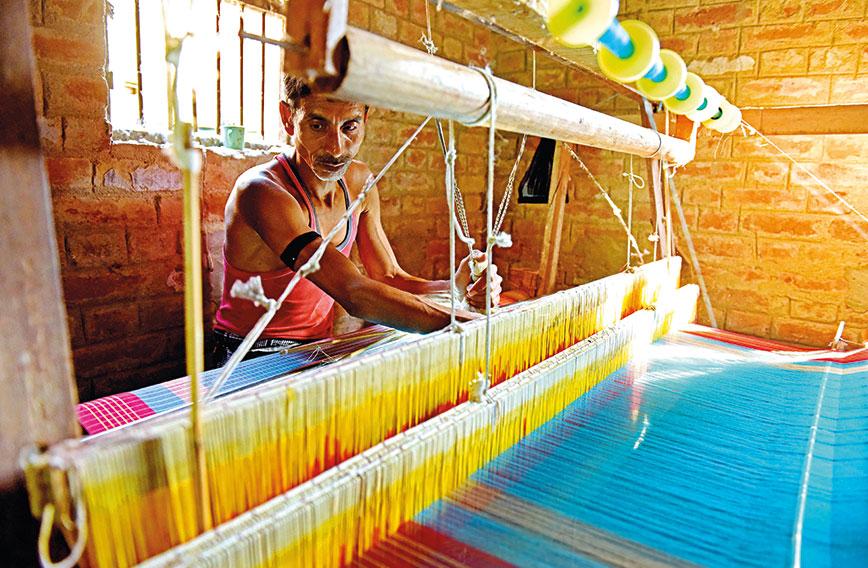 Weaving has been revived in Jamalhata | Photograph by Ankit Datta
Love your village? Here is how you can give back
Subir Roy, Patna
Published: Jun. 22, 2019
Updated: Jun. 29, 2020
Riaz Ahmed is a master weaver in Jamalhata village in Bihar's Siwan district. His life revolves around his workshop-cum-home, contained in a shell-like structure of bare brick walls and unpaved floors. He has 11 handlooms with six working on an order from Parivartan, an NGO.
Until a few years ago, weaving had virtually stopped in this village of weavers, part of the industry that produced the well-known Siwan twill chaadar or bedcover. The 150 people who then made a living out of weaving, done on 40 looms, either migrated to work in the weaving industry in Mumbai and Ludhiana or took to hawking.
Then came Sanjiv Kumar, 54, the scion of a local zamindar family, who set up Parivartan in his village, Narendrapur, to bring all-round development to his own village and 36 surrounding ones as well.
He revived this near-defunct weaving tradition. Ahmed recalls how "he came to the village in 2013 and talked about a revival. He encouraged us to restart, though we did not believe it could happen. Then he sent us yarn, the raw material, and undertook to buy back the product. Thus a few of us got started". Today there are hundreds of looms working in the village.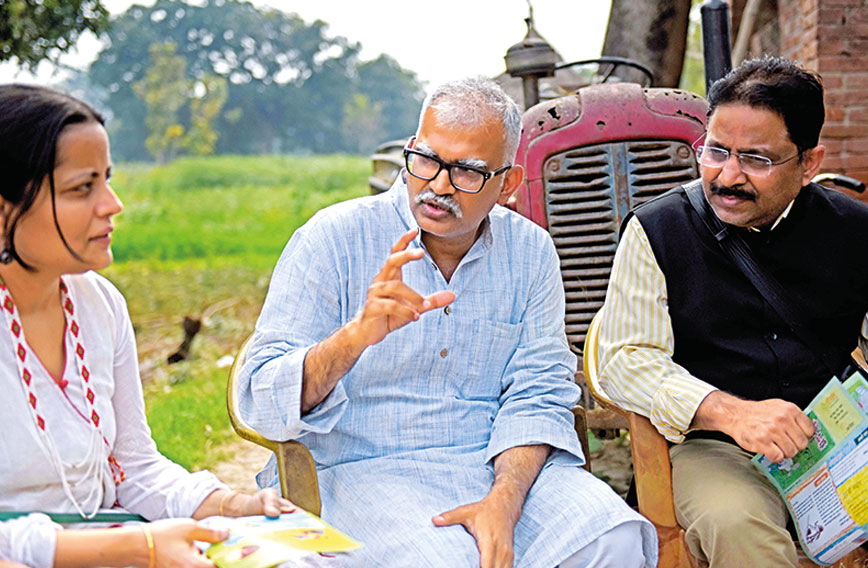 Sanjiv Kumar (middle) | Photograph by Ankit Datta
Siwan in Bihar is one of the most backward districts in India with the highest level of inward remittance among districts from workers who have gone elsewhere to earn a living.
Sanjiv Kumar's decision to set up Parivartan here stems from his belief that "India can grow only if its villages grow".
Parivartan attempts many kinds of change. It helps children learn, women find their voice and take themselves forward, and farmers get the best out of their mostly very small holdings. The handloom project is part of the attempt to revive local traditions and equip people with skills to earn a decent living. Children's development also focuses on sports, theatre and music.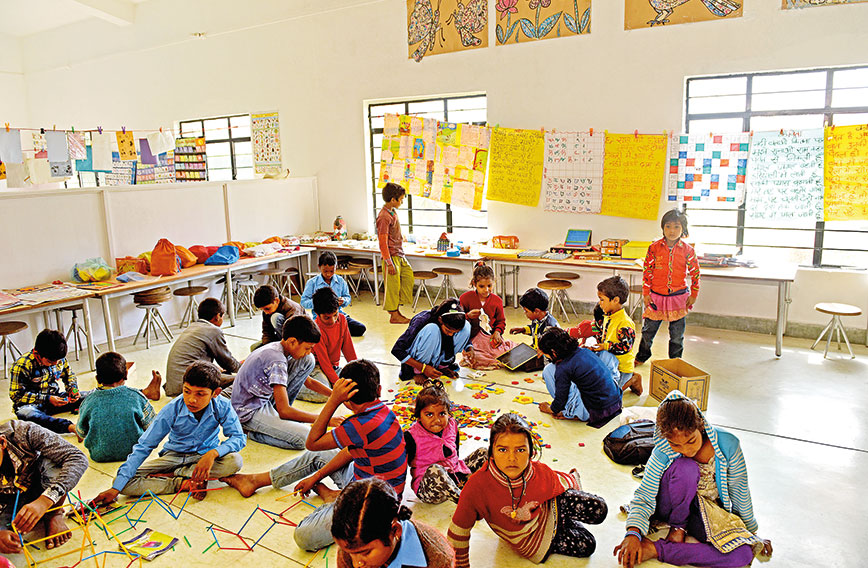 Children, 7 to 11 years old, learn language and craft at Baal Ghar Kislay | Photograph by Ankit Datta
Parivartan is able to do all this not out of the spoils of zamindari which was abolished shortly after Independence (Sanjiv Kumar was not even born then) but from what comes to the Takshila Educational Society that holds the franchise for four schools under the Delhi Public School (DPS) system — in Patna, Pune, Ludhiana and Coimbatore.
Parivartan could offer to buy back the produce of the looms because Sanjiv Kumar decreed that all the children in his schools would wear khadi uniforms made of the cloth that begins its journey in Jamalhata village. When some parents complained that the fall of the uniforms was not good, Kumar's reply was that school is not the place to display fall. Parivartan's campus has a weaving studio and a stitching unit. At the weaving studio, several women from nearby villages work on handlooms. Next door is the stitching unit where 96 women and four men work in two shifts, making school uniforms.
As for what drives Kumar in trying to give back something to society, the clue perhaps lies in both his parents being card carrying members of the Communist Party of India (CPI). Another value he has imbibed is being a firm nonbeliever. So, he went in for a registered marriage and not a traditional religious ritual.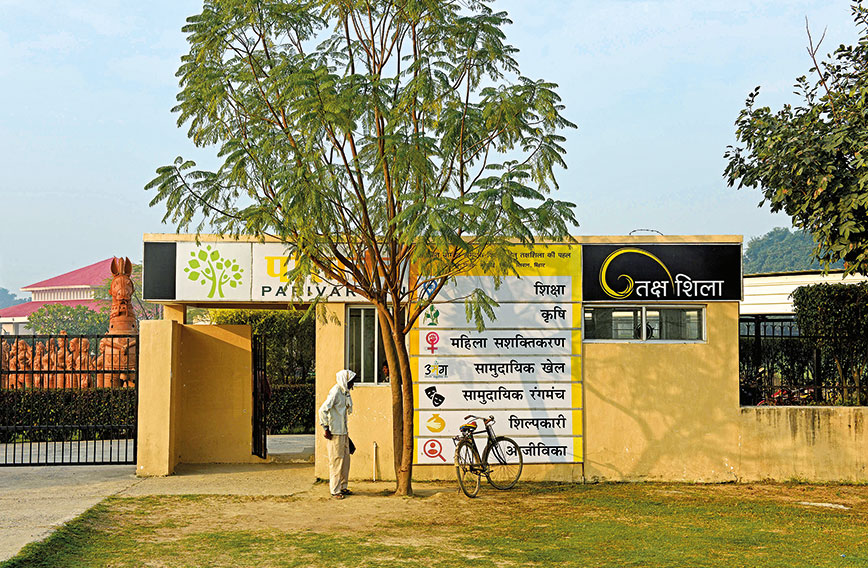 Outside the Parivartan Campus | Photograph by Ankit Datta
HOW IT BEGAN
A galaxy of the best NGOs in India has helped the Takshila Educational Society set up a range of activities for Parivartan.
The education initiative by Parivartan, in the midst of a depressing rural landscape, is astonishingly modern with emphasis on English, science and maths.
Madhav Chavan of Pratham set up courses for electricians, food and beverage and housekeeping staff and beauticians and ran them for five years. These ended as Siwan's ability to absorb them became saturated.
Similarly, Kumar met Rajeshwar Mishra, who became a mentor and guided Parivartan on education. Then E.K. Shaji, head of Jodo Gyan, which focuses on primary level maths for children, became involved. Alok Arunam, an IIT graduate, secured the Young India Fellowship from Ashoka University, and set up with Dr Mishra, the education vertical that encompassed the library, science programme and computer centre.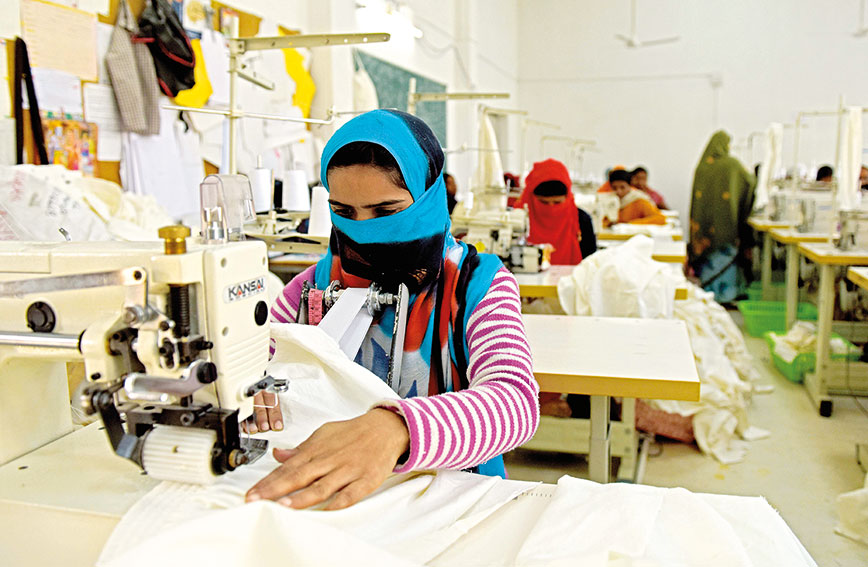 The stitching unit makes school uniforms | Photograph by Ankit Datta
Sanjana Kapoor, daughter of Shashi Kapoor who runs Junoontheatre that takes theatre to small town India, works with Kumar's DPS and Parivartan. "We have been working closely with her in all my four schools. Through Junoontheatre she is taking theatre to children and bringing together theatre and cognitive development," he says.
There was a tie-up with the Jagriti Mahila Samakhya of Muzaffarpur to run Parivartan's Mahila Samakhya programme for women's empowerment. They ran it for two years. Then there was a tie-up with Magic Bus Foundation for the community sports initiative.
Siwan might have all the hallmarks of a backward district but Parivartan's campus belongs to another world. It is spread over eight acres and low, aesthetically-designed buildings sit amidst open spaces dotted with artefacts. The campus has been designed by Vikram Lal, an award-winning architect who has designed several landmark buildings among which is the Akshardham Temple in New Delhi.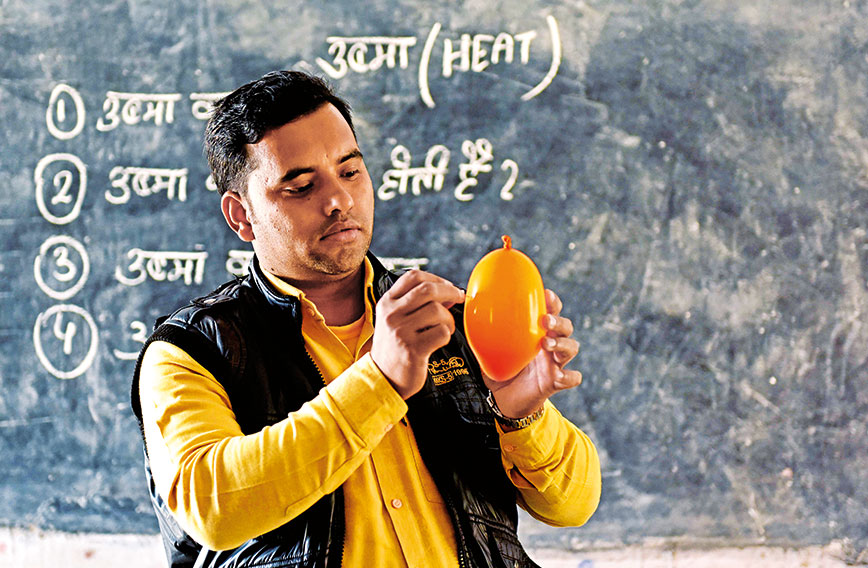 There is emphasis on science and maths | Photograph by Ankit Datta
Its most distinctive feature which you see as you enter is a set of larger-than-life terracotta statues of gods, goddesses, the odd demon, and animals — all done in the south Indian Aiyanar style of temple architecture.
Explaining the campus layout, Kumar says, "I was always fond of architecture." The entrance prepares you for an entity that combines the modern with aesthetics and values distilled from the past.
SCIENCE, ENGLISH
The education initiative by Parivartan consists of two parts. Groups of children visiting the campus to learn while they play and, secondly, facilitators taking material to nearby schools to teach there.
When we visit Baal Ghar Angan, the pre-primary initiative for children aged three to six at the campus, facilitators are working with children brought together from anganwadi centres. The activities are designed to develop their motor and cognitive skills as this is the age at which children learn the most. The room has a colourful play school look with posters designed on the spot to illustrate simple concepts from numbers to manners. The mathematics content has come from Jodo Gyan and the language content from Pratham.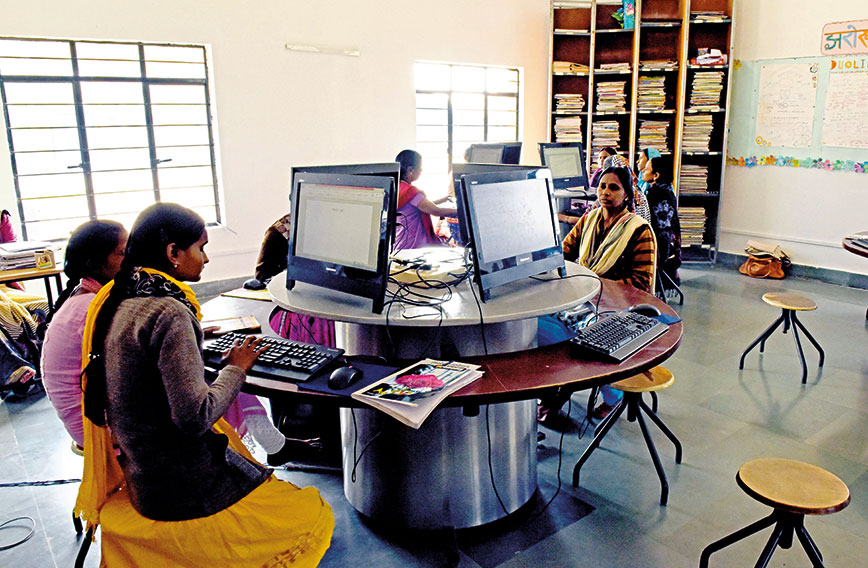 Computer classes in full swing | Photograph by Ankit Datta
There is a separate initiative for the seven to 11 age group, coming under Baal Ghar Kislay. A group of children in this age group from nearby schools is led at the campus by Priyanka Kumari, a facilitator who has been here since 2014. They are taught concepts relating to language and craft through play. There is a wall magazine with children's writing. One group is building shapes through plastic sticks, another group plays with beads, counting them.
What impact is Parivartan having on the children? Priyanka says children who were inarticulate earlier have opened up after coming to the campus for some time. Yet another initiative, Jharokha, for children between 11 and 13 years, has an English learning centre which uses digital platforms. Ideas on science are shared in a hands-on manner at the campus' Vigyan Shala.
A key part of the education initiative is the teaching of science in schools. We visit the Upgraded Middle School at Sanjalpur where a science class is being taken by Vigyan Shala facilitator Sudhir Singh. He shows how the impact of pressure changes (falls) when it is distributed over a larger area. A single pin pricks a balloon but when the same balloon is pressed over a bed of multiple pins it stands its own.
Later we spot him explaining to a group of children around him how a rainbow is created. A mirror lies at the bottom of a tub of water, with sunlight falling on it, reflecting a rainbow on a wall opposite. Everyday items which the children are familiar with are used to explain phenomena that they are also familiar with and in the process a scientific principle is made clear. Alok Kumar Singh, who is taking us around, explains how not just the children but the teacher also has evolved since he first came in.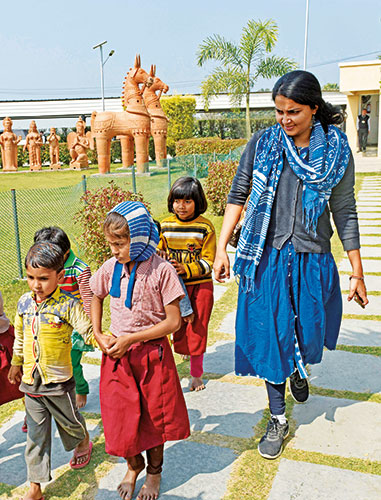 The same link-up of teaching with play, stories and everyday things is prevalent in the library class that librarian Nishu Kumari of Parivartan is taking at Khembhatkan Primary School with Class 5 students. She tells them stories which engage them as a precursor to a visit to the Parivartan library where they will find all the books with those stories she narrates and more. The class has about 15 children, nearly all girls, with a single row of boys making up the last row not interested at all in what the teacher is saying. Why predominantly girls? The answer is that parents often send their boys to private schools and girls to government schools like this one.
Baal Ghar Angan also works out of anganwadi centres. We visit one operating out of a rented room in a private house, packed with under-five children and nursing mothers at the periphery (some in hijabs), being told a story by a facilitator which they repeat. The spread of private education is all-pervasive. The outer wall of the anganwadi centre bears a poster of a private school.
There is no particular religion in the prayers the 36 staff members of Parivartan, including the housekeeping staff, recite when they gather near the campus Sabhaghar in a circle every morning before beginning the day's work.
The prayers are adopted from Aswath, the first title brought out under the Takshila Value Series publications. It is an inspirational collection of poems, songs, shlokas and prayers that have been compiled from diverse sources. The prayers and poems recited have no religious implications but a strong link to self-improvement. Apart from the prayer, Bihar Geet and the national anthem are also sung by the staff before beginning their workday.
Setika Singh, the executive director of Takshila Foundation, has had a hand in the idea behind this prayer meeting. She is Kumar's daughter and he emphasises that he maintains a clear distinction — no family member in the running of DPS but only in the non-profit initiatives like Parivartan.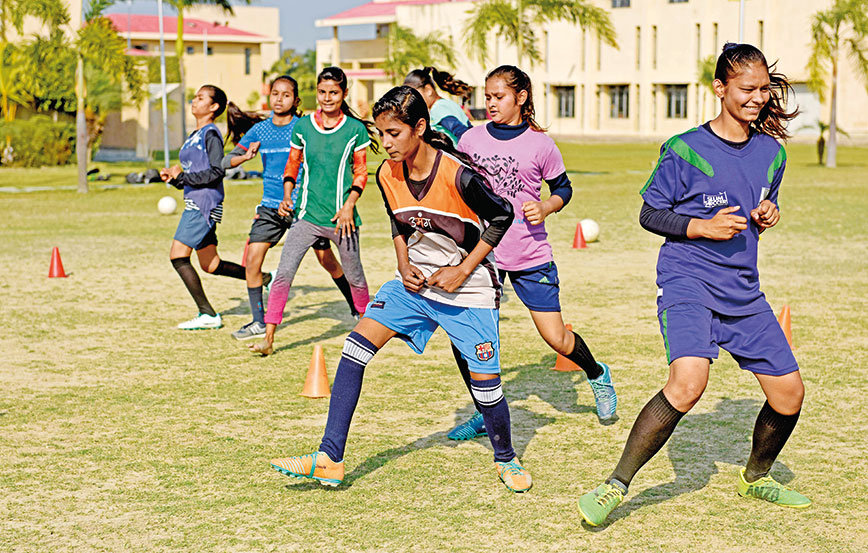 Girls from nearby villages prepping for a game of football | Photograph by Ankit Datta
Kumar affirms that his money comes from the four DPS schools he runs. The total capital investment in Parivartan so far has been Rs. 15 crore. Revenue expenditure cumulatively from 2011-12 to 2018-19 has been Rs. 7 crore to 8 crore. In 2011-12 it was Rs. 30 lakh. Now, in 2018-19, it is in the region of Rs. 1.5 crore. The target is to keep it at that.
His most farsighted act has been to create a corpus for each non-revenue generating entity. "We have secured the future of Parivartan by creating a Rs. 25-crore corpus, which at 6 percent return per annum will be enough to meet the expenses of Parivartan."
Kumar has been greatly influenced by the book, Built to Last, which he keeps referring to. It researched 50 companies that have been at the top for 75 years. The common DNA of these companies was people and not profits first and they always wanted to leave a legacy. "I want to leave Takshila as a legacy," he says.