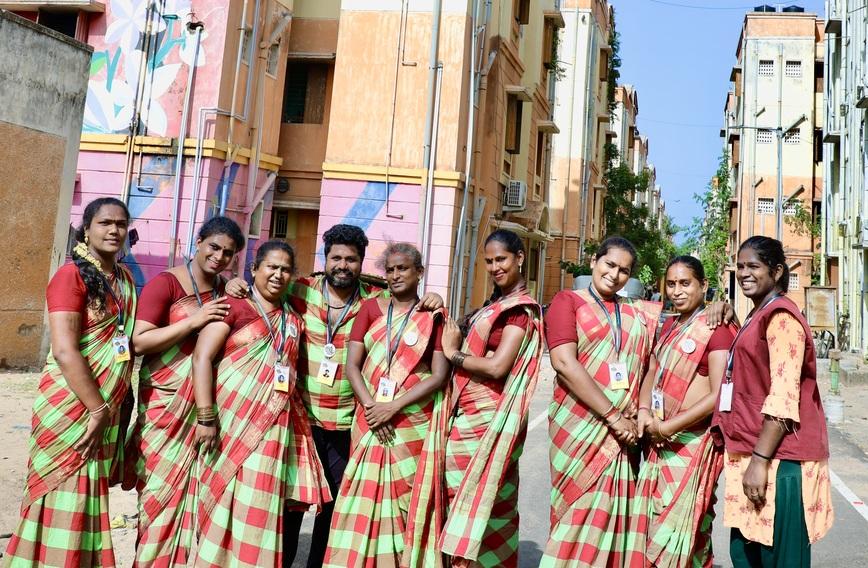 The Trans Community Kitchen team
A trans kitchen in Chennai with a handful of love
Surmayi Khatana
Published: Oct. 26, 2021
Updated: Nov. 01, 2022
LIFE is ordinarily rough for transgender people. They tend to be socially ostracized, lack education and find it difficult to get employment.
In the pandemic, life is much rougher for the community. With lockdowns taking people off the streets, and shops getting shuttered, there have been fewer streams of income and no food.
In Chennai, help came unexpectedly with the setting up of the Trans Community Kitchen by four young people even as the second wave of infections raged and the situation grew grimmer.
The Trans Community Kitchen operated from two locations in Chennai and both are now closed since the city is back to normal. But between April and June, meals were served to more than 1,000 people a day and 65,000 packets of food were distributed.
It was a self-less operation which rallied cooks and support staff. Funds were collected online. The motto was: "Orupidianbu" or "a handful of love".
The kitchen was the idea of Srijith and Aruvi, a theatre director and a student of gender studies in Hyderabad University, respectively. They were joined by Sharan and Anish, both local activists for transgender rights.
"As thirunangais (transgender), we know what it means to be discriminated against, what it means to go to sleep hungry, and we wanted to do as much as we could to make sure as many people as we could manage didn't go to sleep hungry," Srijith told Civil Society on the phone from Chennai.
They had been involved in relief measures during the first wave and had been helping members of the community. But the kitchen was a more organized and targeted measure.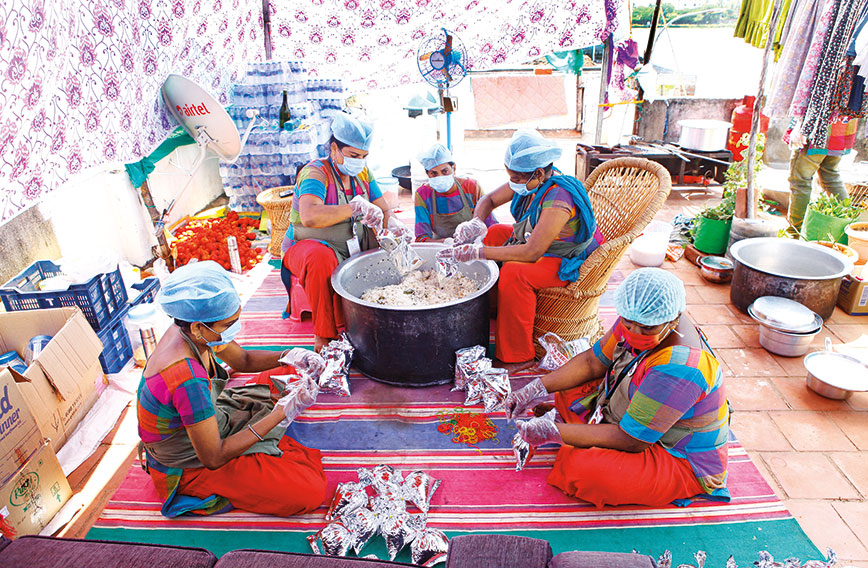 The cooks and other workers included 15 trans women of various ages and backgrounds. They were paid for their labour and so the kitchen also became a consistent source of income at a time when no money was forthcoming from other sources.
Funding for the meals and the wages came from donations received online. Whatever they collected they accounted for online to donors.
"Some of the older members of the kitchen are like mothers to us, they have been in the local area for a long time. Trans folk live together in communities. If someone has run away from home, the community becomes their family. These folks guide us." explains Aruvi.
There was much learning as they went along. From Maya, a Sri Lankan from a refugee camp, whose work in the kitchen was outstanding, came the idea of relaxing of gate timing rules with regard to volunteering.
Having got the kitchen going first at Porur, it was decided to serve meals also at Ernavur. Cooks were kept in isolation and workstations sanitized.
A local store delivered groceries for the Porur kitchen, which were divided into portions. Planning and division of groceries for days in advance became key to running smoothly for consecutive meals. Priya, one of the volunteers, kept an inventory and planned logistics.
At Ernavur, Kala Amma travelled in a meen body vandi, a three-wheeled vehicle, to the Kothal Chavadi market, one of the few vegetable markets functioning during the lockdown. She took with her a list from Ramya, who maintained an inventory.
The kitchens learnt from each other's experiences, shared 'one-pot' recipes, and exchanged inventories at their mid-week meetings.
Shankari Akka put together the menu, keeping nutrition and taste as priorities. Breakfast included meals like khichdi or pongal. For lunch there would be brinji, which is a rice dish, tomato rice, sambhar rice, along with eggs. For dinner there would be wheat rava khichdi, upma, vada-curry and masala macaroni. There was dessert too: rava kesari or gulab jamun. Biryani made an appearance on the menu on some days.
INSIDE THE KITCHENS
Fresh groceries, mineral water, and high-quality oil were used for cooking. Most of the menu included single-pot dishes to be able to manage a large amount of food in a short time.
For COVID-positive families the menu was crafted differently, with eggs, pickles, and a focus on immunity-boosting foods. "A chain of trust forms. People would put faith in us and contribute a small amount. We would deliver, keep them updated, and after seeing our work they would continue donating to us and introduce other individuals to us," says Aruvi, highlighting the importance of accountability. The kitchen still maintains a mailing list of all donors, informing them how each rupee is spent.
"Most of our donors have been folks who care about trans rights and want to contribute to someone they can trust to do the right work in the right places," they say.
SERVING EVERYONE
"The Trans Community Kitchen was started on the principle of serving everybody in sight without asking any questions," says Srijith.
While trans individuals and women with disabilities were the kitchen's principal beneficiaries, it also served multiple tribal communities such as the Narikuravars and Boom Boom Mattukaran.
They also served small communities of migrant workers, "all the people with occupations that had become impossible in the lockdown," including tea vendors, food stall owners and so on.
As the kitchen continued serving communities, the aid receivers pointed them in the direction of other communities in need, spreading their 'handful of love' to a larger number of people.
The Porur kitchen served frontline workers at Ramachandra Medical College, cemeteries in Kattupakkam, the Porur Toll Gate, the Porur Gopalakrishna Theatre and 28 other areas.
Initially, the Ernavur kitchen at Tsunami Quarters served around 100 individuals — trans women, working class individuals, and disabled women living in the housing board.
As the kitchen grew, with experience as well as funds, it began to also serve frontline workers at Stanley Hospital, Rajiv Gandhi Government General Hospital, Omandurar Hospital, cemeteries on Mint Street, and other areas that were not covered by the Porur kitchen.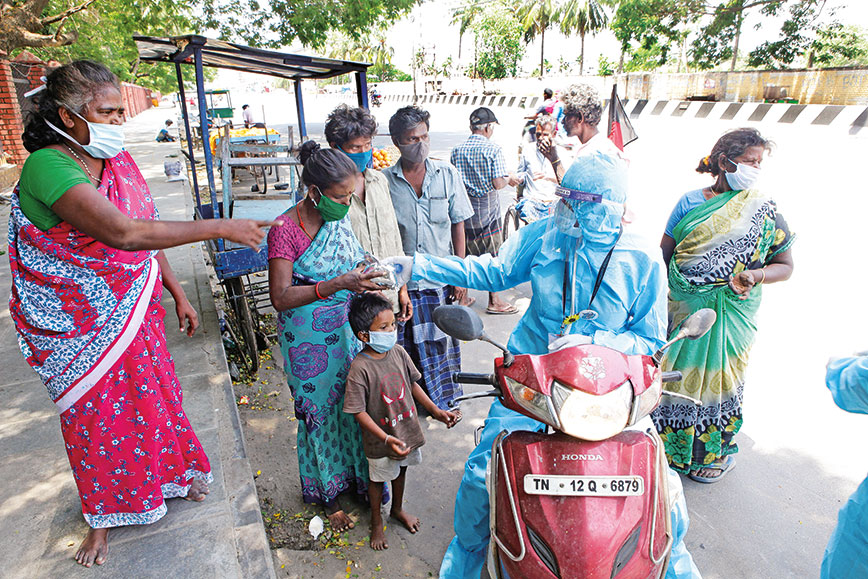 DELIVERY RUNS
After the initial days of basic precautions like masks, gloves and shields, with the rise in cases and increased interaction with COVID-positive individuals, the team began delivering in full PPE.
"One of the effects was that the full weight of being on the very frontline of the pandemic hit us very heavily," says Srijith. He and Aruvi recall Priya coming back from a food delivery run in tears, feeling depersonalized driving in an empty city in a PPE suit.
After this episode, Srijith began accompanying the volunteers on the delivery runs, cracking jokes to lighten the mood during deliveries, singing songs together and stopping from time to time to scold people without masks.
"We turned a costume of death into something of a clown costume for that brief duration. In another sense, the PPE costume gave us a sense of dignity in our work, and renewed our purpose and knowledge that we're doing something not just crucial, but something we could take pride in," he says.
While the kitchen has ceased operations due to lifting of the lockdown in Chennai, it continues to raise funds and donations to pay bills for groceries bought in advance and rented utensils.
You can follow their journey on social media (@transcommunitykitchen) and donate by contacting transcommunitykitchen@gmail.com.