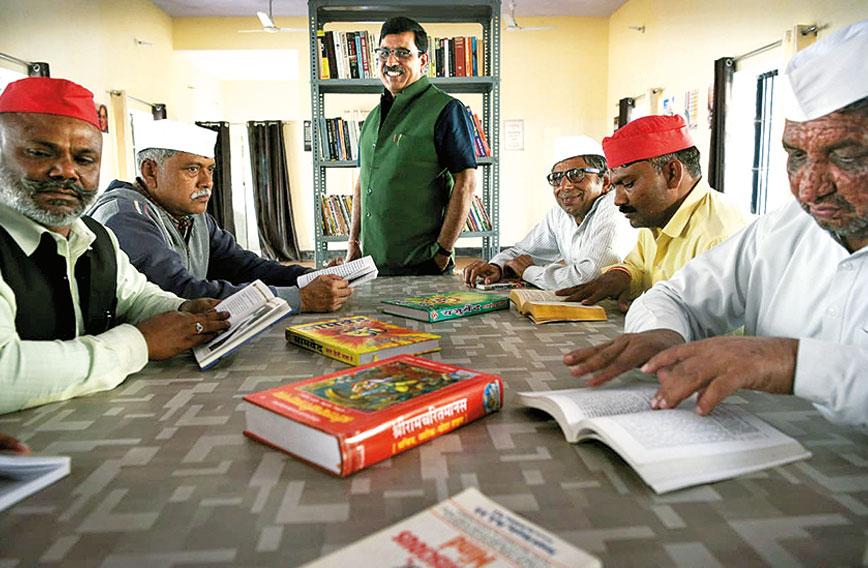 People in jail say they find solace in reading and the library is a haven of peace
Libraries in prisons are a great escape
Kavita Charanji, New Delhi
Published: Jun. 28, 2022
Updated: Dec. 28, 2022
WHEN a senior IT professional found himself behind bars in Noida jail for two years, he was in abject despair. It was books that gave him solace, he says, during that dark phase of his life. "I was appointed caretaker of the prison's library. Prisoners would approach me for book recommendations. I singled out books based on their interests, mostly motivational literature," he recalls.
A voracious reader of spiritual books, he used his time in jail to read the Ramcharitmanas. He also read the novels of Munshi Premchand and Bhagwati Charan Verma and drama and poetry.
"Books helped alleviate my personal challenges, tension and depression. Religious literature sets a prisoner on a spiritual path and the wrongs committed can then be seen in perspective," he says.
The library at Noida jail is one of 14 libraries set up in 12 prisons across Uttar Pradesh (UP) and Madhya Pradesh (MP) by the Ranganathan Society for Social Welfare and Library Development (RSSWLD), a non-profit supported by the Birla Institute of Management Technology (BIMTECH) under its CSR programme.
"Prisoners fall prey to negative thoughts and their conversations with other inmates are similarly negative. The environment is hostile. They are away from their families and society. There is slim chance of shaking loose from black thoughts or feelings. But books act as a therapy," says Dr Rishi Tiwari, founder-secretary, RSSWLD, head librarian of BIMTECH and CEO of the BIMTECH Foundation.
The rehabilitation process for the IT professional, for instance, was very painful. But the RSSWLD team counselled him and gave him the strength to face society again. Before being in prison he used to work as a software engineer in an MNC. He has now joined another company.
The libraries set up by RSSWLD in UP have proved to be so successful that requests for similar facilities have come from jail authorities in Rajasthan, Uttarakhand and Haryana. Two libraries for women prisoners have been set up in Gautam Buddh Nagar and Gwalior jails. A toy library has also been established in Gautam Buddh Nagar jail for the children of women prisoners.
"Jails are a microcosm of our society. The main objective of setting up jail libraries is to offer some hope to inmates that they can reform their life and start a new chapter after completing their imprisonment," says Dr Harivansh Chaturvedi, BIMTECH's compassionate director.
Jail inmates are mostly from poor, backward, oppressed tribal communities and minorities, he says. There have been instances of suicides and violence behind the forbidding walls of prisons because little effort goes into reforming prisoners.
A former prisoner in Gautam Buddh Nagar's district jail recalls that the prison's library was a haven of peace for her. A former HR manager, she read a variety of motivational books that pulled her out of the depths of despair into which she had sunk. She also went through biographies of freedom fighters like Subhas Chandra Bose.
"Conversations with other women inmates always turned negative as we were all steeped in negativity. The library diverted our minds from our misery. It helped us realize that life was not over, that the future could also be positive." Guided into the mainstream by RSSWLD, who she discovered through an online search, she is now a project consultant.
Tiwari has steered RSSWLD from the time it was set up in 2009. He was mentored by Dr Chaturvedi. Students at BIMTECH are encouraged to be socially conscious citizens. Community outreach by students, faculty and staff began with the opening of rural libraries in villages near its campus in Greater Noida. However, the 14 libraries proved unsustainable because villagers were simply not interested in reading books.
Then in 2012, a report appeared in The Hindu in its Chennai edition about district jails in Tamil Nadu that roped in prisoners to cook food which could be sold in cities near the jails. Inspired by the report, RSSWLD too decided to come up with ideas that would give inmates a second chance in life. Tiwari met the jail superintendent of Ghaziabad Jail, Dr Viresh Raj Sharma, and told him about RSSWLD's rural libraries. Sharma was interested in having a library in Dasna Jail in Ghaziabad. Dr Chaturvedi supported the idea though some faculty members were sceptical about an academic institution venturing into a prison.
The first BIMTECH library was set up in Dasna Jail in 2012. After analyzing a survey to determine the literary tastes of inmates, RSSWLD bought books of eminent authors like Premchand, Mahadevi Verma, Mannu Bhandari, Mrinal Pande and many others. The Dasna Jail venture, RSSWLD's largest project, now has a "beautiful library" of some 4,000 books, says Tiwari.
As word about the library spread, the Lucknow Jail authorities approached RSSWLD to set up a similar facility. The libraries are stocked with Hindi books authored by Premchand, Sarat Chandra Chattopadhyay and other eminent names. Many prisoners like to read books on subjects like competitive exams, religion, motivational works, legal advisories, skill development and vocational education. "The prison libraries are better than any public library," says Tiwari with pride.
Even mentally disturbed inmates of jails find refuge in the libraries. Tiwari recalls how, on a visit to Meerut Jail, he came across a prisoner who looked decidedly abnormal. The caretaker of the library, a convict serving a life term for murder, informed him that the inmate suffered from severe depression. In desperation, he would bang his head against the prison walls and get beaten by other inmates who didn't know how to control him. The jail authorities sent him to the library. Though illiterate, he got fascinated by volumes of the Ramayana and would sit silently, gazing at the pictorial depictions of Ram and Sita. He routinely appeared in the library as soon as it opened at 9 am. Slowly, he opened up and asked the caretaker to explain the Ramayana to him. "He became hooked on the library and is much calmer," says Tiwari.
The success of the libraries depends on the commitment of the jail administration to prison reform. Dr Sharad Kulshrestha, former IG Prisons, UP, now based in Lucknow, was particularly supportive of RSSWLD and encouraged Tiwari to establish more libraries in the state.
In a telephonic interview, he pointed out that RSSWLD provided clear direction to the prison libraries which earlier lacked a connect with inmates. "When RSSWLD did a survey, many prisoners said that they wanted a wider selection beyond just religious books. They asked for motivational literature, detective novels, poetry. Books were bought according to the tastes of prisoners. They were trained in how to maintain and run the libraries," says Kulshrestha.
The libraries have had a salutary effect on prisoners. Fewer prisoners repeat crimes on release. Fewer cases of suicide and violent infighting are reported, says Kulshrestha. Some inmates have improved literacy levels. But, he says, there is still much ground to cover. Many overburdened jail officials do not view libraries as a priority. Besides, prisoners are reluctant to share any information about themselves or enter into any kind of dialogue with outsiders in the belief that it may be used against them in the course of the legal process.