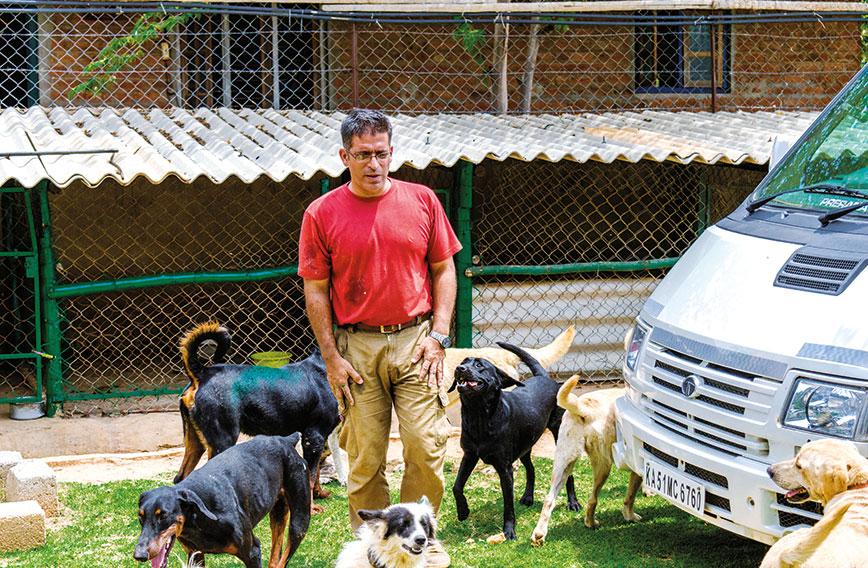 A home for orphaned dogs: Rakesh Shukla, founder of Voice of Stray Dogs, at his sanctuary on the outskirts of Bengaluru
India's Dog Father has saved close to 8000 dogs
Samita Rathor, Bengaluru
Published: Dec. 05, 2018
Updated: Jan. 01, 2019
Rakesh Shukla is founder and CEO of The Writer's Block, a telecom content company with clients like Intel, IBM, Toyota, Siemens, Oracle and Microsoft.
An electronics engineer, Shukla writes and speaks on leadership, business and technology. He is also a Ted X speaker and inspires people to get over failure.
But what really distinguishes him is his selfless love for abandoned, injured and disabled stray dogs whom he rehabilitates and shelters, giving them a whole new lease of life. Shukla is the single largest rescuer of dogs in the world. He has rescued over 8,000 dogs and is called the Dog Father of India. He lives in a unique sanctuary on the outskirts of Bengaluru with 800 rescued dogs.
So how did a successful techie who has worked with the best companies in the world become an ardent animal lover?
In 2010, Shukla rescued a puppy from the streets of Bengaluru. The puppy was named Lucky. His first rescue opened his eyes to the plight of stray dogs in India and inspired him to spend his precious time rescuing dogs in Bengaluru using his own car. In two years he rescued 250 dogs.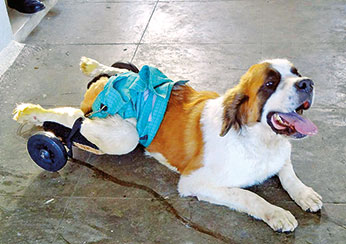 In 2012 he chanced upon Cookie, a paralysed St Bernard who had been thrown into a bush on a lonely stretch of Wind Tunnel Road, behind the HAL Military Airport. A kind woman called Sandhya picked up the dog but she didn't know where to take her since no vets or 'shelters' would accept a dog in that hopeless condition.
Finally Bengaluru's oldest dog shelter took the dog in, but declared that she could not recover, so she would be euthanised. Her spinal cord had been completely severed. Someone made a call to Shukla asking if he could do something.
Shukla immediately went to pick up the dog so she would not be put down. He named her Cookie. He had no place to keep her. No kennel or shelter was ready to take her in for a night. With no other option, Rakesh took her to his office. Bengaluru's best vets declared Cookie, wrongly, out of danger, in no pain but paralysed.
No cart would really work for a 75-kg dog. Shukla decided to make a cart with wheels for her. On her fourth attempt Cookie started using the cart. But she had pyometra (uterus infection) since she had been lying in her urine and excreta before being rescued. There is no external sign of the disease. When she was finally diagnosed, it was discovered that septicemia had set in and, despite huge quantities of antibiotics and blood transfusion, Cookie passed away.
VOSD is born
Distraught, Shukla decided to make a choice. He could either blame the 'system' or create one in which dogs lived their lives with the best medical care. Voice of Stray Dogs (VOSD) was born with a staff of three and one van and it kept growing and growing.
That's how VOSD became the world's largest no-kill dog sanctuary and rescue centre. Apart from rescuing close to 8,000 dogs, VOSD has provided over 250,000 state-of-the-art free treatments to dogs and currently has 800 resident rescued dogs at its premises. No dogs are ever euthanised at VOSD because of lack of space, money or resources. No dogs are ever kept chained. VOSD has a lush 3.5-acre dog sanctuary with human grade medical care and human grade food for dogs!
VOSD is a last resort home for rescued dogs from across India. It has given shelter and treated dogs blinded with acid, run over, paralysed, sexually assaulted, slashed with knives, tied to train tracks. Dog rescues and dog rescuers arrive at VOSD not just from Bengaluru but from Pune, Mumbai, Delhi, Chandigarh, Chennai, Thiruvananthapuram, Indore, Coimbatore, Kolkata, Kochi and other cities.
The VOSD sanctuary is also home to retired service dogs of the Karnataka Police, Reserve Police, Railway Police, Kerala Police and army dogs and horses.
Recently, Shukla while trying to fix a wired fence for the dogs got electrocuted and nearly lost his toe in the accident. But that hasn't stopped him from his mission of caring for dogs.
Bigger and better
VOSD Sanctuary dogs have 24/7 caretakers including para-vets who treat dogs, and nurture sick and recovering dogs over long recovery cycles including for renal, liver and other chronic conditions. These are dogs that no vet or owner would likely keep in India.
All the dogs get regular medical check-ups, weekly tick and flea treatments, quarterly de-worming, annual vaccinations and good nutrition. VOSD, on average, spends `2,000 per dog per month including nutrition and treatment, which is extremely low-cost.
VOSD at present has a medical facility built over 2,500 sq ft that has two outpatient departments, a basic surgery unit with surgical and suturing and anesthetic supplies, refrigerators and so on. This resident facility was built six years ago when there were only 10-20 dogs. It was made to create an aseptic environment. Now it houses 800 dogs, each with a medical history.
While all medicine and para-vets are locally available, specialised, critical treatment and diagnostics can only happen in Bengaluru which is a 150-km round trip with at least eight hours of driving and wait time. Says Shukla, "With a growing and aging population there is a critical need for faster response to the medical needs of dogs."
VOSD is upgrading its facilities. It plans to create a high quality aseptic surgery unit and three OPDs comparable to the best vet hospitals in Bengaluru and start a modern diagnostics clinic so that vets can prescribe treatment within minutes. Adult dogs will get an additional 30 kennels for post-operative care and recovery. There will be 10 climate controlled kennels for puppies. For aging dogs a water jet-powered hydrotherapy pool has been proposed.
And there is something for humans also. Living quarters will be upgraded so that the best Indian and international vets can come and stay and share their expertise.
Email: info@vosd.in; Twitter (@VOSD1), or contact yogarpanm@gmail.co