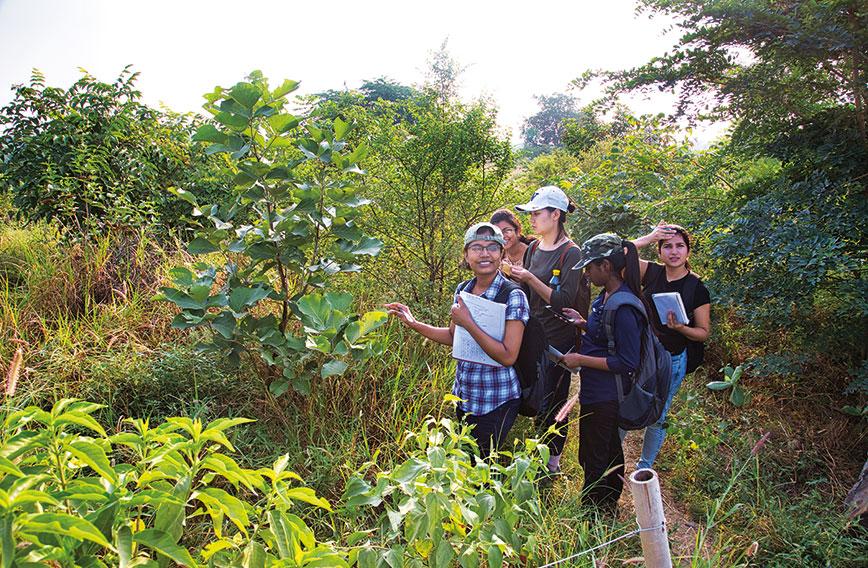 The restoration of this biodiverse forest is a learning experience for children
What now for urban forest in Gurugram?
Kavita Charanji, Gurugram
Published: Mar. 09, 2021
Updated: Mar. 26, 2021
OFF a busy road with speeding traffic and skyscrapers, malls and tech hubs looming nearby, Gurugram has a forest, a real one with native trees, grasses, birds, jackals, the hare and a nilgai. It's called the Aravali Biodiversity Park and it recreates the original rugged Aravali landscape which the city had virtually stamped out.
The park used to be a degraded mining site riddled with encroachments, cattle and garbage. Then a citizens' group, I Am Gurgaon (IAG), determined to give the city a forest, a green breathing space, worked for eight years to restore and rewild this 380-acre despoiled stretch in a corner of Gurugram.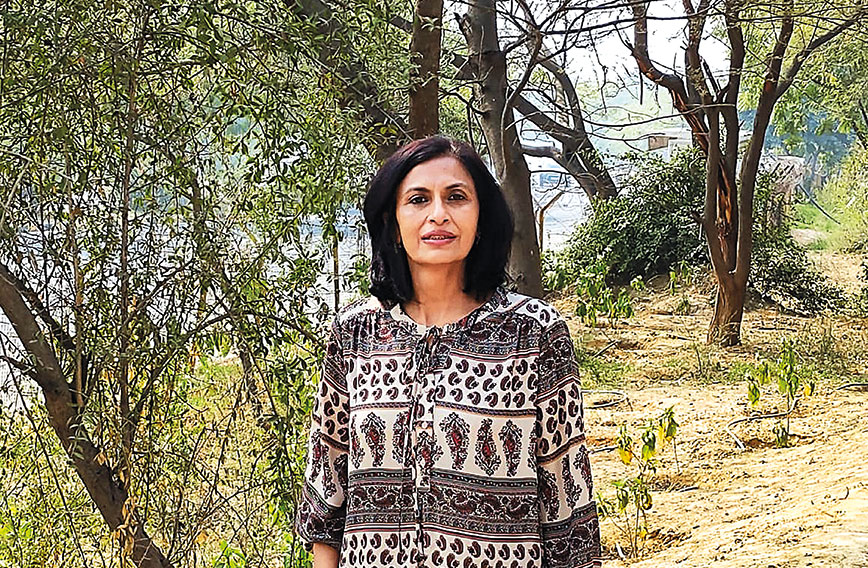 Latika Thukral
The transformation of this land has been so spectacular that three active members of IAG, Latika Thukral, former banker, Swanzal Kak Kapoor, an architect, and Vijay Dhasmana, curator of the park, recently won the Sanctuary Wildlife Service Award.
"Any award or recognition we get is not just recognition for us but also for the government officials and companies whose support we have got. At 54, I can only say that I am doing all this to inspire the younger generation to believe that they can do it too," says Thukral.
IAG worked with the Municipal Corporation of Gurugram (MCG), citizens, volunteers and companies to reforest the former mining site into a thriving native city forest. The 380-acre park with its teeming flora and fauna recreates the environment of the ancient Aravali mountain range.
As we walk around the park, thickly populated with trees, grasslands, herbs, shrubs and climbers, Thukral says IAG's eight-year tie-up with the MCG comes to a close in March. It is a wrench to give up the management of the park they have so lovingly nurtured, she admits. The buzz is that the park will be handed over to a company for maintenance. Thukral says they are willing to work with whichever company the MCG chooses to give it to. Environment groups will keep tabs. After all, so much effort and commitment went into bringing this land back to life.
Originally the park was a barren part of the Aravali range in Nathupur village. The only sign of vegetation was the invasive, water-guzzling, vilayati kikar (Prosopis juliflora) that drove other plants away. The offensive trees have since been removed.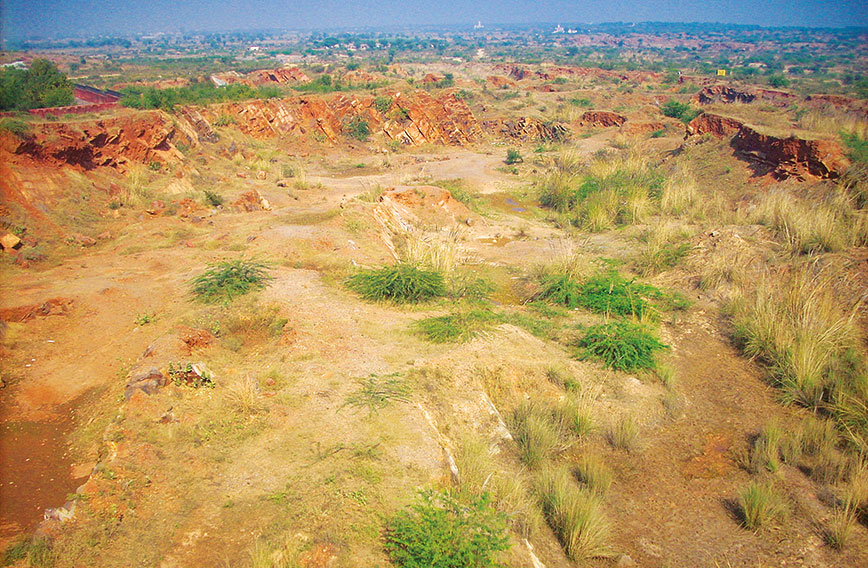 This land used to be a degraded mining site
The plan for a park had its genesis in 2009. IAG, a voluntary group, co-founded by Thukral, Kapoor and Ambika Agarwal, who has since gone her own way, decided to take on projects that would make a difference to the city. They approached the then MCG commissioner, Rajesh Khullar, with their idea of a park. He was receptive and asked them to take their idea forward.
Atal Kapoor, a well-known architect and Swanzal's husband, was roped in. Kapoor and his team designed the layout, incorporating the boundary wall, parking lot, pathways and amphitheatres. Under his watchful eye, MCG began the civil works.
At that time IAG was fixated on Million Trees Gurgaon, a project supported by the government to regreen the city by planting indigenous species. The Haryana Forest Development Corporation had done the initial spadework. It had planted some local species and lined walking trails in the park with jacaranda, gulmohar and bottle brush trees. The park was then inaugurated in June 2010.
The excitement over Million Trees Gurgaon died down soon enough. Dhasmana, a birder, photographer and rewilder who also helped restore Sundar Nursery in Delhi, was sceptical about the idea from the start. "It is not very easy to plant a million trees, plus what is the vision and purpose of planting a million trees?" he recalls.
The team undertook many visits to Manger Bani, Sariska and other forests of the Aravalis and realized they needed to change their planting strategy. What they needed to do was create a native rocky Aravali forestscape. That meant they should be planting native trees like dhau, kumath, salai, doodhi and dhak along with diverse shrubs and grasses.
Luckily, Sudhir Rajpal, the MCG commissioner at the time, was enthusiastic about their idea of creating a city forest. He agreed to see Manger Bani for himself. IAG was formally assigned a time-frame of 2012-20 to undertake conservation, set up a nursery of native plants, and encourage research and survey in the park.
IAG team members drew up a list of around 200 forest species native to the Aravalis. Some of them were nowhere to be found. The team learnt that long ago such species grew in the precincts of this region. Government and private nurseries did not keep such plants. They had to find them on their own. The team then plunged into a seeds and cuttings collection drive. They dived into wild and semi-wild areas like Manger Bani, the Delhi Ridge and Ranthambore. They set up their own nursery at the park and began planting appropriate trees, shrubs and grasses in the park.
Dhasmana recalls the wonders of watching nature work its magic. He rattles off the names of trees, shrubs, climbers, herbs and grasses that have sprung to life in the city forest. He points to trees like salai (Boswellia serrata) that grow easily in rocky areas, and dhak, that grows in the valleys spread over five hills in the park. The forest also hosts kaim, ber, babool, neem and jamun trees, to name just a few.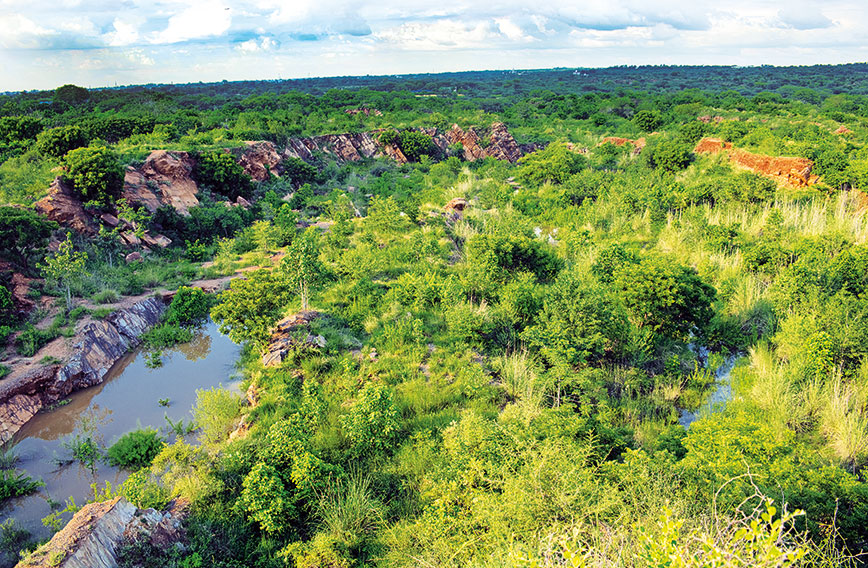 Now it's a native forest with natural water bodies
"The trees are very hardy. We were surprised how fast they grew on rocky terrain without irrigation. In fact, Latika and other IAG members used to ask me whether the jungle would be created in their lifetime," he smiles.The chamrod shrub delights Dhasmana. It flowers in the rain. "See, we had a slight shower and already the buds have emerged," he says.
As we walk along we come across a leafless "ghost tree" that turns paler with the seasons. Wild yellow flowers peep out of cracks in the pathway. Medicinal herbs like chitrak and peela vajradanti are in full bloom. The pula tree hums happily with bees when it is in flower, says Dhasmana.
What about irrigation? Gurugram is a semi-arid region. The plants haven't been irrigated for a long time now. In the first three years a drip irrigation system was set up but since then the forest has pretty much grown on its own. The Aravalis have many fissures that trap moisture and that is sufficient for plants to grow, explains Dhasmana.
He stops to point to the leaf litter that creates an organic compost for the plants. The soil has become richer and young plants have emerged from the soil effortlessly.
The park now has over 300 plant species and around 200 bird species. The signature bird of the park is the elusive Indian eagle owl. Bird lovers report sighting spotted francolins, button quails, savannah nightjars, babblers, shrikes, sunbirds.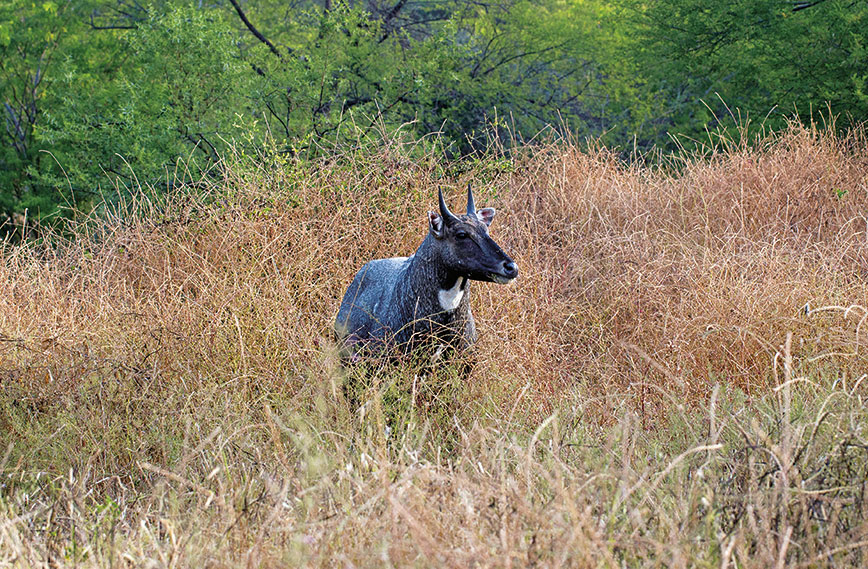 A nilgai spotted in the grasslands
Animals prowl the forest. According to Dhasmana, the park has jackals, jungle cats, civets and Indian hares. Reptiles common to the area are monitor lizards, and snakes like cobras, sawscale vipers and rat snakes. Amphibians and invertebrates too find a home here.
Dhasmana has made it his mission to scour the forests of the Aravalis for rare native plants that could be planted back in the park. "For me this is a nursery of ideas. It attracts young researchers and academics from Delhi University and Jawaharlal Nehru University, the Forest Department of Andhra Pradesh and agricultural universities in Haryana," he points out.
For funding, IAG approached companies. But there were some rough years when they reached out to friends and family for money, says Thukral. She used her network to encourage more companies to support the restoration of the park and they finally took to the idea.
Volunteers from companies came to clear garbage, compost leaves or plant saplings in the nursery. Schoolchildren loved the park as they wandered around, getting acquainted with the wonders of nature.
Speculation is rife that Hero Motors is likely to be the new sponsor of the park. There is also talk that the Gurugram Metropolitan Development Authority (GMDA) and the National Highways Authority of India (NHAI) may revive their plan to construct an expressway through the Aravali Biodiversity Park, a move that was stalled by environmentalists and citizens in 2018.
The fate of this wonderful park is uncertain. Over the years, IAG has had to wage many battles to save it from government officials who have floated various ideas like transforming it into a snake or crocodile park, starting a night safari and a spa!
The park's nursery has now been shifted to nearby Sikanderpur where IAG has a watershed and forest restoration project on hand. IAG is preparing to move on but it continues with other projects to save the environment in Gurugram.
If the park is endangered, IAG and concerned citizens are willing to battle it out. "I don't think any of us want to get into a confrontation. We have worked closely with government authorities and we had a good relationship with them. But we will definitely fight it out if we need to," says Thukral.
The park is a story of hope. When voluntary groups, citizens, companies and government agencies join forces, the impossible becomes possible.