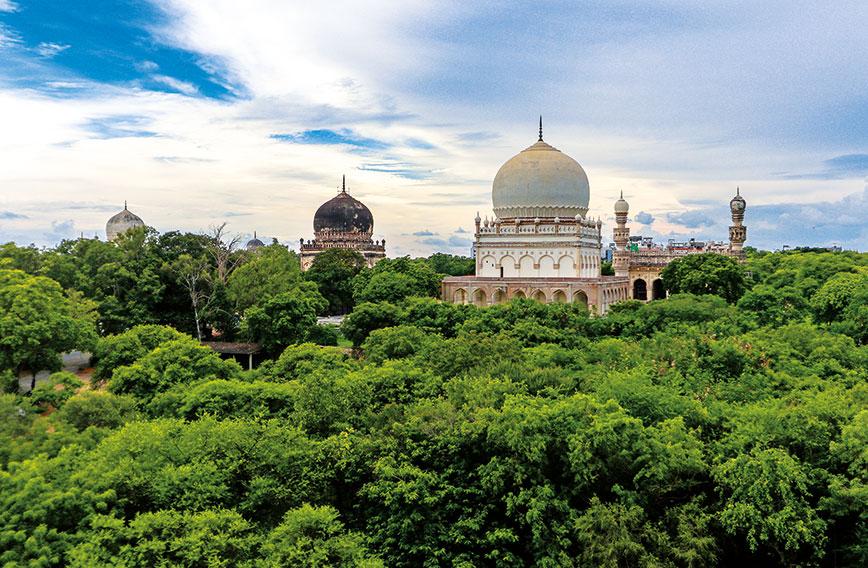 Qutb Shahi tombs amidst 106 acres of greenery near the Golconda Fort
Coming soon: A heritage park in Hyderabad
Civil Society News, New Delhi
Published: Mar. 26, 2021
Updated: Feb. 26, 2022
EVERY city has its surprises and they show up for those who look for them. In Hyderabad, the Qutb Shahi tombs don't usually find mention. But these tombs are marvels of architecture, design, craftsmanship and engineering.
Come 2024, the Qutb Shahi Heritage Park will be drawing visitors from all over the world to see an outstanding conservation effort which not only puts the tombs back in all their intricacies, but revives around them 106 acres of greenery together with ancient water-harvesting structures.
The Aga Khan Trust for Culture (AKTC) began the conservation project in Hyderabad in 2013, drawing on its immense success in Delhi with the revival of Humayun's Tomb and surrounding monuments together with Sunder Nursery, Delhi's Heritage Park.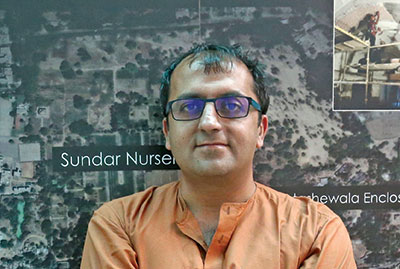 Ratish Nanda
"When our work is completed in 2023-24, it is going to be a destination that people travel to Hyderabad to visit," says Ratish Nanda, projects director and CEO of AKTC in India.
"Just as in the case of Sunder Nursery, few people know about this site, which is shocking. Also, like Sunder Nursery, we would like to look after the site for a few years and put in place an international standard of heritage management," says Nanda.
"We are basically trying to demonstrate how good conservation can lead to fulfilling a lot of the government's agenda. Whether it is economic opportunities, whether it is tourism, whether it is employment creation, whether it is restoring a sense of pride, all of that. These are tombs that are protected by the government of Telangana and it has been really supportive," says Nanda.
The tombs, 80 in number, are at the foot of the Golconda Fort. The 106 acres they sit on used to be a significantly larger area earlier. The project involves restoring the monuments and landscaping the open areas.
"Every day, we make discoveries. And we discovered that unlike the Mughals very little is really known about the Qutb Shahis. So, one of the first things I was told when I went there was that they are not Mughals and they don't build gardens. And very soon we found foundations of garden enclosure walls. So these tombs were enclosed in garden walls. Then last week we found incredible tile work buried beneath the cement almost as if, you know, it was a Mughal period tomb," says Nanda.
The project is much larger than what was envisaged at first. The 80 tombs could really be 100 and four of them are the size of Humayun's tomb.
Says Nanda: "There is nothing quite like it simply because there is no other necropolis that I know of which has about a hundred monuments in the same complex. So, for me, the most fascinating part of the Qutb Shahi tombs is that wherever the portion of garden you're standing in, you see 10 to 20 domes rising all around you and that is just incredible. It's just a mind-boggling feeling. There is individual beauty in each building. But, for me, it's their coming together as an ensemble that is of value."
The project signals the importance of ecological balance. The greenery and water systems are testimony to a culture of conservation which has modern relevance. The Qutb Shahis were, in this sense, more evolved and attuned to their needs than the Hyderabad of today.
One of the first things that the project team had to do when they started was to buy water. But then they found seven baolis or traditional water-harvesting structures.
"Now, we collect about over 10 million litres of water in the baolis every monsoon. It means we are water surplus. This year we should be planting at least 10,000 trees. We are creating ecological buffers on both sides," says Nanda enthusiastically.
The project flows from the experience of restoring Humayun's tomb and reviving Sunder Nursery. It draws on a growing pool of conservation expertise and a vast number of workmen with traditional skills. What it doesn't have is the social aspects of that initiative as in the renewal of Nizamuddin Basti. But in terms of conservation and restoration, it is expected that it will be a model for other states in south India which are rich in similar heritage.