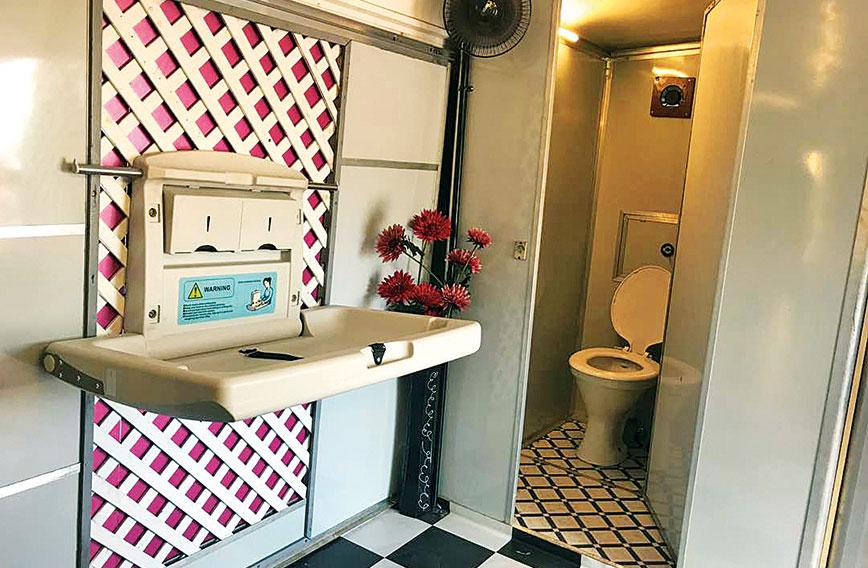 The spic and span interiors include facilities like a shower, a diaper-changing station, hand-washing basins, sanitary napkins and drinking water
Old bus, new restroom! In Pune women get toilets
Civil Society News, New Delhi
Published: Aug. 01, 2018
Updated: Mar. 24, 2020
In the sunrise sanitation sector, Ulka Sadalkar is a pioneer. She runs modern toilets in refurbished buses exclusively for women in Pune. The old buses would have ended up in landfill sites or at a scrap dealer's yard. But Sadalkar, and her business partner, Rajeev Kher, changed their destiny.
Ten of those buses now sport bright exteriors with solar panels on top. Inside, the bus has Indian-style toilets and western-style ones. There is a shower, a diaper-changing station, hand-washing basins with soap, sanitary napkins, drinking water, and a place to just sit.
Posters in Marathi urge women not to forget to wash their hands or flush the toilet after use. Each bus has an attendant who keeps the space scrupulously clean throughout the day and a technician to ensure everything works.
"We want to change the concept of public toilets in India. Generally, women use the toilet before they leave home because they know they won't find one in public spaces. Even if they do, it will be dirty and unusable," says Sadalkar.
The restroom buses, called Ti or Toilets for Her were launched in November 2017 by Sadalkar and Kher's company, Saraplast Pvt. Ltd. under a division of their business named 3S. "Ti in Marathi means 'her'," says Sadalkar.
The Pune Municipal Corporation (PMC) and a pool of companies got together to help the fledgling enterprise take off.
Sadalkar is a production engineer who graduated from the Bharatiya Vidyapeeth College of Engineering in Pune. She worked in a steel forging unit linked to the auto sector when she met Kher, an MBA from Symbiosis College. He had returned to Pune after working in the finance sector in Canada. They were both keen to do something for the country. Setting up clean toilets, they realised, was a much-needed public service and could also be a profit-making business.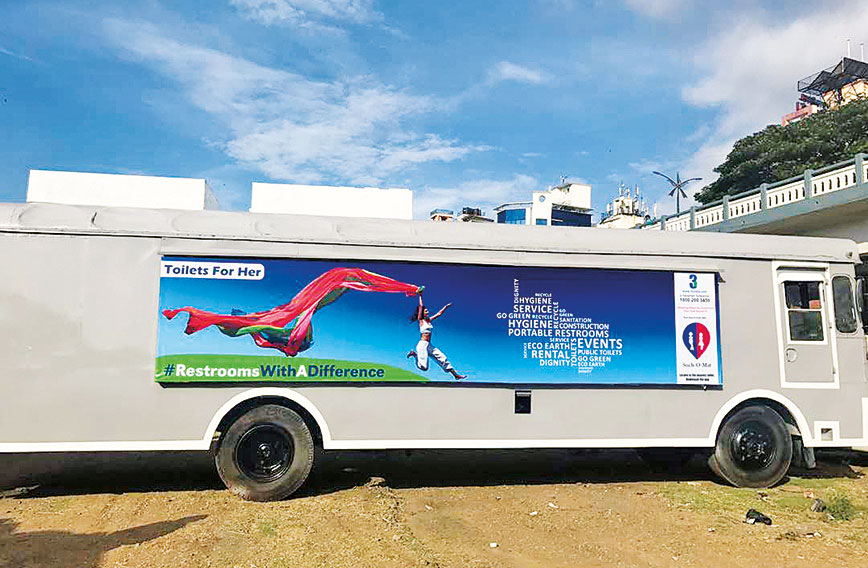 In 2006 they launched Saraplast with two portable toilets imported by Kher from a German manufacturer. They approached banks for finance but were turned away. "It was such a new concept then," explains Sadalkar. Eventually, in 2008 Aavishkaar Venture Capital and responsAbility came to their rescue and their business got off the ground.
Initially, Saraplast provided portable toilets for migrant workers at construction sites and event management companies. Even today 80 percent of their portable toilets are for construction sites and they are kept very clean, says Sadalkar.
"We read about this concept of using old buses as restrooms for homeless people. We wanted to replicate the idea in Pune for women. The city is densely populated. There isn't space to construct toilets. Buses wouldn't need much space and could be refurbished. Also, clean public toilets are integral to the Swachh Bharat movement and for Pune's Smart City initiative," says Sadalkar.
Sadalkar and Kher talked to Kunal Kumar, commissioner of the PMC, who was very enthusiastic about the idea. Pune is slated to become India's first Smart Sanitation City.
Kumar helped them get the old buses and mapped locations where they could be stationed. Water and sewage connections were identified and electricity connections provided since during the monsoons, solar power is not enough.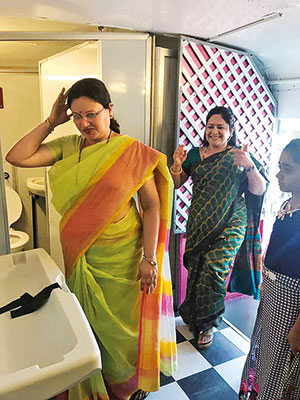 Companies in Pune such as Indus Towers, Builders Association and Firmenich pooled their CSR funds to support TI. "Without all this help, it would have been a nightmare," says Sadalkar. It costs Rs 50,000 to Rs 60,000 per month to run one restroom bus.
Three locations were given priority: recreational spaces like parks and tourist spots, commuter areas such as busy crossroads, and community areas close to slums. Some of the buses are getting footfalls of 300 women per day, an indicator of how big the gap between supply and demand for public toilets is. "And we haven't even advertised or branded our TIs," says Sadalkar.
"Women aren't used to finding such restrooms. There is this wow factor. Their reaction is, well, so the government finally cares for us," says Sadalkar. Women of all classes use the toilets, rich and poor, literate and illiterate.
Right now there is no charge for using the restrooms because Sadalkar says they wanted to build trust about public toilets among women and initiate behaviour change. But they are planning to transit to a pay-and-use model and Sadalkar has thought of several ideas.
There is space for advertising on the bus and for displaying videos inside, she points out. Every bus is being wifi-enabled. The TI can offer personal products for women. It can be a hub for information on women's illnesses. Perhaps a laundrette could be added or a market. Women can also sell products that they make. "It's all about women helping other women," says Sadalkar.
In 2018, the Toilet Board Coalition, consisting of a global group of companies keen to boost the sanitation economy, chose TI to be part of their Toilet Accelerator cohort. Under this programme, Toilet Accelerator works with new-age sanitation businesses to make them commercially viable and help them use toilet resources.
"We are working with Unilever, Kimberly-Clark, and Firmenich to refine our business model and prepare for scale. It's incredible how much we have learnt about marketing, branding, human resources, finance, and work styles from companies. We have regular webinars with them. Also, Transform underlined to us the importance of talking to our clients and initiating behaviour change," says Sadalkar.
Transform is a partnership between DFID and Unilever that helps small businesses who deliver services to low-income households.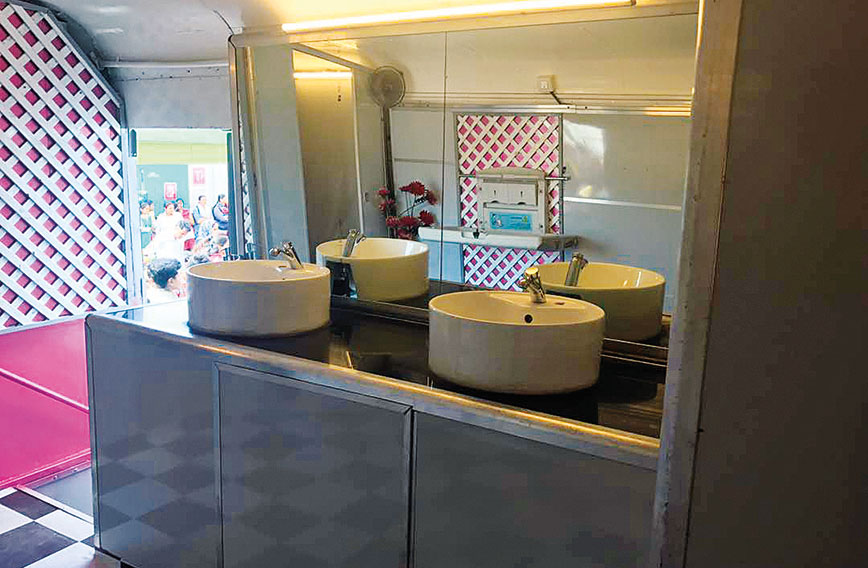 Sanitation is a sector with the potential to create jobs and make a big social impact. The Toilet Coalition Board estimates the sanitation economy will be worth some $62 billion by 2021 in India.
"We would like to expand and go to other cities. But we can't cater to all of India. Anybody can start a business like ours. It isn't a dirty business at all. You make money. And sanitation has its own glamour," says Sadalkar.