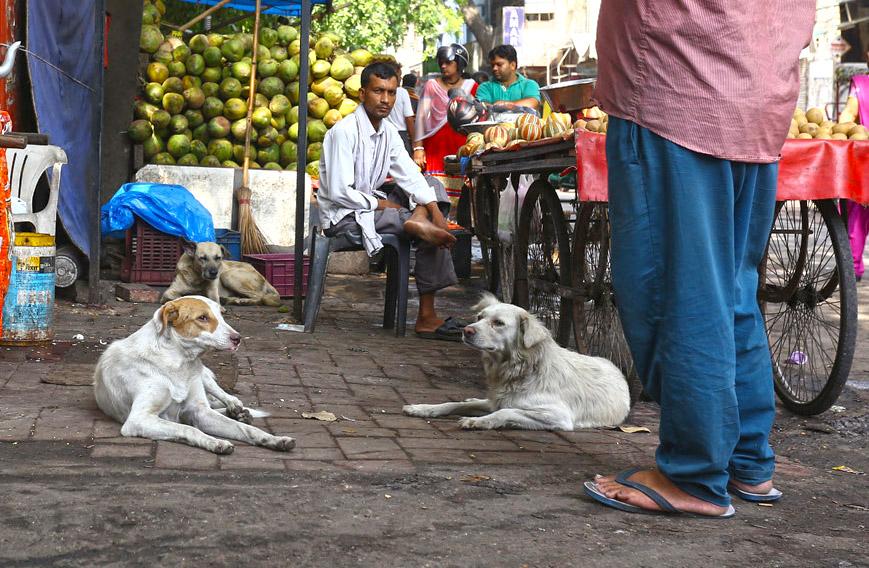 Delhi dog count rolls on: Paharganj, a mixed bag
Reporting: Donita Jose | Pictures: Ajit Krishna
Published: May. 25, 2016
Updated: Jan. 29, 2020
It is early in the morning and the usually busy locality of Paharganj in north Delhi is deserted and mostly asleep. There are only dogs up and about and it is clear from their restlessness that they are hungry. Some roam around in packs, without loyalties, like marauders. Others are the anchored types who belong to locations where undoubtedly they have done a night of vigil. But they all have food on the mind and there is a lot of howling and barking when they find four volunteers with notebooks and a camera combing the neighbourhood as part of a street dog census.
The volunteers quickly take pictures and scribble notes as they go about the somewhat challenging task of pinpointing where street dogs can be found in Paharganj.
The volunteers are working for Rishi Dev of the Institute of Urban Sciences and Design. There is Alka Parihar, Deepak, Akshay Shrinagesh who all have one thing in common that they are ekisticians.
The volunteers are helped by conservancy staff, with whom the rooted dogs have a special bonding developed over time. "These dogs are harmless, they sit here daily. But they do run behind the cars that pass by occasionally", says Ravi who is in charge of Chuna Mandi Gali.
"The census needs to be done by someone with an eye for urban planning, Only then can we identify the problem areas", said Alka.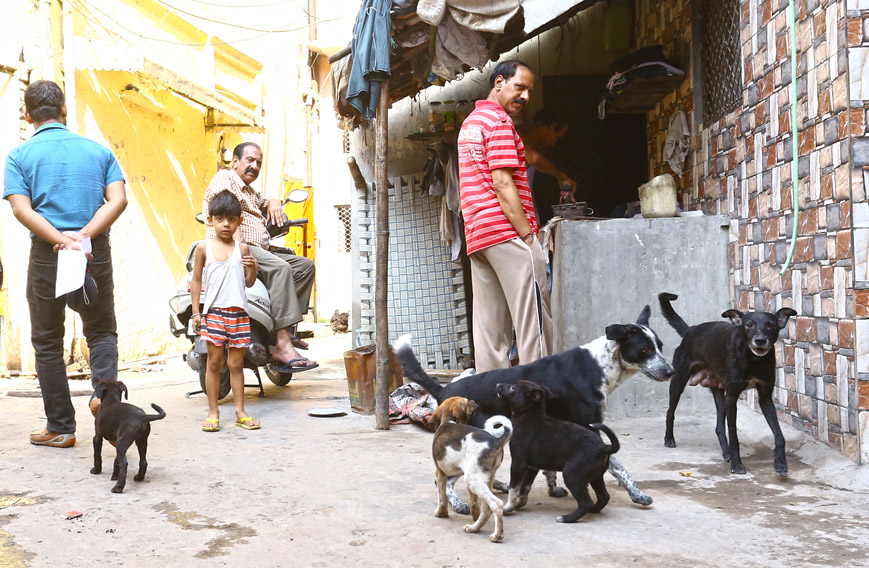 The census is the first of its kind and follows growing concern over the number of stray dogs in Delhi growing out of control. Some of the attacks made by street dogs have been ugly and vicious. Children have been mauled. So, a solution is urgently needed.
Rishi's approach is a fresh one. He does not believe in picking up and eliminating dogs because it merely creates a vacuum, which gets filled by more dogs.
Rishi's strategy is to let dogs be in neighbourhoods but to disperse them. It is important to break up the packs. Keeping two dogs to a location and feeding them is a great idea because they send out the message that the other dogs should stay away. And they do. When the dog population becomes less dense it becomes easier to manage, explains Rishi.
About an hour later the sun began to shine brighter but the streets remained dim; the number of multi-storeyed buildings caste long shadows on the lanes making it a desirable haunt for the dogs, explains Rishi.
Nearing the residential areas we began sighting earthen pots filled with milk or water in most streets. "The area has probably dealt with its dog problem already. What we propose is using dogs as a defence to dogs. A few domesticated, sterilized ones can keep away the ferocious ones", said Rishi who doesn't miss a single indicator that suggests the presence of dogs.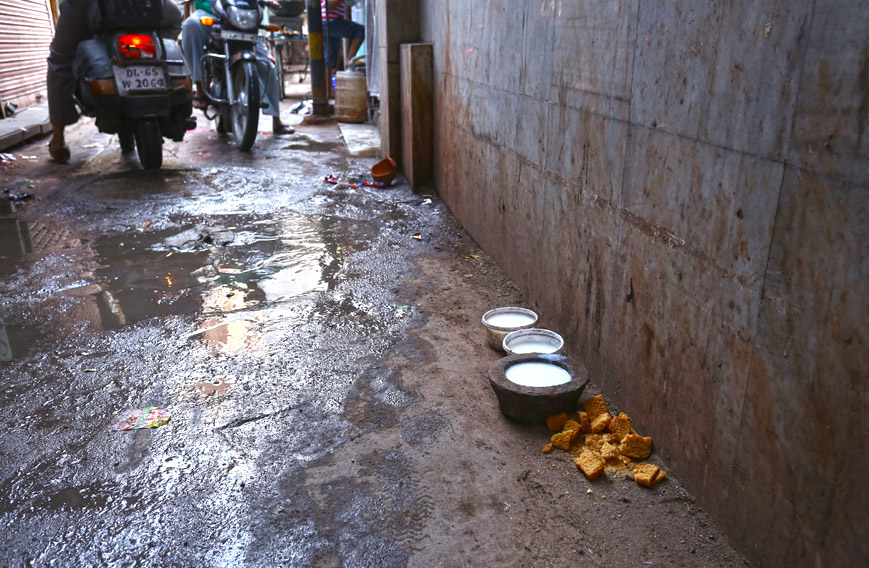 As the clock ticked, and dogs were being identified and photographed, the narrow streets with a width less than 10 feet began limping to life. More and more eager eyes began following the team, curious on hearing about such a meticulous hunt for dogs. Chuna Mandi being a relatively commercial area with small shops, godowns, and vegetable mandis lining the roads, the dogs began taking cover under cars and sheds to avoid the increasing footfall. These small details filled up columns in the sheets of the surveyors for whom all these prove valuable markers of dog population.
Further ahead at a cluster of houses we sighted a family of dogs kept by local people. These people became suspicious of the survey team. They immediately asked one of the volunteers to put down the dogs! A few residents even complained how the municipal corporation picked up dogs for sterilisation and never returned them.
They were not the only ones. On Paharganj's streets we came across various heart-warming stories of compassion that painted a better picture than seen in more planned urban areas. Hotel Diamond, in Chuna Mandi area had a semi-domesticated stray. When the volunteers pointed their cameras to videograph him, his stance changed and he began growling. He mellowed down only at the owners call. On the trail we even saw some shopkeepers being greeted by their furry friends who sat guard all until dawn. The rickshaw-stands and vegetable mandis were other havens for the four legged.
"Areas in Noida have various issues with dogs, so do most urban areas where dogs, hawkers and just about anyone other than the residents are seen as unwanted", said Akshay on the growing intolerance to dogs in cities.
Along the trail, we spotted dog shit in a few areas. "I don't know if you have noticed but you never see stray dog wastes, whatever you see around is that of pet dogs. At times this becomes a matter of conflict between those who love pets and those who don't!" said Rishi.
Stories of conflict weren't unheard of in the area. We were soon directed to the house of Mr Parveen Kapoor, a resident who had been bitten four times over the last six months. "I have filed repeated complaints on the issue online. The municipal corporation picks them up and brings them back."
After covering an area of 3kms spanning within Paharganj, by 9:30 am when the sun began scorching and dogs took to shadier refuges, the survey came to an end.
This single day of survey opens the much larger debate on the effectiveness of sterilization as it only ensures controlling the population but doesn't guarantee any protection from the existing dogs.
The fact that such distinct cases came from a small area as Paharganj is probably why such a detailed survey is the need of the hour that marks out the problem areas.