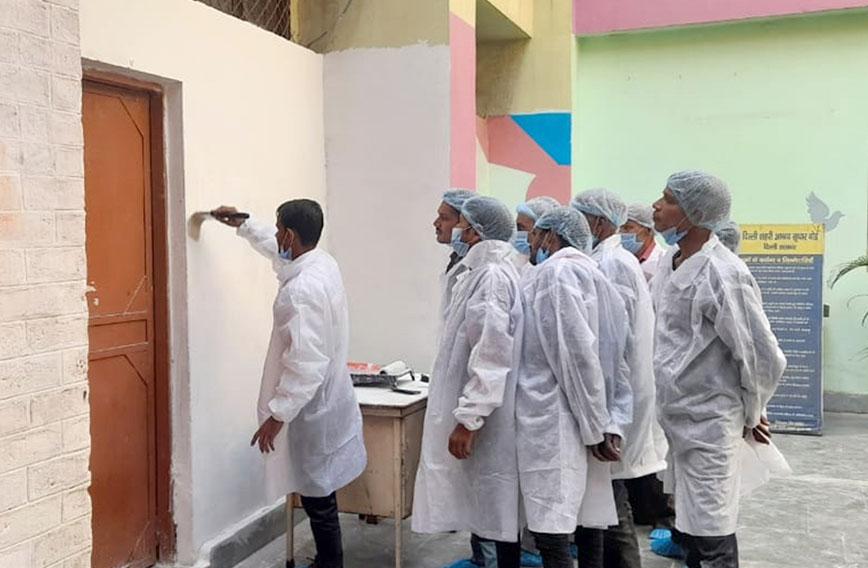 Training the homeless in Delhi
Surmayi Khatana
Published: Apr. 19, 2022
Updated: Jul. 29, 2022
FIFTY-year-old Dileep Kumar Gaurav from Uttar Pradesh was a practising lawyer handling criminal cases for a decade. He has a law degree from Dr Bhimrao Ambedkar University in Agra and worked on cases pertaining to dowry, theft and sexual harassment.
But a feud with his brother led to him becoming homeless. "My elder brother is a civil engineer. He and I got into multiple fights which finally ended in my leaving home without property or any possessions. I feel totally cheated by my brother."
He found himself on the streets of Delhi without money, a roof over his head or a job. Gaurav began working as a manual labourer, alternating between Hanuman Mandir and a nearby gurudwara for food.
He is one of 25 people being trained in painting walls as part of a pilot project by the Delhi government to rehabilitate people living by begging.
The project was piloted on November 1 last year by the Delhi government at a Delhi Urban Shelter Improvement Board (DUSIB) shelter for the homeless on Roshanara Road, after an on-ground survey by the Department of Social Welfare and the Institute for Human Development identified 20,719 individuals engaged in begging in the capital. Out of the total, 53 percent were men, 46 percent were women and one percent were transgender. The highest number of beggars — 2,797 — were found in East Delhi.
"We identified 30 people engaged in begging from different parts of Delhi, mobilized them and took them to our shelter and training centre," says Sanjay Kumar, co-founder of Aashray Adhikar Abhiyan (AAA), the NGO partnering the Delhi government in this project. Five beggars dropped out, so AAA trained the remaining 25.
The NGO runs 12 homeless shelters across New Delhi and has been working for the rights of homeless people since 2000.
The project includes training in language, basic skills, vocational training and setting up routines for the trainees. When many of the participants expressed interest in learning painting, a training programme in wall painting and house painting was added.
The DUSIB shelter at Roshanara Road is at the end of a short lane and has colourful walls with trees and birds painted in purple and yellow by the trainees. The shelter has a library on one side of an open verandah with books in Punjabi, Urdu, Hindi and English. Training sessions take place opposite the library.
The day starts for the trainees with yoga in the mornings, followed by breakfast. Training begins from 11 am onwards. The participants don white coats and hair nets and learn the techniques of painting. They practise using paint rollers, brushes, and masking tapes on the walls of the shelter. The trainees are mostly between 25 and 35 years old and all of them are men.
The project includes daily counselling and therapy. "Losing your social position is tough," says Sanjay Kumar. "We help them regain their sense of dignity with patience and heart."
The project lasts three months. Each trainee is given a certificate after completing the course. Some have already found employment.
Gaurav says the training has transformed him and has filled him with hope. "As Martin Luther King said, we shall overcome," he says. He talks about Socrates and lists legal acts and sections from memory while recounting the cases he worked on in the past. He says he now feels like his old self and thanks the trainers for it. "It feels like I had gone rusty and now I have been polished," says Gaurav.
He was sceptical of the project when he was first brought to the shelter and unsure about why he was being offered a place to stay and food to eat. But after a few days of interaction he warmed to the trainers. He enjoyed the training in painting and feels excited about his recent projects.
"I am being paid somewhere around Rs. 500 to Rs. 800 for a couple of hours' work right now," he says. He expects that figure to increase to Rs. 1,500 once he completes the advanced training. He wants to train other people who come to the shelter. "I can teach five more people," he says.
As part of the project, trainees have been helped to acquire voter IDs and Aadhaar cards and open bank accounts. The aim is to help participants become financially independent and self-sufficient.
Sanjay Kumar Kushwaha, 25, is one of the youngest trainees at the shelter. He is from Rewa in Madhya Pradesh. All his possessions were stolen at New Delhi railway station when he arrived, looking for employment. He did some manual labour around Hanuman Mandir but was unable to find much work due to lack of documents. He also had nowhere to live.
But on the day we meet Kushwaha, he is cheerful after having sent `10,000 home to his family. This is money he has earned from wall painting and his work as a confectioner. He points to the walls he has painted within the shelter. He has more projects lined up. "I did some house painting locally in Delhi, and travelled to make some sweets in UP. Next week I have more walls to paint in Delhi. I travel by the Metro to get there," he says.
He was able to reconnect with his parents and sister after his trainers helped him get a SIM card. He has recently purchased a phone.
The Ministry of Social Justice and Empowerment has identified 10 cities — Ahmedabad, Bengaluru, Chennai, Delhi, Hyderabad, Indore, Lucknow, Mumbai, Nagpur and Patna for undertaking pilot projects on the rehabilitation of people engaged in begging.
The shelters and the success of the pilot project have drawn attention with visits and meetings by representatives from the central government, and officials from Bihar and Tamil Nadu. "It is a replicable model if done with genuine care, and it is also scalable," says Sanjay Kumar.