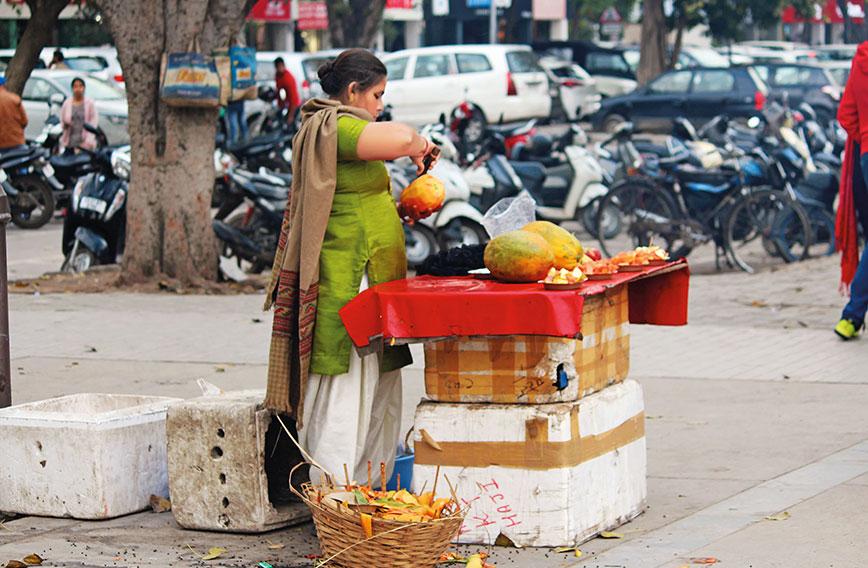 Upscaling the street vendor in Chandigarh
Raj Macchan, Chandigarh
Published: Feb. 18, 2022
Updated: Feb. 26, 2022
SONU, a 33-year-old street food vendor, sells channa-bhatura, tea and assorted eats near the Post Graduate Institute of Medical Education and Research (PGIMER) in Sector 12, Chandigarh. Business had dipped drastically due to the coronavirus pandemic but things are now looking up. These days Sonu is attracting new clientele due to a new approach to his business after attending training workshops on health, hygiene, and other related areas under a programme run by the Chandigarh Municipal Corporation (CMC) in collaboration with PGIMER's Department of Community Medicine and School of Public Health.
In the first phase of the programme, training and capacity-building workshops were conducted for 600 street vendors. The second phase, which aims to cover over 3,000 vendors, is now underway. The civic body has allocated a budget of `49.40 lakh for the exercise. The workshops are being conducted at chosen locations around the city on weekdays with specific time slots for vendor groups.
"I attended the one-week programme and it has helped me adopt best practices in the street food vending business," says Sonu. "Earlier, I used to serve food in steel plates at `30 per plate. The trainers told us to use disposable plates and cups. These are preferred by customers as well. People are ready to pay `5 extra for these plates and food packets."
Vendors are also given training in personal hygiene, quality products, garbage management, and better understanding of rights and by-laws of the Street Vending Act, 2014. "The training for our group was conducted at PGI. It generated good interest and people were very regular in attending the workshops," says Sonu.
CMC officials say that the training and capacity-building programme is being conducted under the Deendayal Antyodaya Yojna-National Urban Livelihood Mission (DAY-NULM). It is part of the CMC's objective to make Chandigarh a model street-vending hub. The training package involves multiple stakeholders including members of the Town Vending Cell, officials of CMC, social development agencies, child and women welfare agencies, officers from financial institutions, faculty and experts from food safety, nutrition science, hotel management institutes, NGOs, medical, and public health officials.
Chandigarh Municipal Commissioner K.K. Yadav says that the training programmes were in keeping with the proactive approach of the Municipal Corporation towards resettlement, rehabilitation, and socio-economic upliftment of street vendors. "We have taken every possible step in bringing innovation, building the capacity of street vendors with respect to post-COVID-19 measures, financial inclusion, digital on-boarding, and socio-economic profiling. These steps have shown positive impact on the life of street vendors," he says.
The training modules are designed to enhance the knowledge and skill level of the vendors to empower them to provide quality services, especially healthy and hygienic street food, to city residents. Authorities contact the registered vendors individually. The interactive training workshops involve presentations, live demos, role plays, lectures and quiz sessions. Female street vendors are made aware of their rights and the special schemes designed for their welfare. The trainers have developed prototypes of smart food carts, with features like solar panels and fire extinguishers for live demonstrations.
Says Vivek Trivedi, Social Development Officer, CMC, "The training programme is in line with the objectives of the Sustainable Development Goals. Street vending contributes majorly to self-employment of the weaker sections of society. However, the majority of them are not educated, and do not have access to credit and marketing skills. This makes them highly vulnerable to economic upheavals. The training package aims to overcome these challenges. The first phase of the programme was a success and efforts are on to make the second phase even more so."
The programme also provides health assurance plans, including free medical aid, to registered vendors under the aegis of PGIMER and its dispensaries in the city.
Says Pawan Kumar, a 38-year-old street food vendor who sells edibles such as rajma-chawal, omelettes, fast food, juices, and drinks near Elante Mall in the city's industrial area, "The workshops gave me fresh insight into doing business. Now I wear a cap, apron, and gloves while serving. We maintain social distancing. This has raised the comfort level of our customers. I have put up a table as well."
Chandigarh has over 10,000 registered vendors plying various trades throughout the city. Of these 6,625 are categorized as those providing non-essential services such as selling fruits and vegetables, fast food, parathas, juices, cold drinks and ice-creams. The essential service providers include cobblers, milk/bread/egg sellers, tea vendors, cycle/rickshaw repairers, dhobis, barbers and massagers. Each of the registered vendors pays a monthly fee ranging from `300 to `2,000 and is allocated a fixed spot to do business.
The municipal authorities had earlier implemented a Street Vending Plan in February 2020. The plan aimed at identifying, registering, and issuing vending certificates or licences to vendors in the city. The registered vendors now have the right to do business from the spots allocated to them in the 46 vending zones around the city. The registration process has come as a step towards bringing order to the highly disorganized street vending segment with removal of illegal vendors and checking other malpractices.
"Most of all, it has made us aware of our rights. The unorganized nature of the business led to rampant corruption in the system. We had to pay up every time officials came for the so-called surprise checks. The issuance of licences will do away with the corruption to some extent," says a street vendor. The city earlier had over 20,000 vendors doing business on its streets. With the implementation of the Street Vending Plan, almost half of them have been declared illegal and prohibited from doing business.
Trivedi says that the adoption of the vendor programme has resulted in a marked change in the approach of the authorities towards the vendors. "The focus has shifted from issuing challans and taking punitive action to encouraging vendors to get themselves registered/licensed, form Self Help Groups, and join skill development and financial assistance plans. The programme will gradually cover the entire vendor community in the city."