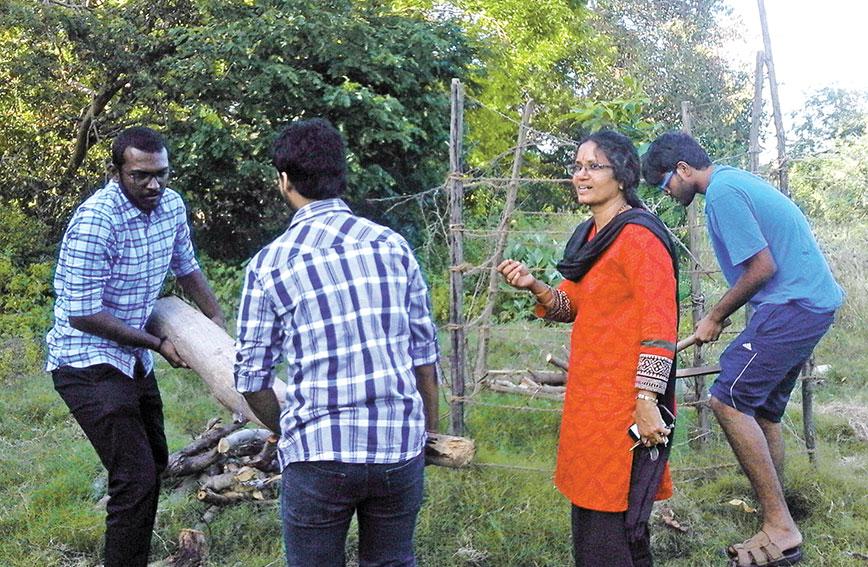 Shobha Menon and volunteers of Nizhal at the Kotturpuram Tree Park in Chennai
Cyclone Vardah and Chennai's missing trees
Jayashankar Menon, Chennai
Published: Feb. 20, 2017
Updated: Aug. 22, 2018
On 12 December last year, when Cyclone Vardah hit the coast of Chennai, its howling winds uprooted thousands of trees. For the city, it was a wake-up call. Chennai has the lowest green density among cities in India. It has a green cover of just 9.5 percent. In comparison, Delhi has a green cover of 20.20 percent.
"Already, we can feel the heat. This summer is going to be gruelling," says Shobha Menon, founder of Nizhal, a volunteer group devoted to trees and their protection.
The disaster has galvanised the Chennai Corporation and environmentalists. A drive to replant trees has been launched. The corporation recently held a strategy meeting at which it invited environmentalists, NGOs and academic institutions for suggestions.
Representatives from the Chennai Rivers Restoration Trust, CP Ramaswami Aiyar Foundation, Anna University, University of Madras, Madras Christian College, Women's Christian College and NGOs such as Nizhal, Bhumika and Care Earth Trust took part in the meeting.
The Chennai Corporation believes that trees fell because they were planted on pavements and surrounded by concrete. The roots couldn't find room to grow and the soil couldn't hold up the tree. Trees weren't trimmed on time either; so growth was unbalanced, causing many to topple.
"What happened to the trees wasn't just due to the cyclone," says Menon. "Human-induced factors are also responsible. No sensitivity or care is taken in choosing tree species. There is currently no health management plan for existing trees. Unless you take care of them how can they give you their best?"
In 2014 Nizhal partnered Teems India, an engineering and construction company, to map Chennai's trees and compile a tree database. Teems India came up with a GIS application and a DGPS (Differential Global Positioning System) to map and digitise tree data. The objective was to survey all trees in streets, locate tree-planting sites, geo tag the trees, extrapolate the results and design a master plan for trees.
The use of data collection and mapping devices to accurately survey each tree by identifying and geo tagging on-site ensures that even a lay person can identify these trees with ease. The system can be customised to capture all types of tree information, mapping and management tools including tree risk assessment, health and structure assessment, hazard assessment, life expectancy ratings and tree management recommendations.
The field data collected by the DGPS system can be exported to GIS database formats for further processing. During the processing the data can be compared with any previous data within the data base for conducting comprehensive analysis and research on tree management. This systematic method of data collection, processing and analysis using GIS application ensures output that is reliable, accurate and can be accessed using multiple digital formats such as aerial photos, satellite imagery and other digital maps.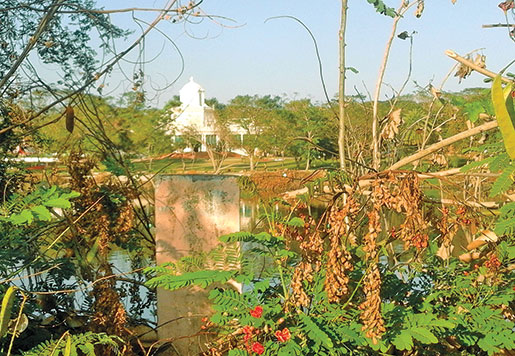 The tree park is located on the embankment of the Adyar lake
Using the same technology, Nizhal and their volunteers undertook a post-cyclone tree survey of Ward 176. The areas included Arunachalapura, Sastri Nagar, Vannanthurai, Besant Nagar, Kakkan Colony, Urur Kuppam and Elliot's Beach. They found that 16.6 percent of trees were damaged and of these 9 percent were uprooted. The rest were blown away by the cyclone.
Among uprooted trees, 22 percent were indigenous species and 77 percent were exotic. Among windblown trees 60 percent were exotic and 39 percent were indigenous. Tree species that were most vulnerable turned out to be copper pod, elephant ear pod, gulmohur and pungam. Indigenous trees proved to be hardier.
"This project can be extended to all wards of Chennai. A database should be in place, which is measurable, verifiable and reliable. We need to develop a strategy for urban tree management in a scientific way. Every bit of information should be in the public domain for complete accountability," emphasises Menon.
The corporation seems to have learnt its lesson. Environmentalists have urged the civic body to plant indigenous varieties, develop green zones and catchment areas. Saplings are being acquired from the forest department. Officials are keen to seek the help of horticulturists to train their department on the right way to plant and conserve trees. Schools and colleges are also being roped in.
The corporation could take a leaf from Nizhal's work. The NGO, started in 2005, comprises volunteers. Nizhal means shade in Tamil.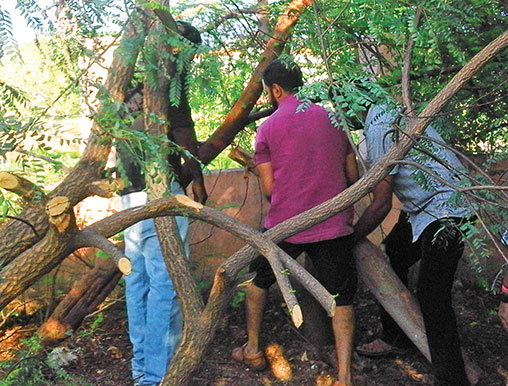 "Ours is a shramdaan effort," says Menon. "For the past nine years we have been meeting every weekend. We have raised a tree park and regenerated a forest from a dumpyard."
The Kotturpuram Tree Park, which Nizhal has restored, is located on the embankment of the Adyar lake. It is lush with trees. You can see deer roaming free on the shores of the lake. In the distance, the Adyar Club is visible with its manicured lawns and bright walls.
Eight years ago the PWD asked Menon to plant trees in the derelict park. She got a bore-well with a hand pump installed and began planting 800 rare, exotic and indigenous tree saplings in the 300-acre park, accompanied by her loyal dog and an elderly volunteer.
Soon many more volunteers joined her and put in place irrigation infrastructure. Officials from the municipal corporation laid a walking track.
"As part of setting up Asoka Vanam at Kotturpuram Tree Park, we have planted and nurtured a unique grove of endangered Asoka (Saraca asoca) trees. Besides, we have started community gardening — volunteers can visit the park during weekends and work with us. We have also set up therapeutic gardening and horticulture for students," says Menon.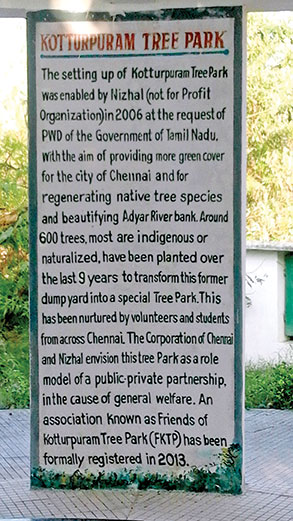 Nizhal has a Free the Tree campaign for trees throttled by concrete. A book on the landmark trees of Chennai has been published, along with an e-book on the tree biodiversity of the Kotturpuram Tree Park. More than 100 species were identified, documented and photographed. "We have initiated shramdaan at Madhavvaram, Chitlappakkam, Ashok Nagar and Perungudi Tree Parks. We also conduct seed and sapling collection drives," says Menon.
Nizhal is working closely with the Chennai Corporation. It has launched a campaign to inspire residents to plant and care for trees and feel a sense of ownership for green spaces. Individuals too are joining in. Actor Raghava Lawrence's charitable trust has been planting saplings since 22 December and giving free saplings to those who wish to plant trees at home or in a public space.
"That tree species have to be chosen carefully and trees have to be looked after better, has been agreed, post-cyclone," says Menon.
Another problem the corporation is grappling with is disposing of the fallen trees that are still lying around in 78-odd dumpsites across the city. The Greater Chennai Corporation tried to e-auction the trees but there was hardly any response since the value quoted was too high. Miscreants set some of the trees on fire and fire tenders had to be stationed at these sites. Residents got alarmed and began urging the corporation to remove the fallen trees on a war footing. Some of the trees were dumped in open spaces and playgrounds.
The corporation has to remove 2,366 loads of wood from an open plot in Anna Nagar alone. Out of the 100,000 trees that were uprooted by Vardah, the civic body managed to remove only 17,000 trees along the roads, besides clearing branches from 50,000 trees in the first phase of work. But both the civic officials and the police refused to clear fallen trees from private land in and around Teynampet. Local residents were forced to hire labourers from across the state, who charged them between Rs 2,000 to as much as Rs 50,000 to remove the uprooted trees.
Replanting all those trees is going to be a mammoth task for Chennai's residents.