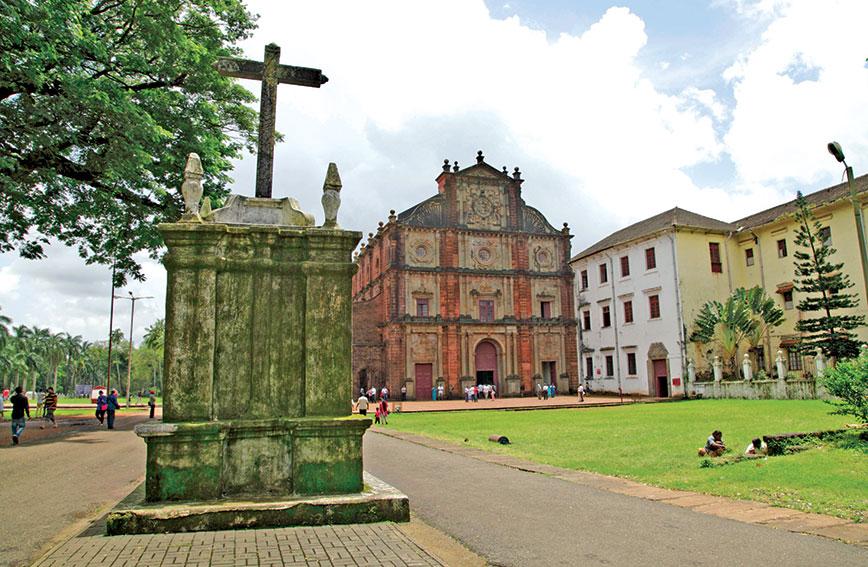 A view of Old Goa. The entire quarter is a heritage zone and needs sensitive protection
To save Old Goa, people speak up
Abhinandita Mathur, Panjim
Published: Feb. 28, 2017
Updated: Jan. 29, 2020
With its stately and historic churches, Old Goa attracts thousands of tourists every year. But, despite being declared a UNESCO World Heritage Site in 2012, the city is a picture of neglect. The Save Old Goa Committee has been holding regular protests to get the apathetic administration to spruce up the city and lay down regulations.
Constructed by the Bijapur Sultanate in the 15th century, Old Goa was the capital of Portuguese India from the 16th century. But in the 18th century plague struck the city and it was abandoned.
The area is an apt heritage zone. The famed Basilica of Bom Jesus is located here and the inflow of tourists peaks in December at the time of St. Xavier's Feast.
The 'arrangements' made during this time are temporary and fail to solve the actual issues, say committee members.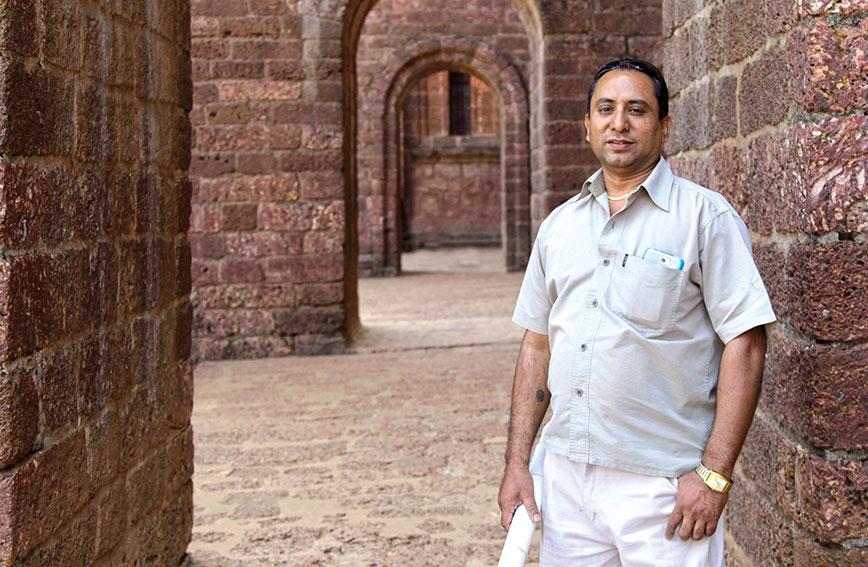 John Valentino Carvalho, founding member of the Save Old Goa Committee
John Valentino Carvalho, founding member of the Save Old Goa Committee, explains why they are angry. "In 2009 some of us who volunteer at the church came together to highlight the problems of this place. That year the International Film Festival of Goa coincided with the St Xavier's Feast, drawing large numbers of tourists to Old Goa. It caused absolute mayhem. The chaos continues as authorities fail to provide basic amenities and a concrete vision. Parking, traffic, lack of public toilets and garbage bins are a few of the problems that could be tackled but remain neglected."
"In fact, problems have only increased over the years. We must question the ad hoc construction, unorganised vendors and illogical development happening all around. Our vision is to implement a holistic master plan for Old Goa to develop and protect the land in and around the area in an appropriate manner."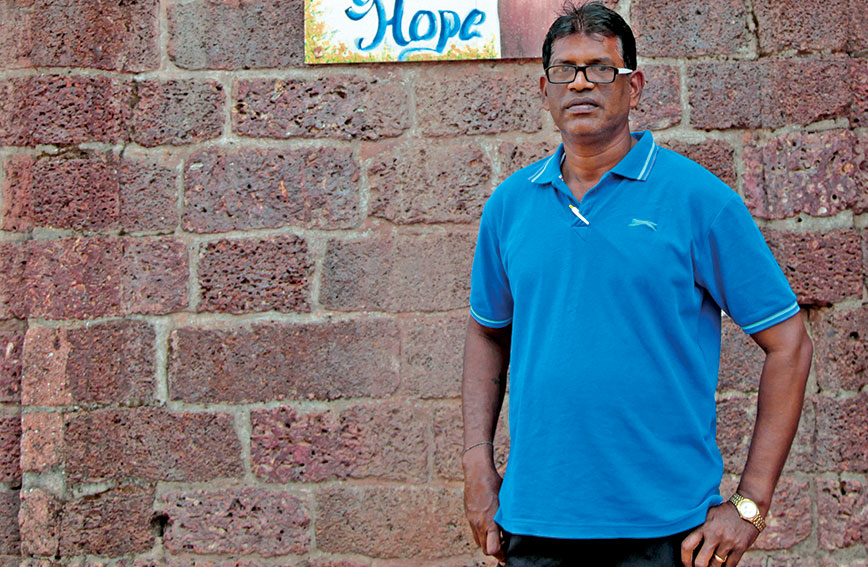 Fransico Fernandes: 'Treat Old Goa with respect'
Fransico Fernandes, another founding member of the committee, works as a librarian at the Goa Medical College. He says, "A place this important needs to be treated with respect and made into a model site for heritage and tourism. Unfortunately, we are far from it. There have been several illegalities yet no action has been taken by the concerned authorities. In spite of several written complaints submitted by us, and protests, the concerned authorities are indifferent. It is beyond our comprehension why no action has been taken."
Fernandes points to the garbage dumps that dot every nook and crany of the old city. "See, the parking area here is full of garbage. When a tourist steps into Old Goa, the tone is set. They too add to the litter. If we are not going to set the rules and provide bins, how much can we blame them?"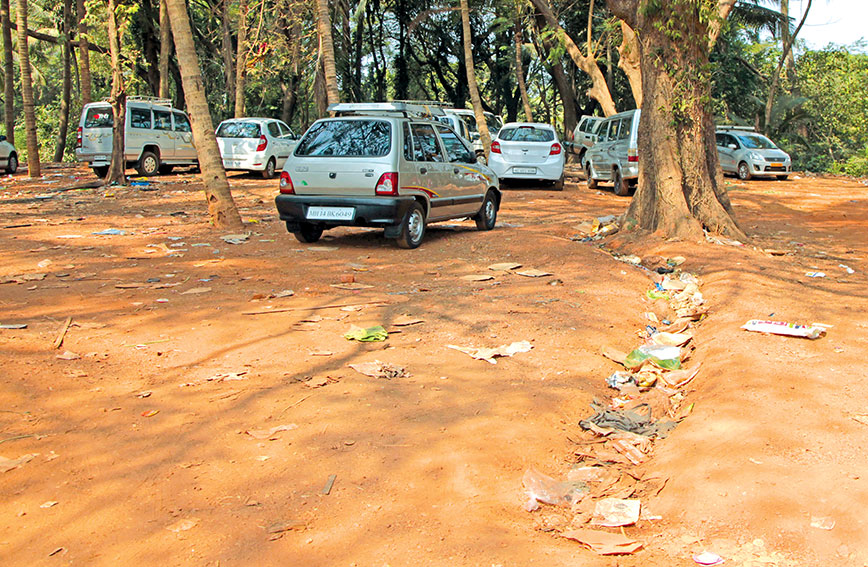 Old Goa is crowded with cars and littered with garbage
Tallulah D'Silva, a well-known Goa-based architect, points out, "Since the site has a number of heritage buildings, every other element within this area as well as on its periphery is of importance and has to be in sync with the precinct. The site therefore has to have guidelines and a wire frame for all buildings of heritage importance, otherwise how are these going to be repaired, rebuilt and conserved?"
D'Silva says the entire area must be preserved. It can then attract more tourists and generate income for local small businesses. "The local community must be made a part of every planning process to conserve, protect and promote the Old Goa Heritage Site."
One of the best examples of such conservation, says D'Silva, is Quito city in Ecuador. "Quito too is a UNESCO World Heritage Site. It follows very strict norms for all residential spaces within. The public spaces all over the city are a huge draw. The locals derive a number of benefits from this. And because of this comprehensive vision it draws tourists the world over."
Besides the problems of infrastructure and amenities, the committee points to the increasing vendors and stalls coming up around the monuments. "We have no objection to anyone's livelihood but certainly feel the businesses and houses coming up around need to be monitored. Why can't the government provide proper regularised carts for food and souvenirs that not only attract the tourists but take care of the vendors?"
A woman who has been selling hats and souvenirs to tourists for 25 years but doesn't want to be named, fearing intimidation, shares her problem. "I sit in the harsh sun all day, pay hafta to the authorities and face intimidation. It would be great if we had shaded carts and better toilets. But that may be too much to ask for. I am grateful I can make some money and feed my children."
Rajat Kumar, a marketing consultant who has been living in Goa for the past two decades, is a lover of Old Goa and founder of the Save Old Goa group on Facebook.
Though not related to the committee, he echoes their feelings and demands. "Old Goa is a place I cherish not only for its religious value but also for its history and old world charm. I strongly believe the entire area needs to be looked after, not only the churches."
Kumar suggests strong yet easy measures to save the 'feel of the place'. "All shops and establishments should follow a particular design. Commercial signage and advertising that make the place look like a cheap marketplace must be removed." Kumar also campaigns for making Old Goa a traffic-free area. "The area should be blocked to private and commercial vehicular traffic. Environment-friendly modes of transport such as e-rickshaws and buggies could be used to take tourists around the complex."
In the past six years, the committee has organised a few protests to catch the attention of the administration but in vain. "We wanted to make the process easier for the government so we proposed well-studied recommendations for a Heritage Master Plan. Our key demands include demarcating a permanent parking area, a feast and exposition, a pilgrim house, a heritage park, provision of police and healthcare, a market and a bus / taxi stand. We also demand removal of all illegal construction within the protected and regulated zones. And eliminating traffic in the complex. Nearly 100 people have lost their lives to accidents in the last few years," Carvalho points out.