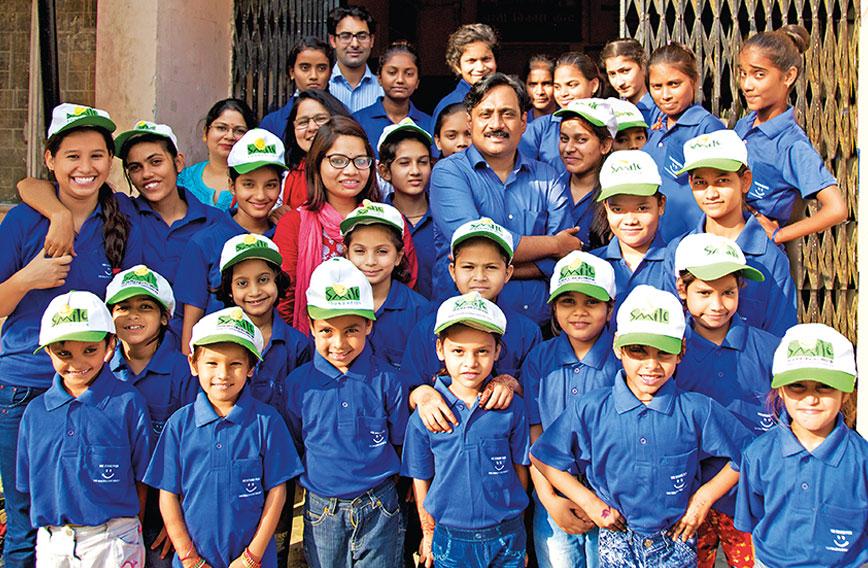 What a Smile can do: 250 projects in 25 states
Kavita Charanji, New Delhi
Published: Oct. 20, 2017
Updated: Jan. 30, 2020
When Smile Foundation was launched in 2002, corporate social responsibility wasn't the big thing that it is now. The government didn't demand it of companies. Managements and promoters saw giving as charity — voluntary and scattered — and rarely, if ever, was the social involvement of a company seen as a driver of the country's development process.
The founders of Smile thought the equation could be different — more meaningful for society. They were young professionals in their thirties with management and accountancy degrees. A decade into economic reforms, they felt the corporate sector had a responsibility to deal with inequalities.
Smile wanted to imbue NGOs with rigour and sound managerial practices so that they could find it easier to access funds from the corporate sector for serious development work. On the other hand, by bonding with NGOs, companies would have a better understanding of social realities.
It has taken 15 years, but Smile has built a platform for doing good which few voluntary initiatives of its kind have managed to achieve. It supports more than 250 welfare projects in education, health, skill-building and women's empowerment in over 950 remote villages and urban slums in 25 states. It has even produced an internationally acclaimed film, I am Kalam, to inspire underprivileged youngsters to reach for the stars.
At a time when NGO leaders say funding for development projects is declining and the sector is facing a slump, Smile, headquartered in New Delhi, is making steady progress. Its decision to partner the corporate world much before the law mandating corporate social responsibility came into existence has paid off with 80 percent of its funding coming from companies.
"We turned to the corporate sector when no one was really looking at it as an accelerator of social development. We felt companies could partner social initiatives because they had the money and we could provide the platform," explains Shantanu Mishra, one of the founders of Smile and its chief executive officer.
"As we saw it, a company needed to be competitive not just in business terms but also in its social orientation. Being inclusive was more than charity. It was a strategic investment in the future of the country and the image of the company," says Mishra.
Smile called it Social Venture Philanthropy by which it put seed money into dedicated grassroots organisations with great ideas who were unable to go it alone because of the lack of financial, professional and managerial resources.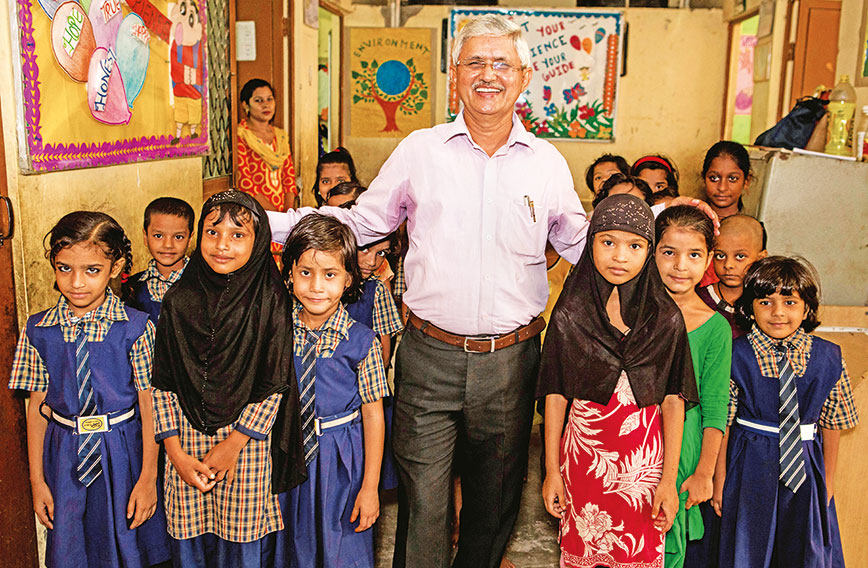 K.C. Pant, who founded Rasta School in Khora Colony, with his little students.
"Being a young organisation, we were willing to learn and try," Mishra recalls.
Smile defined its role as that of a facilitator and catalyst. Over the years, in certain remote areas, it has also taken to directly implementing development projects. But it remains committed to bolstering change agents and moving on.
"We seek to empower NGOs in every possible way, including their capacity to raise funds so that they are not dependent on us," says Sanjeev Dham, chief operating officer at Smile.
Connecting NGOs and companies throws up many wonderful opportunities for effective development work. But it is also full of challenges. There is a clash of work cultures and attitudes. NGOs thrive on passion and idealism. Companies are result-driven and need quantifiable outcomes.
"It is a good thing for society if NGOs become more business-like and companies allow themselves to be more idealistic. But it is not easy to achieve. For instance, assessing impact in the social context is different to defining results in business terms. So, getting NGOs and companies to understand each other is fraught with problems though the intentions on both sides may be the same," explains Mishra.
Companies have strict governance and monitoring processes, they want resources efficiently used and they expect results. Smile helps NGOs learn the latest management techniques, forge strategic partnerships, deliver efficiently and follow standards of transparency.
Smile sets itself apart in its approach to handling development projects. "We apply result-oriented business models, principles and practices to the social sector to ensure optimum use of resources and the highest social returns on investment," says Mishra.
Smile's Swabhiman programme empowers women and creates change agents in the community
Smile itself is an example of how a professionally run organisation has been set up from scratch. Civil Society first came across Smile a decade ago. It was in an airless basement at Safdarjung Enclave in south Delhi. Mishra was the go-to person and the other founders were as reclusive as they are today. But over these years, a buzzing organisation with defined systems has been built. The Delhi office now occupies three floors of a building in Green Park Extension and employs more than 150 people. In addition, there are offices in Mumbai and Bengaluru.
From the outset, in 2002, Smile's founders identified education as the torchbearer of change. But they soon realised that a concerted effort was needed. So, Mishra, a law graduate and alumnus of the Indian Institute of Management, Ahmedabad, gave up his corporate job to give Smile "thought, structure and soul".
Over the years Smile Foundation has partnered 250 global brands including Ericsson, FIS, Airbus, Deutsche Bank, Microsoft, PepsiCo and BAE Systems. Smile now has a sizeable footprint. It has a staff strength of 400 development professionals. The core team works with a supporting network of some 3,000 individuals who associate themselves with Smile on a project basis.
The programmes it implements range from education to healthcare to skill training for young people. Swabhiman is a programme to empower women. Empowering the grassroots boosts the capacity of NGOs. There are other programmes as well.
"We have demonstrated our ability to scale up our programmes. That is our value proposition," says Dham.
But at the core of Smile's effort is the lifecycle approach. What this essentially means is that while education is the goal, healthcare, livelihoods and women's empowerment are all linked to it.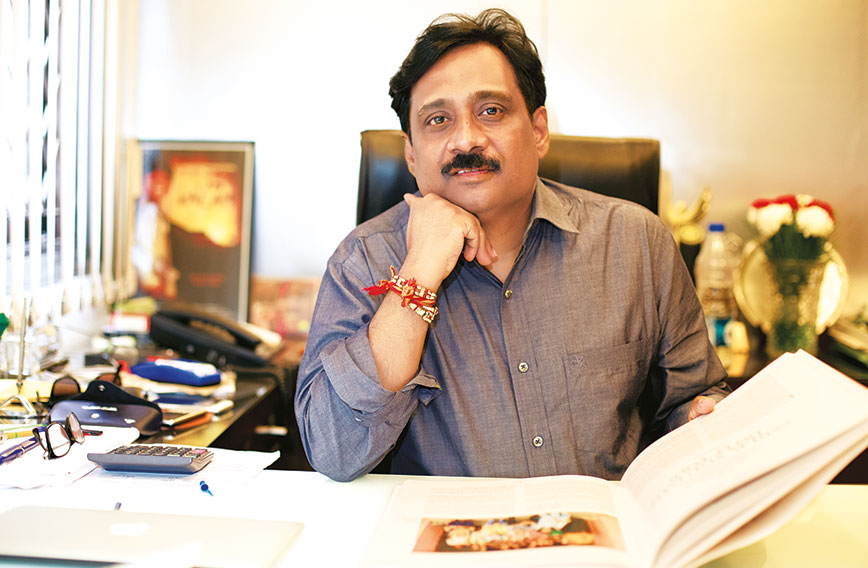 Shantanu Mishra, CEO of Smile Foundation
"While working on the ground, we realised that child education cannot be done in isolation, without ensuring the welfare of the whole family," explains Mishra. "Health is also a part of education. A child will not go to school if he is sick. If a child's parents are afflicted with health problems, he might drop out of school and start earning instead. Unless the mother is healthy and empowered, the child cannot be either. It is all interlinked."
"Our other programmes evolved as a logical progression to our education programme – be it livelihoods, health or women's empowerment. Today, children and education continue to remain at the centre of all we do, but through the lifecycle approach we also address the needs of the children's families and communities."
School for all
Mission Education is Smile Foundation's flagship programme. Dedicated individuals and NGOs are helped to set up informal schools that offer bridge courses, remedial education, pre-school learning and vocational courses. To ensure quality education, teacher training, parent-teacher meetings and exposure visits are organised.
"Mission Education addresses the needs of out-of-school children and vulnerable children who might drop out," says Partha Pratim Rudra, director of the programme.
In Noida, Smile supports Sankalp Saksharti Samitian, an informal school started by Meena Nijhawan, now 71, in 1993. Meena had time on her hands so she began teaching her domestic help, Padma. One day they noticed four street children wandering about in their neighbourhood. Meena invited them in, gave them a bath and a meal and advised them to study.
To their surprise, the children soon after turned up at her doorstep and asked to be taught. So Meena and Padma began teaching them. In no time word spread and children of rickshaw pullers, domestic helps and rag-pickers began to seek admission in Meena's impromptu school. Meena found herself running out of money to pay for meals, stationery and books. She also grappled with issues which children, who had led a rough life on the streets, faced. Smile extended a hand of support. Meena's little school now places children in mainstream schools and pays for their education. Her ex-students have become professionals.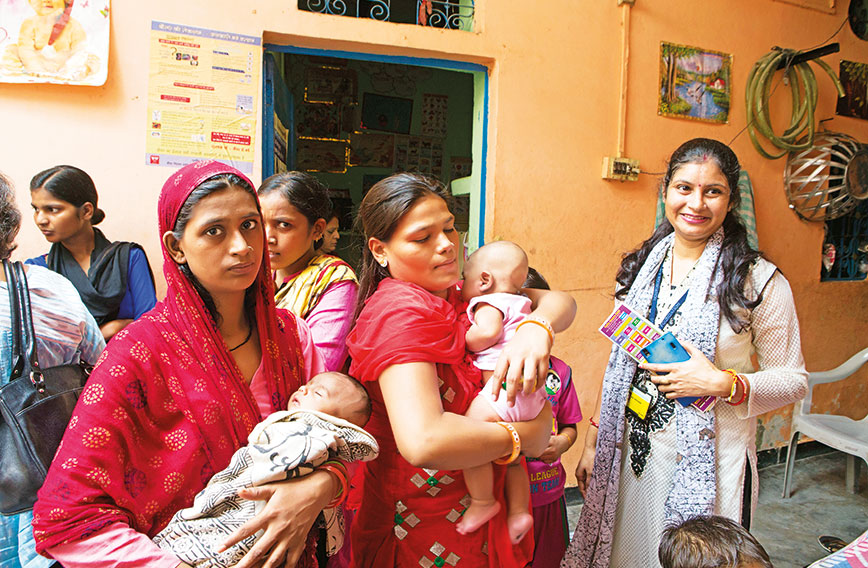 A resource centre where women are advised on breastfeeding and nutrition
In the tribal Kalahandi-Bolangir-Koraput region of Odisha, one of the poorest in India, Smile along with Jana Sewak Sangha, a local voluntary group, helps to improve government schools in Bolangir.
Smile's remedial education project has helped with recruiting teachers, healthcare, nutrition, libraries, computer labs, learning material and innovative toolkits for subjects like maths, science and English.
In eight years, the number of children in school has increased from around 100 to more than 1,100 in Smile's five Mission Education centres at Kudasinga, Kuturla, Shastri Nagar, Ichhapara and Tulsi Nagar. The number of dropouts has declined drastically and the academic performance of children has improved.
In Mumbai, Smile Foundation helped Amcha Ghar, a home for girls, scale up and become a full-fledged school using English as the medium of instruction. Amcha Ghar was started by two social workers, Susheela Singh and Anthony Dias. Sometime in 1995, they rescued a hapless girl who was being sexually exploited. But no institution would admit her because she wasn't an orphan. To their surprise, Singh and Dias discovered that there was in fact no place girls who were sexually exploited or emotionally abused could go to.
The helplessness of the girls moved the two social workers. On 14 April, 1996, in Uttan village in Bhayander they started a home called Amcha Ghar with three girls. Amcha Ghar now has 25 girls and around 700 children study there. Smile supported training of teachers, setting up of computer labs and libraries.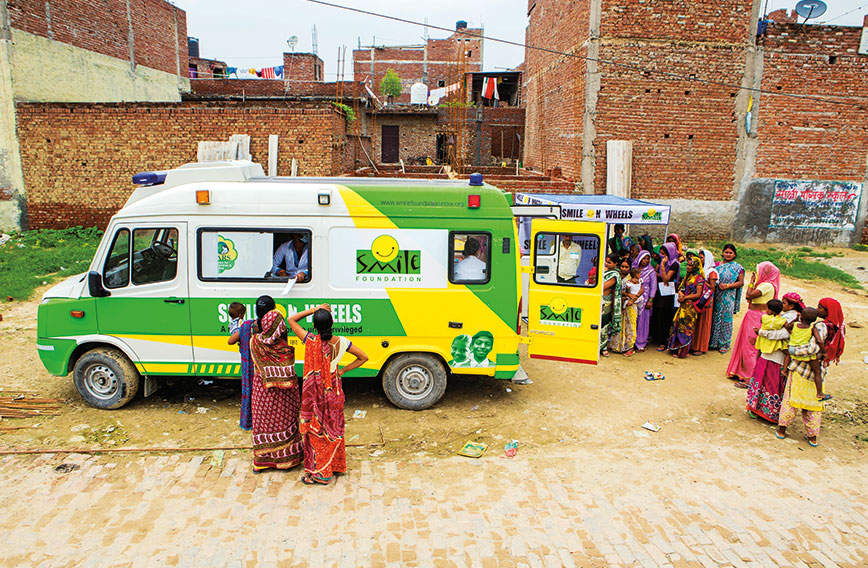 Smile's mobile hospitals go to urban slums and remote rural areas
In Lucknow, Jupiter Academy's partnership with Smile enabled it to hire more teachers, admit more students and introduce vocational courses. The academy was started by Sandeep Bhatnagar, a fabricator who in the summer of 1998, took in two poor children hanging around outside his unit, and began teaching them. Soon the number of children, mostly between four and 12, rose to 75. Bhatnagar, who taught maths, got his wife to help out and hired three teachers. His academy now has 1,200 students and five 'branches'. Children can join pre-nursery and opt for skill training when they finish school. Jupiter's students even produce a toilet cleaner called Kick and market it.
"Smile has played a big role in our success," says K.C. Pant, founder of Rasta Girls School in Khora Colony in Ghaziabad, UP. "They give us hand-holding support. They check the academic progress of the children they sponsor and monitor us closely. We have a common objective. They have the expertise to raise resources and our strength is our work in the field."
The Rasta School, abuzz with mostly Muslim girls, has become a landmark in Khora Colony, a poor neighbourhood of congested lanes. Pant, who founded the school in 2007, says 600 girls now study there.
It all began as a sort of challenge, he says. Vinod Khanna, a retired IFS officer and a consultant with Tech Mahindra, jokingly asked Pant if he could start a school for Muslim girls. Pant, who had worked 22 years for Deepalaya, said he just couldn't refuse.
Pant had to use all his persuasive skills to get parents to send their girls to school. "Here I was, a Hindu Pandit from Uttarakhand trying to teach Muslim girls," he recalls. He and his field staff trudged to local masjids, madrassas and the neighbourhood. Finally, the community acquiesced and Pant began an informal pre-school and remedial classes for 250 girls. About 60 girls were helped to pass the National Institute of Open Schooling exam.
Rasta Girls School has now been recognised by the Uttar Pradesh State Education Board. The girls can appear for the CBSE exams too as private candidates. Meanwhile, Pant has opened two more Rasta schools.
Altogether Rasta provides education to 900 girls. The school has earned enormous goodwill within the community. The parents find the fees of Rs 250 per month affordable.
Skill training, jobs
Skill training for youth was a logical step for Smile from Mission Education. Once children finish school, where would they get jobs? Smile began its Twin e-learning (STeP) programme in 2007 when the retail and information technology sectors were on an upswing. Beginning with two experimental centres in Delhi with NGOs, Smile now supports 88 centres. So far 32,000 young people have been trained and 20,000 have been placed.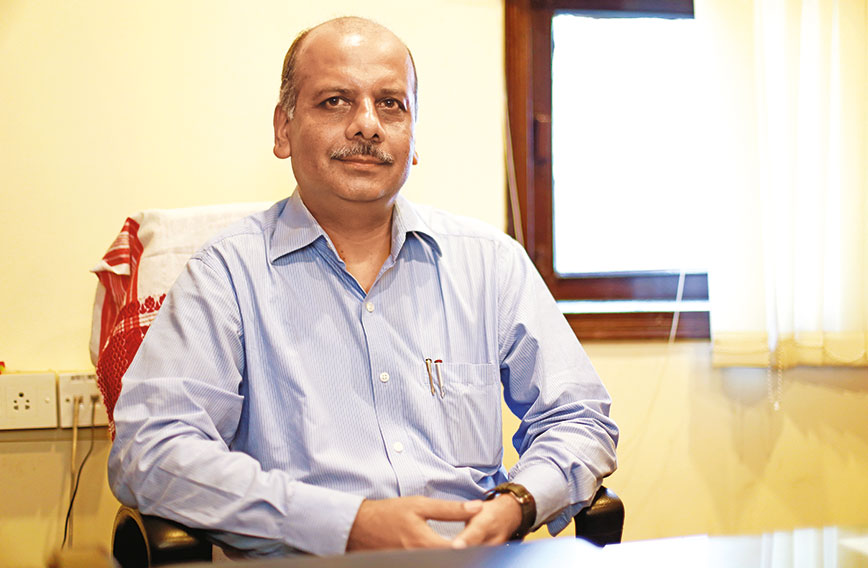 Partha Pratim Rudra
"Young people from underserved backgrounds need to be able to communicate in English and learn etiquette and body language. They need to understand the importance of time management and develop decision-making skills," says Bipasha Patnaik, manager of Smile's livelihood programme.
The Aarohan skilling centre was set up by Smile three years ago in Malviya Nagar with funds from Ericsson. Around 600 young people between 18 and 25 have passed through the centre. Jobs have been found for 300 of them and the others have found some form of self-employment. These young people have passed Class 10 or Class 12 and are taught computers, English, basic management and retail management, personality development and soft skills. The course is for four months. Students pay Rs 100 a month which covers the centre's overheads and works as an incentive for them to attend classes.
Ravi Paswan, 18, works at a Chinese restaurant. He comes from a little village in Nepal. Paswan passed Class 10 some years ago but couldn't study further. He hopes to find a better job after training. "I heard about the centre from someone and decided to join. I have picked up a little English and learnt a lot," he says.
Ashish Kumar, a diffident youngster, makes notes as he sits in on a computer theory session. Kumar completed Class 12 from a village in Azamgarh district of UP and came to Delhi to join computer classes on the advice of his maternal uncle. His father is a farmer. "I have been here one month and I like my classes. I am prepared to do a job, any job," he says.
Young people seeking skills invariably struggle with English. But they have a dedicated English teacher in the soft-spoken Sunita Dhar, who has been closely associated with Aarohan since 2005. "I am teaching English as Hinglish so that they can understand the language better. I never pass negative remarks. Instead, I become a child with them," she says.
K. Sarva Lakshmi teaches retail management, explaining organisational structures, job opportunities, the global retail scenario and sales skills. "We take photographs when young people join and after they complete the course. It is heartening to see the difference in them at the end of four months," says Lakshmi.
Over time the centre has built a reputation for itself. Smile has placed young people with Big Bazaar, HDFC Bank, Max Life Insurance, Vodafone, Bharti Airtel, KFC, Café Coffee Day, Westside and Amazon. These are jobs for which salaries vary between Rs 7,000 and Rs 15,000 a month.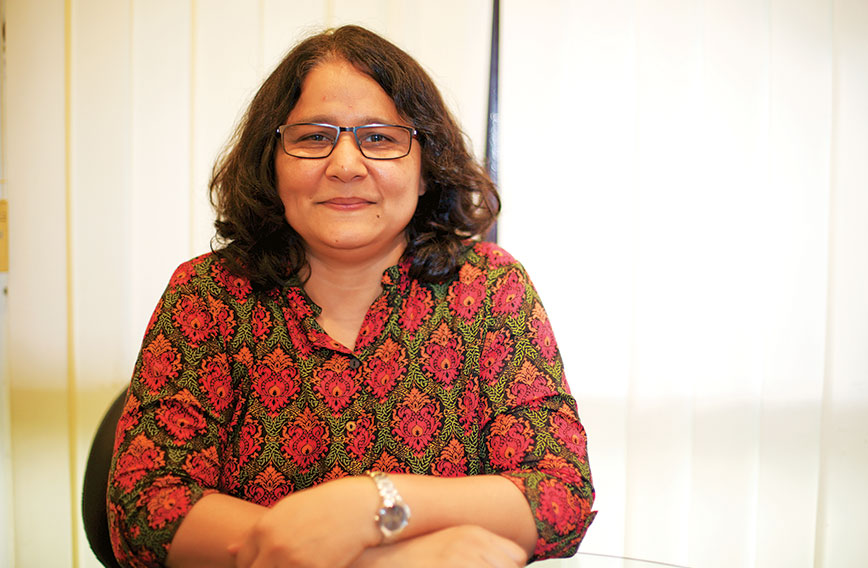 Seema Kumar
Aarohan was thoroughly vetted before Smile took the NGO on board as a STeP partner. The NGO is well known for its work in education. "I was interviewed to determine whether we would be able to set up a centre. I said I could try because this was a new thing for us. Until then we were not placing children, only equipping them with digital literacy. After that Smile gave us this project. This is another feather in our cap and we are running it very well," says Rani Patel, founder-president of Aarohan.
The project is entirely sponsored by Smile which pays for salaries, computers, rent, learning material and so on.
Mobile hospitals
Smile on Wheels takes healthcare to the doorstep of underserved slums and remote villages. These vans are equipped and staffed to make them equivalent to mobile hospitals. Apart from doctors, there are nurses and technicians and health workers who serve as mobilisers.
A mobile hospital begins by dealing with specific ailments. But it has a much larger role in connecting with the community so that Smile can identify and address issues relating to the overall well-being of the people. Medical assistance and advice are just the beginning of deeper and sustained engagement. Better awareness about maternal and neonatal health leads in turn to greater empowerment for women.
"Every quarter we analyse the disease pattern of a particular place and, based on our findings, we weave in health awareness activities," says Satnam Singh, national manager of Smile's health programme. "The government has useful communication material on health and we use it."
The mobile hospital at Chajjarsi visits the locality once a fortnight and attracts 90 to 120 patients every time. Project coordinator Hitesh Kumar Chowdhury says, "Earlier we needed to announce our presence but now people eagerly wait for us."
Dr Ajit Kulkarni's mobile hospital covers seven out of 27 urban slums in Kalyan municipality in Thane district of Maharashtra, including Pisawali, Katemiyali, Amrahi and Prabhudhanagar in Maharashtra. On an average, he sees 150 patients every time.
"The mobile hospital has complete medical facilities. There is satisfaction in seeing happy faces when my patients wait for me and I know that I have their blessings," he says.
An MBBS from Shivaji University in Kolhapur, Dr Kulkarni had a flourishing private practice for 35 years. His most recent assignment was as medical officer with the Maharashtra government's Integrated Counselling Testing Centre (ICTC) van that traversed many miles in Thane district to detect, counsel and refer HIV patients for further tests.
Six years ago, he received a call from Smile Foundation to join Smile on Wheels and he took up the offer without hesitation.
Dr Kulkarni travels with a complete team — a nurse, pharmacist, pathologist, a community mobiliser and a project coordinator. The van has 95 medicines, including antibiotics, analgesics, tonics, calcium tablets and skin ointments. There are facilities like an oxygen cylinder, nebuliser and ECG machine. The pathologist can run the entire gamut of tests.
The focus is on antenatal and postnatal care. Pregnant women are registered and given multivitamins, iron, folic acid, calcium tablets and protein powder. For their deliveries women are referred to the nearest government hospital. There is growth monitoring of babies and multivitamin drops are dispensed. The women are also given advice on breastfeeding.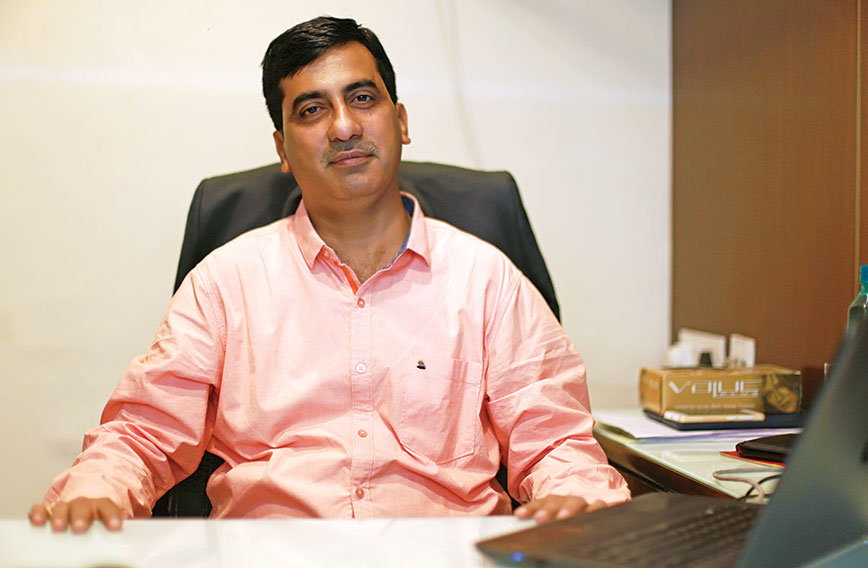 Sanjeev Dham
Adolescent anaemic girls are given iron tablets for three to six months and advised haemoglobin tests every month. Kulkarni also prescribes medicines and advises on menstrual complaints and reproductive tract infections. "We focus on cases of malnutrition, worm infestations, growth problems, rickets and TB in children," he says.
Networking with government hospitals is very important so that they take special care of Smile's patients, says Kulkarni. If necessary, he visits the primary health centre or municipal hospital himself.
Preventive aspects of healthcare are emphasised. In August, due to heavy waterlogging in Mumbai after the rains, there were over 70 cases of leptospirosis, a severe bacterial infection that can cause multi-organ failure and even death. To prevent the spread of the disease in Kalyan, Kulkarni distributed capsules of Doxycycline.
Dr Anurag Sobhari's mobile hospital goes to 10 locations in Gurgaon. He says that health awareness to prevent seasonal diseases is very important in slums and rural areas. "We also educate people on washing hands, sanitation and related issues. Street plays are organised by professional theatre groups and community meetings held regularly."
Empowering women
As Smile Foundation began working in slums and villages it came across incidents of domestic violence against women. To counter this, Smile launched Swabhiman, which means self-respect. Over the years, the programme has expanded to include health, education, life skills, rights and male sensitisation.
The programme identifies adolescent girls and women with good communication skills who can mobilise their community. They are trained as change agents and they keep educating the community after Smile pulls out. Girls from poor homes who do well in school are given a scholarship, helped with career counselling and linked to vocational institutes. They become key change agents.
Outside the Smile resource centre at Shashi Garden, a resettlement colony in East Delhi, seven young women with babies listen attentively as Nisha Sharma, a community health educator, explains the benefits of breastfeeding. She then informs the women of the next date for immunisation of babies at the local dispensary.
Group discussions are also held on topics ranging from menstrual hygiene to the importance of education, reproductive and child health and so on.
Swabhiman's male health volunteers initiate meetings with men as well. Men can sometimes be seen at Labour Chowk discussing family planning, TB awareness, seasonal diseases and immunisation. "It's very important for the women that we work with men," says Pooja Rani, assistant manager of the Swabhiman project.
Swabhiman change agents also work with anganwadi workers. Says Usha Rani, a cheerful anganwadi worker, "Many women are illiterate. They don't know where or how to register for antenatal and postnatal care. We connect them to clinics and dispensaries. We also issue them cards that track immunisation and vaccination details."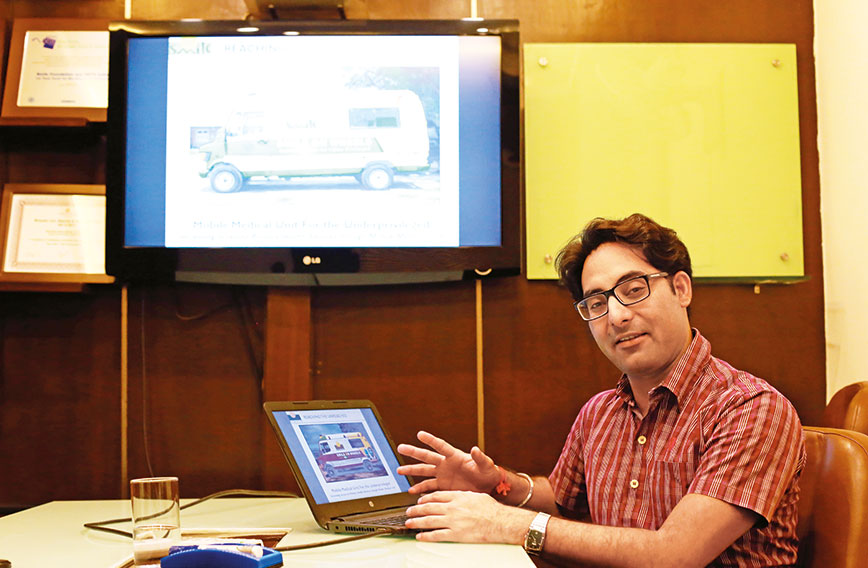 Satnam Singh
In the two years that Smile has been working in Shashi Garden, home deliveries are down to 1.1. percent, immunisation coverage is 100 percent, the education of girls has been boosted and so has male support. "We will soon be pulling out of the community. We have created awareness and we have change agents to carry forward our work," says Seema Kumar, general manager of Mission Education and Swabhiman.
Swabhiman has a mobile health unit project which is a smaller version of the Smile on Wheels mobile hospital with a doctor, pharmacist and health workers.
One such unit is stationed in a narrow alley in Chattarpur Pahari in Delhi. Dr Neelu Shrivastav, who heads it, has been working with Smile since 2006. She visits Ashok Nagar, Dhaula Kuan, Chattarpur Pahari and Shashi Garden with her unit. Apart from her voluntary work with Smile, she and her husband have a flourishing private clinic. "I find great satisfaction in this work. The people who come to my unit really need good medicines and consultation," she says.