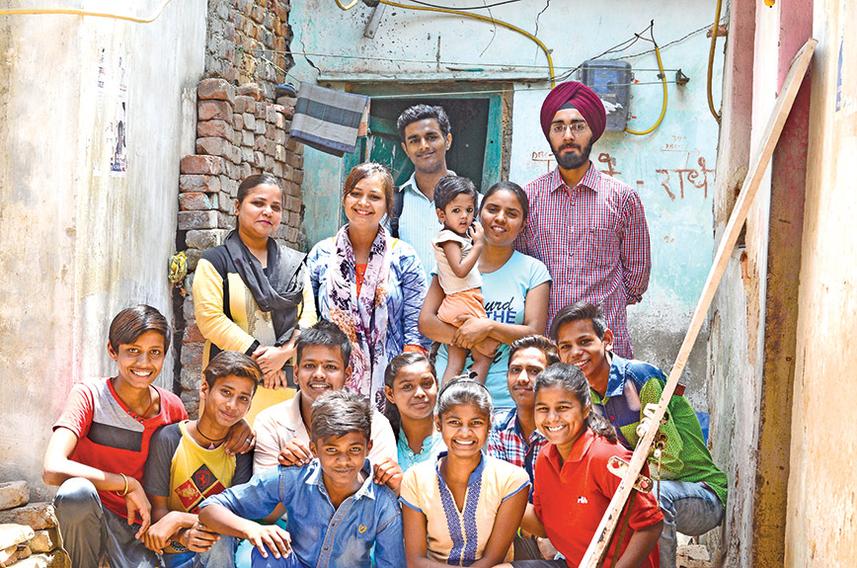 The Matri Sudha core team with young trainees
Muddled nutrition in Delhi ends up in PIL
Civil Society News, New Delhi
Published: Jul. 03, 2017
Updated: Jan. 30, 2020
An estimated 50 percent of children in the National Capital Territory of Delhi are undernourished, but a State Food Commission that can address the problem has not been set up.
The Food Security Act of 2013 stipulates the setting up of food commissions in the states to monitor mid-day meals served in government schools and supplementary nutrition provided in anganwadis, which are mother and child care centres.
It has been more than three years since the enactment of the law, but the state government is yet to appoint a commission even though malnourishment in Delhi is well documented and it is also established that mid-day meals served in schools and anganwadis are of poor quality.
The law seeks to ensure, among many other things, that children from poor homes get at least one good hot meal in a day so that their growth and development is not impeded.
A public interest litigation (PIL) has now been filed in Delhi High Court by Matri Sudha, an NGO involved in child welfare and maternal health.
Matri Sudha wants the High Court to direct the government to set up the State Food Commission without which it won't be possible to deploy expertise and coordinate the work of various arms of the government to bring about a significant improvement in nutritional levels.
The commission is the pivot of the food security law and in its absence, there is no means of evaluating nutritional security nor is it possible to address complaints regarding violation of entitlements.
The law bestows on the commission several crucial functions to deal with the prevention and management of child malnutrition. It is supposed to identify households eligible for foodgrains at subsidised prices. It is expected to make sure that nutritional support reaches pregnant women, lactating mothers and children between the ages of six and 14.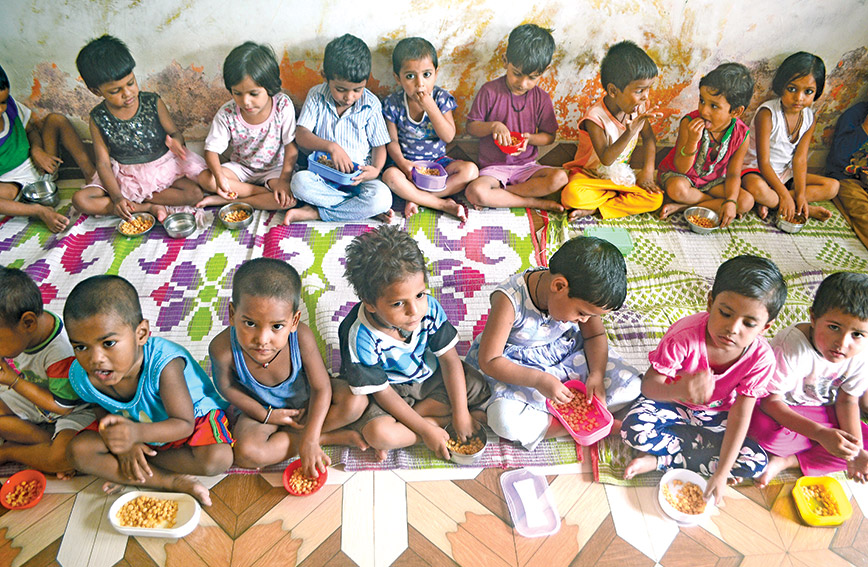 A sparse meal at an anganwadi in Lal Kuan in southeast Delhi
The PIL, which has been filed through advocate Vikram Srivastava, says that in the absence of a State Food Commission, there is a vacuum in monitoring and evaluating the malnutrition situation in Delhi.
Since the Food Security Act is meant to specifically benefit the poor and disempowered, there is no alternative to enforcement of the law by the government.
At Rs 25,000 a month, Delhi has the highest per capita income in the country. Its GDP growth rate is 8.8 percent. But these levels of prosperity do not counterbalance malnutrition and anaemia among children and mothers.
No political party has seriously addressed the problem. It hasn't figured in election manifestos. The Aam Aadmi Party (AAP) government has inherited it as a legacy of previous Congress regimes. But despite being three years in power, AAP hasn't acted either.
A free-for-all kind of situation exists with no regulation over quality of meals and credentials of suppliers. There appears to be no coordination between departments. The result is malnutrition has gone up by one percent from 26.1 in 2005-6 to 27 percent in 2016-17.
The need for an accountable system is underlined by the scale of the demand. Roughly 30 percent of Delhi's population exists in slums. On record, there are 1.2 million children who avail of mid-day meal schemes in Delhi government schools. There are 840,000 beneficiaries of supplementary nutrition at anganwadis. This number is lower than the 1.7 million who were getting supplementary nutrition in 2012, which is strange because the number of anganwadis actually went up from 10,607 to 10,897 over the same period.
It is not clear why the State Food Commission has not been set up. Applications made by Matri Sudha under the Right to Information (RTI) Act have elicited confused responses from the state government.
For instance, the government at one stage said that the State Grievances Commission would serve as the State Food Commission. Under the law the government can designate an existing commission to do the job, but using the State Grievances Commission was not a workable idea because it had only two members and no chairman. Moreover, it has no expertise or machinery for dealing with the issues pertaining to child malnutrition.
The government's answer to the latest RTI application by Matri Sudha is that the setting up of a commission is under consideration.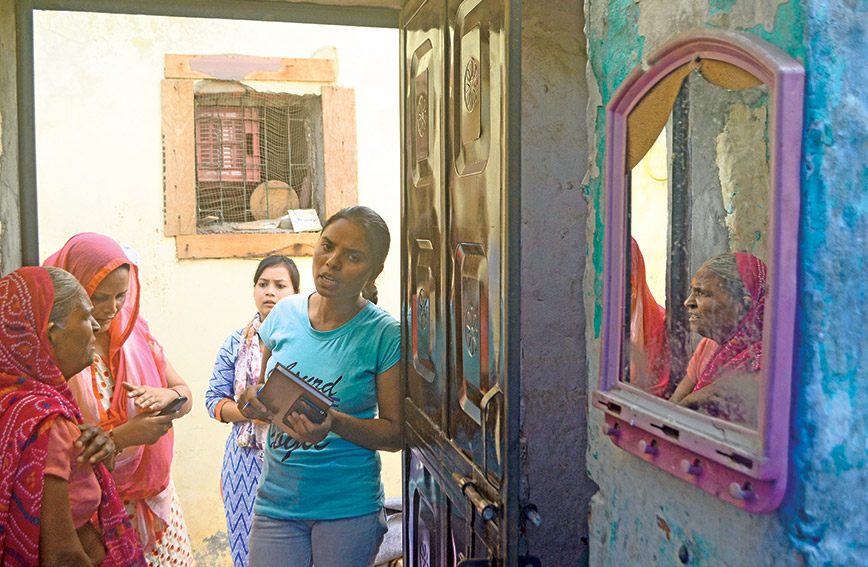 Matri Sudha workers counselling women
Among the many issues that Matri Sudha has raised is that of accountability in the delivery of services. In October 2015, for instance, four service providers in the mid-day meal scheme were blacklisted by the Department of Education because of poor quality of food. Children were falling ill.
However, the same service providers were given contracts for anganwadis by another department of the government. This came to light in the answer to an RTI application filed in August 2016 with the Department of Women and Child Development.
The department provided a list of 23 service providers for supplementary nutrition and Matri Sudha found that three of them were those who had earlier been blacklisted under the mid-day meal scheme.
The PIL cites performance audit reports of the Comptroller and Auditor General of India (CAG). In its report on the Integrated Child Development Scheme (ICDS) for the period 2006-07 to 2010-11, the CAG placed Delhi among nine states where malnourished children numbered above 50 percent.
A recent survey undertaken by CRY, an NGO dealing with child rights, in Delhi's slums also found 50 percent of the children surveyed to be malnourished. (See Civil Society January 2016.)
The CAG found 89 percent of cooked mid-day meals in Delhi failed to meet standards and that supervision by government departments was lacking.
Matri Sudha says in its PIL: "The concerned departments, primarily Department of Women and Child Development (DWCD) and Department of Education (DOE) and their contractors responsible for providing adequate and nutritious food to children have been indicted of violations, unregulated operations and sub-standard food containing at times even extraneous elements such as lizards by the CAG."
"The petitioners submit that the non-appointment of the Food Commission in Delhi as mandated under the National Food Security Act, 2013 is one of the major causes for this poor state of affairs and leading to gross violations of children's right to health."
Matri Sudha's team consists of young people who work in the slums of Delhi. They promote awareness of nutrition and help pregnant women and mothers access government schemes.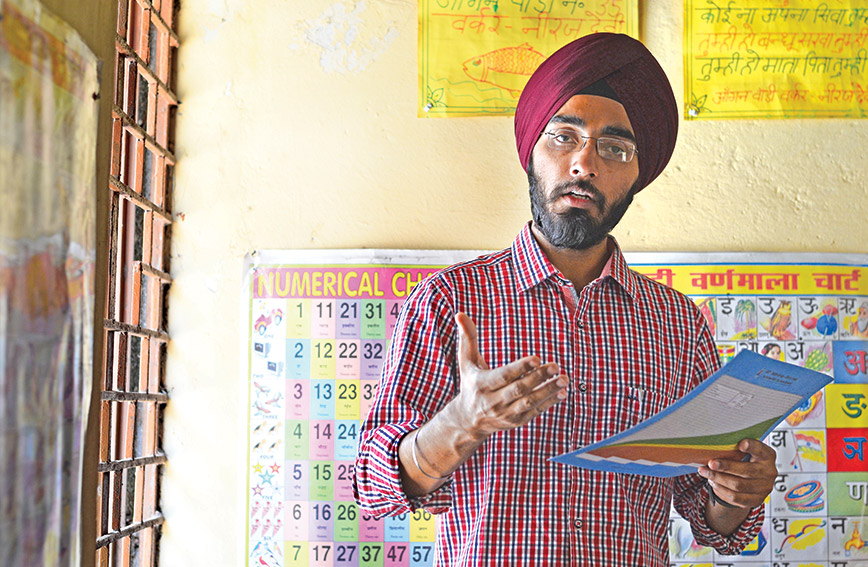 Arvind Singh of Matri Sudha
Arvind Singh, 32, plays a lead role in Matri Sudha. His interest in malnutrition began with a project on iodine deficiency in eastern Uttar Pradesh. When he returned to Delhi, the CAG reports highlighting malnutrition in the capital were just out.
"It hit me that in Delhi, GDP is high, per capita income is high but that is completely contrary to what is happening at the grassroots. So, we started analysing government reports of the women and child development ministry and we found that there were clear-cut governance issues involved. We also started picking up issues that are linked directly or indirectly to malnutrition," says Singh.
"These were issues like tuberculosis, which is ignored by the government. For severely malnourished children with medical complications the government has a protocol. The ministry of health and family welfare has guidelines for such children. There are institutions in Delhi in all government facilities where such services are supposed to be provided. District hospitals are supposed to have nutritional support centres," Singh explains.
"We started filing RTIs. We went to government hospitals: Sanjay Gandhi Hospital, Guru Gobind Singh Hospital and the situation was exactly what we found in the reports. We did face-to-face interviews with the families whose children were admitted in those hospitals. In 2011, the National Commission for Child Rights came out with a fact-finding report on the ICDS which flagged issues of nutrition and the ICDS."
Matri Sudha's concern was that when facilities existed there was no reason why children should be allowed to fall into the third and fourth stages of malnutrition. It wanted to get the system working.
Under the ICDS anganwadi workers are the primary people who identify malnourished children. They are linked with the Asha workers, who under National Rural Health Mission (NRHM), are linked to the primary health centres (PHCs).
But the Ashas and anganwadi workers have to be monitored. Similarly, the primary health centres have land and budgets but aren't functioning. Additionally, the AAP government has bypassed them by announcing Mohalla Clinics, thereby further distorting the system.
The ICDS has 95 projects covering a million beneficiaries — 200,000 pregnant and lactating mothers and 800,000 children from 0-6 years of age.
But Matri Sudha found to its surprise that only 65 children had been officially listed as severely underweight by the government.
So, the NGO conducted its own small survey in a part of southeast Delhi where it was working. It found that even in its tiny sample of 345 children below six years, about 31 were in the second and third stages of malnutrition. There was clearly something amiss with the state government's figures.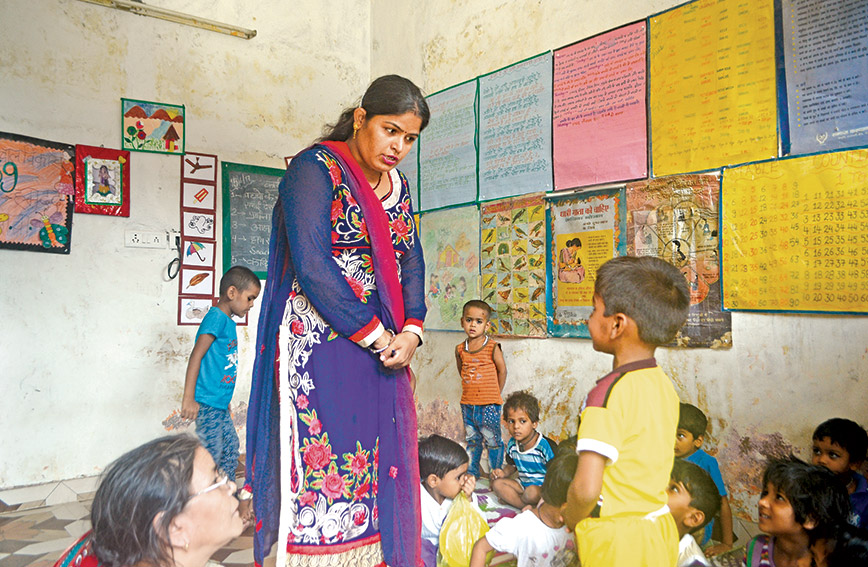 Anganwadi workers are the primary people who identify malnourished children
"There is a dedicated budget for malnourished children under the National Food Security Act and the government has revised the supplementary nutrition norms and costing in every state," says Singh. "After we brought this discrepancy to light we saw a change in the Delhi government report. In its last report, the figure for severely malnourished children went up to 1,000."
Matri Sudha reached out to the government. Singh says he went to the Delhi Secretariat and explained the situation to Sandeep Kumar, Minister for Women and Child Development. The additional director was also there. After an hour-long presentation, he said we will form a group to look into the matter.
"We waited six months and then again approached him. He said he had put inspectors and volunteers at the centres. We told him that wouldn't work because it was really a convergence problem between the two different ministries for women and child development and family welfare," says Singh.
"I also met Satyender Jain, the Delhi health minister in 2015. We went with a report on the PHCs. There are 240 plus in Delhi. The first point of reference for a malnourished child is the PHC. The municipal corporations operate a parallel system of maternity centres and dispensaries," says Singh.
"I told him, under the National Health Mission, the PHCs are to be strengthened by improving infrastructure. Their number is also to be increased. But meanwhile, the AAP government came up with its own parameters and left behind the 240 PHCs which have funding. They set up Mohalla Clinics though it would be so much wiser to strengthen existing PHCs, which already have human resources."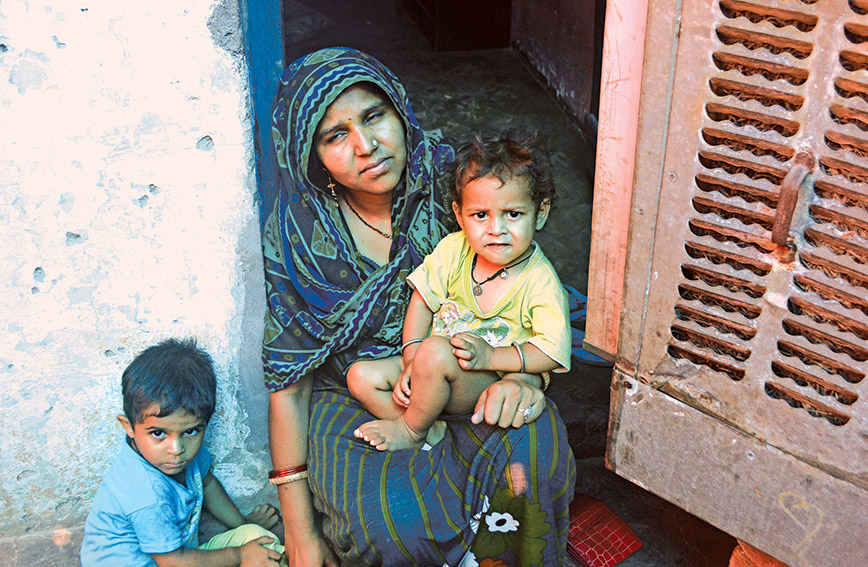 A woman whose malnourished children were helped by Matri Sudha