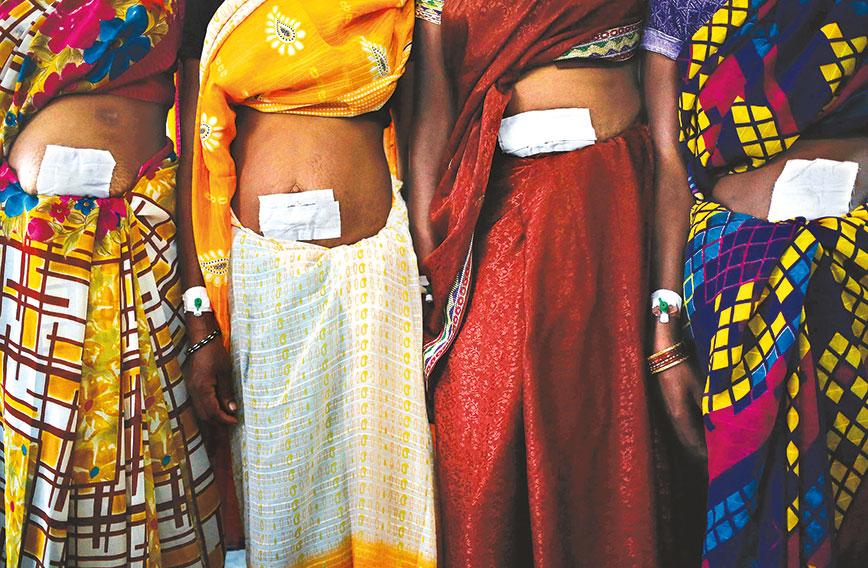 Some of the women who survived in Bilaspur
Put women in charge
By Poonam Muttreja
Published: Nov. 26, 2021
Updated: Jul. 29, 2022
The 137 women who were herded into derelict healthcare facilities were given a choice: more babies or sterilization. It was really no choice, but, as always, they took what they could get.
If you are a woman in a remote village in Bilaspur, in the largely rural state of Chhattisgarh, chances are you are far removed from a world full of modern options in contraception that allow you to space out babies. You are also taught early in life not to say no and to accept the decisions taken on your behalf — even if they are about your own health.
So, when the women registered their consent to be sterilized, they didn't know, and were too fearful to ask, what they were getting into. What they hoped for was freedom from a life of unwanted pregnancies. In fact, they were being robbed of their autonomy by getting them to put their thumb impressions on consent forms they couldn't read.
But with their 'consent' taken, the women were rushed through surgeries performed at high speed. A single surgeon did as many as 84 sterilizations, each in a minute and a half, as though out to set a record.
The conditions were unhygienic. There were just three laparoscopes employed after perfunctorily being dipped in Betadine solution. The same syringe and suture needle served for all the surgeries.
At the end of this bizarre exercise, they were all given tablets of Ciprofloxacin and sent home. But, hours later, 16 women were dead and another 80-odd were seriously unwell with septicaemia.
They were mostly in their twenties and some were lactating mothers who should never have been subjected to sterilization. What had been perpetrated on them was nothing short of a crime which cut short their reproductive years.
It was 2 am when my mobile phone rang and I got the news. I was in New York for the release of the UN's Sustainable Development Goals (SDGs) report. The Wall Street Journal's correspondent in Delhi was calling, thinking that I was in India. Soon, the Financial Times got in touch as well. Calls followed from Indian publications.
In a networked world, news travels quickly. But what does connectivity by itself really do for empowerment? In death these women had in a flash become news. Yet, while they lived, it seemed, they hadn't mattered.
For all the seamless connections between Delhi, New York and Bilaspur, their lives had remained steeped in patriarchy, obscurantism and poverty. They never got the agency they so desperately needed. Perhaps now, with the spreading stench of this tragedy, that would change.
Awake in New York, I thought about the babies the women must have left behind. Who would take care of them? I recalled innumerable conversations I had had in rural India with men blithely saying they would marry again if their women died. Would this be the case here too? Perhaps.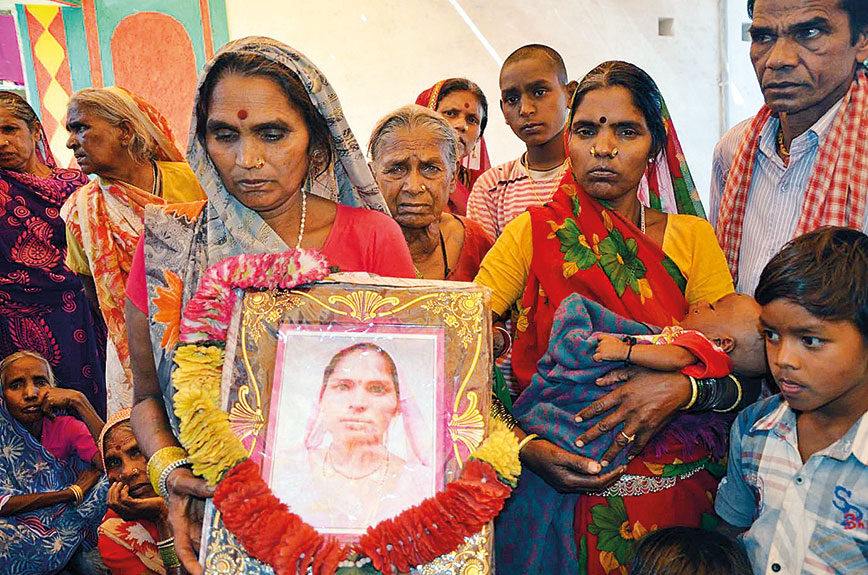 Relatives mourn with the mother (holding her baby) of one of the women who died
Once back in Delhi with my colleagues at the Population Foundation of India (PFI), we decided to not let this terrible tragedy pass. They were as angry as I was. We decided to put together a fact-finding team and quickly visit Bilaspur to document what exactly had happened.
Such an intervention was a departure from the role PFI has historically played. The PFI was founded in 1970 by J.R.D. Tata and Dr Bharat Ram to support policy research and programme planning and generally sponsor a better understanding of India's changing demographics.
Over the years, we have evolved to promote gender rights and work with communities on holding the government accountable. Since 2005, PFI has been helping the government in implementing Community Action for Health — a programme under the National Health Mission — which places people at the centre of the process of ensuring that the health needs and rights of the community are being fulfilled, thus 'bringing public into public health'. But our approach has essentially remained a sedate one of gathering information and sitting with people in authority to talk things through.
By going off to Bilaspur, we were taking a more strident stance and plunging into a form of activism which didn't usually come from our corner. Nevertheless, we felt it was an intervention we just had to make.
We decided to reach out to other NGOs as well. So, when the fact-finding team was put together, it consisted of Dr Alok Banerjee of the Parivar Seva Sansthan, Dr Kalpana Apte of the Family Planning Association of India and Dr Subha Sri of Common Health. From PFI there was myself, Sona Sharma and Bijit Roy.
As it turned out, it was one of the best decisions we have ever taken. The team's inquiry resulted in a report (Robbed of Choice and Dignity: Indian Women Dead after Mass Sterilization) that finally became the basis for a landmark judgment by the Supreme Court in 2016 and transformed the way family planning services are provided in India.
It was not we who went to the Supreme Court. We just put our findings together and gave them to the government and the media. But since our report went into great detail and provided evidence based on facts, it was included in a public interest litigation which had been filed two years earlier before the Supreme Court on the standard of family planning services and government-run health facilities in general.
A DREAM VERDICT
When Justice Madan B. Lokur's judgment came, it drew heavily on our report, which sought a stop to all sterilization camps and asked the government to invest instead in fixed-day services. He also sought a shift of focus to spacing and temporary methods of contraception.
Importantly, the judgment emphasized that family planning services were ultimately the responsibility of the Union government, which couldn't disown what was happening in the states.
Justice Lokur asked the government to report back to the Supreme Court on a quarterly basis and thereby put in place a cadence for the much-needed process of reform.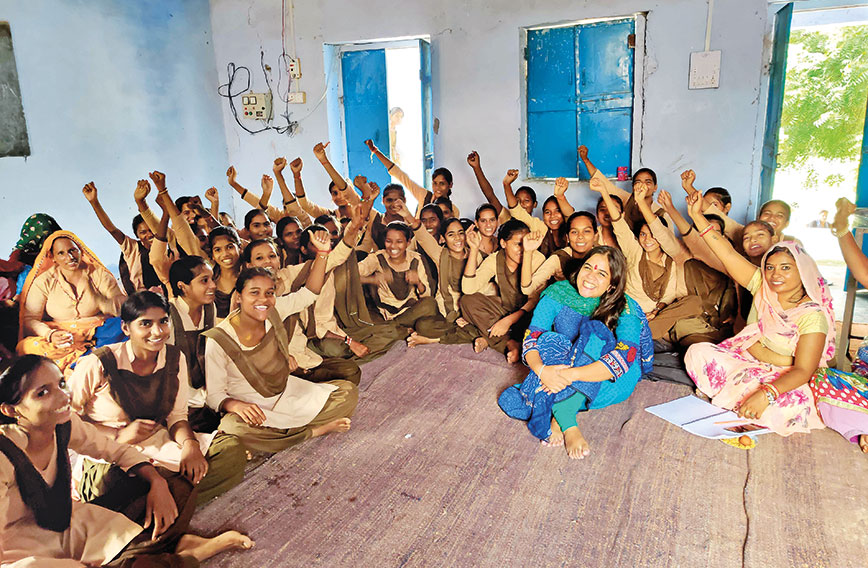 One for all: Adolescent girls at a workshop in Rajasthan
With the Supreme Court focusing on the government and the Bilaspur tragedy becoming a major international embarrassment, results followed quickly. Officials didn't want to be out of line for fear of being hauled up by the highest court in the land.
Everything NGOs involved in family planning had ever asked for came together in this one judgment. I would like to say that, as a result, family planning services have indeed improved, though much more needs to be done.
IMPARTIAL, PROFESSIONAL
The decision to send a fact-finding team to Bilaspur was in some ways an emotional one. It came spontaneously and even, if you like, out of considerable anger and frustration with the problems of the public healthcare system in India.
However, as we got down to our serious task of uncovering the truth in Bilaspur, we firmly contained these initial responses. We knew that to be successful in our mission we would have to be impartial, empathetic and professional.
The team was put together keeping in mind the seriousness of the purpose for which we were setting out. We had on board competent physicians who understood family planning and the complexities of public healthcare. It wouldn't do to be mere rabble-rousers. This was not the time for slogans.
The state government had told the prime minister that the deaths were the result of spurious Ciprofloxacin. We knew instinctively that this was not so. To prove otherwise we would have to be uncompromising in our search for information. Only a well-documented counter narrative would succeed.
GOOD PEOPLE IN GOVT
As NGOs we tread a difficult path. We need to confront governments and also work with them. Speaking truth to power can't be a visceral response. A good cause deserves a good case. It is important to identify and call out wrongdoers, but bravado alone won't do.
It was adventurous to go to Bilaspur. But once there we had to be calibrated and methodical and earn the confidence of the people we would be interacting with. It was important that we inspire respect and faith.
Our exposure to government in PFI, as well as the experience of seasoned colleagues from other NGOs in the team, had taught us that no system is wholly bad. There are always enough good people within the system who feel upset when things go wrong.
Bilaspur was no different. We found and happily reported that the district administration, under Divisional Commissioner Sonmoni Borah, had done an outstanding job in saving lives once the tragedy unfolded. If not for him many other women would have also lost their lives. He acted with speed and dedication. We saw in him a great officer and said so.
Several officials in the state health ministry shared information and spoke frankly to us. As did the doctor who did the autopsies, which was crucial because we needed to know how exactly the women had died. Was it really from spurious Ciprofloxacin? The autopsies showed that it wasn't so.
It was heartening that our concern over the deaths was shared by many as was our overall purpose of finding ways to repair the system.
We were unable to speak to Dr R. K. Gupta in jail. He had performed the serial sterilizations and had been subsequently arrested. We spoke to the women who survived and families of those who had died. We also went to the derelict health facility, the Nemi Chand Jain Hospital, where the operations were performed. We were able to photograph the scene, including the cobwebs in the makeshift operation theatre, which was not sterilized.
FOLLOW THE MONEY
A crucial part of our report was related to the government expenditure on family planning. We had taken a health economist on board at PFI to analyze expenditure when we found that budgets for family planning and other health programmes were not available in the public domain or clearly demarcated.
I asked Gautam Chakraborty, our health economist, to do an analysis of how much the country spent on sterilization as well as other aspects of family planning, including spacing methods.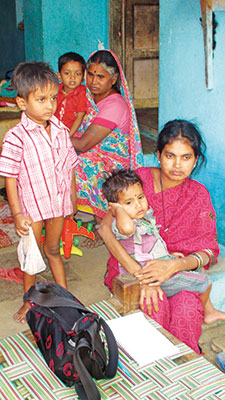 A survivor with her family
It turned out that 86 percent of the expenditure was on sterilization. Of this, 70 percent was set aside for incentives, which explained why women in hundreds were being sterilized. Also, doctors and government health teams were paid additionally for each sterilization. There was money to be made.
By comparison, just 1.5 percent of the budget was being spent on temporary methods like spacing. And for the rest the expenditure was only 13 percent.
While on the money trail, we found that 40 percent of the state budgets for family planning went unspent. This could be the primary reason why expenditure on family planning has not been increased.
When we pointed this out to Dr Arvind Subramanian, the then chief economic adviser in the Union Ministry of Finance, he asked us to send him the details of numbers and for the first time we had two pages on family planning in the Economic Survey of 2014-15.
TWO NEW CONTRACEPTIVES
With growing disclosure has come momentum. Two new contraceptives have been introduced. One of them is an injectable, which women, whose husbands are migrant labour, find easier to rely on. It can be accessed and taken discreetly and it offers continuous protection. There is no having to get the man to put on a condom or remembering to take a pill.
For close to 30 years no new contraceptives were introduced in India, partly because of genuine concerns raised by women's groups. But had the women of Bilaspur been given better options than sterilization they undoubtedly would not have died or had to suffer. Often, causes pursued with the best of intentions tend to ignore reality.
But even if other options had been available in Bilaspur would the women in those villages have had the awareness and confidence to make a choice in their best interests?
The success of family planning initiatives grows out of an awareness and acceptance of gender rights. Women have to learn to assert themselves and men have to yield space.
But social and behavioural changes depend on effective communication. At PFI we have immersed ourselves in television, the internet and social media to reach out, particularly to the young who have the capacity to lead change.
New information technologies offer opportunities to reach out to millions with additional possibilities of customizing messaging in terms of content and language. Online chats provide direct communication and privacy which allow meaningful conversations on sensitive subjects like masturbation and choice of contraception.
Since April 2019, we have used our chatbot, SnehAI, powered by artificial intelligence, to provide safe spaces for adolescents online. There have been, to date, over 8.6 million conversations with approximately 150,000 active users. Recognizing its potential, the Ministry of Health and Family Welfare linked its population stabilization fund helpline to the chatbot.
PFI is expanding the chatbot to include content on digital safety, safe online behaviour, online child sexual abuse and exploitation.
AI holds tremendous potential to expand healthcare efforts, including much-needed access to accurate information to under-served populations and in remote parts of the country.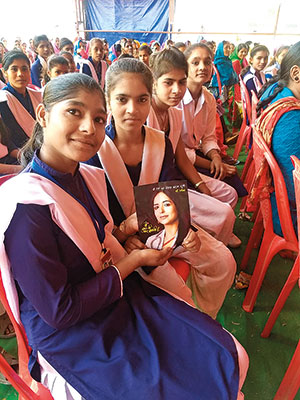 Girls find a role model in the TV programme
On the flip side, we have found television a useful medium for creating role models. Launched in 2013, our flagship television programme Main Kuch Bhi Kar Sakti Hoon (MKBKSH) or A Woman Can Achieve Anything, challenged regressive socio-cultural norms, practices and behaviour around family planning, sanitation and gender equality. The show was created by noted film and theatre director Feroz Abbas Khan.
Main Kuch Bhi Kar Sakti Hoon knits together all of PFI's programmes and priority concerns around the single theme of women's rights and empowerment.
The programme was telecast on Doordarshan over 183 episodes and three seasons. It was also adapted for radio and broadcast in partnership with All India Radio on over 200 radio channels across India.
An Interactive Voice Response System (IVRS) received approximately 1.7 million calls from 400,000 unique callers from across 29 states of India, with nearly an equal share of men and women callers.
The serial was watched by close to 150 million viewers across the country and continues to be watched on OTT channels and digital platforms such as Hotstar and YouTube.
The last 26 episodes of MKBKSH's Season Two introduced and branded 800,000 peer educators under the Rashtriya Kishor Swasthya Karyakram (RKSK) as Saathiyas.
The name Saathiya inspired the Ministry of Health and Family Welfare to work in partnership with PFI and the United Nations Population Fund (UNFPA) to create the Saathiya Resource Kit to equip 800,000 peer educators to work with adolescents.
We have also found that celebrities serve as powerful influencers when it comes to social messaging. A digital media campaign called #BASABBAHUTHOGAYA or Enough is Enough was one of India's first evaluated digital campaigns aimed at ending violence against women and girls.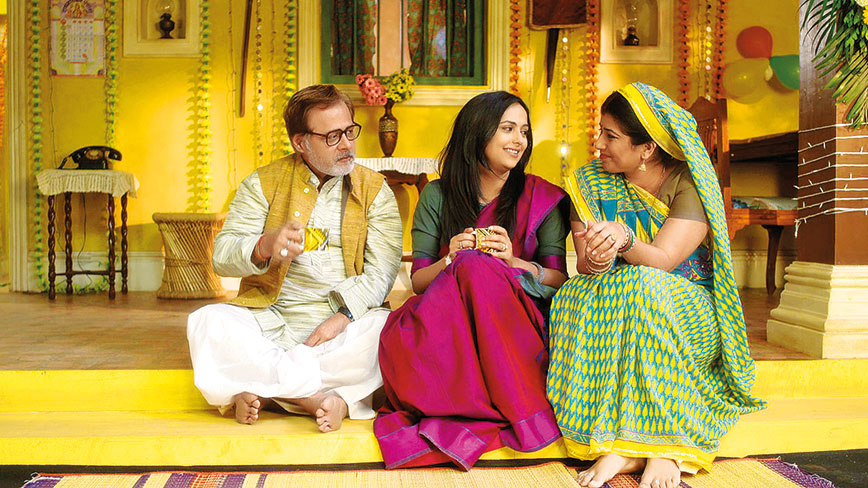 Dr Sneha and her family in a scene from Main Kuch Bhi Kar Sakti Hoon
The campaign reached an average of 4.2 million viewers online every month while it ran. It consisted of six short films — three of the films were with everyday people and three with celebrities: actor Vidya Balan, tennis ace Sania Mirza and journalist Barkha Dutt.
Celebrity support for the campaign was showcased at a concert in Mumbai, which was led by Farhan Akhtar along with other popular film and music celebrities. The concert was a live event and was watched on Facebook by 4.8 million viewers.
A video anthem for the campaign, Chulein Aasmaan or Touch the Sky, penned by Javed Akhtar, was released on March 8, 2018 on the occasion of International Women's Day.
WORKING WITH THE STATES
In family planning, the Union government has an important role in providing scientific direction, framing policy, designing programmes and allocating resources. But implementation happens in the states where governments need support in setting their local level priorities and farming policies.
For PFI, these partnerships come with their own challenges when governments feel compelled to sway in directions which we may not feel are advisable.
PFI has drafted the state population policy of Uttar Pradesh. We led the research and stakeholder consultations and after an exhaustive process the policy was adopted and released on July 11, 2021. It was an inclusive and comprehensive approach to protect the health and well-being of all citizens across their life stages.
But even as the policy was being released, the UP Law Commission announced a population bill proposing stringent measures for population control in the state, which ran counter to the policy. Having shaped the policy, PFI has had to oppose the bill.
In Bihar, too, PFI has helmed the drafting of the population policy of the state and it has been submitted in its final form for acceptance to the state government. It remains to be seen how it gets implemented.
As states compete for investment and seek to deliver the benefits of development to people, how they deal with gender rights, population and public health will decide their success.
For all the challenges that remain, there is also good news on the population front. Over the years the growth rate of the population has been slowing. India's total fertility rate (TFR) has fallen to 2.2 — very close to the replacement rate of 2.1. The TFR has reached replacement levels of 2.1 in 24 states. India's urban TFR at 1.8 is less than the replacement rate, and close to the European average of 1.6.
Fewer girls are getting married below the age of 18 and maternal mortality deaths are 130 for 100,000 live births, which is half of what it was in 2004-06. More institutional births are therefore happening.
But there is still a long way to go in correcting an adverse sex ratio. More young girls and women are coming out to study and work and showing that they can be successful. Yet, as we can see from any day's newspaper or TV news show, their freedoms are precariously placed.
We take heart in the message of Main Kuch Bhi Kar Sakti Hoon resonating with millions of viewers. But as realists we have to admit that there is much to be done so that the kind of tragedy we witnessed in Bilaspur never visits us again.
Poonam Muttreja is the Executive Director of the Population Foundation of India