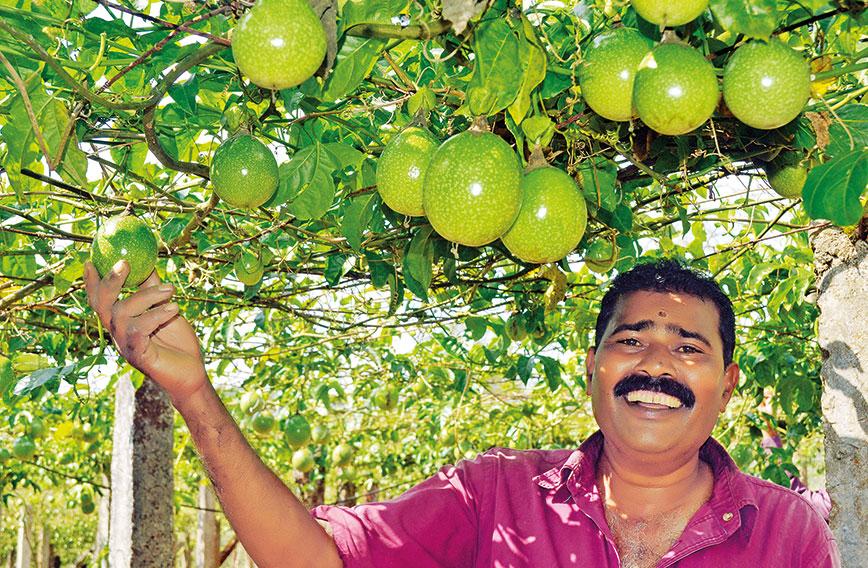 Kerala is crazy about passion fruit
Shree Padre, Kottayam
Published: Jan. 30, 2018
Updated: Jan. 29, 2020
Kerala is on a honeymoon with passion fruit. Originally from Brazil, passion fruit has found fertile ground in the state after a government farm first began growing and processing it in a low-key way. Over the past five years, farmers, entrepreneurs and ordinary people have fallen in love with this aromatic fruit. Large sums are being privately invested in passion fruit, that too with no government incentives and subsidies or even any publicity by the agriculture department. Barring vanilla, perhaps no other crop has roused so much interest in so short a time.
Farmers find passion fruit easy to grow. Ideas like farming in collectives and clusters have taken root. An entrepreneur has started a business in helping people raise passion fruit orchards. Driving this upsurge in passion fruit is the agro-processing industry. There is money to be made from processing. A multitude of units has come up to produce squash, juice, jam and pulp from passion fruit.
Kerala's largest processor is Malnad Passion Fruit Products, which was started five years ago by three partners. Their first farm was in Puttady in Idukki district. Then they expanded to Theni in Tamil Nadu and now own 160 acres over both states.
Malnad Passion Fruit's average production is seven tonnes per acre. A small percentage of fresh fruit is packed and sold to Lulu's supermarket in Kochi. But mostly the fruit is processed and bottled at the company's unit in Kothamangalam. Squash is exported to the UAE and Qatar. Pulp in small cans is likely to be launched soon.
"Our semi-automatic bottling unit produces squash almost through the year," says Manoj M. Joseph, one of the company's partners. "We produce around 6,500 bottles of squash per day in 500 ml, 750 ml and one-litre bottles. We have 62 dealers across the state."
Interestingly, it was public sector agricultural agencies that first experimented with passion fruit for cultivation and agro-processing in Kerala. Malnad Passion Fruit got its staff trained at the state-owned Orange and Vegetable Farm at Nelliampathy in Palakkad district. Spread over 50 acres, it was the only commercial farm that cultivated passion fruit and made it into squash, jam, jelly, juice and pickle from the fruit's rind.
"We don't sell fresh fruit although there is demand," says Ajit, farm superintendent. "We process the fruit. Squash has very high demand. Bottles fly off the shelf. We sell a 500 ml bottle of squash for `100, which is cheaper than what private producers charge. In summer, we sell on an average 1,000 sip-ups a day. Frankly, we can't meet the demand."
The Plantation Corporation of Kerala (PCK), another public sector organisation, based in Kottayam, owns 25 acres. It began growing passion fruit in three different areas, three years ago. It, too, manufactures squash.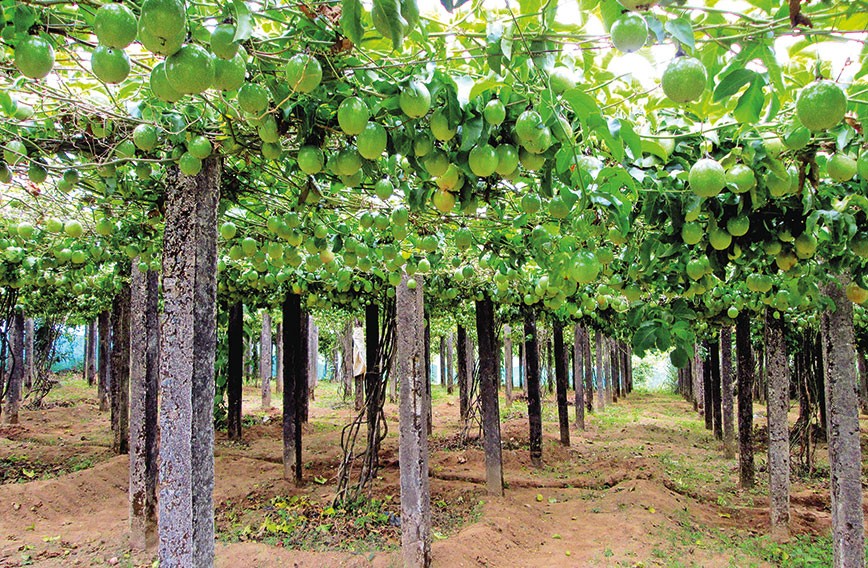 A passion fruit orchard with concrete poles
"The vines began yielding fruit from the first year itself. On one hectare we have planted 1,250 vines. At the rate of Rs 100 per kg for fresh fruit, just calculate the first year's income. It's a neat Rs 875,000. Deduct 40 percent as production cost. Which other crop yields so much income in the first year itself?" asks Justus Karunarajan, General Manager, Operations, at PCK. The plantation has been experimenting with pisciculture, duck farming, garcinia plantation and rambutan, but finds passion fruit the most lucrative.
Demand for fresh fruit is also growing. At PCK's 2.5-hectare farm in Mulliyar, where again mostly squash is produced, manager K.R. Vinod says people approach them for fresh fruit to send it to their relatives in the Gulf. This is just the second crop at the farm. "In the past two seasons, we made a neat Rs 30 lakh," says Vinod.
"Passion fruit is becoming Kerala's number one fruit in terms of profitability," says Dr P.P. Joy, a scientist with Kerala Agriculture University (KAU). "It earns farmers and processing units twice more than pineapple."
Medicinal qualities
What explains the rising popularity of passion fruit among consumers? It is, no doubt, aromatic. But the real reason is the fruit's many nutritional and medicinal qualities, especially the belief that it helps dengue patients by increasing platelet count quickly.
Doctors recommend it and during the dengue season, the sale of passion fruit begins to spiral. Shops and fruit vendors around big hospitals start selling passion fruit. Fruit vendors, realising this, begin to stock it. "The fruit has a unique aroma, is a source of Vitamin C and has many nutritional benefits. Apart from dengue patients, people with high uric acid, diabetes or cancer consume passion fruit. This creates heavy demand," says Karunarajan.
The leaf decoction of passion fruit is believed to bring down blood sugar. The fruit has antioxidants and richer reserves of polyphenols than other tropical fruits such as bananas, lychees and pineapples. Extract of purple passion fruit peel is believed to help reduce wheezing and coughing associated with asthma, according to one scientific study.
Farmers find people turning up at their doorstep to buy passion fruit for family members who are ill.
Perhaps the biggest advantage for farmers is the creation of a local market by entrepreneurs for both fruit and juice. A decade ago, it was likely only the Nelliampathy farm and Mountain Fruits of Idukki (Civil Society, May 2014) that were making passion fruit juice. Today, there are more than a dozen small and medium units that are happily marketing the juice and fruit.
Caterers, too, have played a big role in introducing passion fruit to consumers. Joseph recalls that when they first set up their unit, they faced the dilemma of creating a market for their squash. "We decided to attract the attention of caterers. We contacted them, arranged a meeting, introduced our squash and gave them samples. In fact, we launched a five-litre pack specifically for caterers," says Joseph.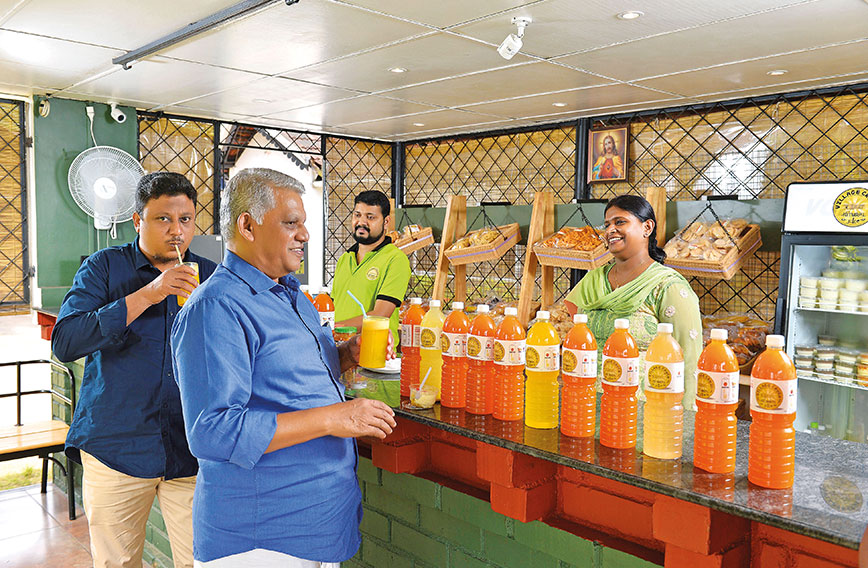 Customers enjoying a glass of passion fruit juice at a juice bar in Kanhirapally in Kottayam
Now passion fruit juice is a favourite at weddings, social functions and sports meets, thanks to caterers. Event managers always include it in their drinks list. No wonder the fruit's popularity graph has risen exponentially.
Grow, crush, sell
Passion fruit is an eco-friendly job creator. A small passion fruit business, if you own land, doesn't need much investment and is relatively risk-free. "You need to invest about Rs 2 lakh to set up a pandal with concrete pillars on an acre," says Girish P.K. of Kozhikode whose unit makes Nutrifruit passion fruit squash for export. He sells about 5,000 bottles to the UAE annually.
Three years ago, he travelled to Manipur to learn more about this fruit. He bought 15,000 passion fruit plants and sold many in Kerala with a guarantee he would buy back the fruit at Rs 40 a kg. "As prices increased subsequently, many farmers aren't giving me the fruits," he complains. Girish has become a passion fruit enthusiast. He has taken pains to study its farming methods and teach them to farmers.
"The major investment is for the pandal," says Johnny Joseph, another passion fruit entrepreneur. "Pest and disease issues do exist but these are manageable. My family and I undertake all major farming operations, including harvesting."
Joseph, who is from Mundakayam in Kottayam district, works in the Superintendent of Police's office. Five years ago, attracted by passion fruit's beauty, he erected a pandal and planted a few vines. The vines yielded a bumper crop. Joseph began cultivating the fruit on his five and a half acres. He now runs a juice shop on the roadside near his farm and sells the fruit for Rs 150 per kg.
Village Crush is another small unit run by Renu Sebastian of Kanhirapally. She lost her husband in a road accident seven years ago. Jose Jacob, who owns a nursery, showed her how to make passion fruit squash and helped her set up a juice stall at his nursery. In 2013, Sebastian used to sell squash made from 800 kg of fruit. This year she has made 5.5 tonnes of passion fruit pulp and is confident of selling it to caterers and hotels.
Then there is Elegant Enterprises, a fruit processing unit set up by K. Madhavan Kutty of Kodungallur in Thrissur district one and a half years ago. He sells passion fruit squash under the brand name of Naturaa. About a month ago, Jobin of Olivia Ventures at Malappuram started a fruit processing unit and is keen to produce passion fruit squash. Many more passion fruit squash units are in the pipeline.
Ajit, superintendent, on the right, at the state-run Orange and Vegetable Farm in Nelliampathy with Yousuf, a former superintendent
Mountain Fruits has stored five tonnes of pulp this season to produce squash. But they source fruits only from high mountain ranges. George Kurian says fruits from the mountains taste much better than those grown in the plains.
Kiosks and collectives
Several kiosks in cities selling neera (an extract from toddy palm) have switched to selling passion fruit juice blended with neera honey. Kiosks were actually closing down since neera production has declined due to white fly and drought. Vinod Kumar, whose NGO, Maithri, helped develop neera, came up with this novel idea and it has caught on. While neera used to be sold at Rs 40 per drink, neera honey mixed with passion fruit juice is sold for Rs 20.
An experiment in collective farming is also being tried out. Twelve members of the Mahathma Farmers Club, inspired by the government's Nelliampathy farm, invested Rs 3 lakh and leased an 80-cent orchard in Tritala in Palakkad district in February 2015. The landowner provides water and 10 percent of the profit is shared with him.
The orchard yielded 1.5 tonnes of fruit the first year. The club earned Rs 1.5 lakh. Says Harinarayanan P.K., associate coordinator, "Mohanan Vaidyar, a naturopathy and food adulteration consultant, advises eating one passion fruit every day as a preventive against cancer. Doctors in Thrissur recommend this to patients suffering from different ailments. Relatives of patients come from as far away as Ernakulam to buy our fruit."
Several households in Cherthala in Alleppey district have formed a passion fruit cluster called Harithasree. Families grow three to five vines on pandals. The fruits are pooled and each family is paid Rs 40 per kg. The shop sells passion fruit juice for Rs 40 per glass and fresh fruit at Rs 70 per kg. If fruits are unsold, they are converted into pulp.
Satheesh Babu, cluster leader, says they grow the fruit, sell it, process it and consume it especially during weddings and birthday celebrations. "Being able to sell without needing to transport it is a boon," he says. A farmers' group in Mannarcaud has planted passion fruit in many households with the slogan "a passion fruit vine in each household". This trend has started in many parts of the state.
Sensing the demand for passion fruit and lack of farming knowledge among enthusiasts, agencies have sprung up that can develop passion fruit orchards for people. Abdul Shukoor K.P. of Kondotti near Kozhikode has started a company called Organic Kerala which, he says, has developed about 10 acres of orchards in the state. The company also offers farmers a buy-back agreement since it is keen to process the fruit.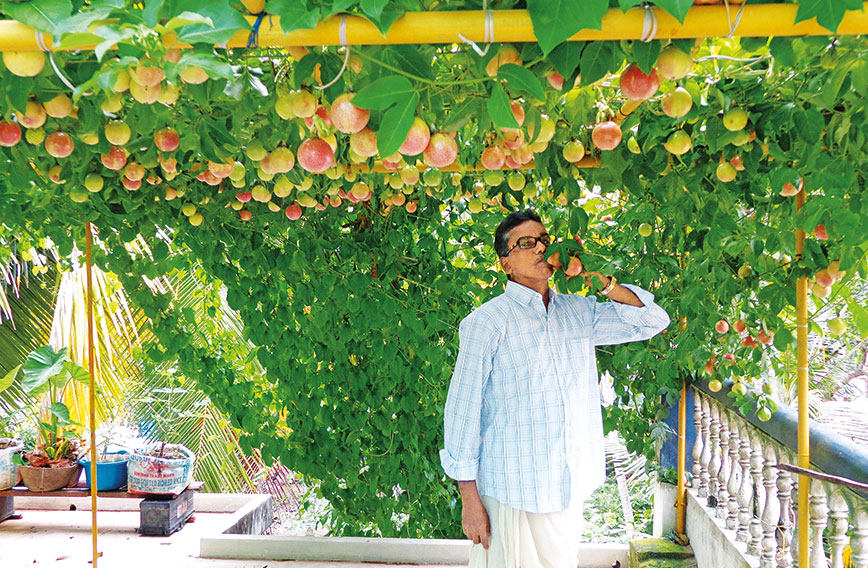 R. Raveendran, an expert in terrace farming, with his passion fruit
R. Raveendran, an expert in organic terrace farming in Thiruvananthapuram, has hugely popularised passion fruit among households. He started growing passion fruit on half his terrace in 2008. "Till date, I haven't sold a single fruit," he says. "I gift it to people for propagation and to those who are ill. I also help people grow the fruit. Some of them are now earning extra income by selling the fruit for as much as Rs 100-150 per kg."
Marching on
The passion fruit craze is now spreading from Kerala to neighbouring Tamil Nadu and, to a lesser extent, Karnataka. Yusuf, former farm superintendent at the government-owned Nelliampathy farm, says that people are so keen to plant passion fruit that farm labourers from Nelliampathy were invited to Theni and the Cumbum belt of Tamil Nadu to raise orchards there.
In Theni, R. Ramesh, an agro-input dealer, has started the Sree Vaigai Passion Fruit Association with his friends. The district has 5,000 acres of grape gardens. A few years ago, powdery mildew disease seriously affected grape cultivation. Farmers found themselves facing a deep crisis. Some of them wisely started using their pandals to grow bitter gourd and bottle gourd. But bad luck struck and the farmers didn't get good returns. Competition was stiff due to a glut in the market. Ramesh's group has now started popularising passion fruit farming on pandals.
"We have already planted passion fruit on 10 acres in different areas. People are keen to extend it to another 50 to 100 acres," says Ramesh, who is exploring marketing opportunities in Madurai and Chennai.
"In February we are convening a big meeting of farmers, buyers and scientists to create more awareness of passion fruit cultivation and to bring relief to the much aggrieved farming community," says Ramesh.
Tamil Nadu's climate, with less rainfall and more sunshine, is believed to increase passion fruit productivity. "We don't have something like a peak fruit season here," says Ramesh. "If you feed the vines, they go on fruiting. We use organic manure, bio growth regulators and stimulants to increase production." The longer warmer climate implies that Tamil Nadu can sell passion fruit during the off-season for a higher price.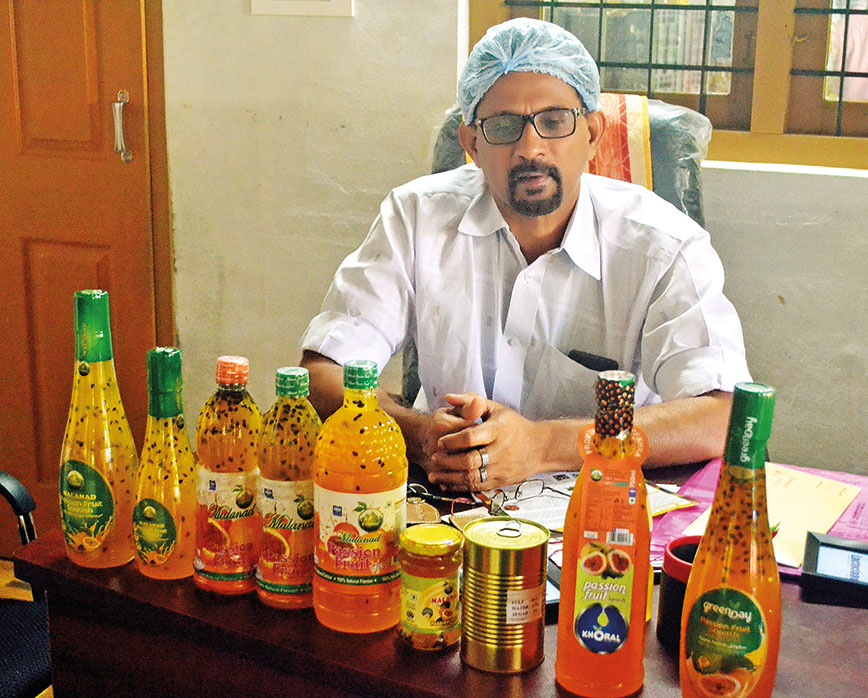 Kennedy Peter, a partner of Malnad Passion Fruit, with his company's range of products
Some farmers from Kerala are spreading passion fruit cultivation to Karnataka. Sebastian has a two-acre orchard at HD Kote near Mysore which has started fruiting. Joseph has planted vines on one acre taken on lease in Karkala for Rs 1 lakh. These farmers are hoping to sell their fruit in Kerala since passion fruit is not very well-known in Karnataka.
Opportunity and risk
Passion fruit is a farmer-friendly crop. It has a ready domestic market and an export market. Farmers with little investment can set up a tiny processing unit. The vines yield fruit the first year itself. They don't need replanting for about four years and replanting is not expensive. Though the commercial growers can't wait for that to happen naturally, the fruits fall on their own. So farmers don't need to hire labour for harvesting. The pulp is protected by a thick rind and its quality remains intact for 10 days. Therefore unsold stock can be processed. Transport is also available. Most maiden growers of passion fruit are keen to scale up production in the coming years.
In Kerala, passion fruit starts flowering in April and May. The monsoon or post-monsoon season is considered the best time to begin planting. Manoj believes that in Kerala, September-October is the best time and in Tamil Nadu, February. "The growth is so vigorous in Tamil Nadu that vines start flowering in three to four months and fruits set by August," he says. Regular pruning in winter when vines are dormant is critical because fruits emerge only from new shoots arising from old canes.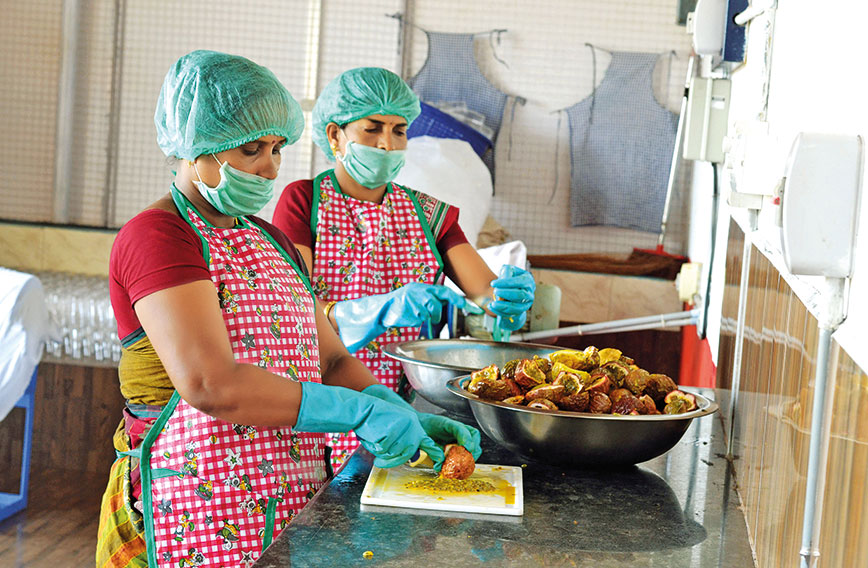 Women extract passion fruit pulp at the state-owned Plantation Corporation of Kerala
But most newbie farmers don't realise that a deadly disease caused by fusarium fungi can strike passion fruit. Some years ago this disease had even destroyed passion fruit vines in the Indian Institute of Horticultural Research (IIHR). "It's a complex disease," says Dr B.N.S. Murthy, former head, Fruits Division, IIHR, and at present the Horticulture Commissioner of India. "A nematode attack on the roots makes it vulnerable to fusarium disease. A combination of both is dangerous. The yellow variety of passion fruit is a bit more tolerant to this than the purple one."
An effective remedy hasn't been found. "Identifying resistant or tolerant cultivars and grafting, using its root stalk, would be the best solution," says Murthy. Alternatively, a medicine could be researched to tackle the disease.
Another critical area for research is identification of cultivars with higher pulp content. "At present juice recovery is one-third or, say, 35 percent. I have heard people say that some fruits yield 45 to 50 percent, so we need to increase pulp extraction to this level," says Dr Joy.
Besides, passion fruit still isn't recognised as a crop by the Kerala government. "So bank loans aren't available for commercial cultivation," complains Girish P.K. "Seasonality is a bottleneck. We also need cold storage facilities."
Farming in clusters has its downsides as well. "An unhealthy competition has started," says Girish. "Small growers who can't always sell for a good price, settle for lower rates." So price fluctuations are a headache for other farmers and processing units.
Currently, India imports passion fruit pulp from Brazil. Large-scale industry is on the lookout for tonnes and tonnes of passion fruit, says Dr Joy. The area under passion fruit cultivation in Kerala is around 300 hectares and unlikely to cross 1,500 hectares since large expanses of land aren't available.
Large-scale industry has some disadvantages as well. Manipur, the epicentre of passion fruit cultivation, suffered a major jolt when a private processing company that was buying the fruit suddenly closed down.
"Passion fruit farming was going on nicely till 2008. We had about 320 farmers producing 400 tonnes," recalls L.B. Sinate, former member, National Horticulture Board, who played a big role in forming the Manipur Passion Fruit Farmers Association. "Suddenly, the company, Exotic Juices, stopped buying passion fruit. Lots of fruit had to be destroyed. We are trying to revive it. Sixty to 70 farmers are now growing the fruit and selling it for Rs 18 to 20 per kg."
If the present trend continues there will be a surfeit of passion fruit in Kerala, so new markets will have to be explored. Since the fruit is relatively unknown in Tamil Nadu and Karnataka, a campaign to popularise it is needed. Also, agriculture departments must set up cold storage facilities so that passion fruit can be sold off-season. The department should also spread knowledge about pulp preservation.
The fall in rubber prices will motivate more farmers to switch to passion fruit. But most farmers just have basic knowledge of passion fruit cultivation. Agricultural scientists too haven't specialised in it. New farmers say they would like a video, a handbook with agronomic information, as well as a directory on passion fruit.
In Tamil Nadu, says Joseph, they were left mystified when their vines showed good vegetative growth but no flowering. Finally, they solved the puzzle. The problem was that large-scale pesticide use in the vicinity had killed all the pollinating insects, the honeybees. "We had to employ 80 labourers to manually pollinate the vines. We now rear bees in bee boxes to carry out pollination." However, according to Joseph, Tamil Nadu's dry weather, less rain and plentiful sunshine are better for the crop than Kerala's conditions.
Passion fruit still has many challenges to overcome. It's time to convene a Passion Fruit Fest in Kerala along the lines of the Jackfruit Fest and Pineapple Fest to give this fruit its rightful place in the sun.