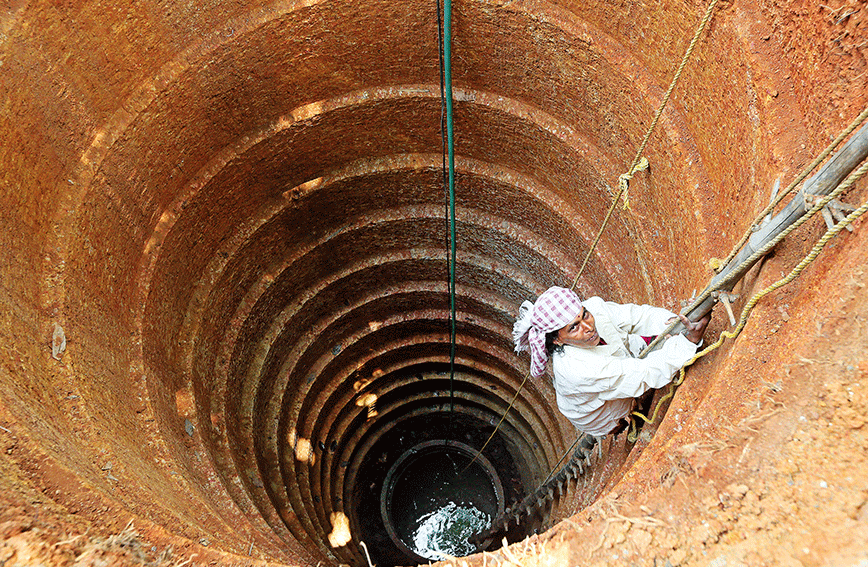 The women have learnt to build wells with circular steps. The quality of their work is as good as professional male well diggers
NREGA women learning to dig wells in Kerala like men
Shree Padre, Kasargod
Published: Oct. 05, 2017
Updated: Jan. 30, 2020
Digging a well is a job that has always been done by men. The work is not for the faint hearted. It is risky and laborious. Yet 300 women in Palakkad district's Pookkottukavu Panchayat have become expert well-diggers, going deep into the earth in search of water.
The women, who are between 35 to 70 years old, are all NREGA job card holders. They have dug 185 wells in 13 wards of the panchayat and they have in hand applications for another 300 wells.
All the wells have been dug for very poor families. Some are widows, others either aged people or economically backward families. Ninety per cent of beneficiaries belong to the Scheduled Castes. Most of them have very little land. Some of the wells were for members of this 300-women's well-digging squad.
"I didn't fear getting down into the well or climbing up. The only fear I had was that if we don't get water, people will mock us," says Ammini, 52, member of the women's well digging squad. Earlier, she worked as a daily wage labourer. Ammini has dug nine wells in the past one year with her team.
Why did so many women opt for such risky work? The reasons are — an acute shortage of water and fear of unemployment.
The panchayat has 2,568 NREGA job card holders and 1,168 applied for employment. Till last year, they were clearing wild plants by the roadside and digging the base of coconut trees to apply fertilisers and green manure. But a circular issued this year debarred them from doing work of a 'recurring' nature. This closed all avenues for work and the job card holders were left unemployed.
One area where work existed was well digging. The panchayat doesn't have a river or a stream and suffers from an acute shortage of water. Besides, well digging was not against the recent NREGA rules.
Says panchayat president Jayadevan Kizhakkepatt, "After much thought, we proposed that the women take up well digging. At first there was a lot of opposition. We have no history of women digging wells. It was considered impossible by almost everyone."
But this was the only option left for the NREGA workers. So, Jayadevan decided to persist. He went to the homes of some of the women and persuaded them."Don't pay attention to what others say. Unfortunately, our hands are tied. We can't give you any other work. I suggest you start. After a few days, if you find it very tough, we will rethink," he said.
Jayadevan's suggestion sounded reasonable to the women. But their families opposed the idea. "We will start the work. If it is difficult, we will stop," they told their families. The women parroted the advice the panchayat president had used to convince them. The families yielded half-heartedly.
On 8 August, local history was made when the first women's team, led by Ammini, started digging a well in Janaki's house in Odatt Colony at Munnurkode. Janaki and Ayyappan are an elderly couple and very poor. They had to walk 15 minutes to fetch a koda (water vessel) of water.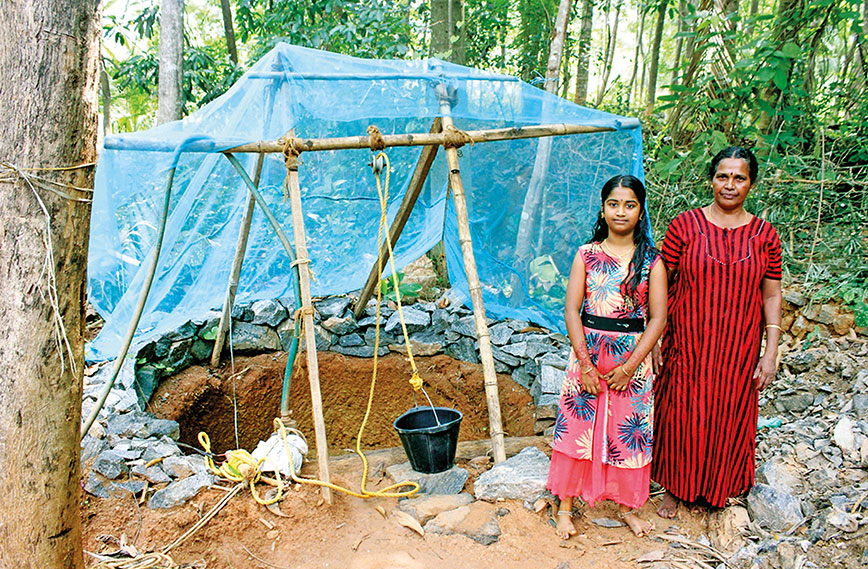 The wells are dug for families with very little money
Ammini's five-member team consisted of Prema, Premakumari, Rathi and Santhakumari. People from the neighborhood taunted them saying they were snatching food from male well-diggers.
Ammini and Prema turned a deaf ear and kept motivating their team. "We faced some confusion and apprehension in the first two to three days. Slowly the work turned into a challenge. All of us worked overtime. After reaching eight kolu (one kolu is 2.5 feet), we got enough water." It took them only 35 woman days and a fortnight to dig the well. A difficult job was achieved at a far lower rate than what male well-diggers would have charged.
When the first well was successfully completed, the other women's groups got the confidence to plunge in. Within a short time, well digging spread to all 13 wards of the panchayat.
A clear process was worked out. Landowners have to bear 10 percent of the cost. They are asked to buy materials essential for well digging like a pulley, rope, ladders, wooden poles and so on. Usually a bamboo ladder with steps on both sides is used. Deeper wells require two to three such ladders that are tied to each other.
A rotating traditional pulley called chekida is used. The local carpenter makes it for Rs 2,000. Two women can easily rotate the chekida to pull up a basket full of soil. The chekida requires far less energy than the pulley.
Lakshmi, 39, belongs to another women's team that has dug two wells. The first one was 30 feet deep and the second, 35 feet. The inner walls of the well are very neat and precisely vertical. "We kept a measuring stick for ready reference. Once in a while we checked the alignment. At that time, if any corrections were required, we would carry them out," explained Lakshmi.
Wasn't her husband Chatukutty scared? "I had my own fears. It's natural, no? But it was a question of livelihood too. Slowly I got used to her work," says Chatukutty, a driver who rents out his auto-rickshaw. "You can't say these wells were dug by inexperienced women. They have done such a neat job," he says admiringly.
According to Bindu PK, a NREGA overseer, the diameter of the well is measured by a local parameter called vattam. Most families, going by the shastras, prefer a well with nine vattam or 206 cms. Occasionally, they opt for 11 vattam. In households where space is limited the diameter is limited to seven vattam. One vattam is 22.88 cms.
A team of six women is generally divided into three pairs. Two women go into the well and start digging. The loosened soil is filled into a rubber basket. It is pulled up by another two women with the help of a rope and the chekida. The soil is dispersed by the next two women. After one or two hours, the roles are reversed. This means every woman participates in all aspects of well digging.
"Not only that," says Ardra P.T., an assistant engineer with NREGA. "The women didn't stop work when they hit a stony zone. In about 30 wells, they painstakingly broke the stony layer to make the well deeper." Such wells require 30-40 more woman days.
"The women are paid in the unskilled labour category, that is, just Rs 250 per day. Wages for a skilled male well digger in our area range from Rs 700 to Rs 1,000 per day," says Jayadevan.
According to him, these wells have cost, on an average, between Rs 15,000 to Rs 40,000 each. If male well-diggers had been employed the cost of the well would have doubled. Each well took an average of about 150 woman days. Notably, not a single woman dropped out once they started the well work.
The women have sharpened their skills by digging well after well. Many teams can dig wells which have circular steps called pamberis. Every 2.5 feet into the well, a pamberi, is made. Digging a well which has a pamberi requires experience and skill.
The women have been working quietly away from publicity. "We are not the type to chase the media and blow our own trumpet. From the start we have consciously remained low-key about our feat," says Jayadevan.
But sometime last December when the women completed a century — their 100th well — the panchayat decided to celebrate. They held a function and invited the MP of this area, M.B. Rajesh, as chief guest. The local media and TV reporters were also invited. Surprisingly, no one from the media turned up!
Ammini's team that had dug the first well, was destined to dig the 100th well too. The location was also close to the first well in Odatt colony. "You should see the difference," Jayadevan says with a critical glance. "The first well was a crude structure. But the ones done later are so neat no one will say it is the handiwork of non-professional women." The total amount spent so far on 180 wells is `35 lakhs.
Though the local press was lukewarm, the national media picked up the story. One fine day, to Jayachandran's surprise, Maneka Gandhi, Union Minister for Women and Child Development called him to congratulate the brave women of his panchayat. "People who ridiculed us in the beginning later came up to congratulate us," says Ammini.
The Pookkottukavu panchayat is very progressive. Under NREGA, 180 houses have been fitted with rooftop water harvesting systems. The panchayat now hopes to install rooftop water harvesting systems on all the wells that need it.
Another interesting development is that the women well-diggers are receiving requests from areas not in their panchayat to dig wells — a clear endorsement of their skills. They could probably increase their income by three or four times.
What's more women in an adjacent panchayat are now keen to learn well digging. "We are more than happy to train other women," says Jayadevan.
Contact: K. Jayadevan – 99957 48867; Email: ddppookkottukavupkd@gmail.com