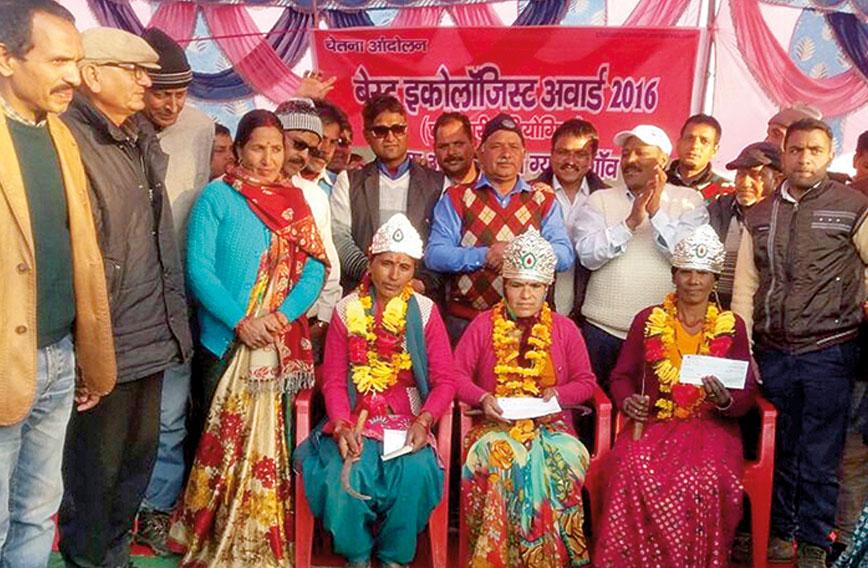 The three winners of the 2016 grasscutting competition
Grasscutting has got its champions
Rakesh Agrawal, Dehradun
Published: Jul. 19, 2022
Updated: Jul. 19, 2022
A lively grasscutting competition which caught the imagination of village women in Uttarakhand is being revived after a gap of five years by the Chetna Andolan, an activist group founded by late social worker Trepan Singh Chauhan.

The Ghasiyari Pratyogita was started by Chauhan to honour the women of the hills for their labour and their role in conserving the state's Himalayan ecology. Hundreds of women joined the competition. They gained recognition and got generous prizes. The popularity of the competition caught the eye of the state government.

The competition is likely to be held in December this year for the third time. "Because of the five-year lag we need to start from scratch," says Vinod Baduni, Chauhan's long-time friend and colleague. "It won't be easy, of course, but we've zeroed in on the block and district. We are going to hold it in Bhilangana block of Tehri district later this year. We have formed committees to spread awareness and to raise money," adds Shankar Gopalakrishna, a member of Chetna Andolan.

Chauhan was well known for the agitation he led in 2008 against the Phalenda hydro-electricity project in which women took part in large numbers. His NGO, Chetna Andolan, was formed in 1994 to fight for the people's rights to jal, jangal and zameen (water, forest and land). Chauhan was very appreciative of the role women played in conservation and protection of forests.

Across Uttarakhand it is women, organized into van panchayats, who govern patches of forest near their small villages. "They collect and carry home fodder, wood and water. But they do so with great responsibility. When they cut grass, they ensure that young saplings are not harmed. If they are collecting wood, they gather only dry twigs," says Neetu Juyal, sarpanch, Purkal village in Dehradun district.

In 2011 Chauhan mooted the idea of holding a grasscutting competition. Everybody laughed at him. "But he held it all the same and it drew attention as an innovative idea. It even led to the state government devising schemes especially for the ghasiyaris or grasscutters," says Gopalakrishna.

The first Ghasiyari Pratyogita was held in Bhilangana block of Tehri district in November 2015. Around 112 gram panchayats, comprising about 200 villages, took part in the initial round. The second round was held in December 2015 and the last round was held in January 2016. Altogether 637 ghasiyaris joined the competition. Twenty six women qualified for the finals which were held in Kothiyada village in Tehri district.

Recalls Ram Lal, pradhan of Kholakemar village in Tehri district, "The women had to cut as much grass as they could in two minutes, ensuring no green saplings were harmed. The grass was then weighed. This was followed by a question-answer session in which the women were asked about livestock, forests and their role in hill ecology."

The top three were rewarded in a well-attended ceremony in Dehradun. "Never in my life was I so respected and honoured," said Raija Devi of Amarsar village in Tehri district, who won the first prize of Rs 1 lakh and a gold tiara of 16 tolas (about 187 grammes) which was placed on her head.

The rules of the competition were rather stringent. "Every competitor gets only two minutes to cut grass. She gets 10 points for every kg of grass she cuts. Fines are imposed if she gets in any competitor's way or cuts green trees or saplings. We followed all these rules," recalled Yashoda Devi of Mald village in Tehri district, who was the first runner-up and won Rs 51,000 and a silver crown of 16 tolas.

"There is also a tough verbal exam in which we were asked several questions about forests, livestock and their impact on our forests," said Abali Devi of Anvan village in Tehri district, who won the third prize of Rs 21,000 and a silver crown of 10 tolas.

The next 10 competitors were given Rs 10,000 and a silver coin each and the following 17 women each got a consolation prize of Rs 5,000 and a silver coin.

It was tough to pick the winners. "We kept a close eye on them, ensuring they followed every rule meticulously. The real challenge was the interview as, unlike measuring the grass they had cut, it was rather subjective," said Kamla Pant, convener of the Uttarakhand Mahila Manch, who was a member of the jury.

Because of its uniqueness, the grasscutting competition was noticed by many ecologists and activists in Uttarakhand. Rajiv Lochan, editor of Nainital Samachar, says the competition was memorable. "It established that hill women spend hours collecting fodder but they never destroy the forests. We should have honoured them much earlier."

The success of the first Ghasiyari Pratyogita in 2015 paved the way for the second one which was held a year later in Akhodi village of Tehri Garhwal district in December 2016. This time, more than 1,000 women participated.

Forty-year-old Vimla Devi of Chilyal village in Tehri district collected 4.14 kg of grass, scored 171.41 points and won the first prize. She says she used the money to pay for her children's education and for the treatment of her ailing husband who was at the time working in a hotel in Chandigarh. Second-placed was Gyansu Devi, 50, of Dhansani village, while the third prize went to Indira Devi of Akhori village. Thirty-one of the final 34 in the second round of the competition also got consolation prizes, as before.

All expenses for the prizes and the meeting were borne by local contributions and donations from individuals.

Tragically, Chauhan died in August 2020, succumbing to a neurodegenerative disorder similar to the illness of the scientist, Stephen Hawking. It destroyed his ability to move, speak and even breathe.

However, the ghasiyari event had roused the interest of the state government. In November 2021, Home Minister Amit Shah announced the launch of the Mukhyamantri Ghasiyari Kalyan Yojna just a few months before the assembly elections. Under it, animal-rearers could collect 25 to 30 kg of fodder in vacuum bags from government stores, without going into the forests.
The scheme was severely criticized by politicians, activists and social workers for being politically motivated to lure women's votes and as a marketing gimmick.