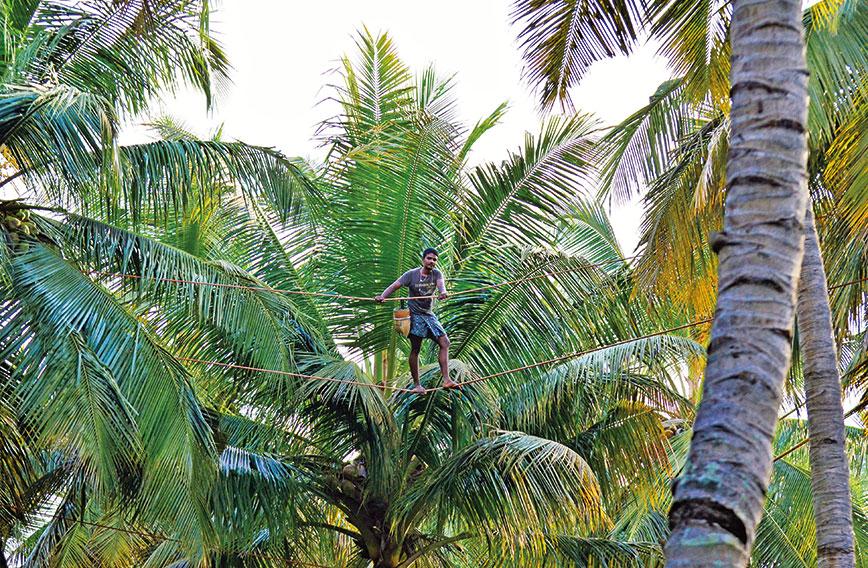 A toddy tapper walking from tree to tree on the ropeway
Toddy tappers do a high act from tree to tree
Shree Padre, Palakkad
Published: Jan. 06, 2018
Updated: May. 06, 2019
Hundreds of coconut climbers in Kerala are walking from tree to tree at a dizzying height of 15 to 20 metres above the ground on a 'coconut tree ropeway'. From below it's a jaw-dropping sight; the climbers look like they are walking on air. They walk coolly, as if strolling on a city road.
The ropeway works like this: all the trees are connected with two nylon ropes. The skilled climber or toddy tapper moves seamlessly from one tree to the next, using the two ropes. One rope is for his feet, the other for his hands to hold on to.
The coconut tree ropeway is believed to have originated in Sri Lanka. In India the idea first caught on in Puducherry and then emerged in Kerala about a decade ago. In the past two or three years the ropeway has become more popular. Today, Chittoor taluk in Palakkad district of Kerala, a well-known toddy belt, has an estimated 1,000 acres of coconut gardens strung together with coconut ropeways.
The ropeway is a boon for toddy tappers. Earlier, toddy tappers would climb up and down each coconut tree. They would mostly tie a coconut husk at regular intervals on the tree trunk to act as a step. If the tree was short, a ladder would be used.
The ropeway reduces the physical strain of climbing and descending from each tree. The toddy tapper climbs one tree and then, using the ropeway, walks from tree to tree tapping coconuts along the way. In most places, toddy tapping is done twice a day, in the early morning and evening. Sometimes, toddy is tapped even three times a day in Kerala.
Saravanan, 30, a toddy tapper, learnt the art of walking on a ropeway three years ago. At first, he was afraid. But practice made it easier and now he is an expert walker. Saravanan has, so far, trained about 10 to 15 tappers on how to use the ropeway — a skill that requires courage and an adventurous spirit.
Toddy tapping is carried out on a contract basis. The contractor enters into an agreement with the coconut farmer to tap a certain number of trees. A dedicated route to transport the extracted toddy is worked out. The time for tapping is fixed depending on the distance to the pooling centre.
"There are instances when the timing of the first tapping is fixed at 12 midnight or 1 am. The tappers climb the tree in the darkness of the night with a headlight," says Shaji, a toddy contractor in Malampuzha.
"Walking on a ropeway almost doubles the efficiency of toddy tappers. A tapper who would tap from 25 trees can easily tap from 50," says Chandran, the manager of a toddy tapping unit. "In my team, only 12 labourers from Tamil Nadu use the ropeway. The other five who are from Kerala aren't experienced in walking on the ropeway." Most ropeway users are from Tamil Nadu. People in Kerala have not as yet learnt how to use it in large numbers.
Experienced tappers walk across coconut trees with as much ease as a tightrope walker in a circus. In reality, using the ropeway isn't that simple.
"There is no guru to teach you this skill. You have to learn it on your own. Initially, tappers tie the rope at a lower height and practise walking on it," says Anil Kumar of Meenakshipuram. "It requires a minimum of one month to pick up the skill and gain confidence." He was a toddy tapper years ago and now runs a shop that sells rope to make the ropeways.
It is expert toddy tappers who have taught themselves this skill. A ropeway building team consists of four to five people. Two climb the tree, using the traditional technique, and tie the rope from tree to tree. The other team members help to tighten the rope by pulling it from below. A single team takes a week to build a ropeway for, say, a block of 50 trees.
Shaji has signed a contract to tap 1,600 trees. His team builds ropeways only for very tall trees. "It is worth it because these old trees yield toddy very consistently," says Shaji. Three years ago he connected 300 trees with a ropeway. It is now time to replace the old ropeway since the nylon ropes used last three seasons only. Ropes have to be provided by the contractor. Shaji has spent Rs 35,000 on a ropeway for 100 trees.
Kumar has seen the method of constructing ropeways evolve over the years. Initially, toddy tapper teams from Puducherry would build ropeways. Now Palakkad alone has at least 25 teams, all from Tamil Nadu, who construct ropeways. People from Kerala haven't picked up this skill either.
"At first they would use coir ropes. A total of 10 narrow ropes would be tied — seven ropes to walk on and three to hold on to. Slowly, they changed their method. They realised that two ropes for the feet and one to hold on to are enough. These coir ropes don't last for more than one and a half years. The tappers who walk over them realise when it's time to replace the ropes," says Kumar.
Four years ago, the toddy tappers started using nylon ropes. Since these proved sturdier, people realised two ropes would suffice. Generally, an 18-mm rope is used for walking and a 16-mm one for holding on to. Good quality nylon ropes cost Rs 80 per kg.
"The ropeway is perceived as a labour-friendly device. So toddy tappers have started making it a condition. They say they will carry out tapping only if a ropeway is built," explains Sashidharan, a toddy contractor of Muvattupuzha.
He began getting ropeways built three years ago. "It has become very popular and is inevitable," he says. "The Meenakshipuram belt has a high concentration of coconut gardens. Around 700 of us hold permits to carry out toddy tapping. Even at a modest estimate, we have over 100,000 coconut trees to tap. Currently 70 percent of this area, which spans around 1,000 acres, is connected with ropeways."
Kumar says since the ropeway benefits workers who climb coconut trees, some of the tapper teams agree to pay half the expense of constructing it. Their suggestion is that the contractor should initially pay for the ropeway and then deduct 50 percent of the expense from the toddy tappers' wages.
Ropeways aren't built only in Kerala. In Tamil Nadu, the palm sugar industry which taps toddy in many areas also has ropeways. But it is less common than in Kerala.
However, using plastic ropes does have a disadvantage. The rope becomes slippery during the monsoon. Could it be dangerous for toddy tappers? "No, I haven't heard of anyone falling and dying from a ropeway," says Kumar. But Shaji has a different opinion. "It is always risky to climb a tall coconut tree. Although most falls are due to intoxication, some have been accidents."