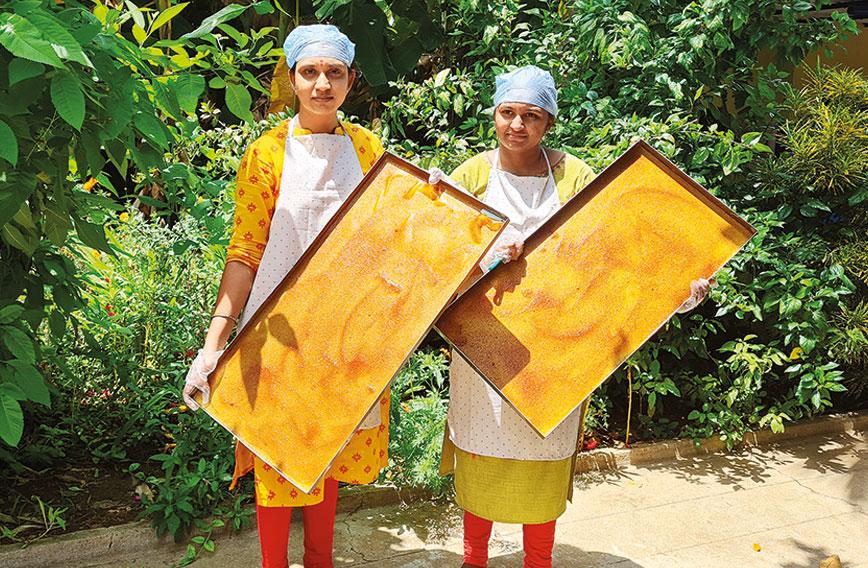 Pooja and Sudha who pioneered the manufacture of fig rolls
When figs don't sell they are worth their weight in rolls
Shree Padre, Ballari
Published: Feb. 18, 2022
Updated: Feb. 18, 2022
LAST year's March lockdown was especially hard on fig farmers in the Ballari district of Karnataka. With 1,800 hectares of fig orchards, the district tops fruit production in the state. The sudden lockdown coincided with summer, a satisfying time for farmers since it is their peak harvesting season. Instead, farmers stared at ruin.
With no transport available, plucked fruits couldn't be sent for sale. Figs have a very short shelf-life of two to three days. As a result, several tonnes of fruit rotted in the next few months. Each farmer lost lakhs of rupees.
Angry and frustrated, a few pulled out their fig plants and opted for crops with longer shelf-life like guava and pomegranate. According to the horticulture department's figures, just 1,100 hectares of fig orchards survived. This means plants in as much as 700 hectares were uprooted.
Yet in just a year the fig farmers of Ballari have achieved a remarkable turnaround. Srinivasapura Camp in Lakshmipura village now has a thick belt of fig orchards. Farmers exude quiet confidence and pride. They have put last year's tragedy behind them. What was the reason for this transformation?
The farmers said they had an exciting new development to share. They had started converting raw figs into fig rolls and thereby adding value. And the fig rolls had received a good response from buyers across several states.
In Srinivasapura Camp alone seven units manufacturing fig rolls had come up in record time. Another one is in the pipeline.This sunrise fig roll industry held many more surprises. All the units are owned by young farmers. Most are women-led enterprises. Despite the ongoing pandemic these ventures have become successful. They were able to sell their products without delay and the returns were encouraging.
LAB TO FARM TO MARKET
The credit for training and motivating fig farmers goes to ICAR Krishi Vigyan Kendra (KVK), Ballari. Recalls senior scientist Dr Ramesh B.K., "In 2019, before the pandemic, we had conducted a training programme on fig roll production and other value-addition methods in Srinivasa camp. But the response was lukewarm. Once the crisis deepened, they rushed to seek guidance from us. We conducted training sessions for even two or three people instead of waiting for a group to form."
Fig rolls are probably the only value-added product of this fruit in our country. Although dehydrated figs are widely available for around `1,200 per kg, they are imported from Afghanistan. Efforts to dehydrate the Ballari red variety of fig did not do well because it isn't suited for drying.
The technology of fig roll production was developed by the University for Agricultural Sciences, Raichur, about four or five years ago. However, it wasn't commercialized until recently. It was Dr Shilpa H., a scientist at the university, who took this knowhow to the farmers of Ballari.
The KVK got a nutritional analysis of fig rolls done at Raichur University's lab. They helped each unit in standardization of the product, in getting FSSAI certification, and with branding, designing and other hand-holding measures. Knowing an experienced KVK was behind them gave the start-ups the confidence to keep going.
A fig roll is a thin, dehydrated mat of fig pulp, similar to aam papad or mango pulp candies. After cleaning, the flesh of each fruit is manually scooped out and then ground and boiled after adding some jaggery. The cooked pulp is poured into trays. After drying, the fig mat is cut, rolled and packed.
Figs grow almost throughout the year. If the unit has a dryer, fig rolls can be produced regularly. Out of seven units, four are functioning. Three don't have electric dryers so they suspended operations during the monsoon.
Two young housewives, 27-year-old H. Poojarani Ramakrishna and 25-year-old K. Sudha Manjunath, were the first to plunge into value addition. The two are such soulmates that they are jointly addressed as 'Pooja-Sudha'. They are partners in Lakshmi Sai Products, their enterprise. During training, they learnt to make jam too. "Our first choice was jam making," says Sudha, "because it doesn't need machines or equipment or investment."
They started making fig jam but soon realized that with a low shelf life and no transport they would not be able to sell their product. "So we switched to roll making which Shilpa madam had taught us during training. We felt fig rolls would sell in rural markets as well and thereby expand demand," says Poojarani.
After training at KVK, Pooja-Sudha immediately set up their enterprise in March last year. The figs were dried in the sun. "We had no idea about markets and marketing. We thought, instead of sitting idle let's make an effort," recalls Sudha.
They sent the first few batches of fig rolls, which they named Nature's Fig Rolls, to their mothers in Andhra Pradesh via newspaper vans that were permitted to run during the lockdown phase.
Some cartons were complimentary. They requested their respective mothers to try to sell the fig rolls as well. The response was good. That gave them the confidence to ask fresh fruit buyers in Chennai whether they were interested in fig rolls. After sampling the fig rolls, the Chennai fruit sellers said yes. Pooja-Sudha then began contacting more buyers. They took a private loan and bought two electric dryers. Both Pooja and Sudha work long hours now. They have four women employees.
Lakshmi Sai Products produces 20 kg of rolls every day. Nature's Fig Rolls are marketed mainly in Bengaluru and also sold in Nellore, Tirupati and other urban areas in Andhra Pradesh. Packed in 250-gm packets, the fig rolls are priced at `400 per kg. Pooja-Sudha invested `2 lakh in their business and took a shed on rent.
The two have become role models, inspiring other farmers to follow their example.
WORK FROM HOME
The units that have sprouted are home-based industries. All that's required are a dryer, a pulping machine and a shed.
N. Vani Pushpa, also a housewife from a farming family, runs Jayasree Products. The brand name of her fig rolls is Nutri Power. Helped by her husband and two others, she produces 15 to 20 kg of fig rolls per day. On average, they make around 300 kg per month. Their fig rolls are priced at `300 to `400 per kg. For a few of their customers, they make fig rolls with organic jaggery, priced at `450 per kg.
Only two units are bigger. Forty-four-year-old M. Ramesh Babu, owner of Vasavi farm, sells his fig rolls under the MRB brand name. His unit produces 50 kg of fig rolls per day. Twenty-seven-year-old Yeshwanth Sunil Maddipati's Green Mine Organics is the biggest fig roll enterprise in this area. Both units use solar tunnel dryers backed by electric heaters. They have built a separate building for manufacturing fig rolls and, unlike the smaller units, they have steel trays and racks for drying.
Green Mine Organics produces 200 kg of fig rolls per day. Madipatti has built seven solar tunnel dryers and installed an electric boiler to boil the pulp. The other units are doing this manually, using cooking gas. The hot pulp arrives at the work table through pipes in Madipatti's unit. He has invested nearly `2 crore in his venture and his installed capacity is 1,250 kg per day.
All these are start-ups in the agro-processing sector. Led by young entrepreneurs with no experience, they are learning by trial and error. Yet, the marketing efforts they have put in and the response they have evoked in a short time are amazing.
Gangadhar, Vani Pushpa's husband, says they prefer to sell directly without intermediaries. Half their product goes to different cities in Karnataka like Bengaluru and Gangavathi and the rest to Eluru, Rajahmundry and Visakhapatnam in Andhra Pradesh and Hyderabad in Telangana. They send their parcels through cargo services run by government-owned bus companies like KSRTC and APSRTC. "They deliver very fast and without damage," says Gangadhar.
Pooja-Sudha also sell directly. They cater to buyers in Bengaluru and Nellore in Andhra Pradesh. The Bengaluru buyer runs fruit shops and he sends the rolls farther to Tamil Nadu. "Due to the lockdown, demand is constrained. Earlier, we used to dispatch fig rolls every day. But now we send our cartons on alternative days," says Sudha.
RISE OF AGRI-BUSINESS
Both Ramesh Babu and Yeshwanth Sunil plunged into the fruit business after they found middlemen were exploiting them. They also own vehicles that can transport fruits to towns and cities.
Ramesh Babu has two decades of marketing experience in selling fresh figs. He owns 120 acres of fig orchards. He also buys from other farmers and sends the produce to Chennai, Bengaluru, Maharashtra and Hyderabad.
Yeshwanth Sunil has only 10 acres of fig orchards. He too buys from other farmers at a steady price of `20 per kg. "Even if market prices come down I pay this rate," he says. The figs are sent to Bengaluru and Hyderabad.
Sunil, who has an organic pesticide business, says he explored the fig roll market for a year before plunging into it. "I sent sample packets of fig rolls to our 350 dealers in south India. I approached dry fruit traders in Delhi, Hyderabad and Mumbai. The kind of response I got built my confidence," he says.
CLIMBING THE VALUE CHAIN
Figs are a delicate fruit and need to be harvested every day. Ripe fruit can't survive long journeys. But buyers in Chennai, the biggest market so far, insist the figs be harvested two or three days in advance to prevent transport losses. Since the city is farther away, the travel time is longer, unlike Bengaluru where freshly ripened fruits are acceptable because the distance is shorter.
Earlier, fully ripened figs had no market. About 10 to 15 percent of fruit used to get rejected. But for fig rolls, fully ripened fruits are needed so now there is less wastage. Says Vani Pushpa, "We need ripe fruits for rolls. The perfect taste of the fruit then manifests itself. If you taste the pre-ripened fruits that go to Chennai, you will realize the rolls made with ripened fruit are far tastier."
Vani Pushpa has six acres of fig orchards. If she runs out of ripe figs, she buys from local traders. "In fact, we use 30 to 40 percent of our figs. The rest we buy from traders. Traders buy these ripe fruits only for us. They can't sell them in the market," she says.
Vani Pushpa and Pooja-Sudha are planning to buy a generator for uninterrupted production. Pushpa is also trying to sell her products on Amazon. She has completed GST registration, a precondition to sell at D-Mart, More and Reliance online stores.
The fig roll manufacturers also need a helping hand. They say deskinning or scooping out the fleshy part of the fig is cumbersome and has to be done manually. "We are looking for a machine to perform this task. I have informed engineers at our Raichur Agriculture University," says Dr Shilpa.
Fig farming in the district is just two decades old. Depending on season, production and demand, the price of fresh figs ranges from `10 to `40 per kg. Prices are uncertain and controlled by middlemen. Last year's crisis was the worst for them. But, by moving into agro processing and marketing, the farmers have turned around their fortunes.
The net result of KVK scientists and farmers working together is the creation of India's only fig value addition industry.