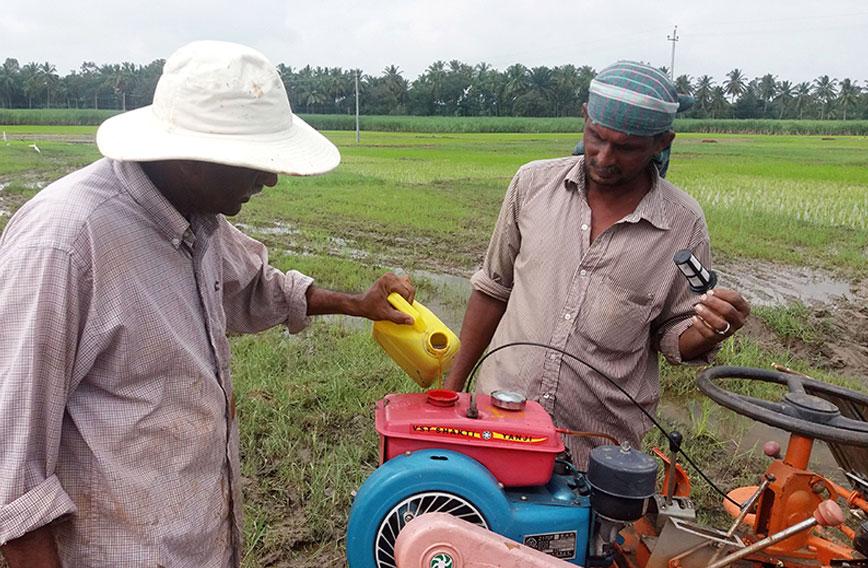 Biodiesel powers farm operations
Handwash, other hygiene products from biofuel
Shree Padre, Mandya
Published: Apr. 23, 2020
Updated: May. 16, 2020
A tiny team working in a government outfit in Mandya is producing an amazing range of inexpensive products from biofuel. There is soap, dish washing liquid, phenyl, glass cleaner liquid and even pain relief oil. Altogether, more than 24 products are being made including biodiesel, bio-manure and neem oil under the unit's brand name, Nisarga Organic Products.
This four-member team works for the Biofuel Research, Information and Demonstration Centre (BRIDC), a Union government initiative, running for eight years at the PES College of Engineering in Mandya, Karnataka. Its primary objective is to spread awareness about biofuel and how it can be locally produced.
The outfit buys used cooking oil discarded by restaurants and small eateries and recycles it into biofuel. In the last three years, 45,000 litres of used cooking oil have been converted into biofuel.
From April to June, oil is extracted from honge beeja (Pongamia pinnata) and bevina beeja (neem or Azaradicta indica) from Mandya's seven taluks out of which Namangala taluk is the biggest producer. BRIDC pays Rs 28 per kg for pongamia seeds and Rs 48 per kg for neem seeds. Biodiesel is made from pongamia and pesticides for agriculture from neem.
SPOTTING OPPORTUNITY
Dr M. Prasanna Kumar, professor of geology at PES College, is the project coordinator of BRIDC in Mandya. Other staff members are Palanethra who is project assistant and Lakshmana, the technical assistant. There are also two casual labourers, Siddappa and Pradeepa. The government provides a grant of Rs 10 lakh per annum for expenses. Dr Kumar works pro bono since there is no provision to pay him.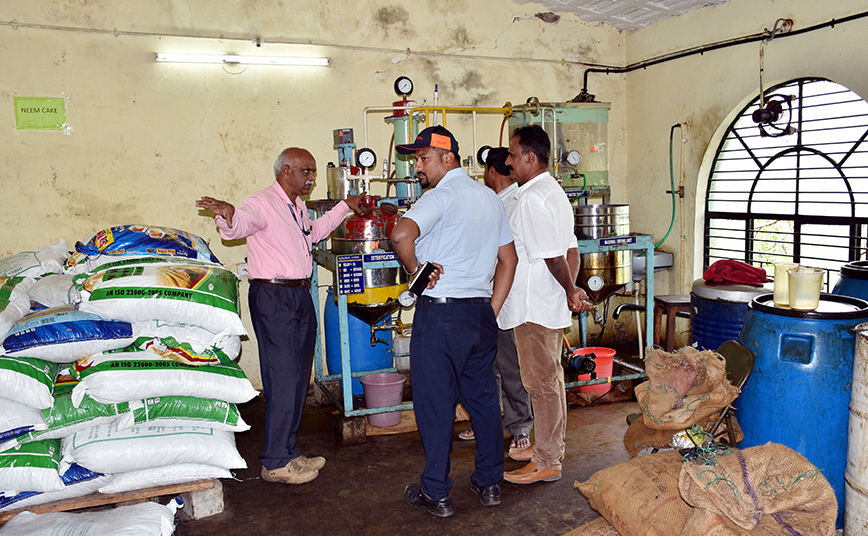 Products being made
Why did BRIDC branch into manufacturing? Dr Kumar explains that after extracting biodiesel from pongamia seeds, a sort of cake is left over, consisting of glycerine and soap oil. At other BRIDC outfits it is thrown away. But Dr Kumar decided to put it to use. He approached a few companies in Pune to buy the glycerine. They were interested but transporting it turned out expensive.
Dr Kumar then experimented with the glycerine and converted it into soap. His team members and a few farmers tried it out. Their feedback was encouraging. The farmers said the soap was good for bathing their sheep and cattle and it controlled ticks.
So Dr Kumar did the rounds of local milk societies to market the soap. The farmers used it on their livestock and were happy. BRIDC now produces 70-80 cakes of soap per day, each priced at Rs 10. On average, 600 to 1,000 soaps are sold every month. Mechanics also buy it because it cleans oily hands better than commercial soaps. The BRIDC unit felt encouraged and began producing phenyl, glass cleaners, washing liquid, and so on.
Then, after trial and error, Dr Kumar formulated a pain relief oil by blending pongamia oil, neem oil, mustard oil, camphor and roots of a local plant called ekka (Calotropis gigantea). The oil is manufactured in winter "because that's the time people suffer from joint pains," explains Dr Kumar. A 250 ml bottle costs Rs 80.
Another product is bio mosquito repellent containers. Used mosquito repellent bottles are collected and filled with a mix of neem oil and camphor. "Since it's a bio product, it has no side effects and banishes mosquitoes," says Dr Kumar.
PES College's three hostels buy BRIDC products. So do local hotels. To attract the middle class, Dr Kumar set up a tent on a morning walkers' route. The strategy paid off. Price was also a selling point. BRIDC's household cleaning products aren't priced above Rs 30 per litre.
Neem cake and oil are bought by farmers. A litre of neem oil is priced at Rs 300 and a 100 ml bottle costs Rs 30. For farmers the biggest attraction is the purity of BRIDC's neem products.
Biodiesel has local buyers. Those who run tractors, power tillers, paddy harvesting machines, irrigation pump sets, Tata Ape goods carriers and auto-rickshaws buy biodiesel from BRIDC at `60 per litre.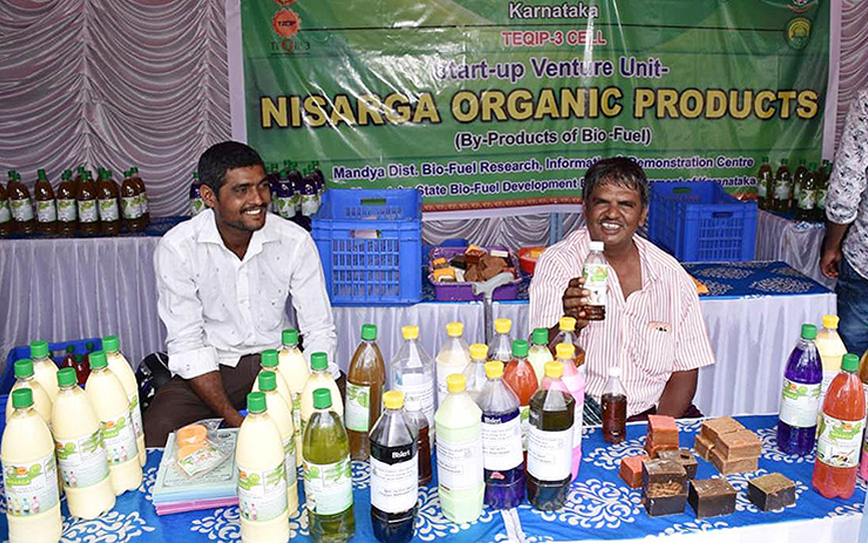 A small marketing efforts
However, the BRIDC faces a shortage of pongamia and neem seeds. These trees aren't grown for commercial purposes. Dr Kumar and his team have had to visit villages with a laptop and LCD projector to explain to villagers why growing these trees is important. "There is money in seeds," he tells them. "You will also get biodiesel to run your tractors."
Dr Kumar's car, an Indica, runs on a 50 percent mix of biodiesel and biofuel and that is illustrative for villagers.
FROM OIL TO OIL
Processing pongamia seeds into biofuel takes three days. Dr Kumar instructed his students to find a quicker option. They experimented with used cooking oil and found a method to convert it into biodiesel. The process proved to be more efficient. Four litres of oil were always lost while converting 50 litres of pongamia oil into biodiesel. When cooking oil was converted, the loss was two litres.
The bigger problem was, surprisingly, procuring used cooking oil. Restaurants and eateries couldn't understand why the BRIDC wanted their used cooking oil and were suspicious. Dr Kumar had to show them samples of biodiesel to convince them. He now has a WhatsApp group of places he procures discarded cooking oil from.
Once in 15 days, 'like the milk route' of dairies, he picks up drums filled with the oil and pays Rs 22-25 per litre to the hotels and eateries. It's a painstaking and time-consuming task.
It was the shortage of pongamia seeds that led to a BRIDC outfit in Udupi, attached to Nitte Mahalinga Adyanthaya Memorial Institute of Technology (NMAMIT), to opt for using discarded cooking oil.
"Since then things have moved along faster as this raw material is abundant locally and the process is faster," says Dr Ujwal, project coordinator. This too is a four-member team.
Used cooking oil is collected from two hotels in Mangaluru but buying it from many places is time-consuming. So Dr Ujwal is planning to outsource collection to an MBA student who is keen to handle the unit's supply chain. Dr Ujwal points out that Mangaluru probably has a surfeit of used cooking oil and young entrepreneurs could make biodiesel for commercial use. "We can mentor them," he offers.
Four buses of NMAMIT are running on biodiesel and a few bus owners also buy the oil from them. The BRIDC here charges Rs 50 per litre for bulk sales.
But the BRIDC in Mandya has become the frontrunner in biodiesel and biofuel cakes. No other BRIDC team makes such a range of products.
Dr Prasanna Kumar: +91 98445 74374; peslpk63@gmail.com