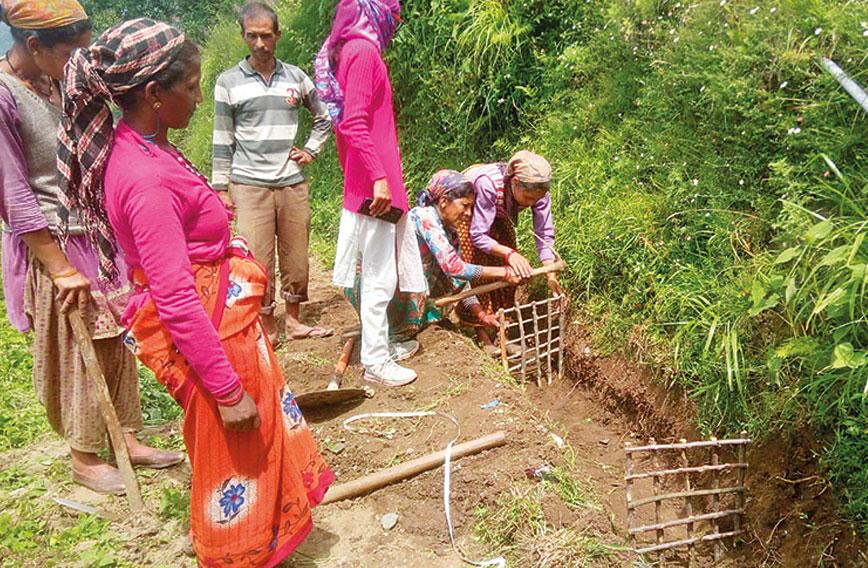 A trench being dug in a recharge area
When springs dry up in the hills, PSI brings them back
Rakesh Agrawal , Dehradun
Published: Jul. 12, 2021
Updated: Aug. 25, 2021
THE people of Bana, a village in Pithoragarh district, perched at 1,800 metres and surrounded by verdant hills, never faced water shortage. But, when 10 of its 16 natural springs started drying up, alarming this largish village of 110 households, they turned to Avani, a voluntary organization they were familiar with, in December 2018, to revive their dying streams.
"Rajnish Jain of Avani understood our problem. He contacted the People's Science Institute (PSI) in Dehradun and soon work to restore 10 water sources in our village began," says Hema Devi, 24, a small farmer.
The PSI acted promptly since revival of those springs was essential. "Our nearest water source, the Ramganga river, is 25 km away. The springs are our only hope. They were drying up due to many factors, apart from changing weather patterns. Several villagers had converted their earth and mud homes into pucca homes of brick and mortar. Their porches are now layered with concrete, impeding groundwater recharge," says Hema Devi.
Debashish Sen, director of PSI, explained why villages across Uttarakhand are becoming drought-prone. "Rainwater flows down as springs in the hills and collects in traditional water structures like naulas, baoris, nauns, dharas and so on. These were built to store rainwater coming down hillsides, percolating through rocks and emerging as springs in mountain terrain," he says.
"Due to deforestation, urbanization and climate change, such structures have started drying up. So we launched a rejuvenation of springs programme, not just to conserve the water culture of Uttarakhand but also to ensure villagers received an augmented water supply," says Sen.
PSI decided to undertake revival of 100 springs in 50 villages of Uttarakhand, Nagaland, Sikkim and Arunachal Pradesh. Implementing the idea meant dealing with diverse social, economic and geographical settings. Rejuvenation of springs is a delicate task requiring engineering and vegetative measures and each village had its unique problems.
"It means digging trenches which are seven feet long, 1.5 feet wide and 1.5 feet deep in recharge areas apart from growing plants and laying grass. The landowners' approval is needed," says Diksha Upadhyay, a civil engineer with PSI. But it all works out.
"Ours is a participatory programme. In it, the villagers form a Water Users' Group (WUG) with a president, secretary and treasurer. We contribute only 25 percent of the cost. The rest is paid for by the villagers through shramdaan (voluntary labour). Five percent of the cash is put into a revolving fund for maintenance," explains Upadhyay.
In Bana, villagers shared a warm relationship with Avani, so approval wasn't an issue. "About 20 women supply pirul (pine needle) to Rajnish Jain, director of Avani, who produces electricity from it. A few others are working with Rashmi Bharati, co-director of Avani, on their colour project," says Chandan Kumar, a para-worker with Avani.
The recharge area fell within Hema Devi's land but she didn't mind parting with it for a while. "My land was turning barren. Rajnish bhai told me it will become green once again so I agreed," she says.
Work started in December 2019, in the recharge area of the Latiyadhara stream. Around 30 trenches were dug and saplings of fruit trees and grass were planted. Hema Devi is not regretting her decision. The trenches are full of water and she is waiting for her trees to yield fruit.
Different approaches were adopted for different villages, depending on geographical and environmental factors. For tiny hamlets called toks, PSI realized convergence, or clubbing several toks together, was a practical strategy. For instance, Kotikorwa village in Dehradun district is divided into two hamlets. Koti is the bigger one, with a cowshed and situated a little uphill, while Korwa, the smaller one, is located at a lower height.
After a thorough field survey, work on the upper spring meant for Koti started in May 2019. Trenches were dug, plants and saplings planted. The lower spring, which supplied water to Korwa, some 200 m below, was left untouched.
A recharge tank was to be built in Korwa. Getting the villagers' approval was essential since a pipeline about a km long had to be built from the recharge tank to the cowshed uphill to take water to the animals.
After a long meeting, the people of Korwa agreed on condition that the recharge tank would be built on their grazing land, it would provide water to their homes too and an equal amount of grazing land would be allotted to them on Koti's common land. "These animals are like our own family members. We have to ensure they get water," says Dharam Singh, a WUG member of Koti.
Salga and Chibau villages in Dehradun also realized it was in their best interests to unite. The two neighbouring villages have four springs: Devata Ka Paani, Chargad I & II, Bakashiya and Kalyana.
"We divided the work. They provided free labour for some springs and we pitched in for the rest. We now have adequate water," says Nirma Devi of Salga's WUG. The people of Chibau are also satisfied. "Our animals also get enough water as pipes attached to the rejuvenated tank supply water to our cow shed," says Radha Devi, president of the Chibau village WUG.
PSI organized exposure visits and conducted street plays to convince villagers and motivate them to implement the water projects. Such measures were especially successful in Sundarkhal and Dhanachuli villages in Nainital district, adjacent to Mukteshwar.
"Ours is a big village of 250 households and 10 springs. Convincing all households was a challenge. But we succeeded. We held a street play depicting how recharge of our springs will make us prosperous," says Pushpa Devi, member of the WUG, Sundarkhal village.
"A team from both villages went to Nagkwerali and Mave villages in Almora district, some 50 km away, to see the work there. We were impressed and so we agreed. We now have enough water," says Tulsi Devi of Dhanachuli village.
Nagkwerali and Mave villages, adjacent to Lakshmi Ashram near Kausani, a well-known tourist destination, have made elaborate rules to keep the recharged springs clean. "Inspired by Basanti Bahan of Lakshmi Ashram, many villages here have drawn up elaborate rules to conserve water and forests. In fact, such efforts have recharged the Ramganga river. In our village we have strict rules. We have fixed timings to draw water from these springs. We don't wash our clothes and utensils there either," says Maya Verma, member of Mave village's WUG.
When villagers from Sundarkhal and Dhanachuli villages visited them in February 2020, they were impressed to see their clean and ebullient springs within a gated enclosure. They decided to carry out similar work on their own springs.
In Nalai village of Pauri district, villagers themselves came forward and offered their land. "When we saw PSI's work in nearby Khajari village, we requested them to rejuvenate our dying spring too and gave our land for it," says Himmat Singh, member of Nalai village's WUG.
In Khajiri village, a few km away, about 70 per cent of land in the recharge area belonged to one woman, Vimla Devi. She readily agreed. "I thought, if my land can make the lives of all the villagers easier, I will be blessed with a good after life," Vimla Devi says.