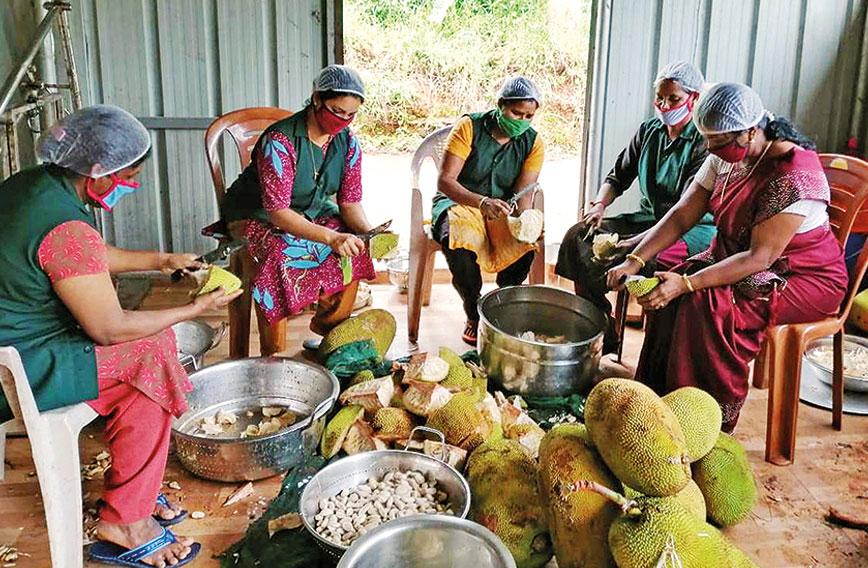 Jam, juice, flakes, chips or pulp....
Shree Padre, Ambalavayal/Wayanad
Published: Mar. 09, 2021
Updated: Apr. 03, 2021
IF a small farmer or household in Wayanad has a surplus of fruits or vegetables, all they have to do is take it to the Krishi Vigyan Kendra (KVK) in Ambalavayal town. Be it banana, jackfruit, passion fruit or tapioca, the KVK will transform it into the product of your choice. Jam, juice, flakes, chips or pulp? You decide. In a few days your products will be ready. Just pay and take it all home.
Ancy John owns a resort in Kenichira village near Ambalavayal. Some months ago, she harvested jackfruit totalling 470 kg in her backyard. There was no demand for jackfruit and besides it was lockdown time. So she transported her jackfruit to the KVK. A few days later Ancy collected 16 kg of dehydrated jackfruit flakes and 37 kg of jackfruit pulp from the KVK after paying Rs 7,590.
"We will consume part of this at home. I will sell the rest to people who come to stay at my resort. Such products have good pick-up value," she said.
P.K.Musthafa, a youth from Mananthavady, took six quintals of jackfruit to the same KVK and got it made into pulp and dehydrated raw flakes. "Actually, I decided to start a jackfruit pulping unit. This pulp helped me to test market the product." Some months later, he confidently launched his pulping unit.
Processing fruits and vegetables for a fee or 'job work service', as it's called, is also being done at Kerala Agriculture University's (KAU) headquarters in Mannuthy in Thrissur. The local media promoted the service with the tagline 'bring jackfruit, take back halwa'.
At both Thrissur and Ambalavayal, processing fruits and vegetables started during the lockdown. Despite obstacles like transport restrictions and containment zones, the Ambalavayal KVK processed five tonnes of raw farm produce in about five months. KAU started a little later. Although its centre was closed for two weeks because it fell into a containment zone and staff turnout was poor, KAU's centre processed two tonnes of raw material in four months.
BIG DEMAND:
The KVK in Ambalavayal had tested the waters last year, before the pandemic. "We thought anyway we have a big dryer. Five women of a self-help group (SHG) are ready to work. Why can't we process the surplus jackfruit households have," recalls Dr Safiya, head of the KVK.
The SHG cuts and peels the raw produce. The women can convert about 50 jackfruit into carpels per day. The dryer dehydrates 60 kg at a time. Generally, the material is placed in the dryer before the centre closes. Raw jackfruit carpels, for example, require 10 hours to dry at low temperature so by morning they are ready.
For one kg of carpels Rs 50 is charged for labour and Rs 500 per day for the dryer. The fee for making jackfruit pulp is Rs 20 per kg. Seeds can be dehydrated or powdered too, if the customer wants.
Customers have to book in advance. Initially, out of 500 enquiries, the centre could process only 10 percent. The facilities they have can't match the huge demand for processing.
A date is fixed for the customer to bring his or her crop. The fee is divided into three: pre-processing labour charges, ingredients required and the processing fee. "The day the customer hands over the crop, we give him the delivery date. They pay the fee and collect the end products," says Vidya T.A., a skilled assistant at KAU.
The KVK centre has most machines required for processing like a halwa maker, dryer and grinder. When the centre started in the first two or three months, jackfruit was the main produce that turned up. Now banana, vegetables and many other local crops are also being brought for processing.
"Compared to the huge quantity of farm produce that goes unused, what we convert into products is minuscule. Yet, it gives us a lot of job satisfaction that we could avoid some wastage of produce," says Dr Jayasree, head of KAU's communication centre.
"We started this service during COVID times because a lot of crops were going waste. Farmers just couldn't sell them. But we are still getting very good response from Thrissur and from far-off areas so we are continuing our service. Our facilities are limited so we can't cater to the demand. K. Rajan, MLA from Ollur, visited our centre. He was impressed and offered to donate Rs 10 lakh from his fund. We will use the money to expand our facilities," says Dr Jayasree.
Interestingly, the Wayanad KVK has a retort packaging (sterile packaging) facility too, an additional advantage for small growers. "We have the machinery but we don't have trained staff for retort packaging. Earlier, we used to request the company that supplied the machine to send their staff. We pay for their travel and services. Now, due to Covid, no one is ready to travel," Dr Safiya explains.
Over time, more new produce started arriving at the two centres: vegetables for dehydration, passion fruit for juicing, papaya for jam, kodampuli (Garcinia gummigutta) for drying. The Thrissur centre is also drying tapioca into a traditional food item called Vat Kappa. Nendran banana is converted into chips and into ready-to-eat sweets called sharkaravaratti and nendranvaratti. Proper processing and packaging of sweets extends their shelf life. New products have also been introduced like pickle from banana peel and from passion fruit rind.
CREATING JOBS:
The Thrissur processing centre at KAU has marketed itself efficiently. It made a video about its work and also participated in AIR programmes. "In agriculture news, our service was mentioned," says Dr Jayasree. But the Wayanad centre doesn't get a continuous flow of customers. Perhaps they need to create more awareness of their services.
"There are seven KVKs under KAU. We plan to extend this service to all of them. The pandemic came in the way but now the Kannur KVK has started and the KVKs in Kottayam and Palakkad are prepping up," says Dr Jiju Alex, extension director of KAU. All the KVKs have basic machines to begin processing.
The value addition work being done by the KVKs is preventing wastage, creating awareness of preserving farm produce, and inspiring youth to become self-employed.
"We are getting an increasing number of visitors and calls asking us about machines, how to start a unit, licensing and other formalities," says Vidya T.A. Many people visit the centre just to see the work it has done.
"We would certainly like to inspire local youth to start small vegetable or fruit processing units. It requires an investment of around Rs 15 lakh," says Dr Alex.
"Farmer groups, including from neighbouring states, can also learn processing from us. They can take the products made by them during training as mementos," he says.
Contact: Ambalavayal KVK – (04936) 260 411; Kannur KVK – (0460) 222 6087; Thrissur KAU Centre – (0487) 2370 150; email: de@kau.in