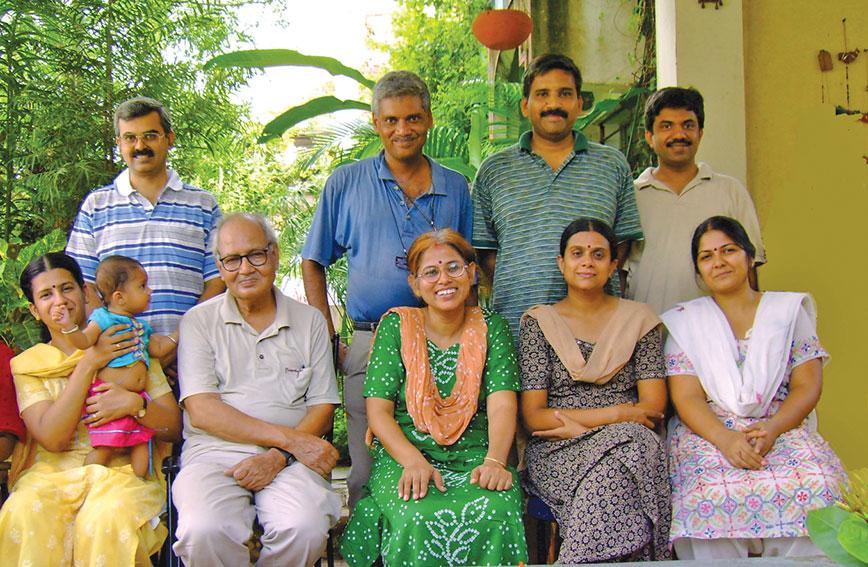 Doctors of the Jan Swasthya Sahyog
Doctors track the social roots of 27 diseases
Bharat Dogra, Bilaspur
Published: Mar. 23, 2017
Updated: May. 06, 2019
Phagni Bai lives in Littikhola, a small village at the foot of a mountain in Bilaspur district of Chhattisgarh. Phagni is a Baiga, an Adivasi community that is one of the poorest in the state. About two years ago, when she was diagnosed with tuberculosis (TB), she went for treatment to a rural hospital in Ganiyari village run by the Jan Swasthya Sahyog (JSS) in the district.
To her surprise, the doctors and hospital staff took very good care of her. She not only got good treatment but the doctors were even keen to understand her livelihood problems. Phagni's weight was a mere 26 kg. The doctors asked her in detail why she was so weak, what was her nutrition intake, why she couldn't improve her diet and how burdensome her daily work routine was. What surprised her even more was that the kind people in the hospital were even willing to visit her village to know more about the problems her family and neighbours faced.
When the doctors and hospital staff visited her village, they found out that the Baiga community in the district was passing through a critical phase. They were gradually losing control over their forests, land and other natural resources on which they had traditionally depended. Phagni's family earned a living by selling baskets. To get bamboo to make those baskets she had to walk for five hours. But there was no surety she would be able to collect bamboo. Forest officials or guards might stop her. Or whatever bamboo she had gathered could be taken away from her. With their only source of livelihood uncertain, she and her family inevitably suffered from hunger and malnutrition.
The close link between TB and poor nutrition is very clear to the doctors of the JSS hospital at Ganiyari as they have been working over the years to understand the social and economic linkages of disease. The JSS is a rural health programme started about 15 years ago by a team of brilliant and highly qualified doctors, most of them in the prime of their youth.
One of the defining features of this effort has been to link health efforts to wider initiatives for a more equal and just society. The overall coordinator of this effort, Dr Yogesh Jain, a gold medallist from Delhi's prestigious All India Institute of Medical Sciences (AIIMS), says, "While we had been documenting disease patterns and distribution among the population and we had published our findings and analysis in peer reviewed journals, we also felt a need to understand more closely the socio-economic conditions and cultural environment of our patients."
So doctors and their teams started discussing these aspects in more detail with patients and their relatives. Some, like Dr Jain, started visiting the villages of these patients to get a better understanding of the socio-economic reality on the ground.
I accompanied Dr Jain on one of these visits. We carried with us the address of an Adivasi couple — both husband and wife had been treated at the JSS hospital for leprosy. When we finally located their home, we found only their children since both parents were working in the fields despite their disease. So we went to the fields and brought them back. As we discussed their family history, several details of land loss and resettlement at a new place emerged. We realised how the disease had become serious because of denial of treatment at an early stage or wrong treatment by quacks. Dr Jain noted where they kept their medicines and how they ensured the proper dosage was taken. The children were examined. There was some indication that the children too might have contracted the disease so their parents were asked to bring them to the hospital.
We then went to see another leprosy patient who worked as a subsistence farmer. Speaking to him in detail was a lesson in understanding how difficult it is for such a patient to follow the precautions generally recommended by doctors.
Such field visits by reputed and qualified doctors are rare but very useful as they can bring to policymakers the grassroots-level reality of diseases and their wider social linkages. It was to help in this larger objective that doctors and other members of the JSS team started documenting these wider linkages of diseases.
As a result of such careful and sustained reporting, in 2016 the JSS was able to publish an invaluable book, An Atlas of Rural Health — Chronicles From Central India. This book consists of detailed narratives of 27 serious diseases and health problems as well as shorter picture stories about several more health problems and their complications. A few blogs, essays and maps are also included.
The first edition sold out in no time and the second edition has been published. Efforts are on to publish some of the reports in newspapers and magazines to spread greater awareness about the social linkages of disease. A Hindi edition of the book is planned for 2017.
The research underlines the social and economic dimensions of disease. The JSS and other groups must organise workshops on this theme. This is an important dimension of health journalism which has not received adequate attention. Some of the chapters of this atlas on rural health can be used in courses of health journalism and development journalism.
Readers interested in the Hindi edition of An Atlas of Rural Health can contact janswasthya@gmail.com