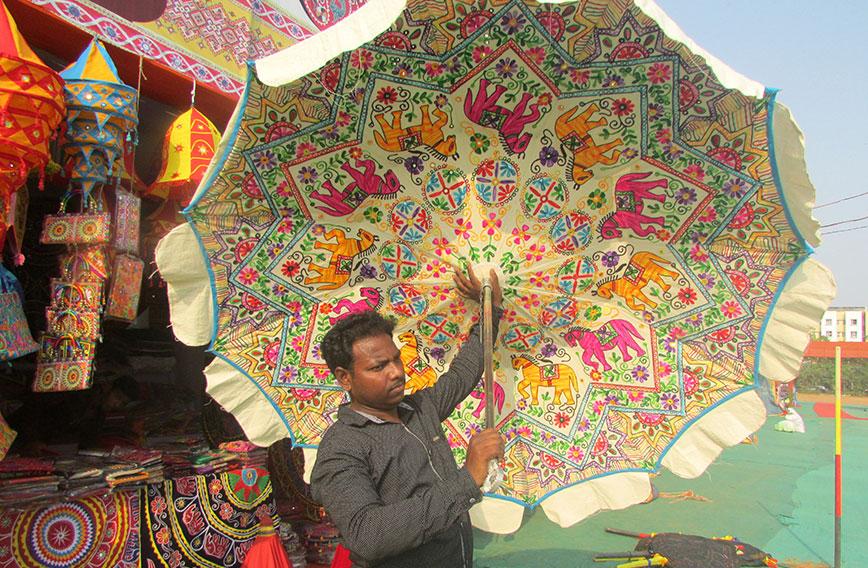 An umbrella with applique. Artisans are innovating with new products to cater to consumers | Photograph by Rakhi Ghosh
Pipli is trendy with its craft but losing its artisans
Rakhi Ghosh, Bhubaneshwar
Published: Feb. 04, 2019
Updated: May. 06, 2019

Colourful chariots are the first thing that people notice during Odisha's annual chariot procession of the gods, Jagannath, Balabhadra and Devi Subhadra. Decorating the chariots for the procession has been the responsibility of Darji or tailoring servitors for generations.
Applique items such as chhati or umbrella, tarasa, a heart-shaped wooden piece covered by applique and supported by a long wooden pole, and chandua, an umbrella-shaped canopy are also used to dress up the chariots during the processions.
The craftsmen involved in making and trading of applique work, one of Odisha's top handicrafts, are settled in Pipli, about 20 km from Bhubaneswar. The craft that once began among a small group of people to serve and decorate the gods and chariots during festivals, has evolved into a well-known handicraft and a livelihood for thousands of people.
But due to various reasons, the applique artisans are moving to other trades or migrating to cities to work as construction workers to eke out a living. "If things do not improve soon, there is every possibility that only a handful of craftsmen will be left for doing applique work," says Benudhar Mahapatra, president of the Odisha Applique Society.

Many designs: Pipli, the village of applique craftsmen, derives its name from Pirs, the Muslim saint who lived in the region. The king of Odisha established the village to accommodate the craftsmen who made applique craft for the annual Jagannath Rath Yatra procession.
Both Hindus and Muslims of the village are involved in the making and trading of applique craft. The craft that originated as a temple art now finds its space in a wide range of decorative and ceremonial products. Almost all the villagers depend on the craft for their livelihood, the tourism industry working in their favour.
"It's not that all are involved in making or trading of applique products There are people who run hotels and other businesses that cater to tourists who visit Puri and Konark," said Mahapatra. "Tourists cannot resist buying colourful applique craft displayed in our shops."
The craftsmen of Pipli produce numerous designs ranging from Jagannath and Ganesha, the favourite gods, to animals, birds, flowers, leaves, and geometric designs. Catering to modern needs, they produce wedding canopies, umbrellas, bags, wall hangings, lampshades and household furnishings that are popular with locals and tourists.
"Although traditional applique work has its charms, customers seek innovative products. Patchwork applique, that is mostly done in hand stitch or hem embroidery, is the current favourite among shoppers," says shopkeeper Tajudin. While traditional applique lampshades are still in demand, sale of purses, cushion covers, letter pads, wall hangings and other decorative items has increased. "The modern applique work is finer, creative and has created its own space with customers," said Tajudin.

Women artisans: Women mostly do the applique work. Almost all the women of every household engage in this craft. It is the source of their livelihood. Women are involved in stitching, but men take care of the designing, cutting and selection of colours, besides the sale of products.
"Whatever applique work you see is done by women artisans, but the pay is very meagre," says Tina Chhatoi, an artisan. "There are no fixed working hours. Sometimes we work for more than 10 hours."
But it does help the women add to the family income. "After passing Class 10, there was no job opportunity. Like me, many young women joined applique craft workshops," says Kamini Parida, an applique worker. The monthly income of Rs 5,000 helps her support her family.
However, according to a workshop owner, the number of women artisans has reduced. Though the craft is dependent on women artisans, with the government's new skill-building training, many young girls have quit handicrafts and joined apparel factories in Tamil Nadu and Karnataka.

Raw material shortage:Artisans would buy cloth from state-owned Orissa Textiles Mills (OTM) 15 years ago. But after closure of the mill they have to depend on private mills or manufacturing units of other states. "After the closure of OTM, we buy cloth from Surat and thread and other accessories from Kolkata," says Jabar Khan, owner of one of the oldest applique product shops at Pipli.
But the real problem, according to traders, is that they do not get the right quality cloth. "For applique work we use low-cost material, and so we cannot get good quality cloth," said Jabar Khan. "Because we are buying raw material from Surat the input cost and hence the cost of the product increases and customers find it expensive compared to other gift items."
The State Handlooms, Textiles and Handicrafts Department has opened a raw material bank for applique artisans and small traders at Pipli. But most of them say that there is not much variety of colours at the raw material bank. "In applique work we use nearly 10 different colours of cloth, threads and other accessories but most of the time the bank stores cloth of only two or three colours," said Rasanand Maharana, a workshop owner.

The challenges:The recent Goods & Services Tax (GST) on handicraft items is another challenge for retail shop owners. "In 2016 we sold a large number of lampshades to traders of other states. In 2017 sales dropped to 50 percent because of implementation of GST," said Jahid Khan, a trader. "With 5 percent GST on cloth and 12 percent on steel wire you can imagine its impact on the price of finished items."
Tourists from Bhubaneswar used to pass through Pipli on their way to Puri and Konark. A bypass road, constructed in 2015, for the convenience of tourists and devotees going to Puri and Konark during Nabakalebara of Lord Jagannath, has been a major shortcoming for the handicraft trade.
"Now hardly any tourist comes to this applique village. The government should make arrangements to bring tourists to this place," said Jabar Khan. "In other states, governments do a lot to promote local handicrafts, but here authorities are indifferent to our issues," said Mahapatra.
The villagers briefed central ministers Dharmendra Pradhan and Suresh Prabhu of their plight, when the ministers visited Pipli. They have staged road blocks, put forth written complaints to authorities concerned and also to the chief minister, but haven't got any response.
The craftsmen plan to introduce applique work in sarees and dress materials, as applique handicraft is always in demand.
"The skill training given by the government should be given for local handicrafts too, otherwise there will be a dearth of artisans in handicraft industries," said Maharana.
Recently, an interactive session was held between artisans and traders of applique work and designers of the National Institute of Fashion Technology (NIFT) in Bhubaneswar.
"They were overwhelmed, seeing our creativity, and we are hopeful this interaction will help boost our business and take applique craft to new heights," said Mahapatra.
By arrangement with villagesquare.in