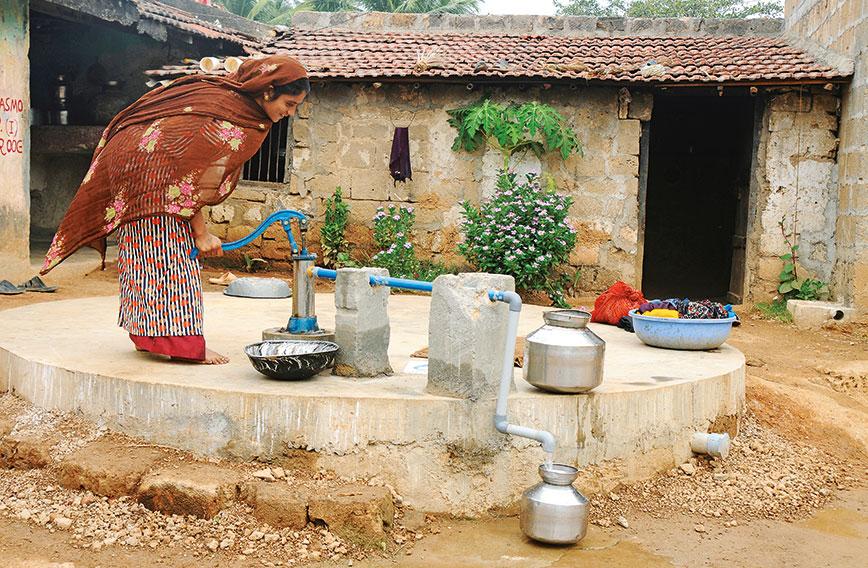 A woman pumps up rainwater from her tanka
Sweet water tankas for saline Gujarat villages
Bharat Dogra, Ahmedabad
Published: May. 06, 2019
Updated: May. 06, 2019
Rooftop rainwater harvesting is proving to be the most effective method of tackling saline water ingress in the coastal areas of Gujarat. The water collected is directed to traditional underwater tanks called tankas, constructed specifically for storage and maintained using carefully formulated norms.
Salt water ingress is a serious problem in coastal areas and is likely to worsen with the rise in sea levels caused by climate change.
Coastal areas all over the world are vulnerable. So there is interest in ways and means of checking this phenomenon.
The success of several villages in coastal Gujarat in recent years to effectively combat this problem could serve as a model for similar villages elsewhere in the world.
This effort has been led by the Aga Khan Rural Support Program (AKRSP). The state government has come forward with subsidies and friendly policies. It has collaborated closely with voluntary organisations.
Apoorva Oza, CEO of AKRSP, explains that salt water intrusion in coastal Gujarat is caused by excessive extraction of groundwater and aggravated by limestone mining.
Porous limestone deposits help groundwater conservation but indiscriminate mining of limestone increases the space for saline seawater to rush into inland zones.
Umesh Desai from AKRSP who has been involved in several efforts to tackle this problem says that rooftop rainwater harvesting and storage in tankas has become a tried and tested way of tackling groundwater salinity.
Raman Patel, a coordinator of the AKRSP water programme, says in the past 25 years nearly 7,500 such structures were constructed. The AKRSP, the state government and the Water and Sanitation Management Organisation worked together in the three districts of Junagadh, Devbhoomi in Dwarka, and Gir in Somnath.
"When I came to this village after my marriage I saw this new problem of saline water which did not exist in my maternal home. I was not used to it," says Vijaya, a woman who lives in Kotda village in Mangrol block.
"Now I suddenly needed to traverse two km, carrying three pitchers. I returned carrying 25 litres of water in these pitchers. I also had to wear a ghunghat (veil) to cover my face with my sari as I was newly married. So I fell down a few times and my pitchers broke."
Hansa, another woman of this village, says, "Sometimes we had to bring water from a ditch. Animals too drink water there. We had no alternative as water in this village was so saline."
Vijaya adds, "My family took the initiative to construct the tanks. First of all, ours is a big joint family and our consumption of water is high. After seeing the success of our effort, other families, too, were inspired to take up this work."
By now almost all families have constructed a tanka in their homes.
In addition, this effort is now supported by a piped-water scheme. Sudha, a social activist, says, "Here also the AKRSP played a helpful role by motivating people to make some contributions for this water scheme to become operational in our village."
Jariyawara is another village which has derived much relief. Hallo, an ASHA health worker based here, says that when people were drinking saline water, cases of kidney stones were very high and now this has decreased to a large extent. Other health problems have also decreased with the construction of tankas in village homes, she says.
Raman Patel adds, "Just the construction of tankas is not adequate by itself. These tanks have to be properly maintained and we conduct training for this. Without proper maintenance the ability of a rooftop rainwater harvesting structure to collect water will be much less and short-lived."
Agriculture also needs to be protected from salt water intrusion. So check dams and water recharge works have been created and these have given encouraging results. In particular, the success of such efforts in helping the rejuvenation of the Meghal river in Junagadh district has provided hope, says Patel.