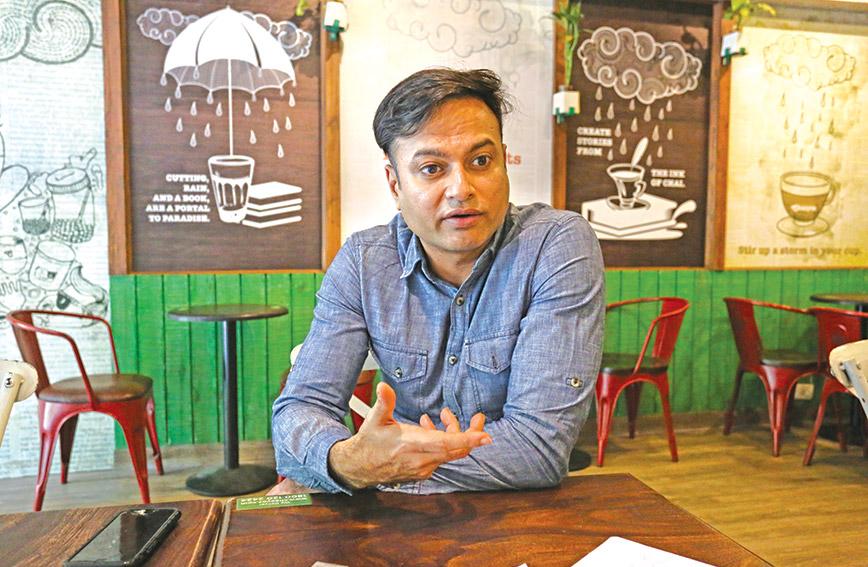 Chapal Mehra, convener of Survivors against Tuberculosis
Survivors tell the real tuberculosis story
Kavita Charanji, New Delhi
Published: Jul. 11, 2017
Updated: Mar. 25, 2020
Deepti Chavan, 34, was diagnosed with tuberculosis when she was 16 and studying for her board exams. An X-ray confirmed it. But, months later, doctors found hers was a case of multi-drug resistant (MDR) TB. Her treatment, she recalls, was excruciating. While one drug made her suicidal, irritable and "lose her mind", another ruined her complexion. In 2000 when she had the first surgery on her left lung, her parents had to fend off questions about who would marry her. Six years of treatment and two surgeries later, she has not only married but emerged as an activist fighting for the rights of people diagnosed with TB.
Chavan is part of Survivors Against Tuberculosis (SATB), a network of people who overcame the disease and now work to make TB care more accessible and patient-centric in India.
It is a much-needed campaign. The battle against TB, for those who contract it, is long and lonely. Misdiagnosis by doctors, incorrect treatment, stigma, and the side-effects of medicines destroy their lives.
TB is a burning health issue in India which has the most TB patients in the world. According to estimates, around 1,400 Indians are killed every day by TB or one Indian a minute.
Launched in August 2016, SATB also works as a support group. Its focus is on life after TB. Most patients wonder whether they will be able to pick up the threads of their lives again. "We wanted to highlight cases of people having been able to do something after TB and thus encourage people currently on treatment. We also wanted to explore areas like depression about which nobody talks. Why doesn't the public health system give counselling? Doctors have no time for this," says Chapal Mehra, convener of SATB.
Chavan says women TB patients suffer even more because not only is their access to treatment restricted, they have to confront the stigma associated with the disease. "In some cases in rural India, many women are thrown out of their homes and often their husbands end up abandoning them," she says, pointing out that family support was her greatest strength in those dark days.
It is important to bring TB out of the closet. "I started talking about my story and wanted to do something for people affected by TB so that no one suffered the way I did. People began mailing and calling me. I started counselling them. Many organisations then approached me, asking me to share my story," she says.
Another passionate SATB advocate is 25-year-old public health professional Saurabh Rane who divides his time between Mumbai and Delhi. He was diagnosed with TB at the age of 21. A year later, he was told he had borderline extensively drug resistant TB. At the time he was doing his internship at medical school. He remembers telling his first doctor to run a drug sensitivity test. Rane recounted the vague side-effects of the medicines he was taking. "I was told to stop being a doctor and start being a patient," he remembers.
Rane's secondary diagnosis was also done accidentally and he eventually decided to change his doctor. During treatment he faced severe side-effects like temporary partial blindness, deafness, jaundice and thyroid problems. He lost two lower lobes of his lungs in the course of the treatment. Apart from physical weakness, he had to contend with depression and fatigue.
But Rane was not one to give up. While still on treatment he ran a half-marathon. Later, he went on to scale Stok Kangri peak in Ladakh. What patients need most of all, he says, is stigma reduction, support groups, awareness of the disease, medication, nutritional support and care.
There are others like Chavan and Rane connected to SATB but most prefer to keep a low profile. "It was important to create a group which would ideate, facilitate and where we could help think about how their treatment period could have been better. Most organisations who work with TB survivors just ask them to tell their sob stories. It was sort of pathetic. The people who had undergone TB treatment were bright and young. But these organisations were merely using them to come to their events and talk about how they had almost died," says Mehra.
The campaigners strongly support survivors of drug resistant TB which can take up to three years to get cured. This variant of TB has a survival rate of 40 percent. The campaigners picked the most challenging cases of people who went through numerous surgeries, misdiagnosis and then rebuilt their lives. "It was very important to show that even in the most challenging circumstances there is the possibility that patients could survive the disease," adds Mehra. The side-effects of drugs are horrible and the treatment expensive. It costs Rs 2 lakh to Rs 4 lakh to treat drug resistant TB. SATB is lobbying for financial support from the government.
It has written to the Prime Minister's Office, asking for access to Bedaquiline, a new life-saving drug that has proved very effective even for patients with extreme forms of drug-resistant TB. "Why does India with the largest TB burden globally and with over 1,00,000 cases of drug resistant TB continue to deny patients drugs they urgently need?" questions the letter. It also calls for access to appropriate diagnosis and treatment.
Mehra is also concerned about the virtual absence of research into TB. "The Indian government should be proactive in funding a TB vaccine. There are vaccine candidates but none of them has shown the kind of effectiveness we need in India," he says.
SATB has run many successful multi-media campaigns that include patient narratives. Last year the group launched a book, Nine Lives — Women and Tuberculosis in India. The volume profiles nine women TB survivors who, despite stigma and discrimination, successfully combatted TB. Authored by Mehra and Zarah Udwadia, the book includes a set of recommendations to make TB services and the health system more gender-sensitive.
SATB has also made recommendations to policy-makers on how to comprehensively address India's TB crisis in the National Strategic Plan. The focus areas are public awareness of TB among communities to ensure prevention and reduce stigma and accurate diagnosis, stemming the crisis of drug resistant TB, providing nutrition and economic support to TB patients, creating a strong health information system, engaging the private sector and prioritising changes in the treatment of TB.
SATB takes pride in having organised the first and only TED talk on TB from India by the reputed TB specialist, Dr Zarir Udwadia.
The consequences of not addressing TB control adequately can be frightening. Sixty percent of TB patients go to private doctors for treatment. When they don't get appropriate diagnosis and treatment, there is every possibility that a large number of them will infect other people.