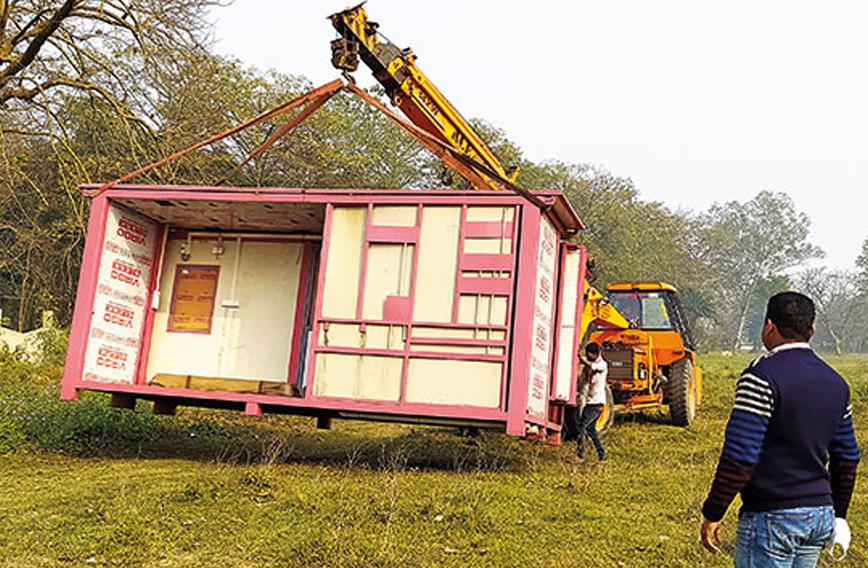 A cabin being hauled by a crane
Muzaffarpur's hospital on truck from Chennai
Civil Society News, New Delhi
Published: Jan. 28, 2021
Updated: Sep. 10, 2021
HOW long does it take to set up a cancer hospital? Two years? Or just four weeks? If the hospital happens to be the one coming up in Muzaffarpur in north Bihar, both answers are correct.
It was in 2018 that the Bihar government announced the setting up of a much-needed cancer hospital in Muzaffarpur, but for various reasons including the lack oif funds, the plan didn't take off. Now it is being built at such speed that it will be completed in all of four weeks and be ready for inauguration on February 4.
It is going to be a 'foldable' hospital, which means it will be prefabricated and rigged up on- site. A bigger, conventional building with brick and mortar may come up some time later, but in the forseeable future this will be the hospital.
The different elements of the structure have, in fact, arrived in Muzaffarpur in a big container on the back of a truck all the way from Chennai.
The structure, made from aluminium compost, is supposed to last for several years. It is supplied by a young company called Modulus Housing Solutions, which was founded in 2018 by two alumni of IIT Madras, Shree Ram Ravichandran and Gobinath P.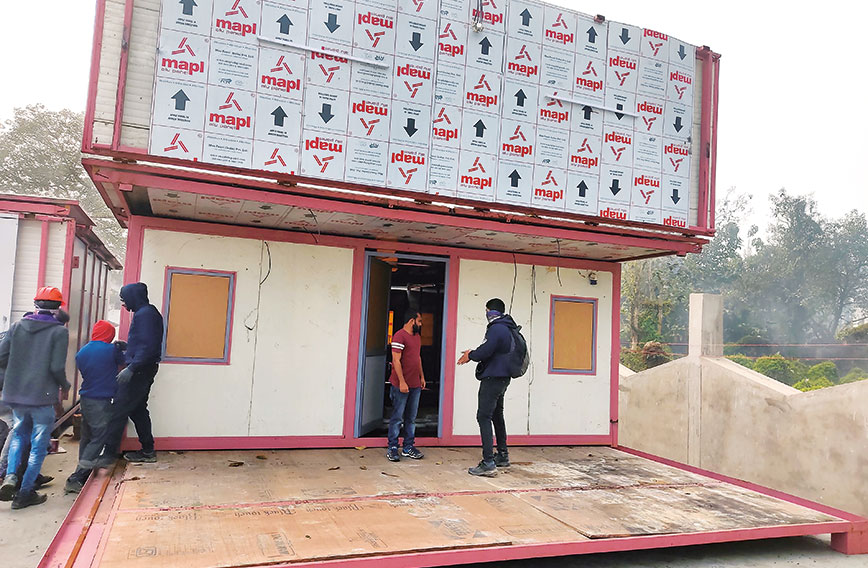 A part of the hospital erected and awaiting finishing
Modulus' focus was on housing to improve the standards of prefabricated structures. But during the coronavirus pandemic it saw the need to use this experience to quickly create small hospitals for treating COVID-19 cases.
Use of its technology for a 50-bed cancer hospital in Muzaffarpur could save time, lower costs and change the way health facilities come up in poorly serviced locations in India.
In the middle of the hectic efforts to get the Muzaffarpur hospital going is Dr Ravikant Singh, founder of Doctors For You (DFY), who has made Muzaffarpur his base for the time being.
The project is a collaboration between the Tata Cancer Memorial Hospital and the Bihar government with grant-in-aid from the Department of Atomic Energy.
Dr Ravikant (as he likes to be known) has the position of assistant professor of preventive oncology, but for now it is the project management skills that DFY is known for in emergency situations that are proving to be invaluable for getting the hospital up and running.
In fact, DFY was in the process of setting up a 100-bed COVID-19 hospital in Muzaffarpur, which was being funded by Wells Fargo as a CSR initiative. But since coronavirus cases began declining, DFY passed on both the funding and the foldable construction solution from Modulus to the cancer project.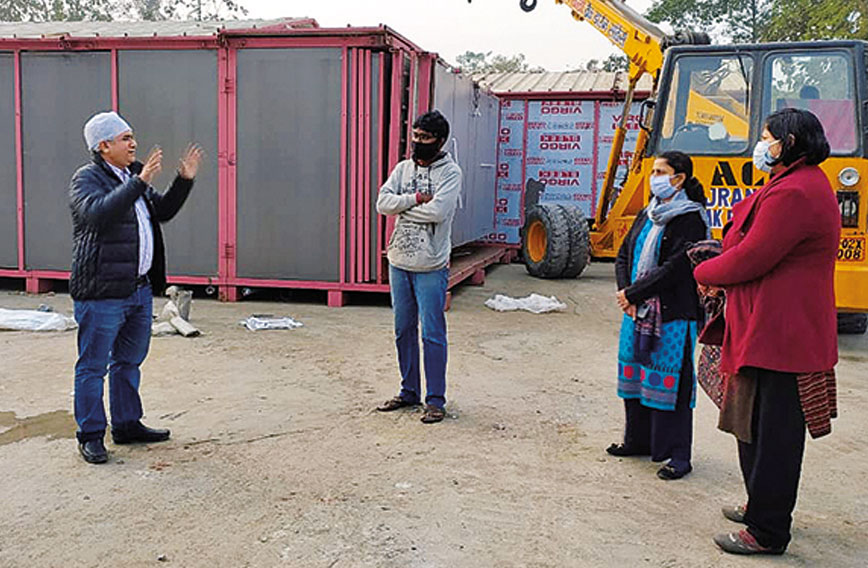 Dr Ravikant, left, with his team members
"The COVID hospital could accommodate 100 beds, but a cancer hospital needs a different layout because of the facilities it must provide and we have 50 beds instead," says Dr Ravikant. "We have been given 15 acres for the hospital on the campus of the Sri Krishna Medical College and Hospital. Getting land for the cancer hospital was one of the basic challenges we faced."
"Bihar has an estimated 150,000 new cases of cancer in a year," says Dr Ravikant, who belongs to Bihar though he studied medicine in Mumbai. "Barely 30,000 of the cancer cases get properly treated. The rest get sub-optimal treatment from doctors who aren't qualified to treat cancer. A great many patients get no medical attention at all."
There are less than 100 doctors trained to treat cancer in Bihar. Very few facilities exist and patients have to travel to find treatment. The idea of setting up the cancer hospital in Muzaffarpur was to make a facility available in north Bihar so that patients wouldn't have to make the trek to Patna and other big cities.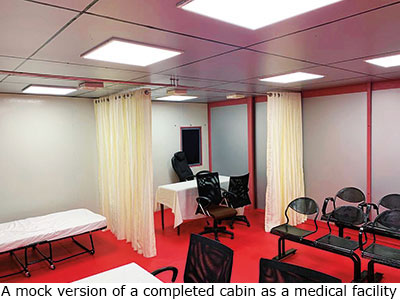 To staff the hospital, doctors and nurses are being recruited mostly from Mumbai. They will have to live in Muzaffarpur and are going to be provided accommodation. Except for radio therapy, the hospital will be equipped to provide all other forms of treatment. It will conduct surgeries and offer palliative care.
Modulus came out of the IIT Madras Research Park in 2018. Its foldable cabins were intended to transform the outdated methods used by the construction industry. The cabins are durable, but they can also be stacked away in a mere fraction of the space they occupy when installed.
The idea began in 2015 when hundreds of lives were lost in a deluge in Chennai. Shelter was needed instantly, but was, of course, not available. By 2016 the founders of Modulus had put together an academic project and won the Azim Premji Social Enterprise Idea Challenge conducted by the Azim Premji University.
More recognition followed and the first product was ready by 2019. Since then, there has been growing acceptance of the foldable cabins for site offices and as housing for labour. The opportunities are endless as can be seen in Muzaffarpur.