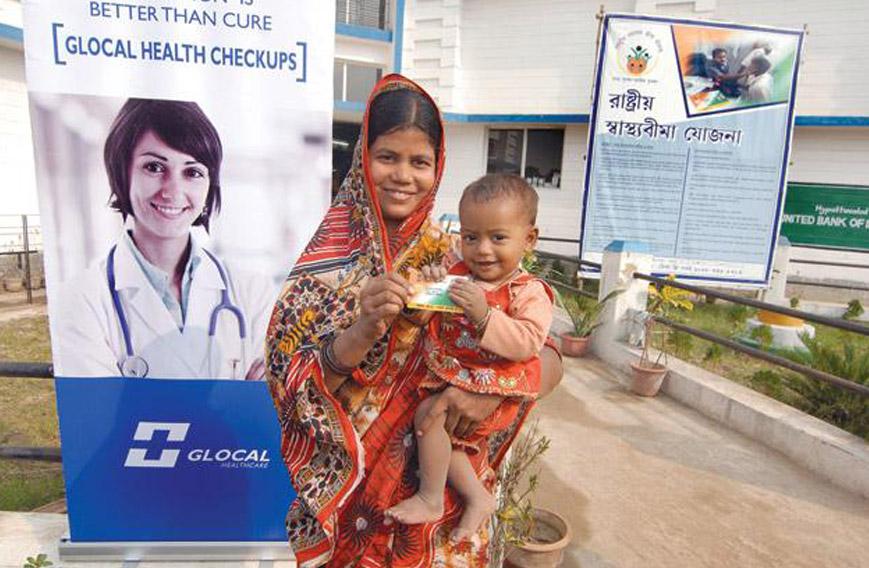 Low-cost hospitals are game changers in healthcare
Civil Society News, New Delhi
Published: Oct. 13, 2015
Updated: Mar. 25, 2020
Harimati Das, 60, a destitute widow with no children, lives in Panchtupi, a remote village in Murshidabad district of West Bengal. When she was suffering from piles and fistula, kindly neighbours took her for treatment to the Khargram block, some 10 km away. They had heard that a spanking new hospital, clean as a whistle, had sprung up there. They praised this hospital for its caring staff and good food.
People were aware that it was a private hospital, but money was not an issue for the impoverished Harimati. After all, she owned the magic card – a piece of green plastic containing her biometric data – that the government had given her under the Rashtriya Swasthya Bima Yojana (RSBY), which is a health insurance scheme launched in 2008 for Indians living below the poverty line (BPL).
Opened in June 2012, the Khargram hospital is one of five that Glocal Healthcare Systems Pvt. Ltd. (GHSPL), a social enterprise based in Kolkata, has set up in a short span of 20 months. The company was launched in late 2010. Encouraged by RSBY, which gives a family up to Rs 30,000 a year for healthcare, Glocal has created a sustainable business model for inexpensive hospitals that have the potential to bridge the huge gaps in India's health delivery system.
The government has failed to provide adequate healthcare infrastructure in rural areas. Most private sector hospitals on the other hand prefer to chase profits. They offer super specialty facilities and charge high fees.
Under RSBY 30 million cards have been issued and some 150 million people are covered by the scheme. Hospitals have been empanelled and insurance companies have been selected. The costs of procedures have been fixed. The scheme is computerised and cashless with money transferred directly to the hospital. But the problem remains that hospitals which people can go to in rural areas don't exist.
SURGERIES ARE MUCH CHEAPER
Glocal is the first chain of hospitals that has chosen to swim against the tide. It has shown that it is possible to serve RSBY cardholders and yet be profitable. In Glocal's hospitals, care is being provided at a cost which is 40 to 50 per cent less than industry standards. A caesarean section is performed for Rs 7,000 compared to Rs 15,000 in other hospitals, an appendectomy for Rs 12,000 instead of Rs 20,000. Despite being so much cheaper, Glocal hospitals are breaking even in six to eight months compared to the industry standard of two years.
Glocal is all poised to expand exponentially. After setting up five hospitals in poor areas, it plans to construct another 50 hospitals with 5,000 beds in the next 18 to 20 months. Glocal aims to become India's largest hospital chain by 2015 outrunning current private sector healthcare leaders, Fortis and Apollo, which cater to the rich in urban areas.
"All healthcare indicators for India are poorer than each and every South Asian country. But we are right at the top globally when it comes to the number of CT Scans and MRI machines per capita. This just shows how private sector healthcare in India is more focused on a patient's wealth rather than health," remarks Dr Sabahat Azim, Chief Executive Officer (CEO) of Glocal Hospitals at his modern minimalistic office in Kolkata's Rajarhat New Town.
The youngest son of a civil servant in Uttar Pradesh (UP), Azim was persuaded to become a doctor by his parents. Keen to work for the country, he joined the IAS and ultimately became Secretary to the Chief Minister of Tripura.
But he found his role as a bureaucrat limiting. So he quit his secure, prestigious government job and joined the SREI Group in Kolkata which had undertaken the task of building rural IT infrastructure in India under the Union government's National e-Governance Plan (NEGP).
In 2007 Azim helped launch Sahaj e-Village, which envisaged creating Common Service Centres (CSCs) in six states, offering B2B, B2C, G2C and e-Learning services. While setting up 18,000 such centres, he identified a major rural lacuna – the absence of affordable and quality healthcare.
In 2010, Azim and some of his colleagues quit SREI to bridge this gap. Azim floated Glocal with an initial capital of Rs1 crore pooled from his own savings and from his Sahaj colleagues, Major (retd) Ashutosh Shrivastava, Gautam Chowdhury and Paresh Singhal. The company brought on board as chairman M. Damodaran, former chairman of UTI and SEBI, well-known as a champion of corporate governance. He is also a founder investor.
FIRST HOSPITAL IN BANKURA
Impressed by Glocal's innovative business and healthcare delivery plan, Sequoia Capital, financier of search giant Google Inc., and Elevar Equity co-invested $3 million (Rs15 crore) as equity in January, 2011, even before the company set up its first hospital. United Bank of India (UBI) chipped in with debt funds of Rs 18 crore and in March, 2011, Glocal dug the foundation of its first hospital at Sonamukhi in Bankura district of West Bengal.
"Our first hospital had 30 beds," recalls Major Ashutosh Shrivastava, Glocal's chief operating officer. Sonamukhi is a sub-divisional town and the hospital's catchment covers 40,000 urban and 100,000 rural people. It became fully operational with all licences and permits in just five months. In July 2011, the hospital admitted its first patient.
Glocal's second hospital with 30 beds was built in Dubrajpur, Birbhum, another sub-divisional town with a population of 50,000 urban and 300,000 rural people. It became operational in December 2011.
The third one, also with 30 beds, is at Khargram in Murshidabad district. Khargram's population comprises 400,000 rural people. The hospital began functioning in June 2012.
The fourth hospital with 70 beds is at Bolpur, another sub-divisional town in Birbhum district. It caters to 60,000 urban and 300,000 rural people. It became operational in July 2012.
The fifth hospital with 100 beds is at Bahrampur, headquarters of Murshidabad district. This hospital attracts an urban population of 100,000 people. It began providing services in November 2012.
"The first four hospitals were our laboratories. We learnt and standardised our model. Now all our hospitals have been upgraded to 100 beds or are adding beds. Our future hospitals will have 100 beds," Azim says. The time taken to construct and make each hospital operational has been fixed at six to eight months. This helps to cut costs, he explains.
ACQUISITIONS, OTHER STATES
Meanwhile, land acquisition for two more hospitals – at Jeypore in Orissa and Raipur in Chhattisgarh – have been finalized and construction will start this month. Land acquisition for four more sites in Lucknow and Rai Bareilli districts of UP?and Siwan district in Bihar is expected to be completed shortly.
Over the next 12 months, four hospitals will start construction each month so that by August 2014, Glocal will have another 50 functional hospitals with 5,000 beds.
"By 2015 we should equal or cross Apollo Hospitals, which has 49 hospitals and 7,946 beds," says Azim.
SPEED AND VOLUME
Ranjit K. Maity is Glocal's Senior Governance Advisor. A former Special Secretary to the West Bengal government, Maity ensures that compliance and licensing issues are dealt with quickly and hospitals are constructed as per deadline.
"In West Bengal as many as 30 licences, permits, NOCs or empanelment processes are required to set up a hospital," says Maity. Glocal thoroughly studied all licensing norms and incorporated them into the design of its hospitals. This has helped the company to get clearances within six to eight months.
"Our credibility and connections in the state government have helped us get clearances in record time without paying any bribes. But in other states we are forming limited liability partnerships so that our partners can take care of clearances within our construction time of eight months," Maity said. "The regulatory framework is a lot simpler in other states so our hospitals should get the clearances even faster."
Apart from the speed of construction, what is more unbelievable is the fact that financially all five hospitals have broken even. "The Khargram hospital which is in the poorest area and became operational only in June 2012, has just broken even. This proves that it is possible to provide the highest quality healthcare service to the poorest of the poor thanks to the RSBY," says Azim.
Currently, 44 per cent of Glocal's revenue comes from RSBY patients while the rest is from cash patients. For surgical procedures, cash patients are charged the same rate as RSBY patients. It is only in the case of conservatives – patients that do not undergo any surgery but are hospitalised and only given medication – that there is a difference in rates. RSBY permits Rs 500 per day for cost of bed, doctors, food and medication, but cash patients are charged Rs 700 per day plus the cost of medication.
"We make some money even from RSBY patients for surgical procedures as the rates are very reasonable. But we lose money on conservatives because the RSBY rate of Rs 500 is too low," says Shrivastava. Glocal makes this up by levying a higher charge for cash patient conservatives. Moreover, some of the hospitals offer separate cabins for patients who are willing to pay although rates for such facilities are still far lower than for other hospitals. "All wards including those for RSBY patients and for cabins are air-conditioned as this improves cleanliness, reduces air pollution and mitigates the risk of infection," says Shrivastava.
Rapid scaling up to gain volumes is playing a role in ensuring sustainability, Azim says. By the end of January the company's hospitals had treated as many as 77,834 patients, conducted 3,452 surgeries and till end-December managed 274 childbirths and 2,505 emergencies including trauma and accident cases.
HOW THE NUMBERS ADD UP
Glocal is scaling up rapidly and confidently because its model is based on ground realities. Culling data from the 2005 report of the National Commission of Macroeconomics and Health chaired by the then Union Finance Minister P. Chidambaram and Union Health Minister Ambubani Ramadoss as well as from other sources, Azim's team found out that just 42 diseases accounted for 95 per cent of the disease load in rural areas. Eighty five per cent of the population suffered from only 17 diseases.
Glocal concluded that the healthcare needs of 95 per cent of the population could be met with secondary level hospitalized healthcare.
"The larger market is in secondary healthcare," explains Azim. "So we decided right from the beginning that we will set up hospitals with radical changes in the design of the healthcare delivery model, far beyond the much tested approach of beginning with the tertiary model and cutting it down to suit actual health needs."
The Glocal team worked out a standardized diagnosis and management protocol for the 42 diseases that 95 per cent of the population suffered from. These ranged from ischemic heart disease to malaria. Glocal mulled over what was needed in secondary level healthcare to treat these diseases. Its first hospital was designed on this basis. A costing exercise revealed that on paper a tehsil or block comprising around 140,000 people could be provided secondary level healthcare at an annual cost of about Rs 8 crore.
But that was not all. An even more important finding was that an average villager spent as much as Rs 1,115 a year on secondary healthcare. So, totally, the population of a block spent approximately Rs 16 crore a year on such healthcare.
"Even if the ground reality turned out different from what we had worked out, there still remained a big gap of Rs 8 crore from the theoretical cost of secondary treatment for a block and what was actually being spent by the people. We could certainly step in, provide high quality healthcare at affordable rates and still be sustainable by making some money for ourselves as long as we dealt in volumes," Azim says.
DESIGNED FOR LOCATIONS
Glocal has designed its hospitals to fit its healthcare model. "We adopted the architectural philosophy of Howard Roark, the chief protagonist of Ayn Rand's famous novel, The Fountainhead, who believed that buildings should be designed and built to fit their location, material and purpose elegantly and efficiently," says Azim.
Going against the grain, Glocal adopted what Azim calls a 'zero-based framework' where all assumptions were questioned. It developed its own modular and scalable design, which eschewed all ornamentation. Instead the focus was on what was essentially needed to provide high quality secondary healthcare. There was emphasis on being green, energy efficient and durable.
A set of rules for construction was drafted so that the company could build 28,000 sq. ft, 100-bed hospitals in just six to eight months. These hospitals look aesthetic from outside and are efficient and comfortable inside for both caregivers and patients. The technologically superior layout also ensures effective containment of infections.
The no frills approach cut costs and helped to improve efficiency. By removing clutter and smoothening traffic flows, Glocal hospitals have brought down the time that OPD patients take to get check-ups, tests and reports done from six hours to about 1.5 hours. "This means that less waiting spaces are required," Shrivastava said.
EQUIPMENT AND DISEASE LOAD
Medical equipment was selected according to the disease load. So all fancy equipment that wasn't required for treating the 42 identified diseases were excluded. None of the hospitals have a CT Scan or an MRI machine. Even then all the hospitals are multi-speciality. They have medicine, surgery, gynaecology, obstetrics, paediatrics, orthopaedics, critical care, trauma and emergency departments. "We are also adding eye and dental care especially in rural hospitals where there is a dearth of such basic amenities," Azim said.
Equipment was not bought off the shelf. Instead, Glocal infiltrated the supply chain of equipment makers, identified their original component manufacturers and got their equipment assembled at costs much lower than what most hospitals pay for the finished product.
Glocal has also adopted a number of innovative techniques to cut down equipment costs. For example, GHSPL attaches a low cost Chinese made camera to an analogue X-ray machine to digitalise the images at a much lower cost than a digital X-ray machine.
"We have a radiologist sitting in Lucknow. All X-rays done in the morning are sent over the Internet to him. The radiologist sends them back with his expert opinion by 2 pm. Similarly, all X-rays done in the afternoon come back with his opinion by 8 pm," says Shrivastava.
This radiologist in Lucknow peruses the X-rays of all five hospitals.
"What differentiates us from others is our in-house technology division," says Soura Bhattacharya, Glocal's Chief of Medical Technologies. He graduated from IIT Kharagpur and Harvard Business School. "We have pioneered the use of technology to integrate all aspects of the hospital. Our hospitals are digitalised, paperless and Wi-Fi enabled. Each hospital is linked over a 2 Mbps link to a data centre. There is a very high level of technology integration."
"Apart from tele-radiology, we routinely use tele-consultation, tele-pathology, tele-sonology and tele-endoscopy so that our clinical experts can convey their opinion to doctors and patients in remote locations from the comfort of their offices," Bhattacharya said.
"We have also integrated clinical intelligence with process flows and pioneering applications for which patents have been filed,' he said.
To trim diagnosis and disease management costs, Glocal has adopted a standardised Medical Diagnosis & Management System (MDMS) that is connected to the Hospital Management Information System (HMIS). This is an artificial intelligence system that helps in diagnosis, in choosing medication, preventing drug interaction, contra-indication and adverse drug reactions.
"The MDMS is an expert learning system. As soon as a doctor begins to attend to a patient he or she feeds in the symptoms and clinical findings on an already formatted online form. The system provides the necessary prompts at every stage so that the whole process of diagnosis and management is standardized. The system itself provides results. Based on symptoms and clinical examinations, it suggests the pathological tests needed to arrive at a diagnosis. If no such tests are needed, the system itself will say so. We started with an initial version developed by Dr Azim which focused on a protocol for diagnosis. With constant feedback from attending doctors, the interactive and learning system has gradually got fine tuned and we now have certain set processes for disease management," Shrivastava said.
While the system's in-built reference helps in diagnosis and treatment, doctors are free to exercise their judgement. If a doctor does not agree with what the system prompts then he can prescribe differently but he has to give detailed reasons why.
Finally, actual outcomes are fed back into the system. If the doctor was right and the system was wrong the system automatically gets updated. On the other hand, if the doctor was wrong and the system was right, the doctor learns why and where he went wrong.
To ensure high quality feedback, Glocal also routinely measures healthcare delivery outcomes. "Most other hospitals only ask about a patient's experience at the hospital at the time of their discharge. Our tele-callers call up patients a week after their discharge to find out whether their health problems have been resolved," Shrivastava said.
This makes the entire process of diagnosis and management fully transparent and documented. It ensures that an accurate diagnosis is arrived at quickly without unnecessary medicines, pathological tests and procedures. The whole process is also auditable so the scope for management or doctors to make patients undergo unnecessary tests and procedures is ruled out.
"To cut medication costs, we are trying to do away with branded drugs completely. But there are issues like spurious generics. So although we have to sometimes fall back on branded versions, we are constantly identifying and eliminating poor quality generic producers and replacing them with high quality ones," says Shrivastava.
"All this means lean healthcare management and predictable and controlled costs. We have cut the need for all kinds of in-house super-specialists. Even an MBBS can manage hypoglycaemia or any such disease as specialist knowledge is either built into the system or a specialist's help can be sought through our tele-medicine backbone," explains Bhattacharya.
Glocal has about six full time super-specialists and another 10 to 12 specialists on an empanelled basis in each hospital. The system helps delegation of more work to MBBS doctors under the guidance of specialists.
ATTRACTING THE BEST TALENT
Glocal's professional, technology driven environment and its emphasis on quality healthcare has helped it attract talent.
Dr Arun Mathur quit Apollo Hospitals to join Glocal's Khargram hospital as chief anaesthetist.
"Here I am asked to heal patients, not to make money out of them," he says. Well-known gynaecologist Dr Nikhilendu Mahapatra is known as the "bloodless surgeon" since he conducts most surgeries without requiring blood transfusion. Glocal has rightly placed him at Khargram where there are no blood banks and getting blood in an emergency is often impossible. "I love the challenge of serving people in such an area," he says proudly.
Patients are equally happy. Habibur Mullick, 60, lodged in the male ward at Glocal's Bolpur hospital is recovering from surgery. He doesn't have the RSBY card but he is effusive in his praise. "The nurses, doctors and attendants should be given prizes for the excellent care they have taken of me," he says. Asked why he chose this hospital when Bolpur also has a government hospital, he said "I have been to PG Hospital in Kolkata and hospitals in Burdwan, Bolpur and Siuri. But no hospital is as clean as this place. Most importantly, people promise but don't really deliver. Here the service is so good. I don't know how they got such good people," he wondered aloud even as Shrivastava and other members of the management team stood around.
DRIVEN BY RSBY
Azim gives a lot of credit to Anil Swarup who devised the RSBY for Glocal's success. "The RSBY is an absolutely amazing and highly intelligent scheme. Anil Swarup should get the Nobel Prize for it," gushed Azim. "What RSBY has done is to use market forces to ensure free but high quality healthcare for the poor. It has encouraged private players like us to quickly build health infrastructure even in the most underserved areas," he said.
"There are concerns that RSBY has resulted in hospitals carrying out unnecessary surgeries so that they can get more money out of the scheme. No system will be perfect. What we do need to note is the low percentage of fraud that is possible under the RSBY system," said Azim.
"The premium is collected by insurance companies and they do not want to pay unnecessarily. Therefore, they have an incentive to conduct thorough audits. We also have an incentive to ensure that we get paid on all claims so if a doctor in our hospitals does too many procedures, the audit system alerts us too. I can say the RSBY system uses market forces to ensure that both service providers as well as insurers actually end up working together to reduce fraud," explained Azim.
There is an unmet need for surgeries that has built up over the years. Glocal hospitals report that people live with hernias, hydroceles and debilitating growths for years because they cannot afford the so-called free treatment being provided by public hospitals. RSBY has provided a mechanism to fulfil this unmet need.
The problem is that in most states there aren't sufficient healthcare providers even when RSBY patients can pay. "But when other private players see that we are making money serving RSBY patients, they too will set up health infrastructure in rural areas," says Azim.