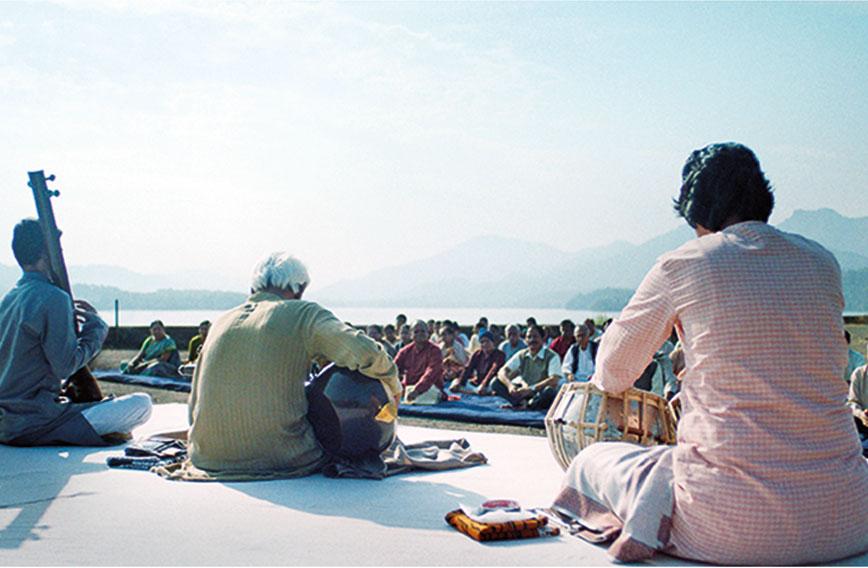 The Disciple explores the world of the Indian classical vocalist
In Venice, Tamhane gets more notice
Saibal Chatterjee, New Delhi
Published: Sep. 12, 2020
Updated: Apr. 03, 2021
THIS year in Venice, The Disciple, by a 33-year-old Indian writer-director, made history by winning the award for Best Screenplay and the International Critics' Prize. The Disciple is infact the first film from the subcontinent in 19 years to break into the main Competition section of one of Europe's 'Big Three' festivals — Cannes, Venice and Berlin. Observers of independent cinema in the world's largest film-producing nation are understandably delighted, especially because the man of the moment, Mumbai-based Chaitanya Tamhane, is only just starting out in his career.
His second film, The Disciple, competed for the Golden Lion and generated significant buzz at the 77th Venice Film Festival. Tamhane, with the critically applauded Court behind him, has already proven that he is no flash in the pan. Mexican filmmaker Alfonso Cuaron, winner of multiple Oscars, has boarded the new Marathi film as executive producer to ease the way for global distribution.
Cuaron's support for The Disciple springs from total faith in the young director's future. "I believe," the Mexican great has said, "Chaitanya is one of the most important new voices of contemporary cinema." Coming from the maker of acclaimed films like Children of Men, Gravity and Roma, that is high praise indeed. A couple of years ago, Cuaron handpicked Tamhane under the Rolex Mentor and Protégé Arts Initiative to work alongside him during the filming of Roma.
Tamhane, on his part, is acutely aware of the importance of being in the Venice Competition. "It is definitely a huge honour, a milestone in my career. My dream, that one day my work will compete in such a big festival has come true," he says.
In fact, the Venezia 77 Competition nod for The Disciple is a shot in the arm for Indian independent cinema as a whole, especially for those exciting new directors who have been working outside the ambit of mainstream Indian cinema and making steady progress of late. Last year, Gitanjali Rao's wonderful animation film Bombay Rose opened Venice Critics Week and Sanal Kumar Sasidharan's Malayalam film Chola (Shadow of Water) played in the festival's Orizzonti section.
In 2017, debutant Shubhashish Bhutiani's Mukti Bhawan made it to Venice. In 2018, a brace of Indian titles made the cut — Ivan Ayr's Soni in Orizzonti and Rahi Anil Barve's Tumbbad. A Competition slot for India this year is a happy culmination of a story that has been evolving for a while. We can only hope that this is only one chapter and that there are more to come.
It was way back in 2001 that India last had a Competition entry in Cannes, Venice or Berlin. The film was Mira Nair's, Monsoon Wedding. It was shot on a shoestring budget in Delhi. The family drama, centred on a Punjabi wedding, went on to win the Venice Film Festival top prize, the Golden Lion. A year earlier, a Bengali film, Buddhadeb Dasgupta's Uttara (The Wrestlers), had won the Special Director Prize in Venice.
A year after the Monsoon Wedding triumph, Adoor Gopalakrishnan's Malayalam-language Nizhalkkuthu (Shadow Kill), which screened in the festival's Orizzonti (Horizons) section, won the FIPRESCI Prize, completing a strong run for Indian cinema in Venice at the turn of the millennium. Another string of similar highs is long overdue. A filmmaker like Tamhane, who has time and an individualistic vision on his side, is just what the doctor ordered.
The Disciple is a world apart from Tamhane's 2014 debut, Court, which fetched the director the Orizzonti Best Film award in Venice. Court is a grim, unwaveringly focused examination of India's justice system. The story hinges on a people's poet who is charged with inciting, through a fiery song of his, the suicide of a Mumbai manhole cleaner. The film is a trenchant commentary not only on the bizarre ways in which the law works, but also on the restrictions that are sought to be clamped on freedom of expression in the world's largest democracy.
In The Disciple, Tamhane drills his way into a completely different Mumbai milieu. Will the same unerring eye for detail that made Court such a wonderfully effective film be on show in the new work as well? "I was not familiar with either setting, which is what attracted me in the first place," he says. Tamhane's approach to storytelling, it would seem, rests upon the urge to explore new spaces and come up with fresh insights unaffected by pre-conceived notions.
He says: "The Disciple needed plenty of research and a lot of study. I required some knowledge of Indian classical music before I could even start talking about the subject." So, he plunged "without any agenda or story in mind" into what was a new domain for him. "The theme and the characters emerged from the process of research," he says.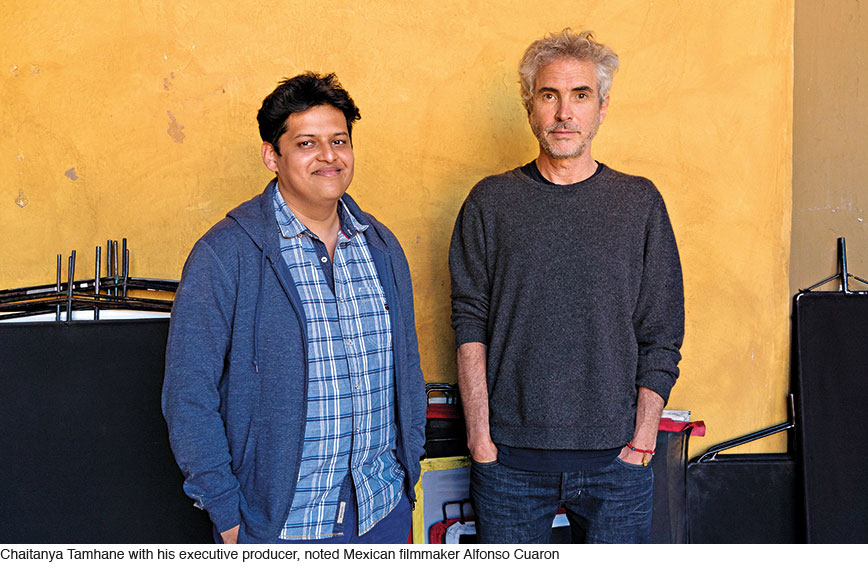 "If you are too familiar with the setting, you tend to take it for granted. Here, I'm seeing everything with fresh eyes, absorbing without judgment and trying to grasp the different aspects somewhat like a kid in a candy store," he explains.
"I approached this world almost like a journalist, interviewing people, attending concerts and slowly entering it and getting familiar with it," he says. "Court was very objective. You observe everybody from a distance. In The Disciple, you follow the journey of one protagonist and almost get into his mind. It's a lot more romantic, nostalgic and atmospheric."
NEW WAYS OF WORKING
The six-year gap between his first film and his second was necessitated in part by all the travelling that Court did. "What happened with Court," says Tamhane, "is that after the world premiere, it went to numerous festivals. Then we had to do the India release of the film ourselves, the Oscar campaign took a lot of time, and then the Rolex thing happened. I had to travel to Mexico, London and Los Angeles." And then, of course, a lot of time inevitably went into prepping for The Disciple.
"I wouldn't regret the time I took to make The Disciple but I want, and hope, to be quicker with my next film," says Tamhane, suppressing a chuckle. But he is quick to add: "People do not remember how much time you took to make a film. They only remember whether the film was good or bad. I therefore think it is all right to be sure-footed."
Has the stint with Cuaron changed Tamhane in any significant manner? "Absolutely," he replies. "Your worldview is yours. I don't think anybody can change that easily. Your personality is inherent and yes, it is also evolving, but change can't be brought about by something external… But being on the sets of Roma has definitely changed me as a filmmaker at the level of craft and sensitization to the medium."
Tamhane also reveals that the conversations that he has had with Cuaron and the latter's "feedback and advice" during the making of The Disciple "expanded my vocabulary of filmmaking and I can now express my vision better."
Tamhane adds: "I felt I had more control of the medium this time. I also had more resources at my disposal thanks to Vivek (Gomber, producer of The Disciple). I could experiment more, be braver with certain choices, spend more time, work with certain collaborators I could not have afforded in the first film. All of them taught me a great deal."
Dwelling upon how much distance he has traversed since Court, he says: "I would say The Disciple is very different although the processes might in some ways be similar. But I had to find new solutions, new ways of working during the making of The Disciple. The film is very different in its form as well."
DISCOVERING THE STORY
This is undoubtedly an exciting phase in any filmmaker's life — the leap from the first film to the second and from thence to the next. Tamhane knows that as well as anyone else. "I am still exploring the medium, still trying to find my voice," he says. "I don't want to pigeonhole myself in one particular genre or style. Again, a lot of it boils down to your personality, your intent, your approach. I think it is not even in your control (to decide) what guides you in what you say or what you do as a filmmaker."
The Disciple, according to the film's synopsis, is about a young man who "has devoted himself to becoming an Indian classical vocalist, a lifelong quest in which few succeed. Initiated into this centuries-old tradition by his father, he follows his dream with sincerity and discipline, committing himself entirely to his artistic journey."
It further reads: "As he strives to attain the highest level of his craft, Sharad traces his way through the hallowed mysteries and rituals of past musical legends. But as the years pass, Sharad will be forced to negotiate between the complex realities of life in contemporary Mumbai and his chosen path, leading him to find his true voice in music and in life."
The Disciple promises to be a distillation of Tamhane's discovery of a Mumbai sub-culture. He wasn't at all into Indian classical music as a boy. "In a lot of Maharashtrian households, classical music is a part of life. People are not only aware of it, they also go to concerts, some even learn it. I had none of that happening in my house. I did not grow up listening to Indian classical music. I was totally a `90s Mumbai kid growing up on a staple of Hindi films, Marathi television and mainstream theatre."
So when, and why, did he decide to turn the spotlight on classical music? "The starting point for me," he adds, "were the anecdotes I heard about classical music masters of the past and present. These stories fascinated me… Classical music obviously has a rich history… It is a complex world with a lot of different nuances, contradictions and complications."
Significantly, Tamhane has cast two classical vocalists — 30-something Aditya Modak and 77-year-old Arun Dravid – to play the key characters in The Disciple. The challenge, he says, was to "find people who could sing and act, have screen presence, and have the inclination and time required for the project".
Mumbai is common to both his films. "I have a love-hate relationship with this city, the only city I've ever lived in. I have seen the city change over the last 30-odd years… It is too chaotic, it is bursting at the seams, it is overcrowded, it is becoming uglier by the day and yet it is a lived experience. It is irresistible, at least for a native. I am immensely fascinated by Mumbai."
When he started out on the research for The Disciple, he wondered if classical music was still alive and kicking in Mumbai. "When I actually started attending these concerts, I realized what a vibrant and dynamic sub-culture this is in the city. I was very surprised." The Disciple, he says, is "a new way of looking at Mumbai".
In fact, if The Disciple has global impact, it could pave the way for the world's leading film festivals to look at Mumbai, and India, in a new light.