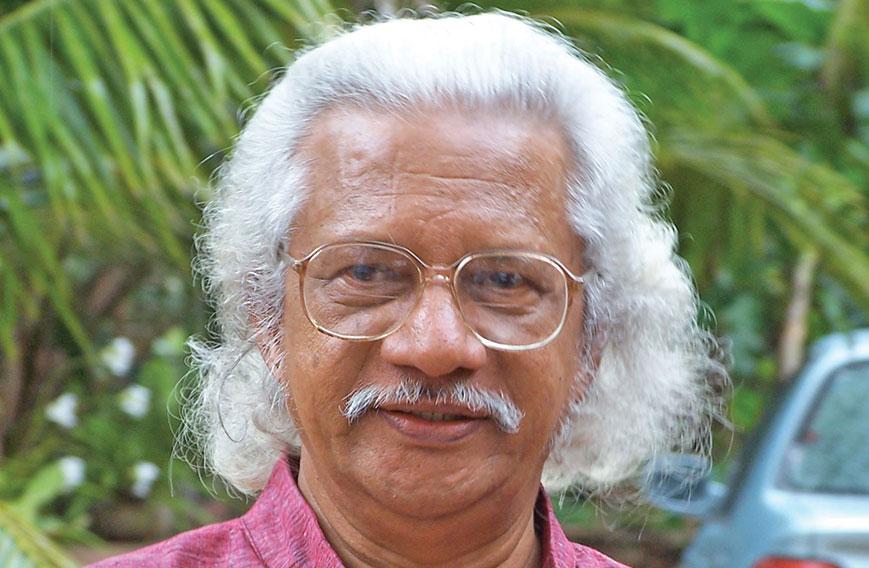 Adoor's new film explores consumerism, greed
Saibal Chatterjee, Thiruvananthapuram
Published: Dec. 29, 2016
Updated: Jan. 29, 2020
Telling engaging, crowd-pleasing stories comes easy to competent filmmakers. Exceptional directors possess the skill to go beyond simple linear narratives and craft insightful chronicles of their times. But it is left to the truly gifted and perceptive to transcend historical time-frames and capture the continuum of an entire socio-cultural and political ethos. Adoor Gopalakrishnan, 75, one of India's most accomplished living filmmakers, belongs to the third category of cinematic auteurs.
His latest film, Pinneyum (Once Again), released in late 2016, the 50th year of his directorial career, is proof that the maestro has lost none of his sharpness although he might have, in terms of plot and directorial touches, opted to make a few minor concessions to woo an audience that exists beyond the one that he has hitherto been content to engage with.
A part of the very first batch of Film and Television Institute of India (FTII) pass-outs, Adoor has been bringing Kerala alive in all its depth and complexities for cineastes around the world since the mid-1960s. He started off by making a series of documentaries and shorts, ranging in length from 50 seconds to 60 minutes. In 1972, he delivered his first narrative feature, Swayamvaram (One's Own Choice), which inaugurated the Malayalam New Wave cinema movement.
Swayamvaram bagged a quartet of National Awards — Best Film, Best Director, Best Actress (for Sharada) and Best Cinematographer (for Mankada Ravi Varma). It told the simple story of a man and a woman who go against the wishes of their families and relocate to a new town only to find life getting messier and tougher every passing day.
The manner in which the debutant director handled the nuances of the man-woman relationship and the way he revealed the ways society impinges upon individuals were marked by clarity and precision. Adoor's subsequent films, too, lent new prestige to Malayalam cinema. It became clear that there was nobody quite like him anywhere in India.
The flow of time is central to Adoor's fictional universe. His grasp on the present is second to none — it stems from his deep understanding of his home state's eventful past. He blends what is gone with what is on to deliver vivid, multi-layered portraits of a people and a culture in an inevitable state of flux.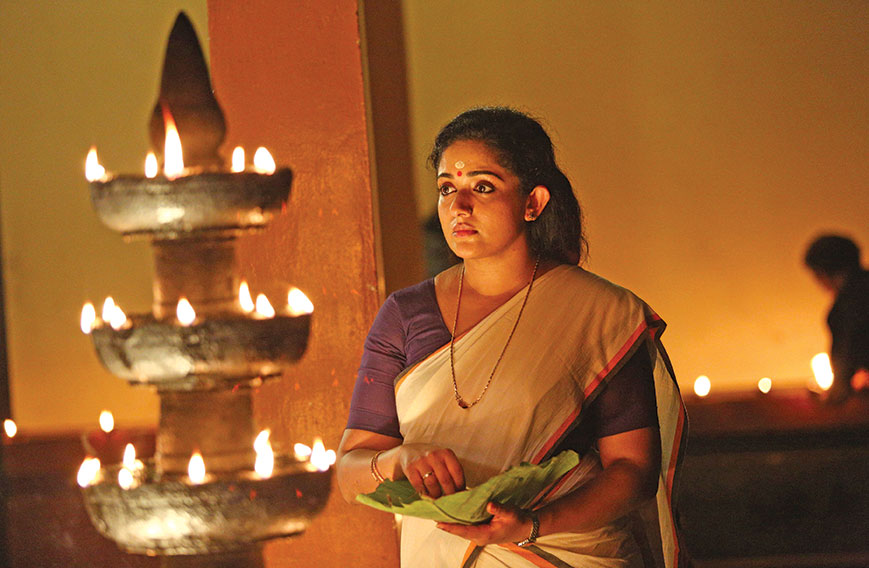 A still from Pinneyum. The film is about a family grappling with serious financial problems
Take Pinneyum as an illustration. In what is only his 12th narrative feature, and his first since 2008, Adoor explores material greed in a society in the grip of rampant consumerism. But the story he narrates — Pinneyum is inspired by a real-life incident involving a man who faked his death to claim a huge insurance payout — is set at an indeterminate point in the 1990s.
"The present is too close to us to be fully comprehended and the future is uncertain because it is yet to unfold. Only the past is tangible," says Kerala's first-ever recipient of the Dadasaheb Phalke Award. "But the past," Adoor is quick to add, "has no relevance to us unless it impacts the present."
Pinneyum is about a Kollam-based Nair family grappling with serious financial problems and the ramifications of seeking shortcuts out of their difficulties. The choices they make, driven as much by fate as by avarice, tear husband and wife apart and spare nobody around the couple the consequences of an ill-advised get-rich-quick conspiracy.
In a way, Pinneyum is perhaps an extension of Adoor's last film, Oru Pennum Randaanum (A Climate for Crime, 2008), which was about four separate acts of crime committed by people from across the social spectrum — by the dispossessed, by the landed gentry, and even by those entrusted with the job of law enforcement.
Those four stories were adapted from Thakazhi Sivasankara Pillai's fiction and set in the princely state of Travancore in the last years of the British Raj, a time of great scarcity and strife. In Pinneyum, Adoor put his own twist on the theme of criminality by locating it in an ordinary middle-class milieu.
While he constantly holds up a mirror to what is unfolding in his social environs, Adoor also delves into the varied reasons for the many fissures and flashpoints that contemporary Kerala has been witness to.
His work, of course, possesses the power to transcend time. So much so that Adoor has attained with the help of only a dozen feature films what the less talented take three to four times that number to do. No film personality has ever won the coveted Phalke Award for a smaller body of work. It was 2005 and Adoor had only nine features in his kitty at that juncture of his career.
Such is the value and weight of his output that numbers have ceased to matter. Yes, it is a fact that he has also made 30-odd short and documentary films, many of them focused on Kerala's rich performing arts traditions, but it is his fictional narratives that have brought him worldwide fame.
A purist who makes a film only when an idea animates him enough to want to go behind the camera, he firmly believes that the process of a film's evolution is no less important than the film itself. He revels in retaining complete control on the entire film, from conception to execution.
Four of his films have drawn inspiration from literary works, but all of them have served to spell out his worldview. Mathilukal (The Walls, 1990) was based on a biographical story written by Vaikom Muhammad Basheer and set in a prison. Vidheyan (The Servile, 1993) was an adaptation of a Paul Zacharia novella that probed a migrant Kerala labourer's relationship with a tyrannical landlord in southern Karnataka.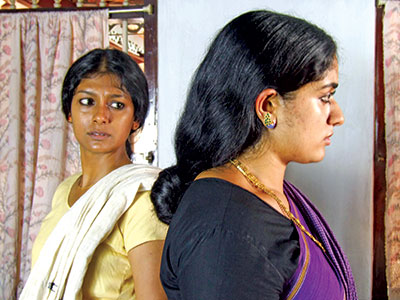 More recently, Adoor worked with eight stories authored by Thakazhi — it yielded two films, each with four episodes — Naalu Pennungal (Four Women, 2007) and Oru Pennum Raandanum. The former, split into four segments (The Prostitute, The Virgin, The Wife and The Spinster) was a beautifully realised depiction of women from Kuttanad negotiating their space in a world bent upon putting them into boxes.
"I am never under pressure to get on with my next feature film," says Adoor. "A new film happens only when I feel the urge from within." No wonder his approach to the medium is unique — it is never driven by commercial exigencies. Even when he works with the biggest stars of Malayalam cinema (Mammootty in Mathilukal and Vidheyan; Dileep and Kavya Madhavan in Pinneyum, for instance), it is the director who holds the reins. Like all the other resources that he employs to make a film, Adoor uses the actors only as tools to further his vision.
Although in his formative years, Adoor was inevitably influenced by the east European masters as well as Satyajit Ray and Ritwik Ghatak, he was too individualistic a filmmaker to build his career on borrowed ideas and styles.
From Swayamvaram to Pinneyum — the two films are separated by four and a half decades — all his films hinge on adroit psychological probing rather than on sweeping dramatic thrusts. Understatement underpins his craft of probing socio-political realities and their impact on individuals.
Among his career's most luminous signposts are Elippathayam (The Rat Trap, 1981), which is as fine a study of the effects that the collapse of feudalism has had on people accustomed to its advantages; and Mukhamukham (Face to Face, 1984), which turned the spotlight on Kerala's tryst with Communism through the story of a popular trade unionist who returns from the 'dead' ten years after a memorial has been erected with his name on it.
Adoor's triumphs continued through Anantaram (Monologue, 1987), a film that erases the line between the real and the imaginary; and Nizhalkkuthu (Shadow Kill, 2002), a sensitive and poignant study of an old, infirm hangman grappling with pangs of guilt in pre-Independence Travancore.
The world he lives in and the industry he works in have changed dramatically since he made his first film five decades ago, but the purity of Adoor's inimitable cinema has remained intact through it all.