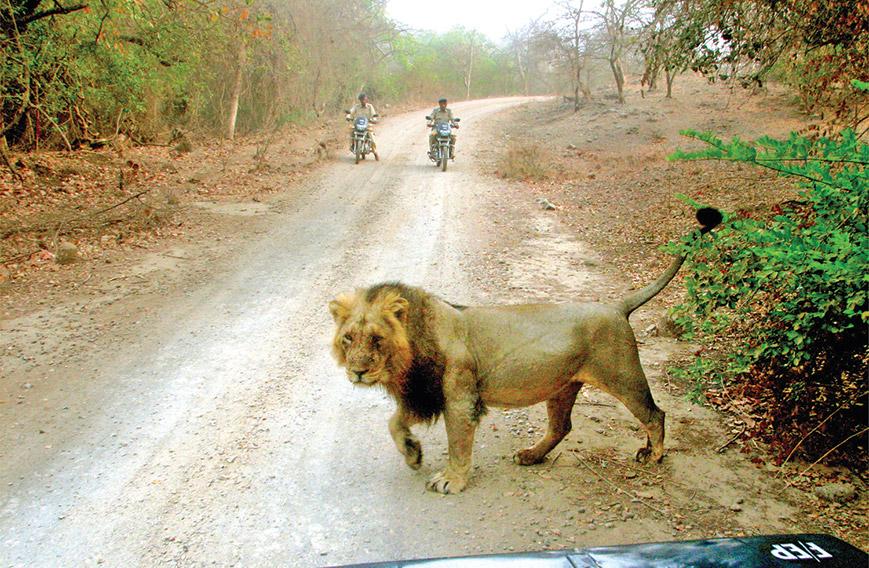 A lion crossing the road on the outskirts of the Gir forest area
The loitering lions of Gir
Tanushree Gangopadhyay, Ahmedabad
Published: Jul. 25, 2017
Updated: Mar. 25, 2020
The 35-km drive from Khambha to Dhari in Amreli district of Gujarat is most astonishing. Scampering across the road, lined with babul trees, is a plethora of wildlife: hare foxes, antelopes, wildcats, deer. But what really takes your breath away are lions, lots of them, strolling around with a devil-may-care attitude.
In fact, lions are spilling out of the Gir forest, their traditional home, and populating the surrounding districts of Somnath, Amreli and Bhavnagar. Around 40 percent of the lion population has actually been spotted loitering nonchalantly outside their territory in recent years.
"We saw a pride of lions walking leisurely along the path to Dhari. Unnerved by people staring at them, they ambled along. The lions had moved out of Gir forest a short distance away," says Bhikhubhai Batawala, President of the Lion Nature Foundation of Gujarat.
The population of lions in the Gir forest has increased from just 168 in 1963 to 530 today. "Asiatic lions are the proud inhabitants of the Gir forest in Junagadh district surrounded by the Girnar hills. It is their only abode here," says A.P. Singh, Chief Conservator, with considerable pride.
"During the last five decades, India's approach to Asiatic lion conservation has been one of the best efforts in the world," writes H.S. Singh, in an analysis published in Current Science.
The Gir Wildlife Sanctuary was established in 1965 to protect the Asiatic lion when it was an endangered species. Over the years, wastelands, community lands, peripheral forests were all brought into the sanctuary area and the lions got a much more expansive forest. Today, five protected areas: the Gir National Park, Gir Sanctuary, Pania Sanctuary and Girnar Sanctuary, covering 1,621 km, are managed as the Asiatic lion's habitat.
All these protected areas, their corridors and adjacent regions are likely to be declared an Ecologically Sensitive Zone (ESZ). But even this isn't enough for the lions. "The visiting area of the lions may be three times more. They are spreading out to over 1,475 villages of the four districts," writes H.S. Singh.
The Maldharis, a nomadic tribe, were resettled out of Gir forest. That, says H.S. Singh, led to the rise of the main ungulates that lions feed on like spotted deer, sambar, blue bull and wild boar. Buffaloes and cows are also hunted by lions. "Unlike other super predators, the number of lions has increased four-fold and wild ungulates by over 13 times in Gir forest," writes H.S. Singh.
The dry deciduous forest here has over 600 species of trees, 36 varieties of mammals, 300 species of birds and 2,000 insects. Seven rivers pass through it. The Shetrunji river forms a wonderful corridor for lions, stretching to the erstwhile Bhavnagar king's Jesar sanctuary in Palitana as well as the Mitiyala sanctuary. A.P. Singh says lions have moved along the riverine corridor to Palitana.
Wildlife enthusiasts like Batawala say lions can be spotted in over 1,000 villages of Amreli, Junagadh and Bhavnagar districts as well as in Saurashtra region in western Gujarat. "In fact, there are more lions in villages than in forests, though they would be more secure in Gir," says Manish Vaiya, a wildlife enthusiast.
Lions have moved all the way to Dhandhuka, around 100 km west of Ahmedabad. They could reach Ahmedabad as well. Lions have also been spotted in the coastal areas of Pipavav and Porbandar.
The problem with lions spilling all over is their safety. There is the increased risk of human-animal conflict. Rampant tourism and the ecological devastation caused by industrial growth could also be dangerous for them.
The lions are a big tourist attraction. Hotels and resorts have sprouted in and around Gir. They aren't built in an eco-friendly way and use a lot of concrete, throttling natural drainage and knocking down trees. There are safaris with vehicle-loads of tourists noisily zooming through forested areas.
Male lions form their own prides after attaining the age of three and begin moving out of the forest. They thrive on nilgai or blue bull that are a curse to farmers since they feed off their crops. But lions also attack cattle and this angers farmers. They have been placing traps in their fields to ward off lions. Two farmers were caught trapping lions in Lasa village in Amreli district. Four lions were killed three years ago and the farmers were fined Rs 15,000.
Lions also get killed on railway tracks. A pregnant lioness and her three cubs were run over by a train recently. Batawala and his friends were very upset and built a memorial in honour of the lioness and her cubs. "The memorial has become very popular," he says. "Villagers have adorned its walls with pictures of goddesses." Lions get run over by trucks too in the busy Pipavav port area, says Batawala.
The Gir forest and Girnar hills are also important pilgrimage centres for Hindus, Jains, Buddhists and Muslims. The area is crowded with temples. At least 100,000 people visit the Bhavnath temple during Shivratri. Five days before Diwali, Hindus perform a parikrama (circumambulation) of the Girnar hills over five days. A.P. Singh says the forest department does try to move the lions out of harm's way during these times.
The forest department in Palitana has organised several dairos or traditional music programmes by Fatima Meer who sings about protecting lions. Dairos have become very popular in those villages. Impressed by Meer, Vaidya and local villagers are propagating the message that "lions are our own animals. We should not harm them even if they sometimes attack our animals".
Relocation of some lions to the Palpar Kuno sanctuary in Madhya Pradesh has been locked in litigation. The Supreme Court ruled in its favour but the Gujarat government refused to allow it. Relocating wild animals from their natural habitat is a sensitive process. Some experts believe Palpar Kuno is not a good home for Gir's lions because of its high temperatures and landscape.
But with the population of lions expected to double, if the forest department continues with its conservation strategy, Gujarat will need to find a sustainable jungle plan.