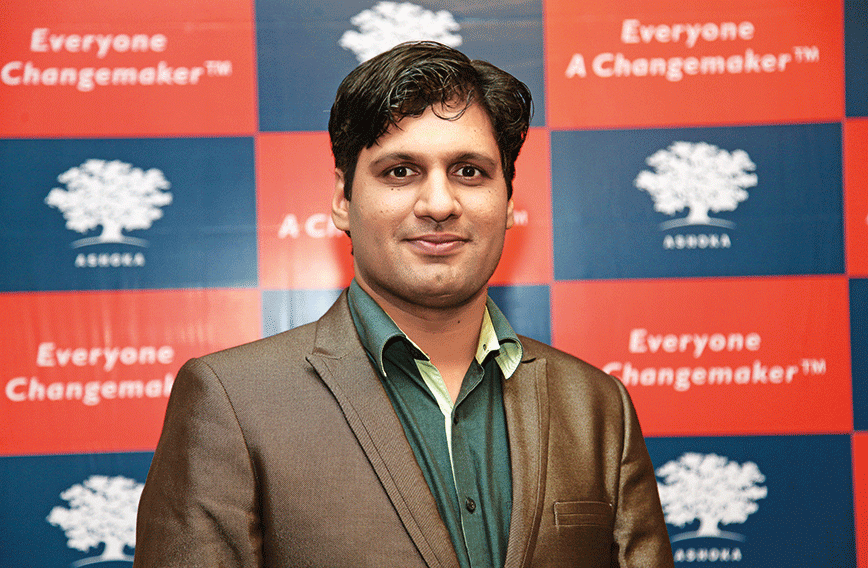 Yashveer Singh: 'Most social entrepreneurs started their intitiatives while they were teenagers'
Ashoka goes global: Changemakers from Gen Z 
Rwit Ghosh, New Delhi
Published: Jul. 17, 2019
Updated: Jun. 29, 2020
In the 30 years since it was founded, Ashoka: Innovators for the Public has come to be known for some of the leading social entrepreneurs it has supported. There has been Anil Agarwal of CSE, Kailash Satyarthi of the Bachpan Bachao Andolan, Anshu Gupta of Goonj and even Arvind Kejriwal when he ran an NGO called Parivartan. These and innumerable other innovators might never have succeeded without Ashoka identifying them and providing support.
But what about change in small and impactful ways in the course of our daily lives? In 2005, Ashoka decided to launch "Everyone a Changemaker" (EACH), a programme with the underlying philosophy that each citizen has it in them to change the world. The main focus was youth. EACH identified 150 young changemakers over the years.
Ashoka now plans to take EACH worldwide and create a network of very youthful changemakers between 12 and 19, who can perhaps become world leaders and drivers of social change globally.
Civil Society spoke to Yashveer Singh, Global Executive Director of the Ashoka Young Changemakers programme, about going global with EACH and their experience in India.
Can you explain Ashoka's Everyone a Changemaker (EACH) programme in India?
When we started thinking about EACH, 15 years ago, we talked to leaders within our organisation. One of the things that came up was that we couldn't confidently say that the problems of the world had reduced. However, the problems and their nature had changed. That really made us wonder what we needed to do to support social entrepreneurs who can help us live in a world where solutions outweigh the problems. That was the genesis of the idea of EACH.
We also realised that we needed to go back and find out what made social entrepreneurs tick. Two things stood out — one, that most of them started their initiatives while they were teenagers. Roughly 83 percent were below the age of 20 at the time. Look at Kailash Satyarthi. At the age of 11 he launched an initiative to address the problem of caste.
Secondly, we wanted to identify the qualities they banked on. What emerged was that social entrepreneurs built skills and a mindset — skills of cognitive empathy, teamwork, creative problem solving and collaborative leadership. These were skills that they learnt because they launched something. Right now, skills like these aren't taught in a very formal way in school. There is no framework for it.
The reason why world-class social entrepreneurs are engaged in world-class change is because at a very young age they have been exposed to a global mindset. Secondly, they developed certain skills. For example, can you make someone an engineer if they haven't done maths in school? It's not possible. To become an engineer, you need analytical skills. Those skills only come over a period of time, more so in your growing years. That gave us the insight that if we want to reduce the problems in the world, we need to see how the mindset of a social entrepreneur could be taken to others.
Imagine a world where every child's education included learning how to create change, be empathetic and compassionate. That would be a completely different world in which we would not be dependent on a few individuals committed to large-scale change. We support the best social entrepreneurs. We need a world where everyone can contribute. That is the only way to deal with the many problems that surface on a daily basis. That was the thinking behind EACH.
Will you be changing the EACH programme to take it global?
There have been various evolutions around EACH. The first step was asking if we can work with social entrepreneurs to build EACH. We attempted to do so for a few years. One learning from that experience was that because these social entrepreneurs are so committed to the causes they care about, they only think in that direction. The next step was to involve universities because they play a larger role in social change. What we hadn't done was put young people in the forefront.
One of the most effective ways to build EACH is to target the younger generation. If we can inspire them to become changemakers, they would ensure that their generation, between 12 and 19, would also become changemakers and creative problem-solvers. We have attempted this in the past by working with schools. We are putting young people in the forefront and saying, "You tell us how it can be done."
For example, I grew up in Rajasthan. Virender Sehwag had just entered the cricket fraternity and suddenly become a sensation. The boy from Najafgarh had become part of the Indian national team and he was scoring. What it did in the Rajasthan-Haryana belt was this — in schools, cricket kits were being bought and infrastructure to play the game was being built. People started believing that a local boy could make it to the national team.
Young people are influenced by their peers. If we need to make being a changemaker aspirational we have to identify the most inspiring changemakers in their teens. They can be role models for other young people.
We are launching a community of young changemakers who can be at the core of ideating and building a framework to influence every young person in India to become a changemaker. That means they would launch social media campaigns, influence school networks and work with Ashoka and their existing social entrepreneur network. Young changemakers will be at the centre of it all.
What are the projects that changemakers have taken up in India and how have they fared?
I don't think we can call the work that comes out of the EACH programme projects. Projects target one section of society. EACH is less of a project and more about creating a culture shift for change. It is a continuous movement.
There are different elements and roles for people. Social entrepreneurs showed us how to create change at the highest level. Working with schools we learnt how to get things done at school level. We are putting young people at the forefront and the whole conversation is changing. So we now have an EACH team consisting of a young person, a school leader, a social entrepreneur and a business entrepreneur.
Our social entrepreneurs have no age limit. In the initiative that we are launching in July we are working with teenagers from across India between the ages of 12 and 19.
Take, for example, Garvita from Bengaluru. She became part of our network at the age of 15, four years ago. She identified a simple problem and found a solution. Garvita used to go out to eat with her parents. She noticed that every time they went to a restaurant, the servers would fill their glasses to the brim regardless of whether they wanted water or not. Most of the time no one would drink the entire glass of water. By the end of the meal, one-third or two-thirds of water in a glass would be wasted. According to a recent newspaper report, in the next 20 to 30 years, 40 percent of the population won't have access to clean drinking water. That is a very big problem.
Garvita came up with the idea of a glass with a half-full mark. She started campaigning at restaurants, training their staff to use these glasses. Garvita requested them to initially fill these glasses till the half-way mark and, if people wanted more, they could fill them up. Today, almost 1,000 restaurants across south India have adopted the use of half-mark glasses.
When Garvita first got in touch with the Ashoka Foundation, she said, "I might be able to address one problem, but there are so many problems on a day to day basis." She helped introduce a campaign called Lead Young in 35 schools in Bengaluru. The premise was simple. At assembly every morning, a story from the Ashoka network is shared. It is either read out or performed once a week or once a month. It has inspired hundreds of schoolchildren and they have approached us, saying they want to be changemakers too.
On July 13, 12 teenagers will be coming from across India to share their ideas and initiatives. We keep expanding this tribe of young people. So, we would call this a movement. You can't predict in which direction the work of these youngsters will go but whatever happens, will happen for the better. That's how we're taking EACH forward.
Why is EACH going global?
The reason EACH needs to be global is because one of the ways our society is being segregated is "them versus us". Yes, it will inspire young people. But I do believe, in order to thrive, a global outlook is required. How are young people supposed to have such an outlook if they aren't exposed to a global network?
One of the things that we are doing is taking these teenagers who are changemakers and integrating them into a global community. You will have young changemakers from the US, Brazil, Indonesia, Europe and Africa all coming together. Ashoka will link them through technology or, in some cases, bring them physically together.
Imagine a 15-year-old from India meeting a 15-year-old from Indonesia and realising that their countries face similar problems. At the end of the day, what unites us is humanity and the intent to do good. The kind of leaders we will see emerging out of this pool will have a global and humane outlook. This is why it is important to integrate teenagers into a global network rather than just a local network, a local community and just doing well for India. Of course they have to. They are the ones who are going to lead India. But they also need to lead globally because we are now competing in a global market.
What are the resources that you provide to your young changemakers?
The biggest problem young changemakers face, and they will tell you themselves, is ageism. The outlook that exists is, go to school, to college, settle into a job and then consider change.
At Ashoka, we are helping them believe in themselves. That is one kind of cultural shift that we are trying to break.
Secondly, when different changemakers come together they find support in the peers they meet through us. They also need skills to take their ideas forward. Neither schools nor parents are teaching them these skills.
We have the best business entrepreneurs mentor them. We are trying to create an organic platform where they will get emotional support from our community, networking support from Ashoka and a belief that there is someone who believes in them and their ideas.