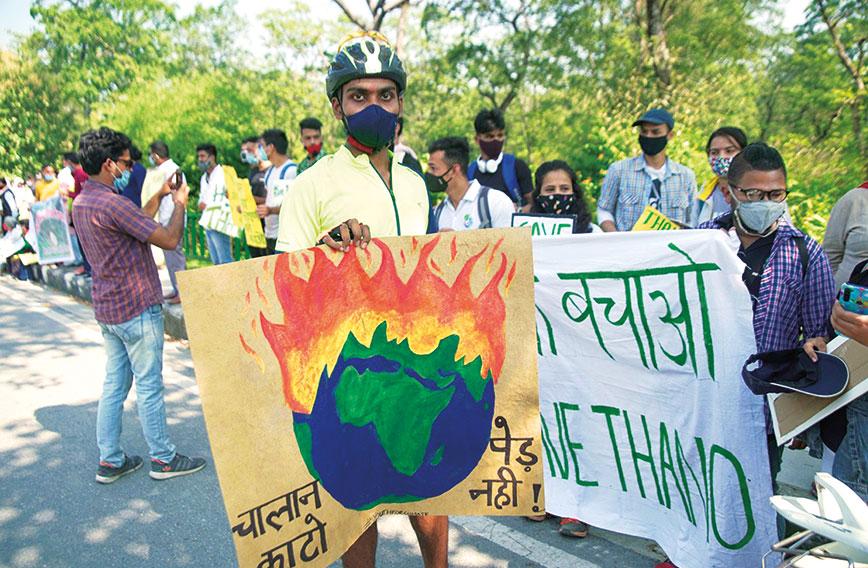 Students led the protest marching with banners to Thano village, the proposed project site
In Doon a call to save trees from airport extension
Rakesh Agarwal, Dehradun
Published: Nov. 23, 2020
Updated: Jan. 29, 2021
About 25 km from Dehradun is a village called Thano with a small bazaar and a few houses. Adjacent to it, about six km away, is the Jolly Grant Airport. Nothing ever happened here till the Uttarakhand government decided to expand the airport into an international one. About 243 acres of forest land were to be acquired and handed over to the Airports Authority of India. So the government approached the National Wildlife Board for its approval.
This news sparked angry protests from young people in Dehradun who didn't think the trees should be felled and that the airport could be easily built at another location where less environmental damage would be caused. They rallied under Make a Difference by Being the Difference or MAD, a credible and energetic local youth outfit run by Abhijay Negi, a young lawyer.
The protests have found wide support from young people, senior citizens and other NGOs. Sleepy Thano now finds itself in the middle of a dispute that continues to simmer despite the Union Environment Ministry favouring a change in location. The state government hasn't, till the time of writing, acted on the Centre's directive.
The forest land at Thano falls into the Shivalik Elephant Reserve and is contiguous to the Rajaji National Park. The Thano range has lots of trees, birds and animals. Around 10,000 trees were slated to be axed.
It was on October 18 that the first protest took place, Chipko-style. Young people marched to Thano village holding placards, shouting slogans, singing songs to protest against the felling of 10,000 trees. Rakhis were tied around trees, expressing the need to protect them.
The agitators have welcomed the MoEF's directive but they aren't calling off their agitation till a more suitable location is chosen for the airport. "Sure, we welcome the central government's nudge to the Uttarakhand government asking them to explore other land for Jolly Grant. It's a victory for us. But why have an airport here near this forest? Why not shift it to Pantnagar in Kumaon? The place already has an airport and plenty of empty land," said Karan Kapoor, an active member of MAD.
Earlier, Negi had clarified that they weren't opposed to the expansion of any airport. They had suggested Doiwala, a town about eight km from Thano on the way to Rishikesh and Haridwar. Doiwala is not an eco-sensitive zone like Thano.
What has angered the youth and fuelled the agitation are the obfuscations by the state government and its agencies. All these were uncovered by MAD. The Forest Research Institute and the Wildlife Institute of India (WII) are based in Dehradun and their students are well-versed in matters ecological.
Take the Environment Impact Assessment (EIA) report by the project consultant, Green Sea Indian Consulting, based in Ghaziabad. "The EIA falsely reported that no protected animals, birds or species listed under Schedule-1 of the Wildlife Protection Act exists in the Thano forest. In reality, this forest is contiguous to the Rajaji National Park and part of the Shivalik Elephant Reserve. It is an important elephant corridor that stretches all the way to the Tanakpur border with Nepal," said Kapoor. Thano forest is home to 104 bird species, and leopards, deer, and wild boar, say the student activists, who have done their homework.
A tree count revealed Thano has 9,745 trees, including khair, sheesham, sagon, sal and another 25 species. "They claim that the forest isn't dense. But, we just made a visit to the project-affected area and it has a very dense sal forest, with canopy cover exceeding 80 percent," said 22-year-old Harsh Nautiyal, a student.
"As many earmarked trees are around ponds and lakes, the land will become flat and dry, forcing wild animals, including elephants, to transgress into nearby villages and towns like Thano itself, Ranipokhari, Doiwala, Lachchiwla and, eventually, Dehradun city. This will aggravate the people-wildlife conflict which is already quite severe up in the hills," said Vishal Uprerti, 27, a wildlife expert from the WII. MAD also took their concerns to the forest department. "We registered a strong protest with the Principal Chief Conservator of Forests, Jai Raj, and handed over a representation to him. We rallied sister organizations to stop anything that fatally impacts the environmental balance of our already disturbed Doon Valley," said Negi.
The state government simply retorted that the hoary trees would all be grown back. "The importance of Dehradun Airport is not only for tourists. It has national importance. If trees are being cut, then plantation will also be done in return," said Chief Minister Trivendra Singh Rawat.
He promised three trees would be planted for every tree cut. Not to be outdone, the forest department said they would plant 17 trees for every tree axed. The party spokesperson outbid all by declaring he'd plant 22 trees for every fallen tree.
The protesters were not impressed. They wondered where these trees would be planted and what their survival rate would be. "Even if they survive, saplings need at least 25 years to become full-fledged trees and, by then, we will all be history," said Isha Rawat, who had joined the protest. According to MAD, only 20 percent of the saplings planted by the forest department actually survive.
"We're planning to involve the Uttarakhand Biodiversity Board on the observations made in the EIA by the project consultant so as to get all agencies to work together and resolve this issue," said Negi.
Although hundreds of students and environmentalists have joined the protests, most locals have not. "Locals aren't against it. Many have become contractors for the project. Others are keen that tourism is given a fillip. Besides, land prices have zoomed around here," remarked Bhopal Singh, a farmer in Thano village.
MAD spread word through social media. "We'll keep protesting till the establishment abandons the airport project at Thano," said 21-year-old Saumya Prasad, a student based in Dehradun.