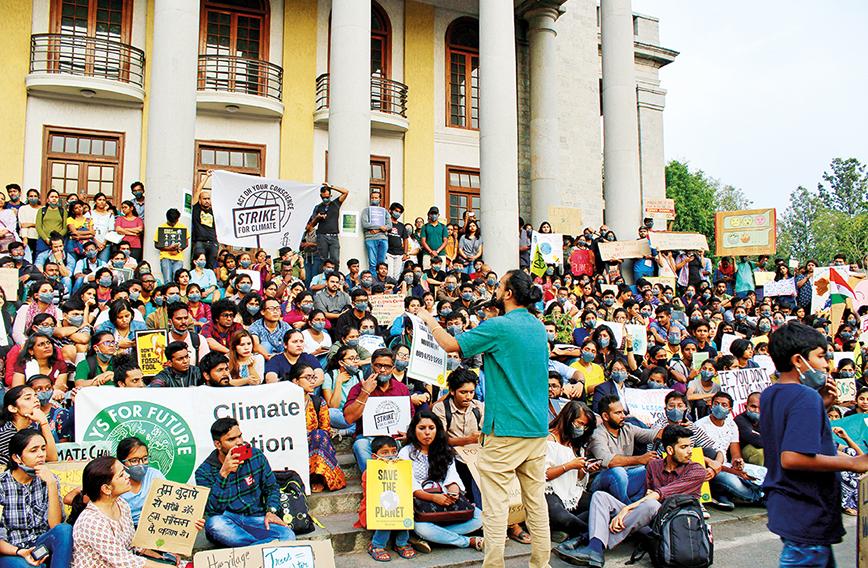 Avijit Michael addresses climate change activists outside Town Hall in Bengaluru
On Jhatkaa citizens talk garbage and more
Raj Machhan, Chandigarh
Published: Sep. 12, 2020
Updated: Sep. 12, 2020
GARBAGE burning, before the pandemic, was a major cause of air pollution in Bengaluru, as in other Indian cities. No checks of any kind by the municipal corporation seemed to be working. Realizing the seriousness of the situation, in 2018, Jhatkaa.org, a platform with digital tools to help citizens raise issues, resolved to try a new approach.
"We decided to initiate a public mobilization campaign. We took it up with Sarfaraz Khan, who was then joint commissioner of solid waste management in the municipal corporation. A proactive officer, he issued a notification that fines would be levied for garbage burning," says Avijit Michael, executive director of Jhatkaa.
But nothing much changed on the ground. "We went back to him with a ground report on the inefficacy of fines," says Michael. This time Khan issued a letter to local officials. "We were told to follow up with these officials," he adds.
Jhatkaa then encouraged people to post on its platform photographs of garbage burning along with the location. People were given contact details of the local officials responsible so that they could be contacted. "This approach did lead to action in 25 percent of garbage burning cases. But it still remained a burning issue," says Michael.
Jhatkaa again escalated the matter to Khan. This time, Khan was flooded with petitions, phone calls and emails from citizens. He set up a team to deal with the violations. In 2019, the municipal corporation allocated a budget to hire ex-servicemen as ward marshals. Thus, each ward in the city now has a marshal tasked with keeping a check on garbage burning, dumping of solid waste and other related violations. The marshals have the power to impose fines on individuals flouting the rules.
"This is the kind of people's movement that typifies our approach to ushering accountability in government organizations. We empower people to come together and make a change," says Michael.
CLOSING THE GAP
Jhatkaa.org was founded in 2012. It aims to engage and mobilize citizens to work towards a more equitable, inclusive, and sustainable society. "Our main thought was that citizens across the country faced a lot of problems due to gaps resulting from a dysfunctional democracy. People don't know how they can take part and how they can hold the government accountable for providing the right services to people. On the government side, we found that since people don't hold them accountable, they also do what they want. This is the main problem we set out to fix by building a movement of citizens who understand how to engage with governments," says Michael.
Jhatkaa runs specific campaigns. Its two main areas of work, currently, are issues related to air quality, climate change, and gender and sexuality. "We run specific campaigns in these areas. At an operational level, we focus on identifying an issue, whether there is a problem in implementation of existing laws or if the government is having a public consultation on policy. We first analyze the problem, what is the solution, and who is the right person in the government to talk to. It's a complex system. For an average citizen, trying to find a solution is a lot of work. We try to communicate to citizens how an issue is going to impact them. We communicate the process, and how they can directly send their responses to the authorities using various modes of digital communication," Michael explains.
The organization also takes up campaigns to usher in accountability among decision-makers in the corporate sector. "Our Kodaikanal Unilever campaign was one of our biggest citizen engagement and mobilization campaigns," says Michael. Jhatkaa joined hands with activists to hold Unilever accountable for mercury poisoning in Kodaikanal. In 2016, Unilever compensated 591 former mercury workers of its thermometer factory in Kodaikanal.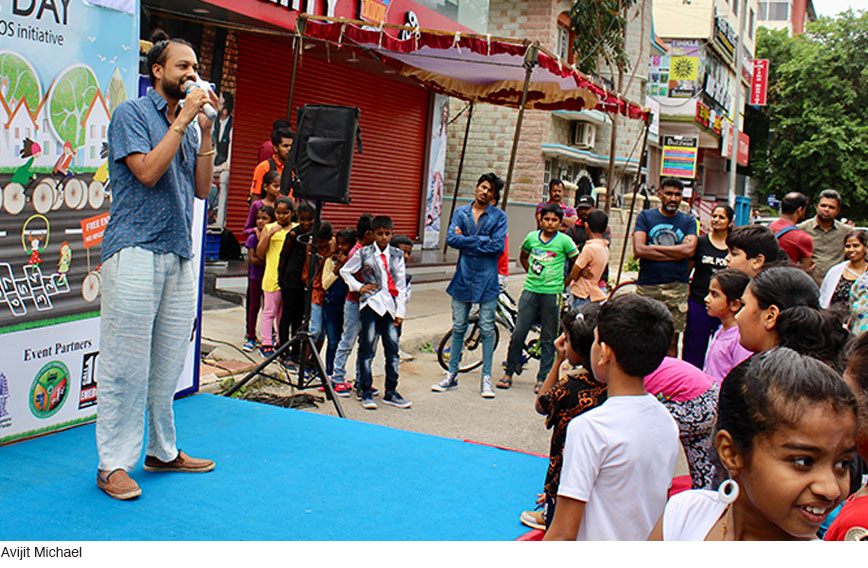 Jhatkaa gets people to sign petitions, send mails, make phone calls and share campaigns on social media. It has been organizing webinars to train citizens in areas such as RTI, filing FIRs and PILs, and mobilizing and managing volunteers, among other activities. "Being an active citizen is a journey in itself. It generally starts with doing something as simple as signing a petition and progresses to more complex activities like filing PILs and mobilizing others around you," says Michael.
REACHING OUT
Jacob Cherian, director of engagement, Jhatkaa, says, "We did a series of highly successful webinars during the lockdown from April to July 2020. They were free. Each webinar averaged over 70 attendees from our base of activists, workers in the CSO sector, and proactive citizens who had earlier participated in our on-ground activities."
The organization at present claims a membership base of 1.3 million across the country.
How effective is Jhatkaa's approach?Michael says the success or failure of a campaign is largely dependent on the involvement of citizens. "We have had different experiences over the years. It depends on the campaign and how many citizens are involved," he says.
Preventing urban deforestation has been one of the organization's recent successes. "On the gender and sexuality side, we have been successful in getting a number of colleges, universities and companies to set up internal complaints committees to deal with cases of sexual harassment," explains Michael.
Jhatkaa has also engaged with elected representatives. "In Maharashtra, the Shiv Sena government is pushing a strong environmental agenda and a number of good things are happening. It's a constant endeavour on our part to engage with all the stakeholders involved and get things moving on the ground," says Michael.
And how did the name Jhatkaa.org come about? "System ko jhatkaa denaa hai. India is too vast and complex for any single organization to solve its problems. We called ourselves Jhatkaa, and as the name implies, we are out to shake up the system in our own way," is Michael's reply.