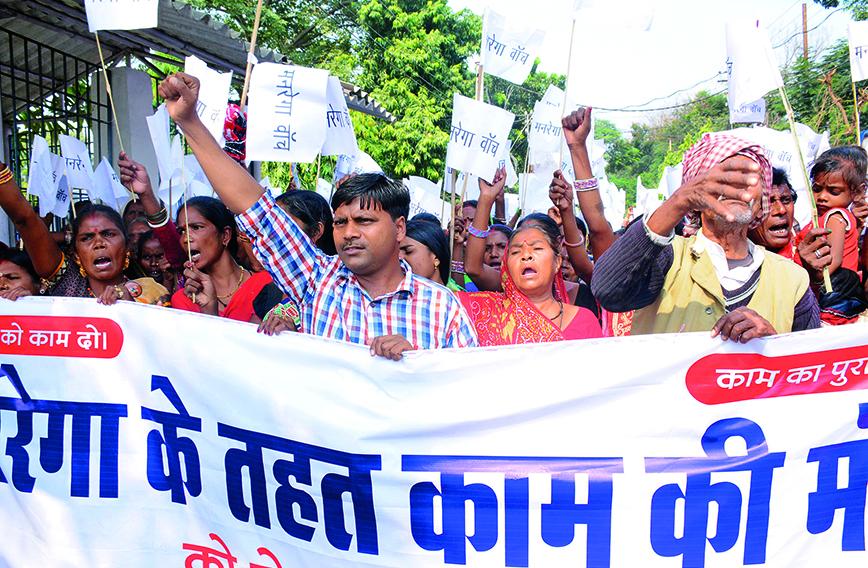 Sanjay Sahni leading a protest in Ratnauli village
Ratnauli hero is now go-to man for migrants
Civil Society News, New Delhi
Published: Jun. 29, 2020
Updated: Sep. 12, 2020
It is not easy to get through to Sanjay Sahni's phone these days. He is besieged with calls from migrant workers seeking help. They either want to get back to their villages or they need donors to help them hang on in big cities or they are home and helpless.
The gales of the coronavirus storm have left families in Bihar villages shattered. The money that would come from the big city has stopped. Savings have evaporated. The virus has also cast a menacing shadow on the one asset they had always drawn on — the strength of their bodies. Suddenly there are confusing arrangements to contend with such as being in quarantine.
Being a migrant worker himself, Sahni is familiar with the myriad uncertainties in a life lived precariously between city and village.
He has been an electrician in west Delhi, occupying a corner of some anonymous pavement. His earnings have gone back to his family in Ratnauli village, in Bihar's Muzaffarpur district.
Sahni empathizes with the callers. He also tries to help them through the new maze they find themselves in. And from one to the next his number has been passed around so many times that the calls don't stop.
There is also the activist in Sahni. Nine years ago, he shot to fame in his village when he uncovered corruption in MGNREGA, the rural employment scheme there. Local village level officials were pocketing the wages of the people who had done the work.
It was a chance discovery when Sahni sat down at a computer at a cyber café in Delhi where he would leave his toolkit at night. Through Google he got on to the MGNREGA website and found the full record of payments. He recognized the names of his fellow villagers and knew that they hadn't received that money.
He returned to Ratnauli armed with printouts. Soon he was leading an agitation demanding proper job cards and payments. Thanks to his success in galvanizing villagers into action, MGNREGA went through a cleanup not just in Ratnauli but also in surrounding villages and villages in nearby districts.
Much has changed since then both in Bihar and nationally. Money now flows directly into personal bank accounts so there is little chance of being cheated. The importance of MGNREGA in coming to the rescue of people in distress has been recognized. It receives budgetary allocations and is an important instrument for fighting poverty.
The Union government has said that MGNREGA will meet the immediate needs of returning migrants and others locally who might be unemployed because of the lockdown and the slowing of the economy. To what extent is this really happening?
"There isn't enough work for everybody under the MGNREGA (the rural employment guarantee scheme) and the foodgrains that families are getting just isn't adequate," says Sahni.
"People who have returned are now saying that it is better that they go back to cities because there, even if they can't find work, at least they can find food at community kitchens. Someone or the other will come forward to help. In the village there is nothing to fall back on, " he explains.
"There is not a district or a village in Bihar where people haven't returned. In my village of Ratnauli alone there are 300 people who have returned and there are more on the way," says Sahni.
"They are all demanding work. But when people who live in the village barely manage to get work under MGNREGA, how will the people returning find work," he points out.
"In a panchayat if there were earlier 200 people getting work, now there are 1,000 looking for work. It is also important that they find work because pockets are empty. Those coming back have spent their money and people in the villages have either taken loans from moneylenders or sold things," he says.
"Even the 200 people who would get work did so with difficulty. The government would provide work in fits and starts under MGNREGA. So, though in the current context the government has said that everyone in villages will be given work under MGNREGA, I really don't see this happening," Sahni explains.
"It hasn't been easy for people coming back. First they have had to spend 14 days in quarantine in the village. Even after the quarantine, they have faced restrictions on their movements," he says.
Quarantine has prevented people from registering for work under MGNREGA. Sahni says people feel that they were put in quarantine to keep down the number of people seeking work.
"There is some relief due to the foodgrains provided under the PDS (public distribution system), but even this is far from adequate. Each person gets 5 kg for a month when a person needs at least 15 kg. Then again, if there are five members in a family, not all of them get rations. If a ration card has three names, often just two are given rations," says Sahni.