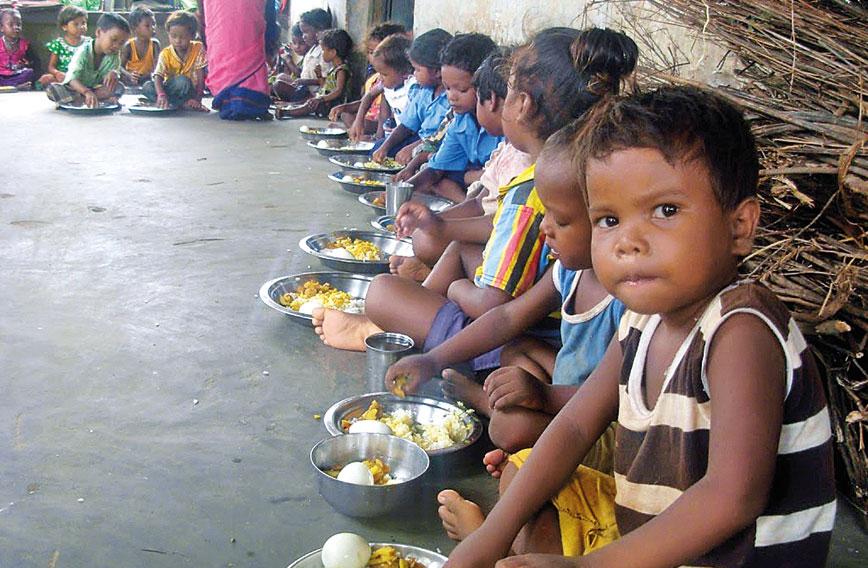 Government schools in Chhattisgarh will serve two eggs a week to children in the midday meal
Anda Do gets 2 eggs, but says make it 5
Sidika Sehgal, New Delhi
Published: Aug. 29, 2019
Updated: Nov. 01, 2019
The Chhattisgarh government has decided to stick by its decision to include eggs in the midday meals in government schools, giving the Anda Do Abhiyan or 'Give an egg campaign' a major victory.
Schools in Chhattisgarh started giving eggs to children in February, but protests by the Kabirpanthi sect and the Jain community caused the state government to think again.
Now the government has made it clear it won't backtrack and children will get one egg twice a week in their midday meal.
The Anda Do campaign is celebrating its success, but it is also not relenting on its original demand that five eggs a week be given.
The campaign is part of the Right to Food (RTF) movement which has the support of 37 social organisations.
Fourteen states in India now provide eggs in school midday meals and anganwadi centres. The number of eggs varies.
Activists point out that the egg is a formidable weapon against child malnutrition, which is widespread in India. According to National Family Health Survey 4 (NFHS) 2015-16 estimates, in Chhattisgarh, 38 percent of children are malnourished. According to RTF, among tribal children, 44 percent are malnourished. Almost 83 percent of the population in Chhattisgarh eats eggs, anyway.
RTF activists have found that the response to the inclusion of eggs, twice a week, has been positive. Children are happier with the meal and eat more willingly. Attendance is higher because many students come to school hungry and look forward to the midday meal.
The case for giving five eggs a week is therefore a strong one. The National Food Security Act of 2013 mandates that the midday meal meet certain nutritional requirements. A primary student is entitled to 450 calories and 12 gm of protein per day, and an upper primary student should get 700 calories and 20 gm of protein. To meet such requirements, a cereal-based diet is not sufficient.
An egg a day keeps malnutrition at bay. All nutritionists affirm that eggs are among the healthiest of foods. They are an excellent source of proteins and contain most nutrients except Vitamin C.
Lentils, paneer and milk are cited as alternatives but in terms of nutrition the egg beats the competition.
A single egg, weighing about 40 gm, has eight gm of protein, much more than 40 gm of lentils or paneer or milk. Dr Sylvia Karpagam of the Right to Food campaign in Karnataka points out that children eat small portions and one can't force them to eat more dal to get the same amount of protein. A single dal doesn't have all the proteins and procuring the right combination to meet nutritional requirements is more expensive than supplying eggs.
There are other problems with alternatives like milk. Milk can be diluted or contaminated and has a shorter shelf life. There is little to no possibility of contamination in a boiled egg and eggs can be stored for longer.
Sulakshana Nandi, a campaigner with the Right to Food movement in Chhattisgarh, says the inclusion of eggs in midday meals became possible because of the change in government after December 2018. The Congress-led Bhupesh Baghel government was more pro-egg than the former BJP government, although this wasn't an election promise.
Organisations like Akshaya Patra Foundation, who have resisted the inclusion of eggs, are not very involved in rural parts of Chhattisgarh. Most of the cooking is decentralised and done by women's self-help groups. Many of these women have young children who benefit from the inclusion of eggs. They are thus willing to cook them, so long as they get the allocated budget on time.
However, only 10 percent of districts in the state are actually implementing the order. There are many stakeholders who determine the menu for midday meals. After the state government's order, the menu needs to be approved at the district level and then at the school level. In most districts, the School Management Committees have not met to take a decision on the order.
There has also been some anti-egg resistance by other groups. On July 16, followers of the Kabirpanthi sect and the Jain community staged protests on the Bhilai highway against the inclusion of eggs. They warned the state government that if eggs are not taken off the midday meal menu, the Raipur-Bilaspur highway will be blocked.
But in states like Karnataka and Madhya Pradesh, the Ando Do Abhiyan has had to battle on. In Karnataka, the percentage of children under five years who are stunted is 36.2 percent. Madhya Pradesh and Rajasthan sit at 42 percent and 39 percent, respectively. In Jharkhand, the number is as high as 45.3 percent.
The ruling party is not the only factor. Despite having a BJP government, Jharkhand is supplying eggs to schools and anganwadis. Like Chhattisgarh, the state has a large tribal population.
But Madhya Pradesh, with a Congress-led government, is nixing eggs for school midday meals. States like Rajasthan and Madhya Pradesh have a large vegetarian population which resists the inclusion of eggs.
In Karnataka the campaign to include eggs has been going on for nearly seven years with no success. Despite pressure by the State Commission for Protection of Child Rights and civil society organisations, the government has not allowed inclusion of eggs.
The Lingayat community is influential in the state and runs a lot of government-aided schools. They have been lobbying against it and the Congress government was unable to pass an order in the one year it was in power.
However, even though resistance to supplying eggs in schools is strong, Karnataka supplies eggs to pregnant and lactating women in anganwadis under the Matrapoorna scheme.
There are alternatives like bananas and milk for those who don't wish to eat eggs and no one needs to compromise on their religious beliefs. Surprisingly, there has been little to no resistance from children and parents who don't eat eggs. They don't mind others availing of the benefit of the Anda Do Abhiyan.
Dipa Sinha, a campaigner with RTF since 2001, says that funds are not the problem. States which want to implement the order have found ways to fund the supply of eggs. Chhattisgarh tapped into the District Mineral Foundation's funds for the scheme in June.
Within the existing budget for the midday meal, two eggs can be given each week. The midday meal costs Rs 4.87 for primary students and Rs 6.46 for upper primary students per day. These are modest sums, investments for a healthier generation of children.