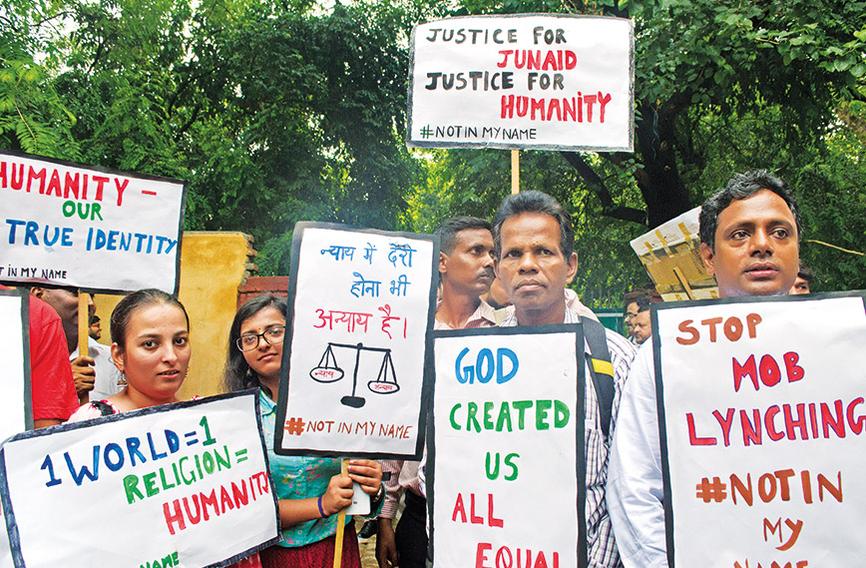 Hundreds of citizens gathered at Jantar Mantar to protest against mob lynching and communal hatred
Campaign against lynching gathers steam
Saibal Chatterjee, New Delhi
Published: Jul. 28, 2017
Updated: Jan. 29, 2020
If not now, then when? That unequivocal call to action stirred thousands of citizens. They took to the streets on 28 June to register their protest against the mob violence being perpetrated against minorities across the country in the name of cow protection. A pivotal part of a Facebook post by independent filmmaker, researcher and writer Saba Dewan, the rhetorical question was triggered by the killing of teenager Hafiz Junaid on a Mathura-bound train.
The appeal went viral and culminated in the countrywide 'Not in My Name' campaign. Carrying placards proclaiming "Say no to hatred", "Hindus against Hindutva" and "End Islamophobia", people came together to "reclaim the Constitution" and position themselves against political forces bent upon decimating the "idea of India".
Junaid, who was on his way home after Eid shopping in Old Delhi, died on 22 June after being beaten and stabbed by a mob that hurled communal slurs at him following an altercation over seats. Dewan reacted to the crime on 24 June. Four days later, citizens were out in strength in 26 cities. The spontaneous mobilisation demonstrated the positive potential of social media, which otherwise has today been appropriated by an army of abusive Hindutva trolls and hate-mongers.
A part of Dewan's long and impassioned FB post read: "Shouldn't there be protests against the lynchings, especially after the killing yesterday in Delhi-NCR of a 16-year-old Muslim boy? Why wait for political formations to organize a demonstration? Why can't all of us as citizens repulsed by the violence get together in protest…?" She did not have to wait for answers to her questions. The response was instant and overwhelming.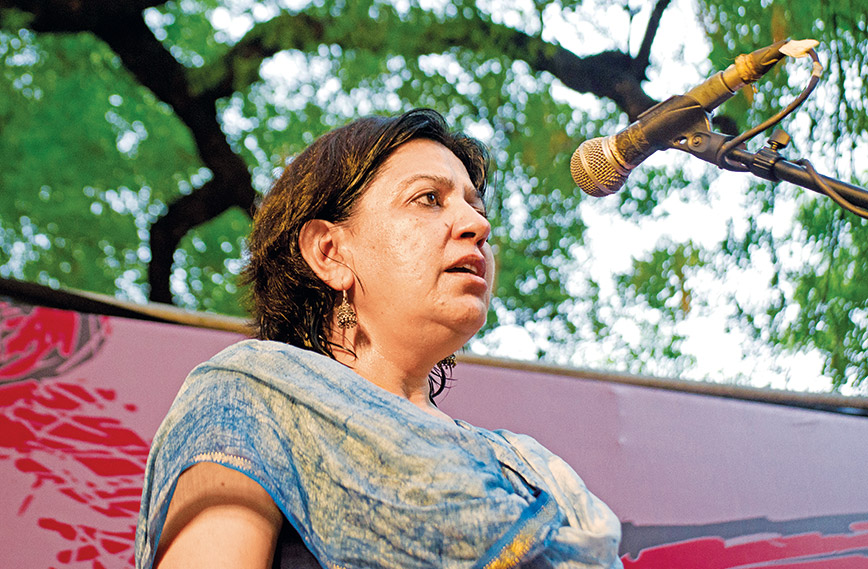 Saba Dewan, who initiated the campaign, speaking at Jantar Mantar
Large numbers of Indians, both ordinary and well-known, taking a cue from her call, organised protests in Delhi, Mumbai, Kolkata, Hyderabad, Bengaluru, Lucknow, Kochi, Allahabad, Thiruvananthapuram, Jaipur and Patna, besides London, Toronto and Boston. On Mumbai's Carter Road, the likes of Shabana Azmi, Kalki Koechlin, Konkona Sen Sharma and Ranvir Shorey lent their weight to the campaign. In Kolkata's Dakshinapan, actor-filmmaker Aparna Sen and rights activist Ratnaboli Roy were among the protesters. In Bengaluru, an ailing Girish Karnad and historian Ramachandra Guha turned up to express their solidarity with the campaign.
Addressing the gathering in New Delhi's Jantar Mantar, Dewan spoke of her "massive sense of disquiet". She said it was time for action because "this is not the India we grew up in". That sentiment was the leitmotif of the evening as filmmakers, writers, journalists, civil society activists, human rights campaigners and ordinary citizens joined the Not in My Name campaign. Hindus and Muslims, men and women, old and young, spoke in one voice against the continuing violent depredations of thugs posing as cow protectors with the tacit support of and wilful incitement by their political masters.
Mohammad Asaruddin, Junaid's 22-year-old elder brother, told the protesters at Jantar Mantar: "Even I was called a terrorist in college. This issue is of identity and we have reached a point where we have to hide our skull caps and other symbols that define who we are."
People carried their own banners with their own slogans
Mumbai-based actress Renuka Shahane, active on social media, lent her support through a powerful post. It read: "There has been a long list of these lynchings. It has become so common that no one talks about it. Nobody asks what happened to the perpetrators — whether they were caught and given the strictest punishment or whether they were released to unleash more violence. I stand firmly against the lynch mentality that has an active political patronage in our country."
She added: "I am a citizen of one of the finest democracies in the world. That is why it is important for all of us to respect and protect the tenets of our Constitution."
Understandably, the success of the campaign did not go down well with Bharatiya Janata Party (BJP) leaders. Prime Minister Narendra Modi was compelled to speak out against the violence being perpetrated by cow vigilantes. Yet mob lynchings have continued unabated.
The script took a slight turn on 10 July, when seven Amarnath Yatra pilgrims were gunned down by terrorists in Kashmir. Instantly, rightwing leaders and television channels found a stick to beat the Not in My Name campaigners with. They asked: Where are they now?
BJP spokesman G.V.L. Narasimha Rao tweeted: "Pilgrims brutally attacked on return from Amarnath Yatra. When & where is the 'Not in My Name' gang protesting or are protests only for Akhlaqs, Junaids, Pehlu Khans not for Lord Shiva devotees."
To prove him wrong, the anti-lynching campaigners were back at Jantar Mantar. One
of them said: "We are not here because we are under any pressure. We are against all forms of political violence."
The Not in My Name campaign was by no means a one-off. Actress Swara Bhaskar, also a part of the campaign, petitioned the prime minister for the enactment of Manav Suraksha Kanoon (MASUKA), a law against lynching, in the next session of Parliament. It calls for making lynching a non-bailable offence.
In her fervent appeal, the Nil Battey Sannata and Anaarkali of Aarah star wrote: "Every time I read about a new case of mob lynching, my head hangs in shame. I am a proud Indian and have always believed that our country's strength lies in its diversity and acceptance of different cultures, religions and languages… Lynching does not find a mention in the Indian Penal Code. I believe in a violence-free India. I, therefore, appeal to the lawmakers to enact a strict legislation against mob lynching."
Bhaskar's plea coincided with the unveiling of a draft MASUKA law in the presence of political
activist Prakash Ambedkar and eminent lawyers Sanjay Hegde and Shehzad Poonawalla. Referring to mob violence inspired by religious hate, Ambedkar said: "It should be nipped in the bud before it develops roots in India. For that, a bill against lynching should be passed in Parliament to convey a clear message."
The Not in My Name campaign, on its part, is all set to move to the next level and assume the form of an even more concerted movement. They are digging their heels in for this is a pitched battle of ideologies with no room for half-measures.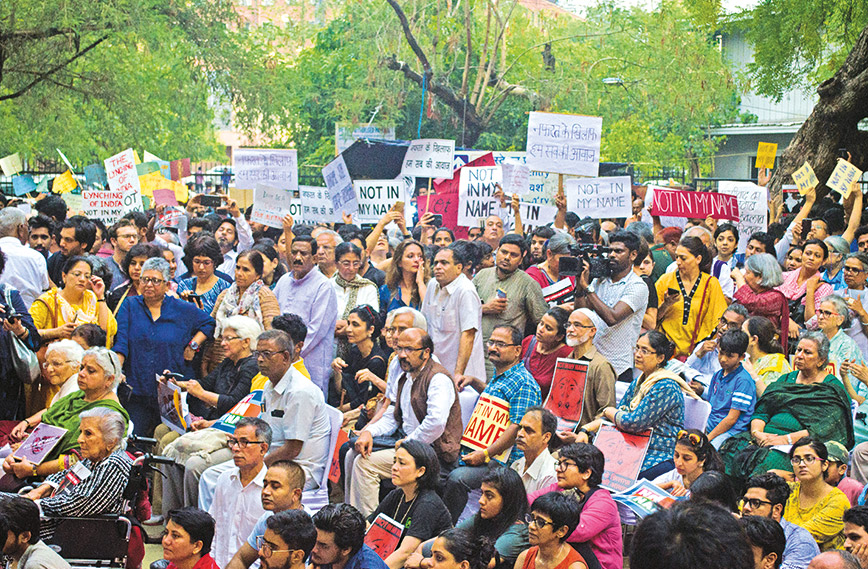 The people who came were from all walks of life, young and old, celebrities and ordinary folk