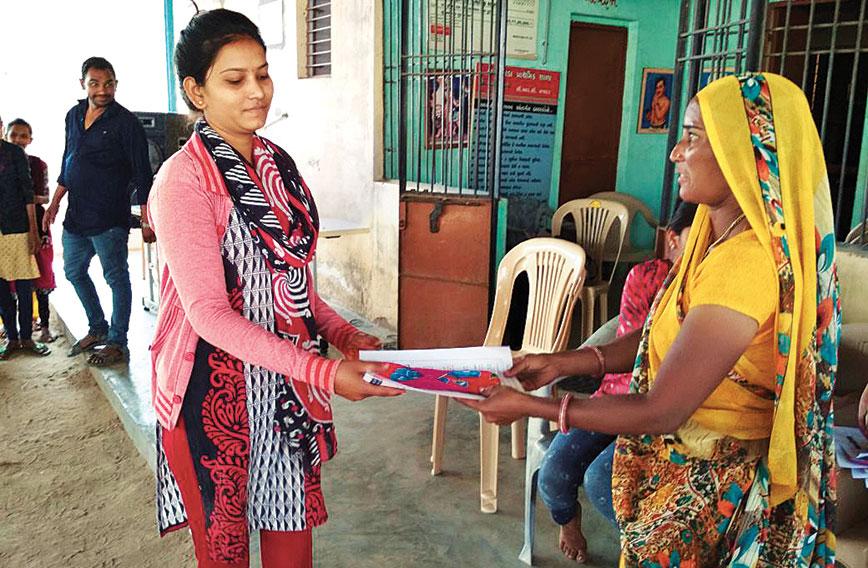 Sanitary napkins being distributed to the women
In Vadgam Mevani talks women's health
Tanushree Gangopadhyay, Ahmedabad
Published: Apr. 18, 2018
Updated: Jan. 29, 2020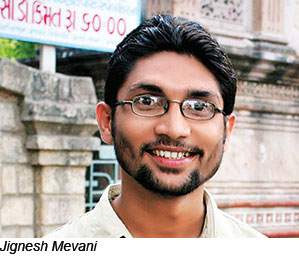 On International Women's Day, Jignesh Mevani, Dalit leader and MLA, launched a 'Maasik Jode Mitrata' or 'Befriending Menstruation' campaign in Vadgam to eradicate the social discrimination girls and women face during their monthly menstrual cycle.
The campaign was launched in Mevani's constituency, Vadgam, by his organisation, the Rashtriya Dalit Adhikar Manch, in partnership with the Vadgam Vikas Samiti.
"The campaign is my tribute to the women who voted me to the Vidhan Sabha. Many of them observed roza and fasted to help me. I owe it to them as their elected representative," said Mevani, admired for his outspoken speeches.
"During the next five years I will ensure that every village school has separate toilets for girls," says the gender-sensitive MLA. "Far too many taboos are imposed on girls and women during their menstrual cycle and when they give birth. Our caste-ridden society considers them 'impure' and confines them to some corner of the home. They are compelled to use old or coarse fabrics, which could cause health problems."
He also underlined the importance of reproductive health programmes and those concerning women and girls. "We have started a dialogue on menstrual health. Getting resources to sustain the campaign won't be a problem. We will make this a regular project and spread it to other districts," says Mevani.
He was recently detained in Dahod, a tribal district, for protesting against the government's decision to hand over a government hospital to the private sector.
In Bharakhawada village on National Highway 8 near Palanpur, Sarpanch Majula Parmar led the campaign. She said her husband's liberal attitude made it possible for her to spread word about the campaign in her village.
Three hundred girls and women attended the initial meeting. Two sewing machines were given to the village. Kailas, a tailor, stitched the first sanitary pad. "Pads are easy to stitch," she said. "The cotton fabric was already cut to the right size. We merely stitched it to the perfect shape. If we can buy this fabric easily from the market, stitching is not difficult. I can teach the other women."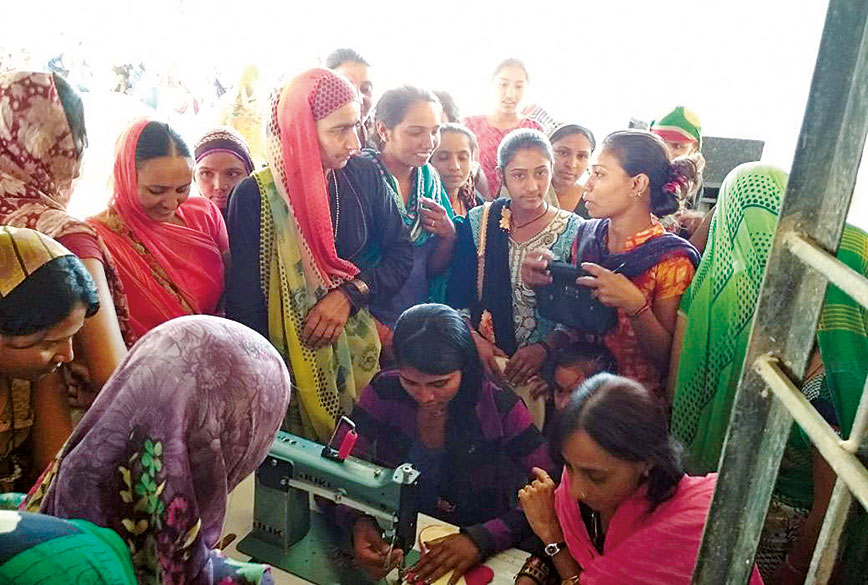 Kailas, a tailor, demonstrates how sanitary pads can be stitched
Priyanka of the Vadgam Vikas Samiti said they were shocked to find out that girls and women used a synthetic cloth, generally used for dusting, during their menstrual cycle and, since there was no disposal system, left the cloth in the fields.
"After a lot of research we found eco-friendly cotton sanitary pads being manufactured in south India. We got 150 couriered. We never imagined such an overwhelming response from the girls and women. We were compelled to gift only one pad to each girl. Since the pad can be reused for a year, they can stitch it for themselves later."
A doctor from Palanpur Civil Hospital spoke to the women and explained that menstruation was a natural process which enabled women to give birth. "Since you give birth how can you be considered impure?" she said.
There were men present too which Bhavna Ramrakhiani of the Vadgam Vikas Samiti said was revolutionary. "We challenged patriarchy in this remote village and attempted to break taboos surrounding menstruation. Women shy away from drying their menstrual cloth in the sun and often leave it in dark unhygienic places."
The Rashtriya Dalit Adhikar Manch spent Rs 40,000 for the pilot programme. The two sewing machines which were gifted to the village were bought for Rs 7,000 each.
Ramrakhiani was confident that cotton fabric for the sanitary pads could be made easily available. Kanodar, an adjacent village, used to export cotton to Dhaka centuries ago, she said. There are several Vankar or weaver communities in the constituency and their profession could receive a fillip, thanks to demand for cloth to stitch sanitary pads.
Surprisingly, Mevani faced criticism from Romel Sutaria, a local activist who works with tribals. He accused Mevani of wanting to emulate the Hindi film Padman and ridiculed him. Mevani was taken aback by Sutaria's comments.
"This is most shocking from a comrade. He is the last person I expected criticism from," he remarked. But feminists and local women were all smiles and they backed him enthusiastically.