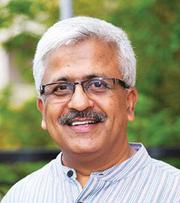 R BALASUBRAMANIAM
Young Mara came rushing to me in a very disturbed frame of mind. He was then studying in Class 3 in our tribal residential school. Mara was carrying his Kannada language textbook which had a lesson titled 'Jenukurubas of Karnataka'. The lesson began with the photo of a half-naked child clad in leaves sitting on an elephant.
Mara emphatically said that neither he nor his friends covered themselves in leaves nor had they ever sat on an elephant. He wanted to know whether the description of Jenukurubas (honey-gathering tribes) in the textbook was erroneous or whether he had to now change his dress habits and find an elephant to sit on!
I found myself angry and confused about what to tell young Mara. This incident also got me to go through all the prescribed textbooks. I found the context in most lessons to be very urban -centric. It was evident that not much attention had been paid to the needs of children in rural areas. Homogenous content across the state is a severe limitation.
Though this incident happened in the late 1980s, the state of affairs has not changed much. Apart from stereotyping our rural and tribal communities, the content in textbooks continues to revolve around urban contexts and needs. Despite numerous committees,
the confusion and debate on what is relevant and how learning-teaching needs to be transacted endures. Despite the passage of several years, I continue to struggle with making the learning process joyful and experiential and the pedagogy contextually relevant and culturally appropriate.
More than a century ago Swami Vivekananda spoke about how education cannot be the mere aggregation of information running riot in the brain. He had wanted it to be 'man-making' and 'character-building'. His famous quote of "education being the manifestation of the perfection already inherent in man" was something that deeply resonated within me.
All that I had at that time were these inspirational words of Swami Vivekananda and the urge to make schooling interesting. Added to this was my inexperience and complete lack of understanding of pedagogy, classroom techniques or educational psychology.
To make life interesting for children like Mara, I decided to try a small experiment. It was driven more by the need to keep the children engaged rather than ensure any pre-determined learning outcomes. I knew that I was facing the challenge of getting a child used to a free life to move away from his traditional learning eco -system into a more structured learning space amidst four walls. Children like Mara were learning constantly from their elders and here I was trying to tell them that a school with qualified teachers was a more interesting option.
The experiment with these seven- to nine-year-olds began with the only resources that we had — land and the children — and my limited understanding of experiential and joyful learning methods. The children were divided into small groups of four to six. Each group was allotted plots of land measuring eight feet by 15 feet. Each group had students from all classes. All that they needed to do was grow vegetables that they could eat, once harvested.
I grew up in Bengaluru with no idea of how to grow vegetables. So I had to leave it to the children to find their own teaching resources. They turned to their parents and elders in their families apart from intuitively knowing the right things to do. Whether it was advice from elders or getting seeds, implements and organic manure from home, suddenly this schooling activity turned into a community-owned one. And, along with the children, I was also getting schooled on how to prepare the soil, how preparation was different for different vegetables, how to de-weed and how to space the seedlings. It was amazing how each day unfolded with a new task, new learning and a more engaged collective enterprise. Allocation of work happened seamlessly with older children doing harder tasks while the younger ones contributed in their own way.
What started as a fun activity soon evolved into learning much more. The weighing and counting of vegetables and pricing them meant that the children now had to learn simple maths. The notional selling of vegetables to the school kitchen meant costing and pricing them. They also learnt how to haggle with the kitchen supervisor and get a good rate. Some children sketched and painted pictures of what they grew and used them as promotional material. Talking about what they had grown and its nutritive content during the lunch hour was also part of the activity. They learnt that working together meant disagreements, ego challenges, arbitration and dealing with conflicts. It was fun to see the children beam with pride when things went their way and struggle with their emotions after wild boars raided their little plots.
It was as though maths, arts, business management, emotion management, leadership, market dynamics, food and nutrition, economics, biology and human-animal conflict were all rolled into one continuous learning experience. More importantly, this education was a collective enterprise with no age differentiation, with community participation and with no learning-teaching hierarchies. The process was fun and what made it more fun for these children was my ignorance bordering on stupidity when it came to understanding nature and its vagaries.
Whether it was managing the ants and not using pesticides or exchanging vegetables amongst themselves, one could see how values, traditions and community narratives of different anthropological groups were being shared with ease and aplomb.
Looking back, I can now see how these children were learning much more than what one had intended or anticipated. They were learning at their own pace from their peers and building up knowledge that could actually help them negotiate the complexities of adult life in an economically demanding world.
We talk today about learning 21st-century skills and understanding how children should learn to be creative, think independently, work in groups and have skills that enable them to constantly learn. Beyond the semantics these little tribal children were learning in ways in which their own traditional knowledge was celebrated and not seen as something to be ashamed of.
As the divide between our rural and urban areas shrinks and as pressure mounts for people to be part of the economic food chain, we now need to ask ourselves how to prepare our children with the knowledge and skills to thrive in this modern economy. We also need to ask ourselves how we can retain centuries of traditional knowledge, embedded human values and the life skills that children receive generationally to ensure that they are well prepared for the demands of modern life.
Dr R. Balasubramaniam, founder of the Swami Vivekananda Youth Movement, Mysuru, is a development activist and author. www.drrbalu.com