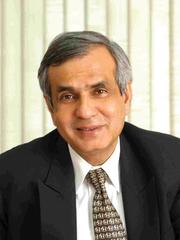 RAJIV KUMAR
My avant-garde friends tell me that nationalism and patriotism are not only old-fashioned but politically incorrect values in these days of economic globalisation and fusion culture. Apparently, these values distract from real concerns like inequality and protection of human rights and the environment. I disagree wholeheartedly. This column will consistently advocate that a policy regime based on "Putting India First" can serve the national interest and simultaneously achieve other legitimate goals. This requires being rooted in India's ground realities, a clarity about policy goals, and the courage to think innovatively. It cannot be achieved by using borrowed models or ideology.
The present coal power muddle affords a good example. Coal is and will remain the principal energy source for the foreseeable future. Coal output increased from 352 million tonnes (mt) in 2001 to about 613 mt in 2013. During this period, however, domestic demand increased from 411 mt to 744 mt, necessitating imports of nearly 100 mt. Coal India Limited (CIL), the public sector monolith, saw its output stagnate from 431 to 462 mt between 2011 to 2013 while imports were rising.
In comparison, China's coal output increased from 1,001 mt in 2001 to nearly 4,000 mt in 2013. In keeping with overall economic performance, the gap in Chinese and Indian coal production has significantly widened.
CIL has visibly adopted the easier technological option of opencast mining. Consequently, 90 per cent of its output comes from mines that are an environmental scourge, if not strictly regulated. Such mining disrupts communities and livelihoods of tribal people, predominant in coal-producing regions.
In contrast, China's coal output, more than six times the Indian production, is made up of 80 per cent coal from underground mines, which result in relatively far lower ecological and demographic impact.
CIL also gave up on advanced technologies like automated long-wall mining; fluidised bed combustion for pithead power generation from high ash content coal; and installation of pithead thermal power plants with merry-go-round transport that would have helped it bypass the railway bottleneck and at the same achieve a far better energy balance. Consequently, productivity in the Indian coal mining sector remains far below global averages and mining remains a dirty and dangerous vocation.
Coal shortages are painfully reflected in more than 20,000 MW of electricity generation capacity remaining unutilised. It is expected that India will import almost 200 mt annually of non-coking coal in the next 10 years. This will be supremely ironical because, despite the woefully underexplored geology, the country possesses proven coal reserves of more than 100 billion tonnes.
Moreover, our coal reserves may remain unutilised because of the ever tightening globally imposed carbon constraint and the exponentially rising civil society pressure against negative impacts on the environment and population. Coal reserves are in effect a wasting resource. Ground realities require us to jettison the present policy regime and replace it with a wholly new paradigm. Incrementalism and tinkering at the margins or reacting to court decisions will not serve our national interest.
In the light of these ground realities, clearly enunciated policy goals for the coal sector would be: (i) maximising non-coking coal output in the shortest time and eliminating shortages and imports; (ii) adopting latest mining technologies to minimise environmental degradation and population displacement; (iii) introducing latest coal combustion and carbon sequestration technologies to maximise pithead power generation. This avoids transporting poor quality coal over long distances and bypassing railway connectivity problems; (iv) raising productivity to make coal mining globally competitive; and (v) attracting investment for geological exploration as India remains a woefully underexplored region with reserves having been identified only for an average depth of 30 metres below the surface.
These objectives would be best achieved by attracting large-scale private investment by specialised mining companies that can undertake geological exploration, mining operations and transportation using latest technologies and at globally competitive costs. At the same time, it is important to ensure that profit-maximising private sector mining companies are effectively restrained from practices that will damage the environment and trample the rights of indigenous people. A robust regulatory mechanism, effectively implemented, can ensure that these two ostensibly conflicting objectives of attracting large-scale private investment and minimising environmental degradation and human costs can both be achieved.
Given the present poor state of public governance, effective and transparent regulation will be achieved only with the active involvement of civil society. This alone will prevent regulatory norms from being compromised by a nexus of crony capitalists and corrupt officials. We already have a successful example of the involvement of civil society organisations in the Pradhan Mantri Gram Sarak Yojana, in which it helped achieve the desired quality of road construction.
The Supreme Court's decision of August 2014 provided the new government with a golden opportunity to put a comprehensive policy in place. Admittedly, there was urgency in addressing the vexed situation in which the industry was landed after the Supreme Court rulings. However, seven months is surely sufficient time for designing a robust and comprehensive policy response. But to do so required a change in the policy mindset, from merely reacting to Supreme Court judgments to taking the long-term and more holistic view of the goals and ground realities.
I am afraid that with the twice promulgated Coal Mines Special Provision (Second) Ordinance (the first was passed in October and the second on 29 December) not only has an opportunity to come up with an innovative policy framework been lost but we may end up with another round of costly litigation.
More important, the ordinance does nothing to attract private investment and technology by specialised mining companies that produce coal for commercial sale as opposed to producing it for self-consumption. After repeated readings of the Ordinance, I do not find any provision for large-scale commercial production of coal in the country. This rules out coal mining except by public sector companies, as envisaged in the Nationalisation Act of 1973. The Ordinance only legalises coal mining by private sector actual users, which was hitherto done by an executive order that the Court found illegal.
The Ordinance does not address the five goals enunciated above. Its objective, as spelled out in the first paragraph, is merely to ensure continuity of coal mining. It reinforces CIL's dominant position by requiring that 'actual users' who mine coal surrender their excess production to CIL, not to other users!
The high reserve price, in a period of sharply declining world coal prices, subsequently announced may further discourage serious mining companies. The Ordinance does not even mention the need for environment and human rights protection and enhancing productivity with the use of frontline technology. There is no mention of putting in place a regulatory framework, let alone involving civil society organisations for making it transparent and effective. In short, it is a reactive policy document that misses the woods for the trees or ignores the national interest to address contingent circumstances.
The Ordinance will likely result in continuation of domestic coal scarcity, rising imports, use of backward technologies, poorly paid mining workers, environmental degradation and continued uncertainty about private sector investment. The sad spectre of coal being carried on bicycles for daily sale in Ranchi by hundreds of 'illegal miners' will continue. This is likely to be repeated in other key sectors like iron ore, steel, natural gas and so on. It is time we recognised the need to overthrow the present policy mindset and replace it with one in sync with the 21st century. Hopefully the NITI Ayog will be tasked to do so.
Rajiv Kumar is Senior Fellow, Centre for Policy Research and Founder-Director, Pehle India Foundation