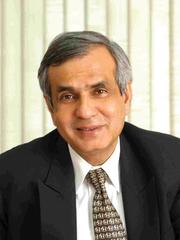 RAJIV KUMAR
China sneezes and the world catches a cold. And shivers. This is a new world. Global markets did not wait for the extraordinary positive employment data from the US economy, which added nearly 300,000 new jobs in December.
They were left unimpressed with the US Fed raising interest rates for the first time since 2009. They have been skittish about the net effect of the steepest decline in global oil prices with Brent currently selling at less than $35 per barrel compared to $120 per barrel less than a year ago.
But markets sank and shuddered when the Chinese manufacturing sector growth tanked and the Shanghai market lost more than 7 per cent on two days within a week. China and not the US or Europe and certainly not Japan is now the epicentre of the global economy.
China overtook the US as the world's largest economy in purchasing power parity terms in December 2014.
According to the International Monetary Fund (IMF), the Chinese economy was $17.6 trillion in December 2014 compared to the US at $17.4 trillion. With the Chinese population at 1.36 billion and the US at 320 million and the large differential in GDP growth rates over the past three decades, this was bound to happen. But it has happened sooner than expected. In the process, the Chinese have managed to lift more than 300 million people out of abject poverty. Who would have imagined such an outcome in 1979 when Deng Xiaoping took the first tentative steps to establish a 'socialist market economy' in China.
China is once again the middle kingdom!
There are some important lessons for us in India from the mighty rise of the once sleeping dragon.
First, India can also rise to the top. Human history is replete with examples of tables being turned. The US losing its status as the world's largest economy since 1871 to China is only one such example. India was ranked first until the end of the 18th century and China until 1861.
Second, we must get our act together and work collectively to serve the national cause or else we will be left far behind. In 1980, the Indian and Chinese per capita incomes were equal. Today, an average Chinese earns five times (490 per cent) more than the aam aadmi in India in nominal US dollars. According to the IMF, the Chinese per capita annual income in 2015 was $8,280 compared to India's at $1,688. It is time we stopped deluding ourselves about being a world power. Yes, we get some brownie points for being an open democracy but we can hardly claim global attention with our dehumanising rural poverty and urban squalor.
Third, being left too far behind poses a real security threat because we will increasingly be unable to defend our interests in the neighbourhood and not keep up with the rising Chinese hard power. Deep pockets wield considerable influence and are quite clearly beginning to do so in South Asia and Africa to our detriment.
Fourth, Prime Minister Narendra Modi would do well to follow Deng's advice. We should not hasten to seek global roles and responsibilities but instead focus laser-like on achieving a double-digit growth rate. Hard power is a necessary condition for seeking a global role and also for eliminating poverty.
Fifth, emulating the Chinese, we should also focus exclusively on generating the 12 million jobs that we need to put our young population to productive use. Modi would do well to jettison all other goals and priorities and focus only on employment generation. Unfortunately, we do not even have reliable data on employment. This is completely unacceptable.
Finally, in pursuing its goal of rapid employment generation, China suppressed its national ego and invited its aggressors and deserters to invest in China to generate the much-needed jobs. Japanese, Taiwanese and American companies were at the forefront of massive FDI inflows that saw Chinese special economic zones provide millions of new jobs to Chinese peasants. But we continue to play hot and cold with FDI. The ghost of the East India Company is continually resurrected by vested interests to thwart FDI that will help in accelerating employment generation. FDI in retail trade, agriculture, media, legal services and all other sectors is good as long as it generates new jobs and exports.
The Chinese economy has now entered a structural and transitional downturn. Important structural factors pulling down Chinese growth rates are over-indebtedness; excess capacities in real estate and manufacturing; and steeply rising wages. China is also caught in the middle of its transition from over-reliance on investment and export demand to relying more on domestic consumption demand. This can be a prolonged and tough transition.
India should take advantage of this weakening of the Chinese growth momentum. We should ramp up our exports to take the share in world markets being vacated by Chinese companies.
Instead, our Minister of State for Commerce and Industry, Nirmala Sitharaman (speaking to apex industry chambers on 8 December, 2015) has been lamenting the depreciating yuan and Chinese excess capacities that will propel exports into India. She is perhaps preparing for greater import protection for our industries like steel and light engineering that are facing poor demand and rising Chinese imports. This is a lose-lose policy. It will neither help generate jobs nor make our firms globally competitive.
It would have been far better if the minister had taken this opportunity to explain why Indian exports have been declining continually for the past 12 months. She should have elaborated on policy measures that her ministry has prepared to reverse this unacceptable decline in exports that will not even touch $300 billion for 2014-15 compared to $310 billion in 2012-13 and $1.2 trillion of Chinese exports in 2013.
I sincerely hope that Arvind Subramaniam and Arvind Panagariya, whom she is reportedly planning to meet in the near future, will advise her to learn from the Chinese and prepare a strategy for increasing India's share in world markets by using export-oriented FDI and employing our surplus labour. That would be the right approach towards generating much-needed jobs and reducing poverty. Being protective and defensive may seem like a good short-term palliative for the beleaguered Indian industry but will lead India up a blind alley.
Rajiv Kumar is Senior Fellow, Centre for Policy Research, and Founder-Director of Pahle India Foundation