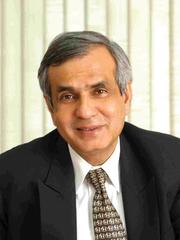 RAJIV KUMAR
The NDA government should be commended for reissuing the ordinance to amend the Land Acquisition Rehabilitation and Resettlement (LARR) Bill, an anti-development piece of legislation passed by the UPA government in 2013. More commendable is the recognition by the BJP's top brass that this is quintessentially a political issue, which requires large-scale public mobilisation in support. We must all recognise that it is not merely land ownership but the much bigger question of modernisation of Indian agriculture that is at stake here.
Prime Minister Narendra Modi did well to highlight this in his speech at the Bengaluru conclave. He pointed to the miserable living conditions of the vast majority of our farmers who are trapped in an unending cycle of drudgery, back-breaking labour, rising debt and suicides. LARR-2013 guaranteed that this vicious cycle would continue. Therefore, it needed to be amended to liberate the landless and marginal farmers from deprivation and poverty.
As many as 59 per cent of rural households do not own any land. Another 28 per cent have land holdings of less than 0.5 hectares, on which they simply cannot eke out an acceptable living. Therefore, 87 per cent of the rural population is desperate to end their dependence on agriculture. By and large, these people also belong to Scheduled Castes and other backward classes that face social oppression in addition to economic deprivation. They would take any non-agricultural employment that came their way.
LARR is therefore relevant for a mere 10 per cent of rural households — those who have land holdings in the vicinity of urban centres and face the genuine threat of acquisition. Only 0.5 per cent of India's farmers who have more than 10 hectares will be adversely affected by these amendments.
Clearly, Sonia Gandhi and Jairam Ramesh were out to appease and enrich this class of rich farmers. Modi has done well to assure 90 per cent of farmers of a better deal through rapid economic development and modernisation of agriculture and asking his ministers to take this message far and wide.
Recently, the results of a survey of 5,480 farmers have become available (The Hindu, 3 April, "Missing the Big, Bleak Picture" by Sanjay Kumar and Pranav Gupta). The survey was conducted in late 2013, after the passage of the LARR by the UPA government. Its findings show that 62 per cent of farmers were willing to leave farming if they found an alternative job; 37 per cent did not want their children to continue with farming; nearly half of the surveyed farmers believed their conditions were bad; and 22 per cent have actually begun to dislike farming.
This reflects a growing reality that agriculture is no longer a viable occupation, best shown by the average outstanding debt of `47,000 per farmer's household. Unsustainable farming and the vulnerability of farmers have driven them to tragic suicides in times of crisis. The findings should hopefully bring some realism to the leadership of the 14 political parties which trooped to Rashtrapati Bhavan behind Sonia Gandhi to lodge their protest against the proposed amendments.
Two brief points emerge: First, acquisition is an issue for less than 10 per cent of farming households, which are being pampered by the Congress leadership for vote-bank reasons; second, Indian agriculture in its present state is simply not economically viable as an occupation for the vast majority (nearly 85 per cent) of the rural population which is locked in a vicious circle of grinding inter-generational poverty.
Unfortunately, we cannot expect the Congress leadership to take cognisance of these cold facts. The party's leadership is historically adept at twisting ground realities to suit their immediate political objectives regardless of how severely out of sync they may be with the nation's priorities. This can be more acutely seen in the Congress's treatment of minorities that has continued their marginalisation while paying lip service to them at election time.
Their attitude towards Dalits smacks of populism without any attempt to ensure their economic advancement; their legislative overturning of the Shah Bano judgment shows the party's sheer cynicism towards women; and their approach towards child labour required a Kailash Satyarthi to wage a bitter struggle largely against Congress-led governments.
Congress luminaries like Sonia Gandhi and Jairam Ramesh are of course not expected to pay any heed to these facts in their pursuit of political opportunism. For Manmohan Singh and Anand Sharma to have also succumbed to Jairam Ramesh's skulduggery makes one feel hopeless about the Congress party.
In these circumstances, Modi has done well to not flinch from his clearly expressed resolve to take the battle to the Congress party and its allies. He should see this as perhaps the most important political struggle in post-Independence India to wean the peasantry off unviable agriculture and connect farmers with the dynamic modern Indian economy.
This will be a tough battle but one which must be won for saving the vast majority of our farmers from penury. But first and foremost Modi, Amit Shah and Arun Jaitley will have to take the necessary steps to build the required trust between the BJP, widely perceived as a party for the urbanites, traders and businessmen, and the farming community.
The trust will need to be built on the basis of persistent and multifaceted engagement with the farmers. To be successful, Modi should give up his exclusive reliance on the bureaucracy and instead use civil society and think-tanks to engage with them directly. This has to be done with a political and not a bureaucratic mindset. The farmers have to be convinced that rapid development and modernisation of agriculture is the only way forward to end the continuing dualism between Bharat and India.
It is up to the BJP and its allies to articulate this development urge in the countryside and use it to mobilise the poor farmers in support of the proposed amendments. Indian farmers have always been staunch nationalists. They will whole-heartedly support an honest development effort. But they want to be treated as partners and not as policy objects.
The mobilisation of farmers can be achieved in three steps. First, they have to be convinced, through a massive awareness programme conducted by the newly minted 60 million BJP members, that they will benefit from faster and sustained infrastructure development. Second, it should be clarified that compensation being offered together with the promise of employment for those whose livelihoods are affected is a good deal which will be honestly implemented. Third, district administrators should be asked to draw up in the shortest possible time an inventory of land holdings by the government, its associated agencies, and public sector units in their districts. This would help in convincing the farmers that existing land holdings will be used for new projects where possible and the government will actively discourage land-grabbing.
Finally, state governments should consider declaring the land in the vicinity of urban agglomerations open for multiple uses and not continue with the current practice of project-specific change in land use. This will drive up the price of land to its market-determined level in a most transparent manner and ensure that no acquisition can take place at lower than market rates.
It will also disprove those who assert that the compensation package under LARR does not raise land prices to abnormally high levels. A land market must emerge in India. This is a necessary condition for agricultural modernisation. An efficiently working and properly regulated land market is a far superior mechanism for protecting farmers' interests than a harassed and often compromised bureaucracy.
The author is a Senior Fellow at the Centre for Policy Research and Founder Director, Pahle India Foundation.