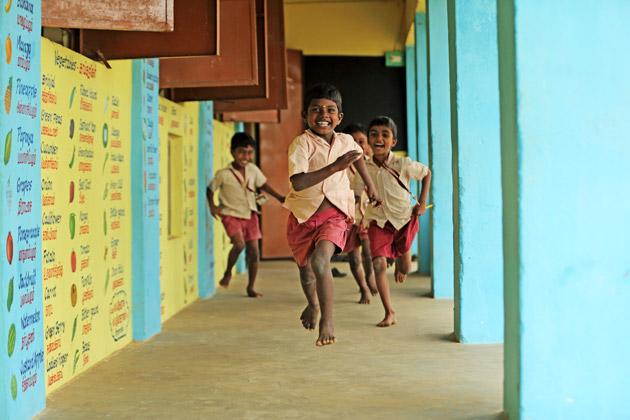 Connect, empower and withdraw the TVS way
Civil Society News, New Delhi
Published: Nov. 25, 2015
Updated: Feb. 06, 2016
Vijaya sits with accounts ledgers and minute books on the ground in front of her. Placed proudly on display is also a plaque — a peacock in silver affixed to a wooden stand. It is an award given by the government of Tamil Nadu to the best self-help group (SHG) in the district of Tiruvannamalai.
The Pachiamman SHG has been around since 2003. There are nine other SHGs in the village of Kesavapuram, which is one of 27 villages under the Padavedu panchayat. The SHGs were created to help the women save and invest in small enterprises.
We are in Kesavapuram to hear the stories of the women who turn up in variously coloured saris. Each SHG wears its own uniform. Pachiamman's members, for instance, wear peach-coloured saris, though Vijaya herself is in orange on this day. There are others in red saris with golden motifs and sea green saris with a yellow pattern.
It is a colourful sight and the women are clearly asserting themselves, sending out a message of empowerment and identity. There was a time when these women were timid rural housewives, but now they are micro entrepreneurs who bring money home. It has changed the way they are regarded by their families and, more importantly, how they think of themselves.
It has been a slow and steady transformation over 12 years. Yet, when the women talk about how family incomes have gone up and children have been educated, it seems like it all happened just yesterday. A strong current of excitement is evident and the women end up speaking together about their achievements. In the din there is an undercurrent of happy aggression. These are women who have upturned social equations and cut loose in ways they may have earlier found unimaginable.
Vijaya says that in ...