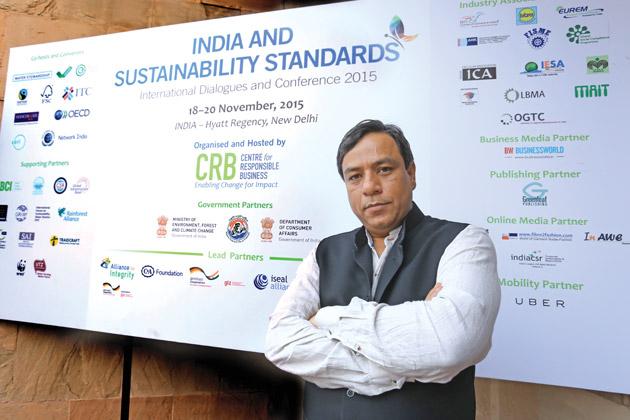 Bimal Arora, chairperson of the Centre for Responsible Business, at the conference on 'India and Sustainability Standards'
'Companies lack leaders who drive sustainability'
Civil Society News, New Delhi
Published: Dec. 03, 2015
Updated: Feb. 06, 2016
Companies that choose voluntary compliance and report thoroughly on their own sustainability build trust among stakeholders. They also strengthen their internal processes and stand a better chance of being globally competitive. How do Indian companies fare? Do they see reporting on themselves as an opportunity or a mere formality? Is sustainability seen across the range of engagements with society? Or is it limited to a handful of factory floor practices? Is it wrongly confused with Corporate Social Responsibility (CSR)?
To find out, Civil Society spoke to Dr. Bimal Arora, chairperson of the Centre for Responsible Business (CRB). Dr. Arora has been interacting with Indian and global companies on questions of sustainability for more two decades. He has been a keen observer of corporate behaviour. In November, CRB organised a conference in New Delhi on 'India and Sustainability Standards' to encourage Indian companies to learn and introspect.
What is the state of reporting by companies in India. It is, after all, five years since the voluntary reporting guidelines were framed.
I would say reporting in India is growing. I know GRI (the Global Reporting Initiative) has been around for a while in India. We have the Carbon Disclosure Project. We have the Water Disclosure Project. We now have the BRR or Business Responsibility Reporting. So, the whole momentum around reporting has been growing the past five years or so.
But when you say growing, what exactly do you mean? What is the quality of the reporting?
It is getting serious in the leadership companies. The bigger ones like the Tatas and Birlas have been engaging with the reporting process. The way it works is that the initial five years is the learning phase. During this time a company is only ticking boxes and is not using reporting as a ...