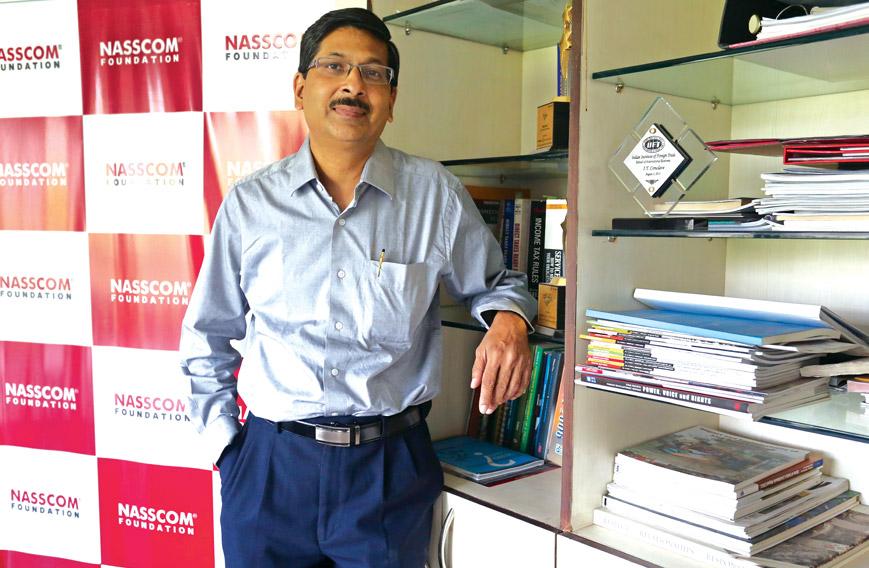 Shrikant Sinha: 'We will discuss how we can scale innovative models'
'Our focus will be on using tech for large-scale impact'
Civil Society, New Delhi
Published: Feb. 06, 2016
Updated: Jun. 15, 2017
The NASSCOM Foundation has been working with companies, government and voluntary organisations to develop corporate social responsibility (CSR) efforts that efficiently address development concerns. A CSR Leadership Conference is being held by the Foundation on 2 February in Bengaluru and on 9 March in Delhi to bring together various stakeholders to share learning, set goals and engage on issues and challenges. The first conference of this kind was held last year. Civil Society put questions to Shrikant Sinha, CEO of the NASSCOM Foundation, on the ground the conference expects to cover. Edited excerpts:
What does your conference hope to achieve?
The CSR Leadership Conference (CLC) was initiated by the NASSCOM Foundation in 2015 as a platform to engage with CSR leaders, civil society members and policymakers.
The CSR Leadership Conference 2016 (#NFCLC16) is trying to find answers to the most relevant questions on 'Can the IT-BPM industry CSR innovate for the underserved?' and 'How can CSR meaningfully address the India development agenda?' The conference will bring together CSR leaders, 'Technology for Good' champions, grassroots NGO practitioners and public policy leaders to discuss solutions for the greatest challenges facing development and poverty alleviation in India while calling for actions leading the way to meaningful CSR across corporate India.
Combining innovation with technology is a clear focus. What is the IT industry's record in this regard? What are the best examples you would like to cite?
As part of the CSR Leadership Conference, the Bengaluru event will be completely focused on how we can use technology to bring about large scale- social impact (#Tech4Good). Since the last eight years, the NASSCOM Foundation's NASSCOM Social Innovation Forum (NSIF) has been instrumental in identifying, recognising and mentoring early adopters of technologies in the social space, giving scale, market accessibility and sustainability to ...