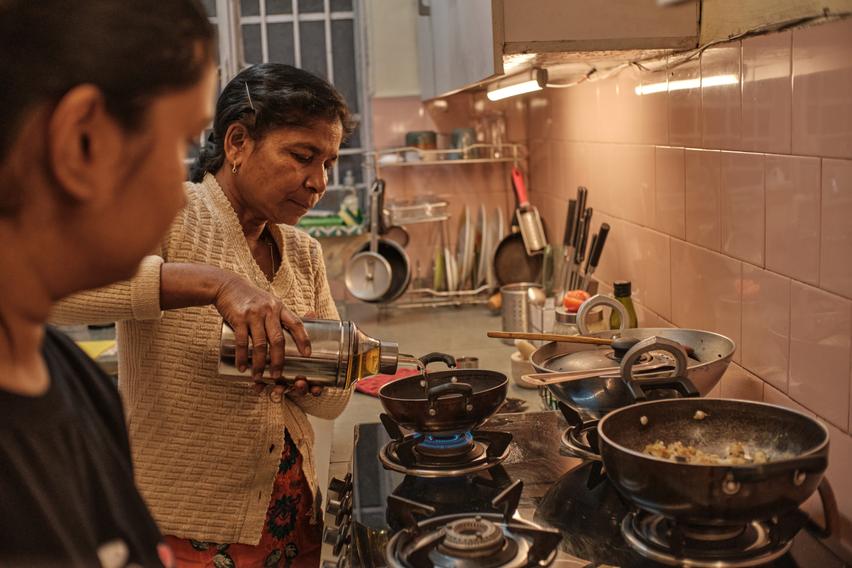 Domestic workers in lockdown limbo
Sidika Sehgal, New Delhi
Published: Apr. 23, 2020
Updated: May. 17, 2020
A few days after the national lockdown, Neelima, a domestic worker, was told by one of the families who employ her that they would pay her only for the number of days she worked. She cooks for three other families who assured her that they would pay full salary. But she hasn't been able to go and collect it due to the lockdown. Neelima is relying on savings from her previous month's salary to see her through. Under normal circumstances, she earns Rs 15,000 a month.
Domestic workers have been hard hit by the lockdown. Their condition is akin to daily wagers. They are generally paid only for the number of days they work, and they can be sacked at will. Several domestic workers, like migrant workers, say they would like to return to their villages.
The Self Employed Women's Association (SEWA) and the Martha Farrell Foundation (MFF) work with domestic workers and have been speaking to them. They say non-payment of wages tops their list of concerns.
"People are ready to pay for the first 15 or 20 days but they don't want to pay the full amount," said Aditi Yajnik, assistant coordinator of SEWA which works in 17 states where they have domestic worker leaders.
While some domestic workers haven't been able to collect their salaries, others say they don't have bank accounts. They all prefer to be paid in cash. "I don't want them to transfer my salary into the account. How will I withdraw the money? I need cash," said Neelima. She lives near Tara Apartments with her husband and 15-year-old daughter. Her meagre savings will last her till mid-April.
Mary, who works in two houses in Alaknanda, has also not been able to collect her salary. She earns Rs 13,000 per month. Her husband works in a textile factory and her 27-year-old son as an event manager. Both have not been paid for March. "We have enough food at home right now. But if I don't get my salary this month we might have to cut back on some things," she said. There is rent to be paid and food to be bought.
The National Committee of Domestic Workers, a SEWA union, issued a press release asking employers to pay salaries: "It is only normal that employers rise to the occasion and agree to pay workers their wages for these days when they are obliged to remain at home." MFF activists are also reaching out to resident welfare associations and urging them to tell employers to pay their domestic workers.
The other problem is rent. Meena, 30, lives in Harijan Colony in Gurugram with her husband and two children, 10 and 13 years old. She pays Rs 4,500 every month for the one room they occupy. At first the landlord said they didn't have to pay immediately, but he has now asked her to pay half the amount. Meena's husband works as a labourer and has not been paid for March. She works in two houses in Gurugram. Yajnik explained that in many settlements, domestic workers don't know the landlord directly. They pay a middleman who often lives in the same settlement. "Who will tell the broker? Who will check that the landlord is not collecting rent?" domestic workers told Yajnik.
With savings drying up, there is fear of where the next meal will come from. Neelima has a ration card and received 24 kg of wheat and six kg of rice free from the Delhi government's dry rations scheme. She has been sharing it with others in her colony who don't have ration cards.
The AAP-led Delhi government has increased the amount of rations disbursed under the Public Distribution System (PDS) by one and a half times. This food is free for beneficiaries. Dry rations are also being distributed free from schools to people without ration cards after registering on a Delhi government website.
Nandita Pradhan Bhatt, director of operations at MFF, and her team have compiled information on where NGOs and the government are setting up food distribution centres and is linking domestic workers to these phone numbers. She has also been calling up NGOs working on the ground to deliver food to a particular colony.
SEWA, through their grassroots domestic worker leaders, is making a list of those who don't have ration cards. They are writing to food security officers and MLAs to get rations approved. They are also working with the Delhi government and have distributed rations to at least 2,000 domestic workers.
Domestic workers are also fearful of catching the deadly virus. They live in dense settlements where social distancing is difficult. "How do you maintain physical distance if there are six to seven people living in the same room? How do you wash your hands if there is no water supply?" said Bhatt.
They feel doubly vulnerable because they are migrant workers. Mostly they are from Bihar and West Bengal, but some are from Rajasthan and Uttar Pradesh and yet others from Nepal.
"Luckily, when the lockdown happened most of them stayed back. We told them that they are safer here and they understood," Bhatt reported.
Most domestic workers are now eager to go home because they don't know if they will be paid for April. Accommodation is a huge expense and they have their own land back home. Domestic workers have greater confidence in their village ecosystem to take care of their survival needs. "We are thinking that if the lockdown gets lifted, we'll go back. We would like to be in our homes in our own village," said Neelima who is from Bihar.
(All domestic worker names have been changed.)