Teacher education needs overhauling
In schools, a silver lining to dark clouds
Published: Sep. 01, 2018
Updated: Sep. 25, 2018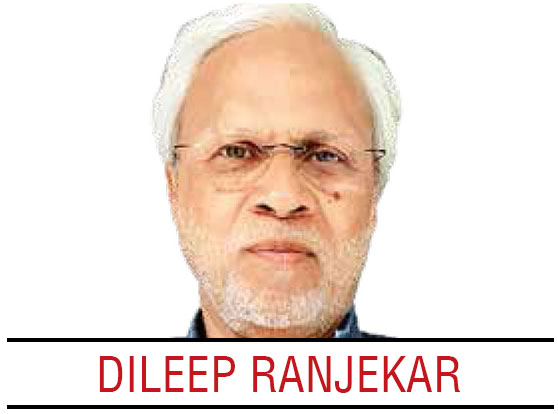 After 26 years of corporate life, in 2000, when I decided to move to the education sector, I was viewing my experiences with a fresh pair of lenses. My very first official and elaborate travel was in the interiors of a block and the education secretary very kindly requested one of the senior education officers to accompany me. We visited 10 schools in a single day, followed by a meeting with community members in a village.
In one school, there was a teacher under the influence of alcohol — though he was completely sober. In another, we were informed by the children that the teacher had gone to the saloon he operated during school hours after logging his attendance. In yet another school, the teacher slapped a child who barred me from taking another child's notebook since the latter was from a Scheduled Caste. Most schools had no toilets and the drinking water was supplied by enthusiastic members of the community.
After completing our visit to 10 schools, we settled down in a dilapidated room in one of the schools where the panchayat was housed. During the discussions, I tried to persuade the community to ensure 100 percent enrolment since only 16 out of the 114 children were out of school! The community appeared upset. One of the more aggressive men stood up and asked me agitatedly, "Have you visited the school and seen the ceiling, walls, floor and the surroundings? Do you know that for 100 children there are only two teachers and when that teacher is absent, nothing happens in the school? Already 98 children are suffering, why do you want 16 more to suffer?"
Even today, I don't have the answer to that question.
The task appeared truly daunting. We had close to 59 million children not enrolled in schools. The quality and adequacy of schools and classrooms was a big issue. Almost 80 percent of schools did not have satisfactory toilet and drinking water facilities. The teacher-pupil ratio was grossly inadequate at 1:42. There was a huge inequity in literacy, enrolment and dropout rates between girls and boys, and between urban and rural populations. The gaps were almost 25 percentage points. At the national level, if 100 children were enrolled in Class 1, about 65 reached Class 5 and 55 reached Class 8. Only 37 reached Class 10, of whom about 55 percent would pass the examination. Around 12 percent would go on to college.
The Sarva Shiksha Abhiyan (SSA) or Education for All programme was launched in 2000-01 under the Atal Bihari Vajpayee government to create an all-India umbrella programme as compared to earlier programmes such as the District Primary Education Programme that was limited to 272 districts across 18 states. In many ways, the SSA significantly transformed public school education in India — at least in terms of access, improved infrastructure (additional classrooms), appointment of additional teachers, technology in education, promoting certain innovations, free uniforms and textbooks to children, providing dedicated funds for teacher professional development and research. For the first three or four years, there were huge unutilised funds, since the disbursement was based on proposals generated by the respective states. Culturally, the states were not capacitated to create such proposals. In fact, the Azim Premji Foundation helped certain states in writing eligible proposals to get funds allocation.
Fifteen years later, there has been a significant improvement in certain quantitative aspects of public education. The key ones are:
Enrolment and attendance: This was powered both by the concerted 'enrolment drives' and parents' realisation that the only way they could aspire to build their children's future was by educating them. The gross enrolment ratios (GER) are now almost 100 percent while for disadvantaged categories like SC/ST, GER is above 100 percent. The enrolment and dropout ratio differentials between girls and boys as well as urban and rural populations have significantly narrowed to between three and five percentage points as compared to the earlier 25 percentage points.
Access: Almost 98 percent of dwellings have a lower primary school within a kilometre and more than 90 percent have a higher primary school within three kilometres. Several thousand classrooms have been added in various schools. The look and feel of many schools have changed — in many areas,
a government school is the only decent and
brightly painted building. Construction of toilets and provision of drinking water has happened in a big way.
Literacy level: In the 2011 census, the literacy rate rose to 74 percent from the earlier 65 percent.
Nutrition: In a majority of schools, the Mid-Day Meal (MDM) scheme has been successfully introduced and has become established, providing a hot, cooked meal to children in elementary schools.
Teacher education: In the recent past, in addition to introducing a two-year (after graduation) and four-year (after Class 12) B.Ed. programme with revised curricula, the government has initiated serious steps to review the quality of existing (especially private) teacher education institutions.
Institutional reforms: Reforms such as evaluating the role of the National Council for Teacher Education and the University Grants Commission are underway and the concept of Institutions of Eminence has been introduced to promote universities with potential to rank among the top 100 universities in the world.
Yet, 'quality of education' has remained elusive! This includes quality of access, of the mid-day meal programme, teacher education, state of toilets and of the institutions created under the National Policy of Education, 1986. The implementation of the Right to Education Act, 2009, has left a lot to be desired. Progressive shrinking of the budget available for education is of utmost concern.
Despite clearly articulated aims of education and high-quality national curriculum framework, almost all current education (public and private) revolves around merely cramming the student with knowledge and memory-based cognitive learning. Both parents and teachers emphasise the importance of results in examinations that assess primarily rote learning. Compared to 20 years ago, almost 25 percent more children have migrated to private schools. This is despite clear evidence that there is no qualitative difference in the learning outcomes of children in public and private schools. In short, the reputation of government schools has taken a massive beating without adequate reason.
If we do not help children develop independence of thinking, sensitivity, empathy, respect, understanding of constitutional values and an integrated sense of various disciplines, we as a nation are likely to lose the soul of our future society.
Education is a complex subject and several factors need to be addressed to achieve a sustainable higher quality of education. Since it is not possible to address all these facets in this column, I would choose three of the most important in my opinion — financial resources, teacher education and capacity enhancement, and the examination/assessment system.
Financial resources: For almost 50 years, Indian educationists as well as several Education Commissions appointed by the government have made a strong case for spending at least six percent of our GDP on education. Our current spend levels (before leakages and prudent utilisation) are around 2.8 to 3.2 percent.
The inadequate allocation has led to several maladies such as pathetic infrastructure, completely unsatisfactory teacher-pupil ratio in many states (causing an unprecedentedly high proportion of single-teacher schools — leading to a huge quality gap), and non-functioning of several academic institutions owing to absence of faculty, training infrastructure, and so on.
Let us examine the per child, per year expenditure in the three types of government schools. It is `19,000 for the state board schools; `52,000 for the Kendriya Vidyalayas; and `72,000 for the Jawahar Navodaya Vidyalayas (a part of this is due to the residential nature of the schools).
While parents vie to admit their children to the Navodaya and Kendriya Vidyalayas, the state board schools have witnessed nearly 26 percent migration. This tells a certain definitive story.
Teacher education and capacity enhancement: When the nation decided to conduct the teacher eligibility test (TET) for thousands of existing teachers across the country, less than one percent teachers could qualify. We need to radically overhaul our teacher education with a system of rigorous four-year preparation of teachers before they are certified to be teachers. As in Sweden and Finland, we must make it difficult for anyone to become a teacher.
Almost all attempts to improve the quality of teachers through in-service training have met with very limited or no success. Creating voluntary spaces for teacher professional development seems to be a powerful solution, based on the Azim Premji Foundation's own work. The state of faculty members in higher education institutions is even more deplorable since no particular teaching training is mandated. A faculty member may excel in a given subject/discipline but may have poor pedagogical practices that do not achieve the objectives of teaching.
Examination system: Any assessment system must aim at evaluating whether the goals of education are achieved. A good examination system must have the following features: (a) It must go beyond mere assessment of cognitive abilities; (b) It must be continuous and not one-time; (c) It must be development-oriented and not for pronouncing judgement on the student; (d) Teachers must develop intimate understanding of students.
As a prerequisite, teachers need to be thoroughly developed to understand the learner and the learning process. A significant part of continuous evaluation can be used by teachers for their own professional development.
It is often said, "What gets measured, gets done." Unless we reform the examination system and begin measuring the achieving of the overall goals of education beyond rote memory-based knowledge retrieval, the efforts to reform the education process will come to naught!
We boast of India being, at one point of time, the nerve centre of 'knowledge generation'. However, for centuries now, we have remained 'knowledge receivers'. We cannot become a truly developed nation if we do not commit ourselves to fundamentally overhauling our education system.
Dileep Ranjekar is CEO of the Azim Premji Foundation